The Ukrainian crisis of 2014 triggered one of the greatest security crises in Europe since the Cold War. Though the EU and the US have taken significant punitive actions against Russia during the eight-year-old conflict, they have made little headway in helping restore Ukraine's territorial integrity. The build-up of Russian military forces along its border with Ukraine in late 2021 has led to the fear of possible invasion by Moscow, although the Kremlin has denied this. This paper looks at the developments in Ukraine in the wake of the recent build-up. It provides a brief overview of the crisis, and what Russia considers as red-lines in the region. It also highlights the European responses to the crisis.

Ukraine Crisis – An Overview

The crisis began with protests in Kiev in November 2013 against the then President Viktor Yanukovych's decision to reject a deal for greater economic integration with the European Union (EU). The crisis escalated after the violent crackdown by the state security forces. Emphasising on the need to protect the rights of Russian citizens and Russian-speaking population in Crimea and south-east Ukraine[i], in March 2014, Russian troops took control of Crimean region. This was followed by a local referendum where the majority of the Crimean population voted to join the Russian Federation[ii]. As the crisis escalated, pro-Russian regions of Donetsk and Luhansk held referendums to declare independence from Ukraine.
Map of Ukraine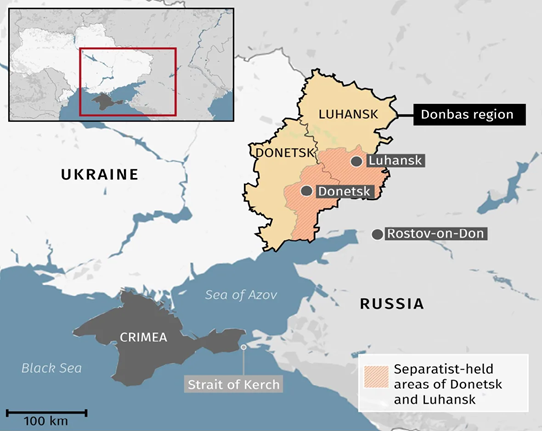 Source: https://www.cbc.ca/news/world/ukraine-putin-military-1.5988570
In 2014, a peace plan, Minsk Accords I, for eastern Ukraine was signed which called for immediate ceasefire and withdrawal of all military from Ukraine. However, the accords failed as the violence continued. In February 2015, France, Germany, Russia and Ukraine brokered cessation in violence through Minsk Accord – II. This agreement includes provisions related to ceasefire and pull back of heavy weaponry; withdrawal of all foreign armed forces; constitutional reforms which includes elements of decentralization of powers for Donbas; humanitarian assistance and exchange of hostages and prisoners.[iii] The progress on these accords has been limited and the conflict in the eastern Ukraine has transitioned into a deadlock with skirmishes occurring along the border.

The military build-up near the Ukrainian border in the past few months, have again raised the spectre of conflict between the European member states, US and Russia. The build-up came in the aftermath of increased tensions between Russia and the West over the possible opening of talks with Ukraine and Georgia regarding joining NATO[iv]. The latest build-up led the NATO Secretary General Jens Stoltenberg to warn that the organisation must "prepare for the worst"[v], and described the Russian build-up as "unprovoked and unexplained". Though Moscow has denied that it is plotting an attack and blamed NATO for fuelling tensions, President Putin warned the Alliance against deploying its troops and providing weapons to Ukraine, saying it represents a "red line"[vi] for Russia and would trigger a strong response.

Russia's Red-Lines

Ukraine has remained a key red-line for Russia in the region. Moscow has opposed the increasing western-leaning of Kiev and has expressed serious reservations related to Ukraine becoming member of either the EU or the NATO. President Putin, in July 2020, elaborated in a long treatise titled "On the Historical Unity of Russians and Ukrainians," that Russians and Ukrainians are "one people" based on their shared cultural, linguistic and religious history. President Putin argued that modern Ukraine was "entirely the product of the Soviet era … shaped – for a significant part – on the lands of historical Russia", and blamed the West for seeking to turn Ukraine into an "anti-Moscow Russia". He highlighted that "step-by-step, Ukraine was dragged into a dangerous geopolitical game aimed at turning Ukraine into a barrier between Europe and Russia, a springboard against Russia". President Putin concluded by saying "the true sovereignty of Ukraine is possible only in partnership with Russia"[vii].

To reinforce its position, on 17 December 2021 Russia published an "Agreement on measures to ensure the security of The Russian Federation and member States of the North Atlantic Treaty Organization". The demands included – first, use of mechanisms of urgent bilateral or multilateral consultations, including the NATO-Russia Council; second, restraint in military planning and conducting exercises; third, maintain dialogue and interaction on improving mechanisms to prevent incidents on and over the high seas (primarily in the Baltics and the Black Sea region); fourth, the Russian Federation and all the Parties that were member States of the NATO as of 27 May 1997, respectively, shall not deploy military forces and weaponry on the territory of any of the other States in Europe; fifth, both shall not deploy land-based intermediate- and short-range missiles in areas allowing them to reach the territory of the other; sixth, NATO commit themselves to refrain from any further enlargement of NATO, including the accession of Ukraine as well as other States; seventh, member States of NATO shall not conduct any military activity on the territory of Ukraine as well as other States in the Eastern Europe, in the South Caucasus and in Central Asia[viii].  

These demands highlight the various red-lines that Russia views as impinging on its interests and security in the region. In particular, these demands are aimed at curtailing NATO expansion and western influence in the region.

European Responses to the Situation

Despite the stalemate in the crisis, Ukraine continues to pursue its policies related to its accession into the NATO as well as the EU. The public opinion regarding the membership of these two institutions remains positive. This was highlighted in the recently conducted public opinion polls on 17 December 2021 where - 58% were in favour of joining the EU, while only 21% support joining a Customs Union with Russia, Belarus, and Kazakhstan. On NATO membership, 54% voted in favour of joining the military alliance.[ix]

Status of Ukraine's Membership Bids

In terms of its membership of the NATO, Ukraine was one of the first post-Soviet countries to join NATO "Partnership for Peace" in 1994 and signed the 1997 Charter on a Distinctive Partnership, which established the NATO-Ukraine Commission (NUC). In 2008 NATO Summit, members formally agreed that Georgia and Ukraine would become members of the alliance. In 2016 NATO Summit in Warsaw, alliance members endorsed a Comprehensive Assistance Package (CAP) for Ukraine to implement security and defence sector reforms according to NATO standard. For its part, Ukraine, in June 2017, adopted legislation reinstating membership in NATO as a strategic foreign and security policy objective. This was followed by President Volodymyr Zelenskyy approving Ukraine's new National Security Strategy in 2020, which provides for the development of the distinctive partnership with NATO with the aim of membership[x].

In terms of its membership of the EU, Ukraine-EU negotiations for accession were launched in 2007. The association agreement is the main framework for political engagement between the two and is aimed at promoting - deeper political ties; stronger economic links, and; respect for common values. While major parts of the agreement were provisionally applied in 2014, the association agreement entered into force on 1 September 2017[xi]. The economic aspect of the Association Agreement includes a Deep and Comprehensive Free Trade Area (DCFTA) which has been in place in 2016. The DCFTA has resulted in increase of bilateral trade between the EU and Ukraine and the EU has emerged as Ukraine's number one trading partner with 42% of Ukraine's trade is now with the EU[xii]. The EU is also the largest humanitarian donors to Ukraine since 2014. Since the beginning of the crisis in 2014, the European Commission has provided over €193.7 million in emergency financial assistance, including €28.9 million in 2021[xiii]. As far as applying for the membership is concerned, Ukraine has declared that the country will formally apply for EU membership in 2024[xiv].

While Ukraine remains committed to its membership of both the institutions, it remains a long road for Kiev. Although, NATO has defended the "right of all countries to decide their own future and foreign policy free from outside interference" and have rejected any agreement that denies Ukraine's membership emphasising that "NATO's relationship with Ukraine is a matter only for Ukraine and the 30 NATO Allies"[xv] – they have not declared any timeline for Ukraine becoming member of the alliance. Similarly, the EU is unlikely to consider enlargement any time soon primarily because of lack of support among many members states and also given Ukraine's domestic challenges and issues with Russia.

Responses to the Current Crisis

Responding to the current build-up along the Ukrainian border, European Parliament in a resolution passed on 16 December 2021 stated that the military build-up was not only a threat to peace, stability and security in Europe, but was also "a tool to extract political concessions from the West at Ukraine's expense". Referring to Ukrainian NATO aspirations, it states that "any country's choice of alliances must not be subject to a third country's approval and therefore rejects Russia's attempts to include some countries in its 'sphere of influence' to shape their future."[xvi] It also called on the High Representative to coordinate with the NATO and allies, and proposed adoption of severe economic and financial sanctions against Russia. European Council, after its Summit on 16 December 2021, stressed on the urgent need for Russia to de-escalate tensions along its border with Ukraine. It reiterated its full support for Ukraine's sovereignty and territorial integrity, stating that "any further military aggression against Ukraine will have massive consequences and severe cost in response"[xvii]. It called for diplomatic efforts and support for the Normandy Format[xviii] in achieving the full implementation of the Minsk Agreements. After the Summit, Ursula von der Leyen, chief of the European Commission, said the bloc was ready to impose additional sanctions on Russia.

The European countries have declared that they stand by Ukraine during the crisis, but have also emphasised that it remains unlikely that they will send any troops to the nation. This was highlighted in the statement of the Defence Secretary of the United Kingdom (UK) Ben Wallace, where he said – "Ukraine is not a member of NATO so it is highly unlikely that anyone is going to send troops into Ukraine to challenge Russia"[xix] (emphasis added). Same was also mentioned by President Biden – when he said that sending US troops to Ukraine was not on the table[xx].

Active diplomacy to diffuse the tensions was also witnessed in the series of phone-calls between President Putin and various European leaders from the UK, France and Germany. While President Putin's stand was consistent – to "immediately launch international negotiations to develop legally fixed guarantees" – European leaders expressed their concern about the situation and called for an urgent need for de-escalation through dialogue. German Foreign Minister Annalena Baerbock, on 22 December 2021, called for a "dialogue to try and defuse a major crisis" emphasising on the "return to the negotiating table under the Normandy Format as well as NATO-Russia Council".[xxi] Germany's Defence Minister Christine Lambrecht also emphasised that NATO allies were willing to discuss the demands put forward by Russia, but would not "allow Moscow to dictate"[xxii] to the alliance or its partners.

The Russian actions and demands of legal guarantees have raised wider concerns in Eastern Europe. The historical experiences of these countries and the Baltic states have increased their wariness towards Russia. The key elements of the guarantees sought by Moscow would result in changing the security status quo in Europe as the demand to remove troops and weapons deployed to countries that became part of the alliance post-1997, would include the major part of Eastern Europe, Baltic countries and the Balkans. Poland as well as the Baltic countries – which joined NATO in 1999 and 2004 respectively – are key elements of NATO's forward presence in the eastern and northern part of the Alliance as they host multinational battalion-size battlegroups. This forward presence is part of the reinforcement of the Alliance's collective defence and plays a vital role in deterrence and assurances for north and Eastern Europe.

As it also calls for removal of weaponry on the territory of any of the other States in Europe, it would require NATO to not deploy missiles in countries such as Poland and Romania. These countries have viewed these latest developments as an attempt by Russia to "re-establish a sphere of influence in the region and as proof from Moscow seeking to limit their sovereignty."[xxiii] Similar sentiments were also highlighted by the Baltic countries with Lithuanian President Gitanas Nauseda[xxiv] describing the current situation as "probably the most dangerous it's been in 30 years".

Conclusion

Responding to the massive troop build-up and stationing of heavy weaponry by Moscow along the Ukrainian border, the EU member states have criticised the Russian move by threatening further sanctions but have also pointed out that they will not be sending any troops to the country, which is not a NATO member. So far, the root cause of the conflict appears to be the NATO expansion towards the borders of Russia. While Kremlin has said that NATO's expansion threatens Russian security and also that it is counter to the assurances given to it in 1991. NATO has justified its actions as defensive and designed to deter any Russian aggression in the region. It has also defended Ukraine's membership bid on the ground that no country can veto the expansion of the alliance apart from the member states themselves.

Despite the commitment of support from the EU, the importance that Kiev has in the security calculus of both the West and Russia is different. Russian leadership, as seen in many writings and briefings, has treated Ukraine as vital to their national interest and Moscow's recent rhetoric and build-up has highlighted its readiness to use its military if they perceive that a red-line has been crossed. On the other hand, while Ukraine has been more than ready to integrate itself with the West through memberships of the EU, so far, there appears to be little support[xxv] for any expansion in the bloc. While, the EU leadership has warned Russia that any military move will "come at a high cost" and have urged Moscow to return to talks led by France and Germany, the EU member states remain divided on how to handle relations with Russia.

While, the Russia's Defense Ministry announced on 25 December 2021 that more than 10,000 troops would return to their permanent bases in the Southern Military District, the situation remains volatile. The representatives from Ukraine, Russia, Germany, and France are meeting on 6 January 2022 in Moscow under the Normandy format. The four nations have been trying to find a political solution to the conflict in eastern Ukraine. This would be first meeting since it was suspended in 2019. Three major talks with Russia are expected to run from 10-13 January 2022 – with US-Russia talks on 10 January, Russia-NATO talks on 12 January and Russia-OSCE on 13 January. Although, the expectations of a breakthrough in the talks remain low, the meetings do provide a platform for both the countries to de-escalate the situation.

In terms of the consequences on Europe, the outcome of these talks could have a bearing on the larger European security. While the US has emphasised that no decisions will be made about security in the region without its European allies and Ukraine, it appears that Brussels wants to avoid being left out of talks between the US and Russia over security on the continent. This was reflected in High Representative's recent statement[xxvi] that "We do not want to be, and must not be, spectators…If Moscow, as announced, wants to talk about the security architecture in Europe and about security guarantees, then this is not just a matter for the US and Russia. The EU must be present at these negotiations; such negotiations only make sense if they take place in close coordination with, and with the participation of, the EU".

*****
*Dr. Ankita Dutta, Research Fellow, Indian Council of World Affairs, New Delhi.
Disclaimer: The views expressed are personal.
Endnotes 
[i] The Washington Post, 18 March 2014, https://www.washingtonpost.com/world/transcript-putin-says-russia-will-protect-the-rights-of-russians-abroad/2014/03/18/432a1e60-ae99-11e3-a49e-76adc9210f19_story.html?utm_term=.b766ae6445fd, Accessed on 24 December 2021
[ii] The New York Times, 17 March 2014, https://www.nytimes.com/2014/03/17/world/europe/crimea-ukraine-secession-vote-referendum.html, Accessed on 24 December 2021
[iii] 'The Minsk Conundrum: Western Policy and Russia's War in Eastern Ukraine', Chatham House, May 2020, https://www.chathamhouse.org/2020/05/minsk-conundrum-western-policy-and-russias-war-eastern-ukraine-0/minsk-2-agreement, Accessed on 26 December 2021
[iv] Politico, 1 November 2021, https://www.politico.com/news/2021/11/01/satellite-russia-ukraine-military-518337, Accessed on 27 December 2021
[v]AP News, 1 December 2021, https://apnews.com/article/europe-russia-ukraine-moscow-riga-b0971e8a973026ec7fb1964a8d38d2eb?utm_source=dailybrief&utm_medium=email&utm_campaign=DailyBrief2021Dec1&utm_term=DailyNewsBrief, Accessed on 27 December 2021
[vi]Euronews, 30 November 2021, https://www.euronews.com/2021/11/30/russian-military-build-up-near-ukraine-is-unprovoked-and-unexplained-nato-chief?utm_source=dailybrief&utm_medium=email&utm_campaign=DailyBrief2021Dec1&utm_term=DailyNewsBrief, Accessed on 28 December 2021
[vii] Valdimir Putin, On the Historical Unity of Russians and Ukrainians, 12 July 2021, Kremlin, en.kremlin.ru/events/president/news/66181, Accessed on 28 December 2021 
[viii] 'Agreement on measures to ensure the security of The Russian Federation and member States of the North Atlantic Treaty Organization', The Ministry of Foreign Affairs, Russia, 17 December 2021, https://mid.ru/ru/foreign_policy/rso/nato/1790803/?lang=en&clear_cache=Y#sel=29:10:l,29:10:l, Accessed on 28 December 2021
[ix] 'IRI Ukraine Poll Shows Support for EU/NATO Membership, Concerns over Economy and Vaccines for COVID-19', IRI, 17 December 2021, https://www.iri.org/resource/iri-ukraine-poll-shows-support-eunato-membership-concerns-over-economy-and-vaccines-covid, Accessed on 26 December 2021
[x]'Relations with Ukraine', NATO, https://www.nato.int/cps/en/natolive/topics_37750.htm, Accessed on 29 December 2021
[xi] 'EU relations with Ukraine', European Council, https://www.consilium.europa.eu/en/policies/eastern-partnership/ukraine/, Accessed on 28 December 2021
[xii] Ukraine Factsheet, European Council, https://www.consilium.europa.eu/media/44402/685-annex-5-f-ukraine-factsheet.pdf, Accessed on 28 December 2021
[xiii] 'Ukraine', European Commission, https://ec.europa.eu/echo/where/europe/ukraine_en, Accessed on 28 December 2021
[xiv]Ukrinform, 29 January 2019, https://www.ukrinform.net/rubric-polytics/2629563-ukraine-to-apply-for-eu-membership-in-2024.html, Accessed on 29 December 2021
[xv]'Statement by the North Atlantic Council on the situation in and around Ukraine', Press Corner, 16 December 2021, NATO, https://www.nato.int/cps/en/natohq/news_190373.htm?selectedLocale=en, Accessed on 29 December 2021
[xvi] 'Resolution - Situation at the Ukrainian border and in Russian-occupied territories of Ukraine', European Parliament, 16 December 2021, https://www.europarl.europa.eu/doceo/document/TA-9-2021-0515_EN.html, Accessed on 29 December 2021
[xvii] Conclusions, European Council meeting, 16 December 2021, European Council, https://www.consilium.europa.eu/media/53575/20211216-euco-conclusions-en.pdf, Accessed on 30 December 2021
[xviii] Normandy Format - The Normandy Format talks involve the representatives of four countries, Germany, Russia, Ukraine and France and are aimed to resolve the crisis in Donbas.
[xix]BBC, 18 December 2021, https://www.bbc.com/news/world-europe-59712020, Accessed on 30 December 2021
[xx] BBC, 8 December 2021, https://www.bbc.com/news/world-europe-59582013, Accessed on 30 December 2021
[xxi] France24, 22 December 2021, https://www.france24.com/en/europe/20211222-germany-urges-dialogue-with-russia-says-greatly-concerned-by-putin-military-threat, Accessed on 30 December 2021
[xxii] Politico, 19 December 2021, https://www.politico.eu/article/russia-cannot-dictate-nato-military-posture-germany-says/, Accessed on 30 December 2021
[xxiii] The Guardian, 17 December 2021, https://www.theguardian.com/world/2021/dec/17/russia-issues-list-demands-tensions-europe-ukraine-nato, Accessed on 30 December 2021
[xxiv] BBC, 23 December 2021, https://www.bbc.com/news/world-europe-59766810, Accessed on 31 December 2021
[xxv] AP News, 10 December 2021, https://apnews.com/article/joe-biden-russia-ukraine-europe-vladimir-putin-8193787ec21ca2aded4a37fa325f07b5, Accessed on 30 December 2021
[xxvi] EEAS, 29 December 2021, https://eeas.europa.eu/headquarters/headquarters-homepage/109373/die-welt-nothing-will-be-decided-about-us-without-us-being-there_en, Accessed on 31 December 2021