Abstract
The Shanghai Cooperation Organisation (SCO) held its 19th Heads of State Council Meeting at Bishkek, Kyrgyz Republic, on 13-14 June 2019. This Council is the highest decision-making body of the organisation. The SCO has eight members: Russia, China and four Republics from Central Asia: Kazakhstan, Kyrgyzstan, Tajikistan and Uzbekistan, and two countries from South Asia: India and Pakistan. The South Asian countries became full members of the organisation in 2017.1 Over the years, the international stature of this Eurasian organisation has been growing. The SCO now consists of approximately 42 per cent of the world's population, 22 per cent of its land area, and it contributes 20 per cent to the global GDP.1
At the 2019 Summit, a number of important themes/issues were discussed and a Declaration was issued, which included terrorism, developments in Afghanistan, regional economic cooperation, connectivity, people to people relations, and environment. SCO renewed its faith in UN's centrality in dealing with critical global affairs. The summit discussed cooperation opportunities in various areas and ways to address the common challenges in SCO space. The SCO leaders also signed documents/MoUs on: Further Action of the SCO-Afghanistan Contact Group; cooperation between SCO Secretariat and the Astana International Financial Centre; between the SCO Secretariat and the  UN  Office  for  the  Coordination  of Humanitarian Affairs; between the SCO Secretariat and the World Tourism Organisation; cooperation of SCO members on healthcare for 2019-2021, and on mass media and sports.
Insecurity and terrorism have affected all SCO members and it was among the top issues at the Bishkek Summit. The members condemned terrorism in 'all forms and manifestations' and urged the international community to promote global cooperation in this field with a central role of the UN. The Summit also underlined the significance of cooperation between UNSC Counter-Terrorism Committee and SCO's Regional Anti-Terrorism Structure (RATS). A cooperation document was signed between the two sides in March 2019. SCO emphasised the activities of RATS in countering terrorism, separatism and extremism, and other challenges in the region. Addressing the Summit, Prime Minister Narendra Modi said that capacity of RATS should be "effectively explored" to eliminate terrorism. He noted that countries responsible for "aiding, supporting and providing financial assistance" to terrorists should be held accountable.2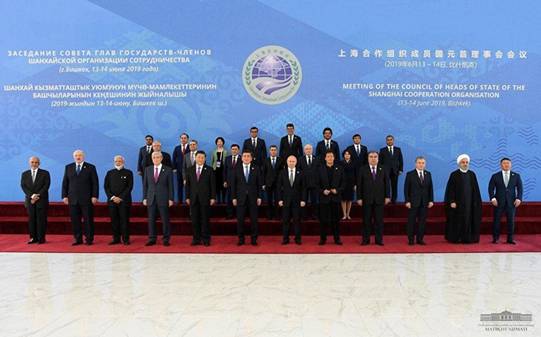 Source: SCO Secretariat (2019)
The member countries viewed stability in Afghanistan as a necessity for regional peace and economic development. Afghanistan borders four SCO members and stability in the country is crucial for peace and development in the entire region. They considered "prompt settlement of the situation in Afghanistan"3 as a key to enhance security in SCO space. They emphasised that there was no alternative for settlement to political dialogue and an inclusive peace process "conducted and led by Afghans". The Afghan President Ashraf Ghani in his address said that "reaching a peace agreement with the Taliban is a key component for reduction of violence".4 SCO has a dedicated Afghan Contact Group for engaging with Afghanistan. The last meeting of the Group was held at Bishkek in April 2019. Significantly, the Contact Group has signed 'a roadmap for further steps' with Afghanistan. The US is holding talks with Taliban and plans to withdraw its forces from the country. So far, the SCO has not been able to formulate a cogent response to the evolving situation in Afghanistan. There is a need for SCO to devise mechanisms to widen and deepen its engagement with Afghanistan and the Contact Group could play a role in this context. SCO members considered regional cooperation as vital to bring stability in the country.
Regional economic cooperation was an important agenda of the summit meeting in Kyrgyzstan. The member countries called for promotion of practical cooperation in various areas, including economy, finance, investment, transport, energy and agriculture. They intended to increase their efforts for an "open world economy" and called for collaboration in the face of "protectionist" measures by certain countries. However, it may be noted that SCO is still struggling in formulating a comprehensive economic plan acceptable to all members. A number of ideas, including on common energy market and trade in national currencies have been floating around for some time waiting to gather traction. Pragmatic and practical ways must be found to make the organisation economically vibrant for the benefit of the region.
In this context PM Modi's acronym of HEALTH is significant, where H stands for Healthcare Cooperation; E for Economic Cooperation; A for Alternate Energy; L for Literature and Culture; T for Terrorism free society; and H for Humanitarian Cooperation.
It is considered that improvement and advancement in connectivity within SCO will boost economic cooperation and integration in the SCO space. SCO members have launched individual and multilateral connectivity initiatives in the Eurasian region; however, they are facing multiple challenges. China has launched the Belt and Road Initiative (BRI) and it has been welcomed by Central Asian Republics as well as Russia and Pakistan. India has a dissenting view. The Central Asian countries and regional multilateral initiatives are trying to synergize their development plans with the BRI of China. However, in recent times concerns have been raised over the Chinese model of investment and the financial repayment capacity of the recipient countries, particularly Tajikistan, Kyrgyzstan and Pakistan.5
India considers respect for sovereignty, good governance and transparency important for the success of connectivity initiatives. India is increasing its connectivity with SCO area by investments and engagement with initiatives like International North South Transport Corridor (INSTC), which is a multilateral project, Chabahar Port in Iran and the Ashgabat transit agreement. Intentions have been expressed to increase linkages between various projects. Significantly, the recently concluded second Belt and Road Forum (BRF) held in Beijing also took note of the INSTC and the initiative is found mentioned in an annexure published as part of the Joint Communiqué of the 2nd BRF.6
People to people contacts and cultural cooperation within SCO area have a huge potential for all stakeholders. Youth population is relatively high in SCO countries and it is important to increase their engagement to deal with terrorism, extremism and separatism in the region. The Summit underlined the "respect for the diversity of cultures".7 Promotion of "intercultural dialogue" has been considered necessary in interests of people living in SCO area.
Environmental degradation has been a cause of concern in the SCO space for a long time, especially in Central Asian region. Significantly, the members considered the sustainable development and effective management of water resources to be an important and urgent task and highlighted the "preservation of the natural environment, ecosystems and biodiversity" in the context of the Sustainable Development Goals (SDGs).
Conclusion
As the international profile of SCO grows, there is a need in the West to understand the organisation in the right perspective. The dominant Western discourse on SCO often projects it as an anti-West grouping. Differences in perceptions have emerged largely due to communication gap, language barriers and its portrayal in international media outlets. Obviously, the perception within SCO is quite different. In SCO area, it is largely considered that the organisation is not an anti-Western initiative; rather, it is a non-Western platform providing space for an alternative discourse on crucial regional as well as global matters.
There have been differences of perception, especially about the future role of SCO, between Russia and China. Nevertheless, Central Asian countries do not favour such differences in the organisation. They want to develop their foreign relations through the 'multi-vector' policy with all countries, including Russia, China, India and Western powers.
The 19th SCO Summit meeting of Eurasian leaders assumes significance in the backdrop of global and regional developments. There is an increasing schism between the West and rising Eastern economies. Protectionist tendencies are growing in the US and it has imposed sanctions and tariff hikes against countries including, India, China, Russia and Iran. The SCO needs to develop common, cooperative and effective mechanism to deal with the current and future developments in Eurasia.
***
* The Authors are Research Fellows at Indian Council of World Affairs, New Delhi.
Disclaimer: The views expressed are that of the Researcher and not of the Council.
Endnotes
1 Prime Minister of India Narendra Modi, President of Kazakhstan Kassym-Jomart Tokayev, President
of China Xi Jinping, President of Kyrgyz Republic Sooronbay Jeenbekov, Prime Minister of Pakistan Imran
Khan, President of Russia Vladimir Putin, President of Tajikistan Emomali Rahmon and President of Uzbekistan Shavkat Mirziyoyev attended the Summit as full members at Bishkek.
Afghanistan, Belarus, Iran and Mongolia are Observer members of SCO and their respective Presidents: Ashraf Ghani, Alexander Lukashenko, Hassan Rouhani and Khaltmaagiin Battulga attended the Summit.
1 Ministry of External Affairs, Government of India, "Transcript of Media Briefing by Secretary (West) on upcoming visit of Prime Minister to Bishkek to attend the SCO Summit (June 10, 2019)," 11 June 2019, https://mea.gov.in/media-briefings.htm?dtl/31431/Transcript+of+Media+Briefing+by+Secretary+West+on+upcoming+visit+of+Prime+Minister+to+Bishkek+to+attend+the+SCO+Summit+June+10+2019 
2 Ministry of External Affairs, Government of India, "Translation of Prime Minister's intervention at the SCO Summit 2019 (June 14, 2019)," 15 June 2019, https://mea.gov.in/Speeches-Statements.htm?dtl/31442/Translation+of+Prime+Ministers+intervention+at+the+SCO+Summit+2019+June+14+2019 
3 Bishkek Declaration, "Bishkek Declaration of the Shanghai Cooperation Organisation's Heads of State Council," 14 June 2019, http://eng.sectsco.org/documents/ 
4 Office of the President of the Islamic Republic of Afghanistan, "Transcript Of President Ashraf Ghani's Speech At Shanghai Cooperation Organization Summit 2019," 14 June 2019, https://president.gov.af/en/speech/4406 
5 John Hurley, Scott Morris, and Gailyn Portelance, "Examining the Debt Implications of the Belt and Road Initiative from a Policy Perspective," CGD Policy Paper 121, March 2018, https://www.cgdev.org/sites/default/files/examining-debt-implications-belt-and-road-initiative-policy-perspective.pdf 
6 Ministry of Foreign Affairs, the People's Republic of China, "Joint Communique of the Leaders' Roundtable of the 2nd Belt and Road Forum for International Cooperation," 27 April 2019, https://www.fmprc.gov.cn/mfa_eng/wjdt_665385/2649_665393/t1658766.shtml 
7 SCO Website, "Press Release on the Shanghai Cooperation Organisation Heads of State Council Meeting (Bishkek, 13-14 June 2019)," http://eng.sectsco.org/documents/