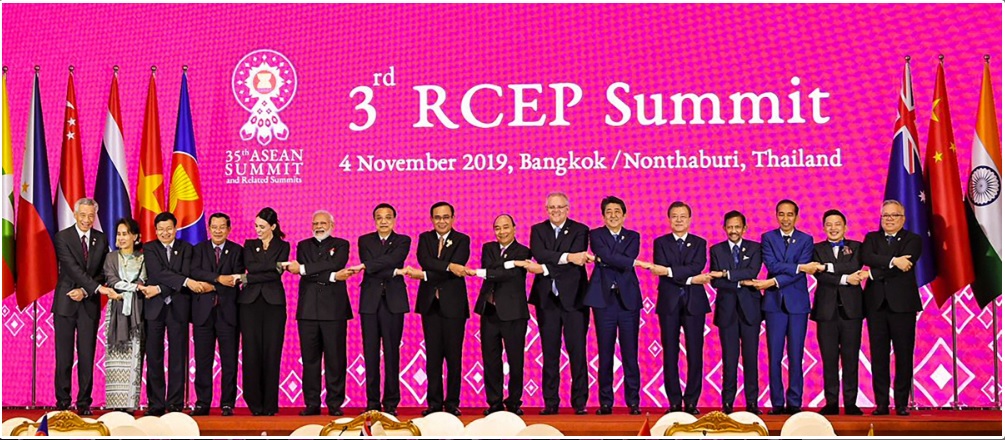 Prime Minister Modi at the RCEP Summit held in Bangkok on November 4, 2019
At the recently concluded ASEAN Summit in Bangkok, India had to step back from joining the much anticipated Regional Comprehensive Economic Partnership [RCEP]. The negotiations which began in 2013 between Australia, China, India, Japan, New Zealand, South Korea, and the ten ASEAN countries could not satisfy some of the key issues raised by New Delhi.

With the weakening of the existing multilateral trading regimes and an emerging narrative for protectionism, RCEP reinforces the benefits from regional free trade agreements. The area under RCEP covers one of today's most dynamic economic regions of the world and India by keeping out from this arrangement for the time being could lose out on the benefits from a wider market access and the preferential or lower trade barriers. Thus, Indian goods would continue to face high cost, tariffs, and other market access denial mechanism limiting its exports into RCEP nations such as China, Australia, and New Zealand with whom no bilateral free trade agreements [FTA] exist.

While we can debate the implications for India not joining this arrangement there are factors that need to be considered that underwrote this decision. The RCEP negotiation was not comprehensive enough to accommodate some of India's major concerns that are necessary to safeguard its manufacturers, and agri-based sectors. Some of the overriding Indian concerns that required acceptance from the rest of the RCEP member nations related to strict implementation of rules of origin, the shifting of the base year for establishing the new tariff rate, the incorporation of services in general and 'Mode 4' which relates to movement of professionals in particular. These issues raised by India however, failed to lead at any agreement amongst the members. There is also the issue of increasing trade deficit that India has with all of the other RCEP nations – of which China constitutes 60 percent of the total – which made the arrangement in its current form unviable.

India is undertaking structural reforms to make its products more competitive in order to ensure that it remains competitive with respect to Chinese goods and agricultural and dairy products from Australia and New Zealand. India is strengthening its manufacturing sector along with undertaking other necessary steps to complement production capabilities by laying out a robust network of infrastructure in terms of transport, logistics support, communication, etc. The Indian government is working towards addressing the lacuna in terms of infrastructure by undertaking projects under the SagarMala, Bharat Nirman, Digital India initiative, and projects by the National Highway and Infrastructure Cooperation under the Ministry of Road Transport and highway.[1]  These efforts made by the government are noteworthy but need a much stronger push to meet the huge infrastructure deficit in order to complement India's lagging manufacturing sector. It must be therefore recognised that the real opportunity cost for India's non-participation in the RCEP would be significant, especially in the long term, if it is not able to overcome its economic structural deficit.

The FTA already in place between ASEAN and India will however continue to provide opportunities that cannot be overlooked. It is important to recall that when India began to build its relations with ASEAN after the end of the Cold War, the need to push economic relations was a major agenda on either side. Under the 'Look East' policy, the economic dynamism of ASEAN countries made it an important partner for economic engagement. India was invited to become a sectoral partner of ASEAN in 1992 that helped promote trade, investment, and tourism relations.  In 1995 India was made a full dialogue partner providing a broader agenda for cooperation, which also included the areas of security, and political cooperation.[2]

In less than four years from 1992 to 1996, India's two-way trade with ASEAN more than doubled to US$ 6 billion and crossed the target of US$ 10 billion in the year 2002. India signed the framework agreement to activate its Comprehensive Economic Cooperation Agreement [CECA] with ASEAN on October 8, 2003. This initial agreement provided for an Early Harvest Programme [EHP], which covered areas of economic cooperation and a common list of items for exchange as an assurance building measure. Negotiations for an agreement on trade in goods between India and ASEAN were also started in March 2004. The negotiations continued for six years after which the India-ASEAN Free Trade Agreement (AIFTA) was signed during the meeting of the Economic Ministers of ASEAN held in Bangkok on August 13, 2009. This agreement that covers trade in goods between India and the ASEAN came into effect on January 1, 2010.[3] On September 9, 2014, India formally signed the Trade in Services and Trade in Investments Agreement with ASEAN. The Services Agreement opened opportunities for movement of both manpower and investments between India and ASEAN.[4] India has also signed bilateral CECA with Singapore in 2005 and Malaysia in 2011, and the Early Harvest Scheme [FTA] with Thailand in September 2004.[5]

Figure One: India-ASEAN Trade, 2012-18 [in US $ billion][6]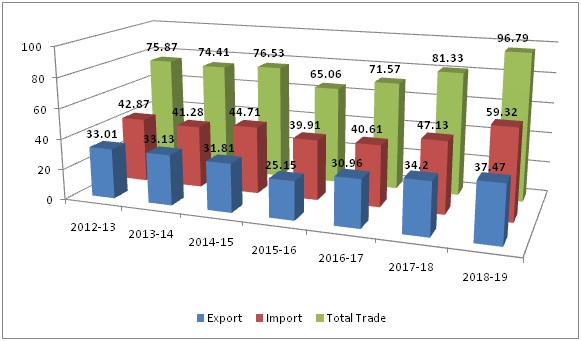 Figure Two: India's Trade with ASEAN Nations in 2018-19[7]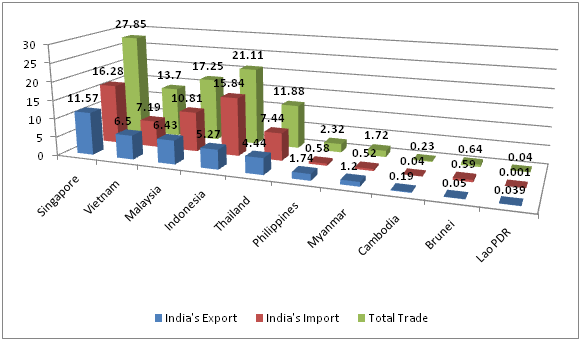 The data in Figure One indicates the bilateral trade between India and ASEAN after the establishment of the FTA. It can be seen that the total trade has increased closing in at US $ 96 billion at the end of 2018. While India's total exports to ASEAN grew at a uniform rate closing in at US $ 37.4 billion in 2018, its imports have increased from US $ 42.8 billion in 2013 to US $ 59.3 in 2018. As highlighted in Figure Two in 2018-19 India has had a trade deficit with Singapore, Vietnam, Malaysia, Indonesia, and Thailand, while it enjoyed a trade surplus with the Philippines, Myanmar, Cambodia, Brunei, and Lao PDR.

In the post-FTA period, trade in goods became asymmetric in favour of ASEAN while India's exports have not witnessed a significant jump. Further, the India-ASEAN Agreement on Trade in Services and Investment in 2014 is yet to be ratified by Indonesia and Cambodia in order for it to come into effect. India is thus under pressure due to a growing unbalanced bilateral trade with ASEAN. With those five ASEAN countries with which India enjoys a trade surplus, unfortunately the level of trade continues to remain low. There is certainly some potential for collaboration in the areas of infrastructure development, IT, pharmaceutical, textile, and so on. India should look into new areas of partnerships with these countries where strong convergence of interest exist, one of them being the Philippines.

The economic dynamics of the Philippines along with its achievement of a sustained GDP growth rate of over six percent in the last few years represents a major partner for India amongst the ASEAN states. During his recent visit to the Philippines in October 2019, President of India Ram Nath Kovind emphasised the need for greater and deeper bilateral engagement. While the bilateral trade between India and the Philippines has been growing steadily especially in the IT-BPO segment, the President stated that there was scope to enhance partnership in several other areas - from trade, investment, services, agriculture, engineering to new technologies. He also stated that India's "Make in India" initiative and its next-generation infrastructure programmes along with the "Build, Build, Build" infrastructure initiative of the Philippines present immense opportunities for companies and investors on both sides.[8]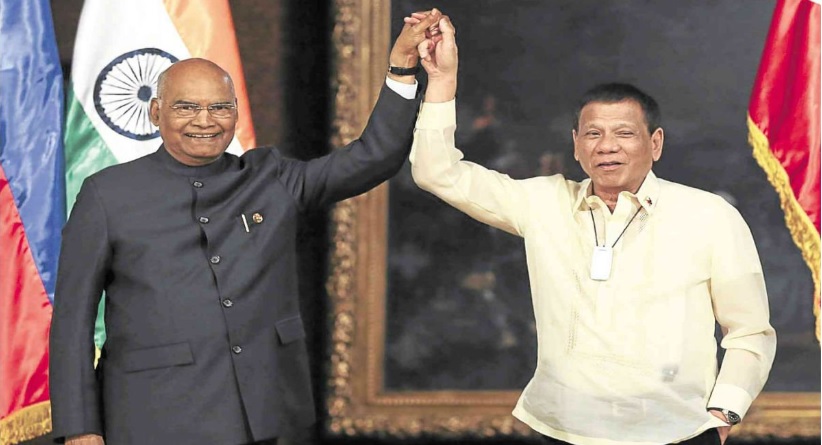 President Kovind with President Duterte on October 19, 2019, during his State visit to the Philippines to mark the 70th anniversary of India-Philippines diplomatic relations

In order for this or for that matter any other partnerships especially with those ASEAN states with whom the level of trade remains low; a robust line of connectivity and infrastructure would play a pivotal role.  In this soft connectivity apart from hard connectivity, in terms of capacity as well as capability building, through collaboration and cooperation would also be crucial.There is the requirement for the completion of the ongoing connectivity projects between India and Southeast Asia, which would help increase the exports of goods and help narrow the trade deficit. The Indian PM during his visit to Bangkok for the ASEAN Summit, while addressing the Indian diaspora on November 2, 2019, emphasised the importance of seamless connectivity between India and Southeast Asia. This according to the Prime Minister would help facilitate trade and development.[9]

The Prime Minister's emphasis on continuing the government's connectivity agenda with Southeast Asia to further accelerate economic and people exchange thus indicates no sign of retreat by India and its continued commitment to the regional trading order. India's ongoing FTA with ASEAN continues to represent a vast area of opportunity. On India's part there is a need to push for collaboration in new areas such as in the maritime space that include the development of the blue economy. Further, the early ratification of the FTA on services and investment would help improve India's overall balance of trade with ASEAN. For this New Delhi needs to take on board the concerns raise by some of the ASEAN countries while ensuring that its interests are addressed. Even though Indian manufacturing sector may lack the competitiveness as compared to its counterparts in Asia, the need is to continue building our economic engagements based on complementarities and in areas where we have comparative advantage.


***


[1]Radhika Rao, "RCEP and India: Weighing the benefits of Regionalism", DBS Focus, October 9, 2019, https://www.dbs.com/aics/templatedata/article/generic/data/en/GR/102019/191009_insights_india.xml, Accessed on November 8, 2019.
[2]"India-ASEAN Relations", Ministry of External Relations, August 2018,  https://mea.gov.in/aseanindia/20-years.htm, Accessed on November 8, 2019.
[3]ChandrimaSikdar and Biswajit Nag, "Impact of India-ASEAN Free Trade Agreement: A Cross –Country Analysis using applied General Equilibrium Modelling", Asia-Pacific Research and Training Network on Trade Working Paper Series, No 107, November 2011https://www.unescap.org/sites/default/files/AWP%20No.%20107.pdf, Accessed on November 8, 2019.
[4]"India formally signs Trade in Services & Trade in Investments Agreement with ASEAN", Press Information Bureau, Government of India, September 9, 2014, https://pib.gov.in/newsite/PrintRelease.aspx?relid=109489, Accessed on November 11, 2019.
[5]Foreign Trade [ASEAN], Department of Commerce, Ministry of Commerce and Industry, https://commerce.gov.in/InnerContent.aspx?Id=74, Accessed on November 8, 2019
[6]Foreign Trade [ASEAN], Department of Commerce, Ministry of Commerce and Industry, https://commerce.gov.in/InnerContent.aspx?Id=74, Accessed on November 8, 2019.
[7]Foreign Trade [ASEAN], Department of Commerce, Ministry of Commerce and Industry, https://commerce.gov.in/InnerContent.aspx?Id=74, Accessed on November 8, 2019.
[8]"Address by President at India-Philippines Business Conclave and 4th India-ASEAN Business Summit", Ministry of External Affairs, October 19, 2019, https://www.mea.gov.in/Speeches-Statements.htm?dtl/31965/Address_by_President_at_IndiaPhilippines_Business_Conclave_and_4th_IndiaASEAN_Business_Summit, Accessed on November 11, 2019.
[9]"Northeast India will be gateway to Southeast Asia, says PM Modi", The Times of India, November 2, 2019, https://timesofindia.indiatimes.com/india/northeast-india-will-be-gateway-to-southeast-asia-says-pm-modi/articleshow/71869280.cms, Accessed on November 13, 2019.