Iraq under its new  Prime Minister Adel Abdul Mahdi,  is seeking to carve out a dense web of relations with Arab states as well as Iran, in a bid to not only further its own national interests but potentially play peacemaker mediating between the rival powers in the region.
On April 20, 2019, Mohammad al-Halbusi, speaker of the Iraqi parliament, hosted one-day parliamentary summit in Baghdad. The summit brought together representatives from Iraq's neighbours Turkey, Jordan, Syria, Kuwait including regional rivals, Iran and Saudi Arabia. Describing Baghdad as a historical centre of 'Arabism, Islam and peace,' al-Halbusi said that the summit 'is a positive message to all neighbouring countries and the world that Iraq is determined to regain its health and return to its Arab regional environment and assume its rightful place in the map of the balance of power. It will have a significant impact on enhancing cooperation and efforts to achieve security and stability in the region.'[1]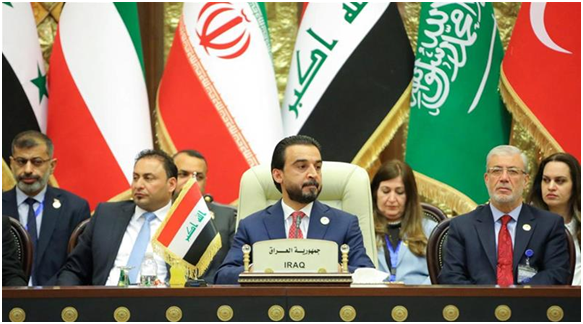 (Mohammad al-Halbusi, speaker of the Iraqi parliament, the Council of Representatives, attends the Baghdad Summit. Image: Reuters)
This Iraqi initiative was consistent with Iraq's post-ISIS policy of steering clear of regional rivalries and positioning Iraq as a country that does not exacerbate the security concern of its neighbours, and instead pursues a pragmatic policy of economic and security cooperation with them. Baghdad's security and economic goals, namely the elimination of ISIS after it has been defeated on the battleground, reconstruction and revival of the economy requires Iraq to cooperate with the United States and its Arab allies as well as Iran.
The increasing polarisation in the Persian Gulf region, with the US supporting a new security alliance of Arab countries aimed at countering Iran's influence in the Middle East and Iranian strategy of challenging the US military presence by supporting non-state actors  has the effect of compounding Iraq's security dilemma. Therefore, Baghdad is seeking to return to the Arab world to balance its relations with Iran, while refusing to join the US sanctions on Iran or allowing the US to use military presence in Iraq to monitor Iran.[2] Iraq has maintained that the US military presence in the country is result of a bilateral agreement with the specific goal of fighting terrorism.'[3]
The seriousness of Iraq's desire to balance its foreign relations and take an independent stand on regional issues was underscored when Iraqi Prime Minister Adel Abdul Mahdi chose to visit Egypt in March 2019. This was his first official trip abroad after assuming office in October 2018. In Egypt, Mahdi participated in tripartite summit with the Egyptian President Abdel Fatah al Sisi and King Abduallh II of Jordan. Iraq  hailed  the three way summit, where the three countries affirmed their commitment to maintain strategic cooperation and coordination with the Arab countries, restore regional stability and reach solution to crises, as a success of Iraq's policy of 'distancing itself from regional axes and entering into political alliances,' but joining 'various economic circles.'[4]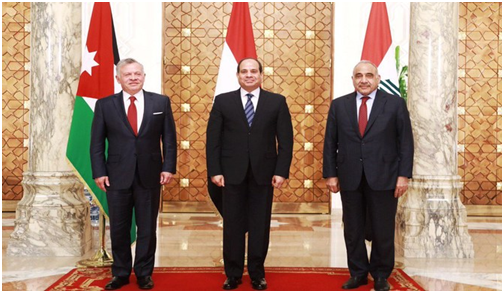 (Egyptian President Abdel Fatah al Sisi hosted the Summit that was attended by Iraqi Prime Minister Adel Abdul Mahdi and King Abduallh II of Jordan. Image: Arab News)
Iraq's efforts of cooperation with Egypt and Jordan have historical precedence. In 1989, following the end of Iran-Iraq war, Iraq along with Egypt, Jordan and North Yemen had formed a short-lived Arab Cooperation Council (ACC). The founding members aimed at building upon political and military relationships that were forged during the war and create a new concert of powers in the region. The more important implication of the formation of the Council was that it assisted Egypt's return to the Arab fold, specifically the reestablishment of diplomatic relations between Cairo and all but three Arab capitals – Damascus, Algiers and Beirut.[5] The summit in Egypt indicates that Iraq under PM Adel Abdul Mahdi is seeking an opening with the Arab world by forging mutually beneficial economic ties with countries beyond the immediate Persian Gulf region. This is mainly an attempt to overcome the polarising dynamics resulting from the Saudi-Emirati and Bahraini axes seeking to isolate Iran and Qatar in the region.
Egypt along with Saudi Arabia, the UAE and Bahrain has formed an 'anti-terror quartet' that has blockaded Qatar since June 2017. But it pulled out of the US-backed Middle East Security Alliance (MESA) to contain Iranian influence in the region. Furthermore, Egypt signed a comprehensive partnership and strategic cooperation agreement with Russia in October 2018, signalling  that  it  would  follow  an  autonomous foreign policy and seek close relations with both the United States and Russia. Even as there is no consensus among member states on Syria's return to the Arab League, Egypt, which houses the League's headquarters, has maintained that it has set no conditions for restoring Syria's membership to the pan-Arab body.[6]Iraq is one of the three Arab countries that never cut ties with Syria and supports the latter's return to the Arab League. Therefore, for Baghdad, seeking to strengthen its foreign policy independence and act as bridge between rival powers in the region, while seeking regional support for its counter-terrorism and reconstruction efforts, Cairo is the most important Arab partner.
Jordan is also important for Iraq to re-establish its relations with the Arab world as Jordanian King Abdulla II was the first Arab leader to visit Iraq in 2008 after the removal of Saddam Hussein in 2003. King Abdulla's visit to Baghdad in January 2019 was followed by the visit of Jordanian Prime Minister Omar Razzaz. A number of economic and security agreements signed during the visits will allow Iraq to provide Jordan 10,000 barrels per day from Kirkuk to be transported by truck at preferential prices and linking of electricity grids of the two countries allowing Jordan to export 300 megawatts of electricity to Iraq by 2020- a major achievement given that the existing electricity grid in Iraq is inadequate for generating and distributing energy for both industrial and household needs. The two neighbours, sharing a 179 km long border also decided to launch technical studies for the construction of the long discussed 1,700 km oil pipeline from Basra to the coastal red city of Aqaba.[7]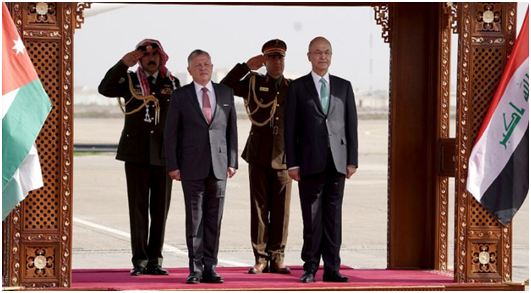 (Iraqi President Bahram Saleh welcomes Jordan's King Abduallh II in the Iraqi capital Baghdad. Image: AFP Photo/Yousef Allan)
y strengthening relations with diverse set of Arab states, Iraq is bringing its relations with Iran from the realm of exclusivity. As Prime Minister Abdul Mahdi noted in his joint news conference with President Rouhani in Tehran that 'we wish to see our well-developed relations, bilateral relations, to be an example to follow and also as a precursor to similar ones with all the regional countries.[8]By carving out a dense web of relations with Arab states and Iran, Iraq will not only further its own national interests but may become the peacemaker mediating between the rival powers in the region.
***
*Dr. Deepika Saraswat, Research Fellow, Indian Council of World Affairs, New Delhi.
Disclaimer: The views expressed are that of the Researcher and not of the Council.
Endnotes
[1] Can Iraq bring Iran and Saudi Arabia together? Rivals to meet, along with Syria and other neighbours, April 19, 2019, https://www.newsweek.com/iraq-bring-iran-saudi-together-1401869Accessed on 20 April, 2019.
[2] Iraq angered by Trump idea to watch Iran from US base, 4 February, 2019, BBC, https://www.bbc.com/news/world-middle-east-47118889, Accessed on 21 April, 2019.
[3]BethanMcKernan, US troops do not have permission to watch Iran, The Guardian, 4 February, 2019, https://www.theguardian.com/world/2019/feb/04/us-troops-do-not-have-permission-to-watch-iran-says-baghdad, Accessed on 22 April, 2019.
[4]Iraq succeeded in the tripartite summit in accordance with the principle of profit, not loss, AlsumariaTv, 25 March, 2019, https://ces.to/DXo376Accessed on 21 April 2019.
[5]The Arab Cooperation Council: A shaky Strategic Consensus, Directorate of Intelligence, https://www.cia.gov/library/readingroom/docs/DOC_0000205721.pdf, Accessed on 21 April, 2019.
[6]

Egypt 'has no condition' for Syria's Arab League return, 20 March, 2019, Middle East monitor,

https://www.middleeastmonitor.com/20190320-egypt-has-no-condition-for-syrias-arab-league-return/Accessed on 22 April, 2019.
[7]Jordan and Iraq turn a new page with agreements and projects, 3 February, 2019, The Arab News, https://www.thenational.ae/business/economy/jordan-and-iraq-turn-a-new-page-with-agreements-and-projects-1.821230 Accessed on 22 April, 2019.
[8]In Tehran, Rouhani and Abdul Mahdi back deeper Iran-Iraq ties, 6 April, 2019, Al-Jazeera, https://www.aljazeera.com/news/2019/04/tehran-rouhani-abdul-mahdi-deeper-iran-iraq-ties-190406143136528.html, Accessed on 21 April, 2019.