Abstract
Central American nations have witnessed rise in violence and poverty which has pushed its citizens to risk their lives to cross illegally into the United States (US). In the midst of this turmoil, Costa Rica celebrated 71 years as a nation without an army. As India focuses on the Latin America and Caribbean (LAC) Region, Costa Rica is fast emerging as one of the major growth engines of the region. India is looking beyond trade and investment to cooperation other areas such as energy, food and nutritional security and other hi-tech and high value arenas.
Introduction
Costa Rica celebrated 71 years without an army in December 2019.The country's military was abolished by President José Figueres Ferrer, on December 1, 1948 following the end of the Civil War. "The Civil War started over accusations of voter fraud with the National Liberation Army (ELN in Spanish) accusing the opposition candidate Otilio Ulate of fraud. After 44 days, the ELN emerged victorious and President Figueres Ferrer decreed the immediate dissolution of the permanent army. Through Decree No. 749, the Founding Board of the Second Republic declared "officially dissolved the National Army, because it considered sufficient for the security of our country, the existence of a good police force".[1]The barracks were converted into the National Museum. In 1949, the new constitution adopted by the country codified the abolition of the military under Article 12. It stated that, "The army as an institution is proscribed."[2]The budget for the development of the armed forces was and continues to be used for education, environmental protection, cultural preservations and the police force. Leader who followed President Figueres Ferrer also promoted demilitarisation and the use of diplomatic tools to build regional peace and stability. "Notably, in 1987, then-President Oscar Arias received the Nobel Peace Prize for being the driving force behind the Esquipulas agreement"[3], which is a regional peace plan signed by five Central American countries.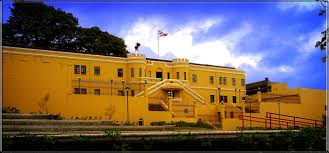 The National Museum of Costa Rica, former barracks (Source: pinterest.com)
Costa Rica and Latin America and the Caribbean (LAC)
Costa Rica is a Central American nation located between the Pacific Ocean and the Caribbean Sea, bordering Nicaragua, on its north and Panama, on the south. Its population of close to five million people (estimates for 2018) largely depend on agriculture and related activities for their livelihood. Although it still maintains a large agricultural sector, Costa Rica has expanded its economy to include technology and tourism industries.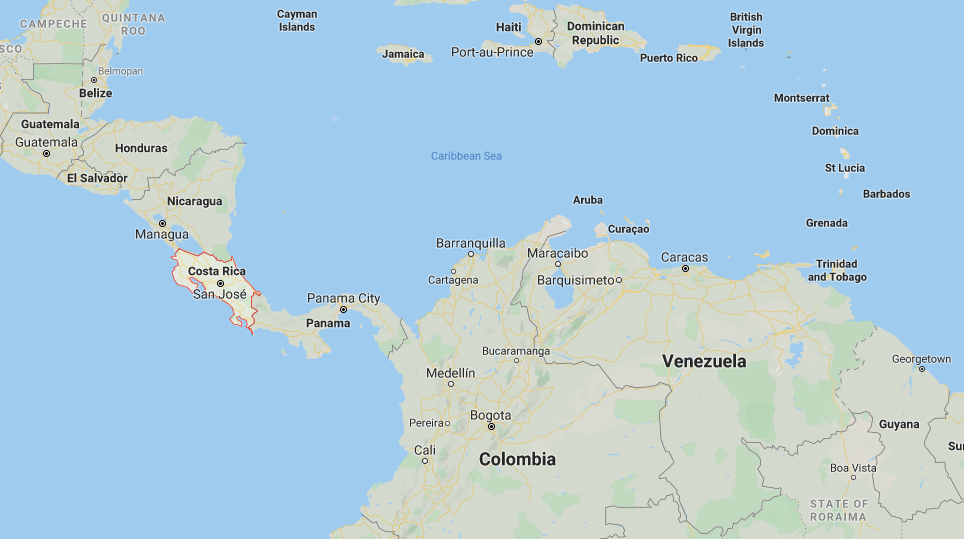 Costa Rica (Source: Google Maps)
In a region that has been in the news for violence and poverty that is pushing people to risk their lives to illegally enter the United States, Costa Rica has enjoyed political stability and economic consistency. Political stability has paid dividend in the form of economic growth and the people enjoy a high standard of living. Costa Rica leads the Latin America and the Caribbean (LAC) region in health and primary education and providing universal health care to all its citizens according to the 2019 Global Competitiveness Report[4] of the World Economic Forum. However, very much like the rest of Latin America, corruption among political leaders and government officials also plagues this Central American nation.
Within the region it has an ongoing border dispute with Nicaragua. It enjoys close and friendly relations with the United States. "The two nations enjoy robust bilateral law enforcement and security cooperation, and have signed a maritime cooperation agreement that facilitates narcotics seizures, illegal migrant rescues, illegal fishing seizures, and search-and-rescue missions."[5] Costa Rica also receives assistance from the United States as part of the Mérida Initiative. The initiative is a multi-year proposal which provides US assistance to Mexico and Central American nations for combating drug trafficking and organised crime."Costa Rica receives International Military Education and Training (IMET) assistance from the US to train its public security forces. These funds have been used to improve the counterdrug, rule of law, and military operations capabilities of the Costa Rican Coast Guard and law enforcement services."[6] Apart from security assistance, the United States also provides aid through the USAID, which has been utilised by Costa Rica for infrastructure, health, education and economic development initiatives.
The abolishment of the armed forces does not mean that Costa Rica does not have a security force. The country does have extensive internal security force to ensure law and order. It has a well-equipped and trained police force and unlike other Latin American police forces, it is not viewed with hostility by the local population.
Costa Rica and India
India and Costa Rica enjoy cordial relations, sharing common views on many multilateral issues such as renewable energy, affordable healthcare and education and strengthening international institutions. Costa Rica is a member of the Organisation of American States, the Community of Latin American and Caribbean States (CELAC) and the Central American Integration System (SICA). It is also an observer nation in the Pacific Alliance, like India. India believes working in cooperation with likeminded nations contributes to the strengthening of international institutions. It is looking at Costa Rica as a key partner in Central America.
The economic and political stability in Costa Rica has allowed it to attract Foreign Direct Investment (FDI) for economic growth and creation of jobs. Understanding its potential, Indian companies have already established themselves in the information technology (IT) sector here. Further, India could explore investments possibilities in IT related fields such as digital start-ups and service centres for companies based out of the United States. India could also explore the possibility of basing Indian companies in Costa Rica for better trade facilitation with North America and the LAC Region. For Indian companies, the region offers opportunities in various sectors, especially in energy, pharmaceuticals and agri-business. Vice President of India Venkaiah Naidu, during his visit to Costa Rica in March 2019, highlighted that the LAC region is rich in resources that are essential for India's energy and food security and boasts of abundant mineral wealth. India and Costa Rica could work together in critical and innovative technologies which are of mutual interest such as food processing, digital sciences, pharmaceuticals etc.[7] Other areas of mutual interest are eco-tourism, medical tourism; film production, port development and closer cooperation between the academic and scientific communities for better people to people connect.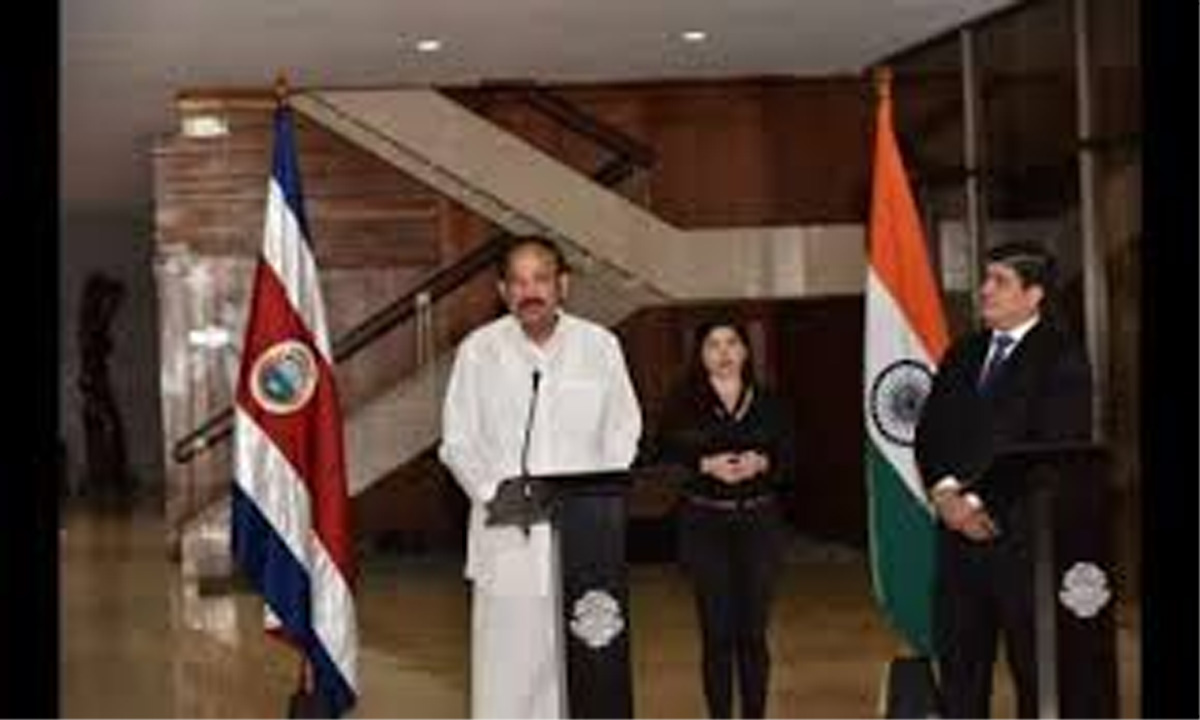 Vice President Venkaiah Naidu during his visit Costa Rica in March 2019 (source: newindiaexpress.com)
While security requirements demand different approaches from different countries, India appreciates Costa Rica's efforts to remain military free and utilise funds thus saved, for social development.
As India focuses on the LAC region, Costa Rica is being viewed as an ideal partner for enhanced south-south cooperation. The relationship has potential that is waiting to be explored as both nations seek greater trade and investment opportunities and new markets beyond their traditional partners. Their similar views on issues such as climate change, combating terrorism and UN reforms, provide further impetus to strengthen connections. To take this relationship forward India would need to have adequate representation in the Costa Rica. Following India's appointment of an Honorary Consul in San Jose in 1995, Costa Rica reciprocated by opening an Honorary Consulate in New Delhi in 1996. Costa Rica opened its Embassy in New Delhi in April 2010; however, India has not been able to respond in kind. Currently, the Indian Embassy in Panama is concurrently accredited to Costa Rica.
Conclusion
Costa Rica's institutions have proven more resilient than those of its Central American neighbours. Political stability and a diverse and strong economy have allowed Costa Rica to invest in its social sector. It has also emerged in the recent years as a leader on the issue of environmental protection and climate change. Nationally it is trying to emerge from the damage of extensive exploitation of its forest resources and to stress on conservation and commitment to renewable energy.
The recession in the global economy and the United States economic slump has affected Costa Rica's export oriented market. In order to boost the economy Costa Rica is looking beyond its traditional partners in the America to other regions such as Asia. It has strong economies ties with China and is expanding its engagements with the ASEAN as a prudent mechanism to reach out to the Asia Pacific region. As it expands its relations with other nations, India should take advantage of its long standing association with the nation to forge a strong partnership.
* Dr. Stuti Banerjee, Research Fellow, Indian Council of World Affairs.
Disclaimer: Views expressed are personal.
[1]Iván Parada Hernández, "Costa Rica: 70 years without an army," Latin America Post, 26 Dec. 2018, https://latinamericanpost.com/25424-costa-rica-70-years-without-an-army, Accessed on 10 December 2019.
[2]Article 12 of the Costa Rica Constitution states, "The Army as a permanent institution is proscribed. For the vigilance and conservation of the public order, there will be the necessary forces of police. Military forces may only be organized by a continental agreement or for the national defence; one and the other will always be subordinate to the civil power: they may not deliberate, or make manifestations or declarations in an individual or collective form." Source: https://www.constituteproject.org/constitution/Costa_Rica_2011.pdf, Accessed on 10 December 2019.
[3] This agreement seeks to provide the principles by which the conflicts in Costa Rica, El Salvador, Guatemala, Honduras and Nicaragua will be resolved. Esquipulas II defined a number of measures to promote national reconciliation, an end to hostilities, democratization, free elections, the termination of all assistance to irregular forces, negotiations on arms controls, and assistance to refugees. It also laid the ground for international verification procedures and provided a timetable for implementation.
[4]Report is available at http://www3.weforum.org/docs/WEF_TheGlobalCompetitivenessReport2019.pdf
[5]US Embassy in Costa Rica, " US-Costa Rica Relations," https://cr.usembassy.gov/our-relationship/policy-history/, Accessed on 11 December 2019.
[6]Peter J. Meyers, "Costa Rica: Background and US Relations," https://fas.org/sgp/crs/row/R40593.pdf, Accessed on 11 December 2019.
[7] Ministry of External Affairs, "Address by Vice President at India- Costa Rica Business Forum (March 07, 2019)", https://www.mea.gov.in/outoging-visit-detail.htm?31128/Address+by+Vice+President+at+India+Costa+Rica+Business+Forum+March+07+2019, Accessed on 10 December 2019.