This viewpoint explains why the recently signed phase-one trade agreement between the US and China is a mere stop-gap arrangement and the implications it holds for the multilateral trade regime. The analysis reveals that the agreement is a highly-one-sided document and suffers from serious conceptual shortcomings.

On 15th January this year, the Chinese Vice Premier Liu He and the US President Donald J Trump signed the "phase one" agreement as mark of a partial truce in the US-China trade war.[i]The agreement comes after months of negotiation between Beijing and Washington on issues ranging from increased market access, lower tariffs to technology transfer, intellectual property rights and bilateral investment flows.

The trade dispute started in early 2018 after Washington had imposed a 25 percent tariff on steel and 10 percent on aluminum imports from China.[ii] In a retaliatory bid, the Chinese government had levied tariffs on $50 billion of US imports. Tit-for-tat moves continued since, with the additional tariffs of about $112 billion in Chinese goods taking effect in September 2019. The dispute began as a national security review of China's solar panels by the Trump Administration and intensified following Section 301 investigation by the Office of the U.S. Trade Representative (USTR), which found China indulging in unfair trade practices vis-à-vis technology transfer, foreign investments and intellectual property rights.[iii]

What did the phase-one agreement achieve?

The "phase one agreement" though hailed as a "momentous step" by the White House, has achieved very little on ground.[iv] In fact it leaves many questions unanswered about the future of Sino-American trade relationship. The pact primarily focuses on three things: how to tackle the U.S.'s trade deficit with China; renewed commitments on intellectual property (IP) rights, technology transfer, and currency practices and the establishment of a high-level bilateral review mechanism to monitor implementation of the agreement, assess complaints and settle disputes.[v]

As part of the deal, the Trump administration has shelved its plan of imposing additional penalty tariffs on $160 billion worth of Chinese imports originally set to take effect from 15th December last year.[vi] While it also promises to halve the September 1, 2019 tariff from 15 percent to 7.5 percent on $120 billion of Chinese products, other tariffs remain.[vii] These include 25 percent US tariffs on $250 billion in Chinese imports and China's retaliatory tariffs on $110 billion of US goods. Following the signing ceremony, President Trump also announced that at Beijing's request the "phase two" negotiations would begin soon and not be affected by the 2020 election. In return, China has agreed to increase its purchases of U.S. goods by over $200 billion over a two-year period including doubling of agricultural purchases.[viii]

Failure to meet expectations

A first reading of the trade agreement's text gives an impression of a set of "commands" being issued by Washington for the Chinese side to follow. In other words, the text appears to be a one-sided document that lacks elements of "quid-pro-quo" and heavily laden with obligations for China. This makes the agreement highly unrealistic, creating space for future disputes.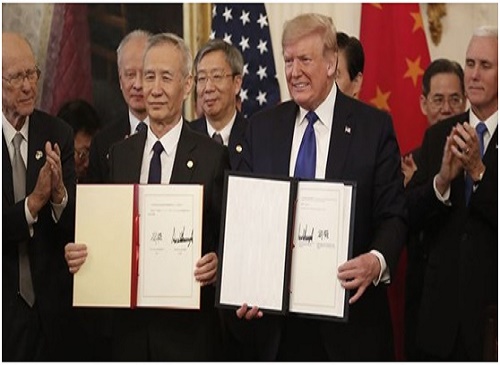 (Source: Livemint, 16 January 2020)
The first two chapters of the agreement dealing with the policies and practices relating to intellectual property and technology transfer acknowledged the serious implications of any kind of technology theft, misuse or forced transfer of technology.[ix]While a consensus has seemingly been brokered on these issues, the agreement does not talk about provisions to deal with China's enforcement mechanism.

Challenges relating to implementation of laws have been at the heart of the debate relating to China's domestic policies. The enforcement personnel in China remain free of judicial accountability and are part of the local and provincial governments.[x] These also make the case of China's new Foreign Investment Law (FIL) weaker.[xi]The Law which has come to effect from January 1st this year promises to ban forced technology transfers of the foreign firms operating in China, and to provide them with a fair business environment.

In fact the current agreement only addresses some of the US government's trade related complaints against China and overlooks the key issues underlying the dispute. This pertains to the Chinese domestic economic policies which uses extensive subsidies to favour its State-Owned Enterprises, cushion them from many laws and provisions and bolster their operations locally and globally through preferential financing in the form of low-interest bank loans, free land and other privileges.[xii]These incentives create unfair advantages for the Chinese companies competing with foreign firms locally and abroad.[xiii]

With regard to US demand of eliminating trade deficits, the agreement sets targets for China to increase its imports from the US by $200 billion above 2017 levels over the next two years.[xiv]This, however, does not take into account the resulting consequences of the "expanded trade" between US and China. Firstly, the agreed targets are too ambitious for China to meet. With China's economy currently facing a slowdown, owing to its domestic structural issues, sustaining the import obligations over a two year period would be a challenge. Second, it can lead to a global trade diversion. In its attempt to abide by the targets, Beijing might wary it's other trading partners by diverting purchases away from them towards the US.[xv] Besides, the Trump administration's obsession to eliminate the trade imbalance with China continues to miss the larger macroeconomic factors that have resulted in Washington's trade deficits with over 100 countries. Owing to US's low domestic savings rate relative to investments, the US deficit is global and can be fixed by increasing savings, greater purchase of foreign currencies and taxing capital inflows.[xvi]

What makes the agreement further problematic is its deliberate distancing from the World Trade Organisation (WTO) and its Dispute Settlement Body (DSB). The proposal for a "Trade Framework Group" in the chapter on "Bilateral Evaluation and Dispute Resolution" points to Washington's reluctance to resolve trade related disputes in a multilateral setting.[xvii]The dispute settlement system of the WTO has been rendered almost dysfunctional after President Trump's decision to block the appointment of judges that was due in December 2019.[xviii] Adding to the short-sightedness of the agreement is its inability to note that China's rate of compliance with DSB's decisions has been far more than in any bilateral or plurilateral arrangements.[xix]

Despite all these, one major takeaway for China from this deal has been the clearance of its name from the currency manipulator's list.[xx]The Trump administration had branded China as a "currency manipulator" at the peak of US-China trade war.[xxi]In an interesting move, few days preceding the signing of agreement, the US Treasury Department has dropped China's name from the currency watch list, signaling a celebratory step towards de-escalation from the American side. The move, being purely symbolic, however ignores the conditions stipulated in the International Monetary Fund's Articles of Agreement for a country to be designated as a currency manipulator or not.[xxii]

A disappointing approach

The 96 page agreement, in its very spirit, is inward looking. It has little regard for multilateral economic institutions and their long-standing contributions to global economic stability and prosperity. In fact, the deal's misguided approach to some of the contentious issues in the Sino-US trade dispute has further undermined the sanctity of international norms and rules in economic governance.[xxiii] The agreement's narrow and limited vision has not only restricted options for global businesses but also disrupted the reform momentum in the multilateral system. From a bilateral relations standpoint, the deal would have been better off if it was negotiated in a multilateral forum and in presence of other countries of the world. This would have created pressure on both China and US to comply. Failure to do so has increased the risks for another round of escalation, perhaps an uncontrolled one, between the two.

Thus, an overall analysis of the "phase one agreement" reflects a stop-gap arrangement that has temporarily eased worries in US-China trade relations. The two sides tacitly agreed on an approach of "solving easier issues first" and "leaving difficult issues for later". By not touching upon the critical issues underpinning the trade conflict, the pact stands incomplete relegating bigger challenges to the second phase of negotiations.[xxiv] The deal also fails to completely eliminate US tariffs on Chinese goods and vice versa. On the bright side, the temporary reprieve achieved through the phase one agreement has cheered up the American and the Chinese businesses. But one is not sure whether firms with supply chains in both the countries would resume capital spending immediately or wait for something more definitive.


 *****
*Dr. Priyanka Pandit is a Research Fellow at the Indian Council of World Affairs, New Delhi.
Views expressed are personal.
[i] Remarks by President Trump at Signing of the U.S.-China Phase One Trade Agreement, January 15, 2020 https://www.whitehouse.gov/briefings-statements/remarks-president-trump-signing-u-s-china-phase-one-trade-agreement-2/Accessed on January 16, 2020.
[ii] Bryan, B (2018) "Trump is getting ready to fire the first shot of a trade war", Business Insider, March 1, URL: https://www.businessinsider.in/Trump-is-getting-ready-to-fire-the-first-shot-of-a-trade-war/articleshow/63127752.cms  Accessed on April 25, 2018
[iii] (2018), "Global Trade at a Crossroads: China-U.S. Tariff Dispute Still a Skirmish, But Credit Risks Are Rising", S & P Global Ratings, April 5 URL: https://www.spglobal.com/_media/documents/the-cyclical-tide-is-receding.pdf  Accessed on May 20, 2018
[iv] (2020) "Donald Trump Praises "Momentous" US-China Deal Aimed At Defusing Trade War", NDTV News, URL: https://www.ndtv.com/world-news/donald-trump-hails-momentous-us-china-deal-aimed-at-defusing-18-month-trade-war-2164649Accessed on January 20, 2020
[v] Economic and Trade Agreement Between the Government of The United States Of America and the Government of the People's Republic Of China, URL: https://ustr.gov/sites/default/files/files/agreements/phase%20one%20agreement/Economic_And_Trade_Agreement_Between_The_United_States_And_China_Text.pdfAccessed on January 20, 2020
[vi] Boyer, D & Howell Jr. T (2020).  "Trump signs landmark trade deal with China to fix 'wrongs of the past", The Washington Post, URL: https://www.washingtontimes.com/news/2020/jan/15/donald-trump-signs-landmark-trade-deal-china-fix-w/Accessed on January 20, 2020 
[vii] Franck, T (2019) "Trump halts new China tariffs and rolls back some of the prior duties on $120 billion of imports", CNBC, December 13, URL: https://www.cnbc.com/2019/12/13/trump-says-25percent-tariffs-will-remain-but-new-china-duties-will-not-take-effect-sunday.html Accessed on January 20, 2020
[viii] Kirby, J (2020), "Trump signed a "phase one" trade deal with China. Here's what's in it — and what's not", Vox, January 15 URL: https://www.vox.com/world/2020/1/15/21064070/trump-china-phase-one-trade-deal-signing Accessed on January 20, 2020 
[ix]Economic and Trade Agreement Between the Government of The United States Of America and the Government of the People's Republic Of China, URL: https://ustr.gov/sites/default/files/files/agreements/phase%20one%20agreement/Economic_And_Trade_Agreement_Between_The_United_States_And_China_Text.pdfAccessed on January 20, 2020 
[x] Omar Serrano (2016) China and India's insertion in the intellectual property rights regime: sustaining or disrupting the rules?,New Political Economy, 21:4, 343-364, DOI: 10.1080/13563467.2016.1113950 
[xi]Elen, M. (2020) "What's Missing in China's Foreign Investment Law?", The Diplomat,
https://thediplomat.com/2020/01/whats-missing-in-chinas-foreign-investment-law/Accessed on January 16, 2020 
[xii]Cai, Jane (2019) "Why China's subsidised state-owned enterprises anger US, Europe – and its own private companies" South China Morning Post, URL: https://www.scmp.com/news/china/diplomacy/article/2184707/why-chinas-subsidised-state-owned-enterprises-anger-us-europeAccessed on January 16, 2020 
[xiii]Weijian, Shan (2020). "The Unwinnable Trade War", Foreign Affairs, URL: https://www.foreignaffairs.com/articles/asia/2019-10-08/unwinnable-trade-warAccessed on January 22, 2020 
[xiv]Economic and Trade Agreement Between the Government of The United States Of America and the Government of the People's Republic Of China,, URL: https://ustr.gov/sites/default/files/files/agreements/phase%20one%20agreement/Economic_And_Trade_Agreement_Between_The_United_States_And_China_Text.pdf Accessed on January 20, 2020 
[xv] Yukong, H & Smith, J (2020) "Trump's Phase One Deal With China Misunderstands Global Trade", Foreign Policy, URL: https://foreignpolicy.com/2020/01/28/trump-phase-one-deal-china-misunderstand-global-trade-leave-worse-off/ Accessed on February 1st, 2020 
[xvi] Freund, C (2017) "Three Ways to Reduce a Trade Deficit", PIIE, URL: https://www.piie.com/blogs/trade-and-investment-policy-watch/three-ways-reduce-trade-deficit  Accessed on January 17, 2017
 [xvii]Economic and Trade Agreement Between the Government of The United States Of America and the Government of the People's Republic Of China,, URL: https://ustr.gov/sites/default/files/files/agreements/phase%20one%20agreement/Economic_And_Trade_Agreement_Between_The_United_States_And_China_Text.pdfAccessed on January 20, 2020 
[xviii] Joseph, J (2019). "WTO chief: 'Months' needed to fix disputes body", BBC News, https://www.bbc.com/news/business-50736344Accessed on January 16, 2020 
[xix] Ha, Jiming & Posen, Adam S. (2019). "18-1 US-China Economic Relations: From Conflict to Solutions", PIIE, https://www.piie.com/system/files/documents/piieb18-1.pdfAccessed on January 16, 2020 
[xx] (2020)"US lifts China's currency manipulator designation ahead of phase one trade deal", South China Morning Post, URL: https://www.scmp.com/news/china/diplomacy/article/3045925/us-plans-lift-chinas-currency-manipulator-designation-aheadAccessed on January 20, 2020 
[xxi]Imbert, F (2019). "Trump accuses China of 'currency manipulation' as yuan drops to lowest level in more than a decade", CNBC News, URL: https://www.cnbc.com/2019/08/05/trump-accuses-china-of-currency-manipulation-as-yuan-drops-to-new-low.htmlAccessed on January 16, 2020 
[xxii] IMF (2016). Articles of Agreement, International Monetary Fund: Washington D.C., URL: https://www.imf.org/external/pubs/ft/aa/pdf/aa.pdfAccessed on January 16, 2020 
[xxiii] Krueger, Anne, O (2020). "Why the US-China Trade War Could Re-escalate", Project Syndicate, URL: https://www.project-syndicate.org/commentary/united-states-china-trade-war-could-reignite-by-anne-krueger-2019-12 Accessed on January 22, 2020
[xxiv] Bown, Chad P (2020) "Unappreciated hazards of the US-China phase one deal", PIIE, January 21, URL: https://www.piie.com/blogs/trade-and-investment-policy-watch/unappreciated-hazards-us-china-phase-one-deal Accessed on January 22, 2020