Abstract
Maritime cooperation is gradually emerging as an important aspect of India-Germany strategic partnership. An increasing convergence of interests in the IOR and keenness on both the sides, offers scope for deepening bilateral maritime cooperation to secure the global commons, maintain stability and support economic prosperity in a cooperative manner.

India and Germany share a close multifaceted relationship across diverse areas as important strategic partners. Both countries are now eager to expand their long standing strategic partnership to the maritime realm. India with its growing economic, maritime military capabilities and strategic ambitions in the wider Indo-Pacific region is keen to strengthen partnerships with countries across the region. Germany on the other hand, recognising ongoing geopolitical shifts has highlighted the Indian Ocean Region (IOR) as a key strategic area at recent high level interactions between the two countries. The German Minister of State during his visit to New Delhi in January 2020, said that Germany is a "stakeholder in the Indo-Pacific, although geographically not a part of the region any threat to the vital lifelines and bottlenecks, and any conflict in the region, challenging the flow of energy and commerce, will have a direct impact on the functioning of our economies and therefore on Europe's prosperity and security".[1] The joint statement issued during the German Chancellor Angela Merkel's visit to India, for the fifth round of Inter-Governmental Consultations (IGC), in November 2019, highlighted the "shared interests of India and Germany, in the stability of the IOR".[2]
Figure No: 1


German Chancellor Angela Merkel and Prime Minister Narendra Modi in New Delhi
Source: https://mea.gov.in/photo-gallery.htm
 
The Indian Ocean is increasingly gaining prominence in the context of the Indo-Pacific region emerging as the principal strategic reference point, bringing in a more integrated view of the Indian and the Pacific Ocean. With some of the most critical International Sea Lanes (ISLs) carrying much of the trade between East and South Asia, Europe, and West Asia, the Ocean plays an important role in the world energy production and global maritime trade. The Strait of Hormuz on the West and the Strait of Malacca in the East are the world's most important strategic chokepoints by volume of oil transit. Any disruption in the region can have serious economic and strategic consequences. Of the total trade passing via the Ocean, nearly 80 percent bound for the extra-regional countries. Therefore, safety and security of the Ocean, which is challenged by both traditional and non-traditional threats, is critical not only for the regional countries but for international economic stability as well.

Both India and Germany have significant interests in the IOR.  India is an Indian Ocean state not only geographically but historically as well. The country centrally located in the Indian Ocean and with its extensive coastline of 7500 kms. and 2 million sq. km of Exclusive Economic Zone (EEZ), is an important player in the region.[3] The geographical location of the country inextricably links its security, commerce and trade with the maritime domain. The Ocean has "shaped much of India's history, holds the key to India's future".[4] Much of India's trade with its major trading partners including ASEAN countries, Japan, Republic of Korea, China and the Americas passes through this region. Nearly 80% of the country's crude oil requirement which is expected to increase in future is imported using the ISLs across the Indian Ocean.[5]  

For Germany on the other hand, despite the geographical distance, the Ocean has significant economic and strategic value. German Navy Chief Vice Admiral Andreas Krause arguing for German presence in the Indian Ocean said that "Germany's maritime sphere of interest extends upto Indo-Pacific region."[6] As an export dependent economy it is critical for Germany that sea-lanes across the IOR remain free and secure to maintain the supply chains. A large chunk of Europe-Asia trade passes through the Ocean. The Ocean through Suez Canal is the primary gateway for Germany and Europe to the Asia-Pacific market. The region is Germany's second-largest trading partner, with almost 15 percent of all German exports worth a total of €186 billion headed for Asia in 2017, which increased to €391 billion in 2018.[7] Much of this trade is carried via sea routes passing through the sea-lanes in the Indian Ocean.

However, despite the importance of the region, there has been lack of a coherent approach towards the Ocean in German strategic thinking. In 2015, the German Federal Foreign Office organised an 'Indian Ocean Conference' which marked the beginning of an articulation of German strategic priorities towards the region.[8] Former German Foreign Minister Frank-Walter Steinmeier speaking at the Conference said "it is high time that Germany and Europe paid more attention to the IOR".[9] As Germany treads waters for engagement away from home, India with its strategic location, largest navy and coast guard presence in the Indian Ocean and also with willingness to build partnerships across the region for peace and prosperity in the IOR, will be crucial partners for Germany.

Prospective Focus Areas of Cooperation

Historically, maritime contacts fostering economic and commercial relations between India and Germany date back to early 16th century when German trading companies from Augsburg and Nuremberg, developed new sea route around Africa, as they sailed in search of precious stones and spices. Thereafter, many German companies were established with the purpose of trading with India and other Asian countries in the 16th and 18th centuries.[10] However, in more recent times, given Germany's lack of interest towards the Indian Ocean, maritime cooperation has remained rather low on the bilateral agenda. Nevertheless, in recent time, there has been a growing realisation of need for a larger European and German role in Asia and its waters. As Germany begins to take an active interest in securing the Indian Ocean, carrying a significant percentage of German trade and energy sources, maritime cooperation is gradually becoming an important aspect of Indo-German relations.

With increasing regional integration, developing economies of the littoral nations, growing demand for maritime technologies and increasing focus on blue economy, the IOR offers several economic and strategic opportunities for Germany to capitalise on. To leverage these opportunities, however, it is necessary that the region remains peaceful and stable. Recent developments, particularly geopolitical rivalries and growing geo-economic competition between the regional and global players and non-traditional challenges which are transnational in nature, have the potential to disrupt the sea-lanes and endanger the stability of the region.

In 2017, a regional conference of German envoys to all Indian Ocean rim countries, China and the US was organised in Colombo in which then Indian Foreign Secretary S. Jaishankar was invited to deliver the keynote address. During the conference a senior German diplomat commented that "the Indian Ocean region is an underrated theater….Germany needs to diversify its relations; if the US is not as present as before others need to take responsibility in keeping the Ocean peaceful". He also expressed that "there is competition shaping up between the major powers here, and it is important to engage with India, which is major partner for Germany".[11]

Recognising the importance of maritime cooperation in the bilateral relationship, German Defence Minister Ursula von der Leyen, during her trip to India in 2018, paid a visit to the Western Naval Command along with 30 member delegation. The delegation visited some defence installations and Indian Navy's largest indigenous guided missile destroyer INS Kolkata. She underlined that Germany and Europe are dependent on secure trade routes, access to markets and stable international order and are highly interested to have open seas. Emphasising that Berlin wants "close dialogue with India as a partner" in the region, she said that "the Indian Ocean, between the Suez Canal and the Strait of Malacca, is one of the key highways of globalisation".[12]
Figure No: 2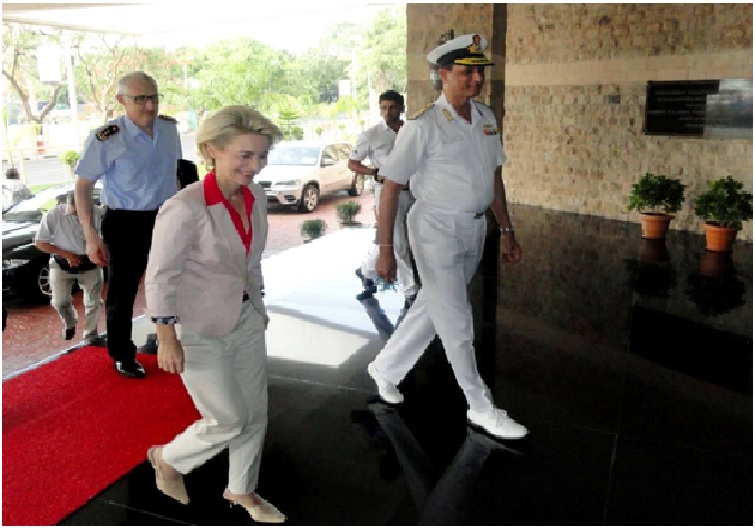 Dr Ursula von der Leyen, Minister of Defence, Germany, received by Vice Admiral AR Karve, Chief of Staff, Western Naval Command
Source: indiannavy.nic.in
 
India and Germany have significant convergences of interests in the IOR. The joint statement issued during the visit of Indian Prime Minister to Germany in 2017, emphasised on the particular importance for both the countries "of security, stability, connectivity and sustainable development of the blue economy" in the IOR. Both the countries have also reiterated their shared interests in rules based order, freedom of navigation, respect for territorial integrity and peaceful settlement of disputes in accordance with UNCLOS and other international law, security of maritime traffic in the face of the threats of terrorism and piracy other such organized crimes.[13] Indian Navy has significantly contributed in anti-piracy activities especially in the Gulf of Aden, also provided EEZ surveillance and anti-piracy deployment off Seychelles, Mauritius and Maldives and in Malacca. German Navy has also, in the past, participated in EU-NAVFOR 'Operation Atlanta' to combat piracy and protect merchant vessels transiting through the Gulf of Aden. The two countries therefore, can collaborate to initiate joint efforts in capacity building against challenges like piracy; illegal fishing and other maritime crimes in the region. Humanitarian Assistance and Disaster Relief (HADR) operations in the Indian Ocean region "continue to remain at the forefront of India's international commitments".[14] As the IOR is vulnerable to natural disasters, cooperation in environmental protection and sustainable development including the fight against marine waste, coastal resilience, and disaster resilience could be crucial areas of focus for future cooperation.

To date naval engagement between the two countries have been limited. The only significant interaction between the Indian and the German navy was a joint passage naval exercise off Kochi in the Arabian Sea in 2008. In 2018, Vice Admiral Andreas Krause, Chief of the German Navy visited India, wherein extensive interactions were held with senior officials of the Indian defence forces  to discuss strengthening Indo-German naval cooperation and military ties. Given the limited capacity of the Germany Navy, it may not be very feasible to have a joint naval exercise[15] however, goodwill visits, port visits, training initiatives and combined patrol deployment could be explored. German Navy is also planning to modernize and upgrade its naval infrastructure to be better prepared to play an active role beyond immediate waters. Earlier this year, German navy announced that its Hamburg F124 Sachsen-class frigate is set to travel to the Indian Ocean starting from June 2020, it will visit French Island of Réunion to participate in the Indian Ocean Naval Symposium (IONS) and conduct port visits, maneuver exercise enroute.[16]

Efforts should also be made for deeper engagement at multilateral platforms where both the countries participate including the Indian Ocean Rim Association (IORA) and the IONS (Germany is a Dialogue Partner in IORA since 2015 and an observer in IONS).

There is also potential for defence industry cooperation. India and Germany concluded Implementing Arrangement on Enhanced Defence and Defence Industry Cooperation in 2019, aimed to facilitate defence research and development cooperation. During the Chancellor Merkel's visit to India in 2019, both the sides emphasized on encouraging maritime projects between the Indian and German naval industries. It is important to note here that, German ThyssenKrupp Marine Systems (GmBH) is one of the four global bidders for building six conventional submarines for the Indian Navy. If the company successfully acquires the $6.6 billion project, it will be working with one of the local Indian shipyards providing technology transfer to build the diesel-electric powered submarines.[17]

Germany is the largest trading partner for India in Europe. Foundation stone of the German economy is international trade of which maritime industry is the critical driver, with an estimated annual turnover of up to €50 billion in Germany's export-oriented economy. Germany has the world's fourth-largest merchant fleet of 2,250 merchant vessels, and 20% of the market share in Global Container vessel capacity, carrying 300 million tonnes of goods and generating 400,000 jobs. The Maritime Agenda 2025 published by the Federal Ministry of Economic Affairs and Energy in 2017 aims at making Germany "maritime industry hub".[18] Clearly German expertise in handling maritime industry is a crucial area to be explored in furthering bilateral cooperation.

As the infrastructure and connectivity becomes the buzzword in the wider Indo-Pacific region, it opens opportunities for German investment in the region. India is constructing new ports and upgrading old ones under the 'Sagarmala' initiative, focused on port led development, creating demand for economic and technical cooperation. Siemens, German multinational conglomerate has contributed in Center of Excellence in Maritime and Ship Building (CEMS) set up in 2017 by Ministry of Shipping, under the flagship 'Sagarmala'. CMES has campuses in Vishakhapatnam and Mumbai, aimed at furthering skill development in ship design, manufacturing, operating and maintenance, for port and shipbuilding sector. [19]

An emerging area that can be focused for collaboration is, the development of automated smart ports using Internet of Things (IoT), blockchain solutions and other smart technologies. Germany has an expertise in the field; Hamburg, Germany's biggest port, is functioning as one of the most efficient smart port in the world, with state-of-art digital intelligence, utilising Internet of Everything, and guaranteeing efficient operations.[20] As India plans to build such smart port, German Know-how cpoild provide an opportunuity of cooperation.

Marine technology is a promising area to be focused for future cooperation, as Germany has a technological edge in marine engineering, underwater technology, offshore wind energy, container shipping, disaster relief technology etc. During the visit of the Chancellor Angela Merkel in 2019, India and Germany agreed on an MoU 'Cooperation in Inland, Coastal and Maritime Technology' to promote maritime technological cooperation. German can utilise its expertise to engage in such projects and develop partnership with IOR countries including India.

Particularly port management and logistics, shipping logistics, and harnessing renewable energy sources for ports, offshore technology in extracting oil and gas could be important areas to be explored in enhancing maritime cooperation between India and Germany.

Conclusion

Although the IOR is not Germany's immediate neighborhood, its strategic and economic interests are intrinsically linked to the region. Developments in the Indian Ocean and the larger Indo-Pacific region have direct and indirect implications for Germany- whether it chooses or not. Competition, power rivalry, increasing military expenditures and naval capabilities, challenges to the multilateral order and international laws and lack of a strong regional organisation, challenges the stability and security in the IOR.

In recent years, India has made clear its willingness to partner like-minded countries in the region. The multifaceted strategic partnership between India and Germany has clearly built a sense of comfort between the two. As India endeavors to strengthen economic relations and development in the IOR, in a mutually supportive and cooperative manner under the vision of SAGAR (Security And Growth for All) and now the Indo-Pacific Oceans Initiative (IPOI), partnership with Germany could be explored more. India is willing to engage with other countries for collaboration in areas of port development and related infrastructure, inland water transport, blue economy, disaster resilience and preserving marine ecology, trade and connectivity in the Indian Ocean along with respect for sovereignty and transparency, viability and sustainability, unimpeded by regional conflicts or non-traditional challenges. Cooperative efforts between India and Germany, in these areas could be synergised for tangible, result-oriented outcomes.
*****

*Dr. Pragya Pandey, Research Fellow, Indian Council of World Affairs.
Disclaimer: The views expressed are that of the Researcher and not of the Council.

End Notes
[1] Speech by Minister of State Annen at the reception of Foreign Secretary Vijay Gokhale on the occasion of  the Raisina Dialogue 2020, 14.01.2020https://www.auswaertiges-amt.de/en/newsroom/news/annen-raisina/2292714
[2] Joint Statement during the visit of Chancellor of Germany to India, November 01, 2019, https://mea.gov.in/bilateral-documents.htm?dtl/31991/Joint+Statement+during+the+visit+of+Chancellor+of+Germany+to+India
[3]

Joint Strategic Vision of India-France Cooperation in the Indian Ocean Region New Delhi, 10 March 2018, March 10, 2018,

https://www.mea.gov.in/bilateral-documents.htm?dtl/29598
[4] Prime Minister's Keynote Address at Shangri La Dialogue, June 01, 2018, https://www.mea.gov.in/Speeches-Statements.htm?dtl/29943/Prime+Ministers+Keynote+Address+at+Shangri+La+Dialogue+June+01+2018
[5] India's Maritime Security Strategy, 2015, https://www.indiannavy.nic.in/sites/default/files/Indian_Maritime_Security_Strategy_Document_25Jan16.pdf
[6] The Commanders Respond, March 2018, US Naval Institute, https://www.usni.org/magazines/proceedings/2018/march/commanders-respond
[7] Interview of Dr. Hubert Lienhard, Chair of the Asia-Pacific Committee of German Business, https://www.deutschland.de/en/topic/business/2018-asia-pacific-conference-in-jakarta
[8]Garima Mohan, Engaging with the Indian Ocean, 2017, p. 37,
https://www.gppi.net/media/Mohan_2017_Engaging_with_the_Indian_Ocean.pdf
[9] Speech by Foreign Minister Frank-Walter Steinmeier at the opening of the Indian Ocean Conference at the Federal Foreign Office, 2015, https://www.auswaertiges-amt.de/en/newsroom/news/150609-indianoceankonferenz/272306
[10] India-Germany Relations, https://mea.gov.in/Portal/ForeignRelation/Germany_July_2014.pdf
[11] German focus on Indian Ocean, April 05, 2017, https://www.thehindu.com/news/national/german-focus-on-indian-ocean/article17819673.ece
[12]Germany pitches for closer defence ties with India, July 12, 2018,  https://economictimes.indiatimes.com/news/defence/germany-pitches-for-closer-defence-ties-with-india/articleshow/47445020.cms?utm_source=contentofinterest&utm_medium=text&utm_campaign=cppst
[13] India-Germany Joint Statement during the visit of Prime Minister to Germany, May 30, 2017,  https://www.mea.gov.in/bilateral-documents.htm?dtl/28496/IndiaGermany
[14] Indian Maritime Doctrine, Ministry of Defence, Government of India 2014 ,p. 14
[15] I.bid. no. 8, p7
[16] German Navy F124-Class Frigate Hamburg Set For 5-Month Indo-Pacific Deployment, https://www.navalnews.com/naval-news/2020/03/german-navy-f124-class-frigate-hamburg-set-for-5-month-indo-pacific-deployment/
[17] PM Narendra Modi to meet German Chancellor Angela Merkel; to discuss defence cooperation, climate change and cyber security, https://www.financialexpress.com/defence/pm-narendra-modi-to-meet-german-chancellor-angela-merkel-to-discuss-defence-cooperation-climate-change-and-cyber-security/1745834/
[18] Maritime Agenda 2025,  Federal Ministry of Economic Affairs and Energy, 2017, https://www.bmwi.de/Redaktion/EN/Publikationen/maritime-agenda-2025.html 
[19] Word Class Center of Excellence in Maritime and Ship Building to come up in Mumbai and Vishakhapatnam, 21 November 2017, https://pib.gov.in/newsite/PrintRelease.aspx?relid=173704
[20] Hamburg Port Authority, https://www.hamburg-port-authority.de/en/hpa-360/smartport/