Abstract
This paper seeks to discuss the US "maximum pressure campaign" on Iran in order to understand Trump administration's ultimate objectives in Iran. The paper attempts to find patterns in the pressure campaigns and hostile representations of Iraq, used by the Bush administration to overstate the 'Iraqi threat' and justify military intervention towards regime change. The paper further discusses how the threat of a military conflict with Iran has amplified because of Trump's inconsistent positions on Iran and the hard-stance, adopted by his senior advisors, against the Iranian regime.
Introduction
The United States (US)  administration's 'maximum pressure campaign' has put Tehran and Washington on the course of a potential military conflict once again, evoking fears from both within and outside the US of an Iraq war do-over, with Washington embarking on another 'war of choice' in the region.
The 'maximum pressure campaign' officially began in April 2019 with the elimination of the Significant Reduction Exemptions (SRE) that was granted to eight largest importers of Iranian oil, including India. This was done in order to drive Iranian oil exports to zero, the revenues from which, Washington claimed, were being used by Iran to fund terrorist activities in the region. The pressure was further solidified with Washington's  decision to label Iran Revolutionary Guard Corps (IRGC) as a Foreign Terrorist Organisation (FTO), making it difficult to conduct business with Iranian entities having any association with the IRGC. The deployment of the aircraft carrier USS Abraham Lincoln along with B-52 bombers in the Gulf in May 2019 raised the threat of an imminent military conflict between Iran and the US. This military build-up was categorised by Iran as US "psychological warfare" meant to intimidate Tehran to give in to the American pressure.1
This paper seeks to discuss how the US' 'maximum pressure campaign' might be directed at coercing a defiant regime to submit to American demands. Through its comparison with the Bush administration-led pressure campaign in Iraq – which culminated into Iraq's invasion in 2003 – it aims to find patterns, if any, in the pressure campaigns employed by the US. In doing so it also seeks to explain how the US engages in negative representations of states it identifies as hostile to American interests. Finally, the paper attempts to understand Trump administration's ultimate objectives in Iran, in the context of inconsistent positions of President Trump and the hardliners in his administration.
Historical Overview of the US sanctions on Iran
The US pressure campaigns aimed at coercing countries to change their foreign policy behaviour have been a part of the American foreign policy since the end of the Cold War. Washington has previously used similar pressure campaigns against countries like Cuba, Libya, Iraq, and North Korea.
The first time Washington imposed sanctions on Iran was in 1979, when in the aftermath of the Iranian Revolution a group of Iranian students seized the American embassy in Tehran, taking approximately 70 Americans hostage. The sanctions included a ban on Iranian oil imports, an asset freeze of the Iranian government and a trade embargo. In 1983, following the attacks on US and French marine barracks in Beirut by Iran-backed Hezbollah, the Reagan administration officially declared Iran as a "state-sponsor of terrorism," and banned all foreign assistance and arms sale to Iran.2 The Clinton administration, describing Iran as a "threat to peace and security of all nations"3, imposed further sanctions in 1995, prohibiting all American trade and investment in Iran. This was followed by secondary sanctions on Iran's energy sector under the 'Iran and Libya Sanctions Act.'4 The revelation of Iran's nuclear enrichment facilities in 2003 led to more stringent sanctions in the following years as a way to coerce Iran into abandoning its nuclear programs, with Bush administration branding Iran, along with Iraq and North Korea, as an "axis of evil".5 In 2010 the Obama administration saw Iran's nuclear enrichment activities as a threat to the nuclear non-proliferation regime and to the "stability of its neighbours." 6 Consequently, it passed the Comprehensive Iran Sanctions, Accountability, and Divestment Act (CISADA) significantly expanding the scope of secondary sanctions against Iran. In 2012 following Iran's refusal to suspend its enrichment activities, the US, the European Union (EU) and the UN Security Council instated a wave of sanctions against Iran, leading to a complete disengagement with Iran's energy and finance industries, including a full EU oil embargo, which severely crippled the Iranian economy.7
These sanctions were lifted after Iran signed the Joint Comprehensive Plan of Action with the five permanent members of the United Nations Security Council -- China, France, Russia, United States, United Kingdom -- plus Germany and the European Union. The agreement provided for lifting of all nuclear-related economic and financial sanctions on Iran in exchange for the implementation of prescribed limitations placed on its nuclear program.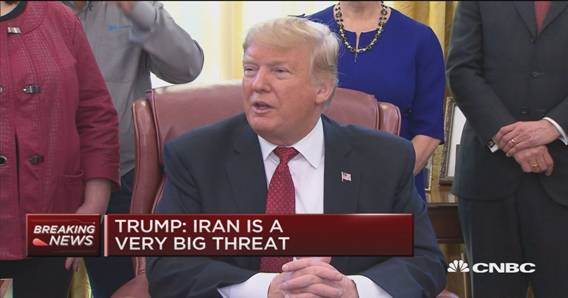 Source: cnbc.com
The US representation of hostile regimes – the two cases of Iraq and Iran
A crucial element of US sanctions regime against Iran has been the way in which successive US administrations have continued to negatively represent Iran over the decades. It has been accused of proliferating "destabilising activities" in the region and across the world, actively supporting terrorists and proxy groups, and an "axis of evil" that needs to be eliminated. President Trump has called Iran a "fanatical regime" that "violently suppresses its own citizens."8 Mike Pompeo, the US Secretary of State, has repeatedly depicted Iran as exhibiting "malignant behaviour" that threatens the West Asian region. A similar strategy of negative representation was applied during Bush administration's pressure campaign on Iraq.
Washington's invasion of Iraq as part of its "Global War on Terror" was specifically carried out to oust Saddam Hussein. From 1990 to 2003, Iraq had been collectively sanctioned by the US, the UK and the UN Security Council. The sanctions were reported to not only have crippled Iraq's economy but also led to a humanitarian crisis in Iraq, resulting in the death of over 500,000 children.9  Post the 9/11 terror attacks in the US, the Bush  administration  continued  to  overstate the "Iraqi threat" – based on its unfounded theories of Iraq-al Qaeda collusion in the attacks, the threat of Weapons of Mass Destruction and Saddam's intent on passing those weapons on to terrorists. The repeated representation of the Iraqi regime as a threat to regional and global security, public identification of Iraq as a state-sponsor of terrorism, an "axis-of-evil" threatening world peace, was used by Washington to justify regime change in Iraq. The administration's portrayal of the Saddam regime as radical and oppressive was further used to strengthen its case for military action. Bush stated that "...the US and our allies will help the Iraqi people rebuild their economy and create the institutions of liberty" even if it would require a military action.10
The idea behind representing these regimes as repressive and proponents of terrorism is to delegitimize and isolate such countries both domestically and internationally. Washington used such representations to justify its case for a military intervention aimed at regime change in Iraq and to justify American sanctions on both Iran and Iraq. The recent military build-up in the Gulf and designation of the IRGC as a Foreign Terrorist Organisation are means of exaggerating the Iranian threat. Such militaristic approach has further been justified by hostile representations of Iran such as "outlaw regime," a state using "terrorism as a key tool of statecraft,"11 and a regime exhibiting regional aggression.12
Trump administration's objectives in Iran
President Trump's vacillating positions on Iran has done little to assuage fears of escalating tensions. While, he clearly stated that the US is "not looking for regime change....We're US looking for no nuclear weapons"13 in Iran, he also openly threatened an "official end of Iran."14 The White House has unequivocally stated that Washington will "continue to apply maximum pressure on the Iranian regime until its leaders change their destructive behaviour.....and return to the negotiating table."15 Trump's position suggests that his approach is not driven by an ideological hostility to the Islamic Republic, but primarily aimed at "deny(ing) the regime all paths to a nuclear weapon."16
Furthermore, the presence of certain "warmongering"17 officials in the Trump administration, Mike Pompeo and the National Security Advisor – John Bolton, has made US' Iran policy more uncertain. Pompeo's "New Iran Strategy" articulated 12 demands for Iran as a precondition to renegotiate the nuclear deal, in order to "rejoin the league of nations."18 The maximalist nature of proposed demands, including putting a stop on Iran's uranium enrichment, was essentially calling for a complete Iranian submission to American interests. In addressing the recent attacks on oil shipments in the Gulf, Pompeo accused Iran of carrying out "unprovoked attacks" without presenting any material evidence, calling them a "threat to international peace and security."19 Similarly, John Bolton, described as one of the most "virulent Iran hawks"20 - has openly called for regime change in Iran. While addressing an event organised by an Iranian dissident group – Mujahedden Khalq in 2017, Bolton remarked that the "declared policy of the US should be the overthrow of the mullah's regime.21 The decision to deploy American warships along the Gulf in 2019, Bolton said, was a "clear and unmistakable message to  the  Iranian  regime that any attack on US interests or on those of our allies will be met with unrelenting force."22 The overstating of an 'Iranian threat' by these officials coupled with President Trump's inconsistent positions on Iran do raise the spectre of the US embarking on war towards regime change in Iran.
President Trump's uncompromising stand on sanctioning Iran might be partially derived from his perceived success of the pressure campaign on North Korea, which worked to the extent of bringing its leadership to the negotiating table. However, his expectations of forcing Iran to negotiate could prove to be misguided precisely for two reasons. One, the previous round of sanctions by Obama administration enjoyed consensus from other international players, including the EU, Russia and China, who were equally concerned with Iran's uranium enrichment capabilities. On the contrary, other signatories continued to support the deal in the wake of President Trump's withdrawal from the JCPOA in 2018. The EU foreign affairs Chief Federica Mogherini, for instance, has publicly called on Washington to practice "maximum restraint" in the wake of US military build-up along the Persian Gulf.
Two, Tehran's response to Obama's crippling sanctions in 2012 was to double down on its uranium enrichment program. Eventually Obama administration relented in its demand to completely shut down Iran's nuclear programs and agreed to make some concessions in the nuclear deal.23 Pompeo's 12 demands and Trump administration's pressure campaign on Iran, seems to be aimed at dictating the terms of the nuclear deal instead of actually negotiating it.
Conclusion
President Trump's "America First" approach to world affairs has led to a policy of intimidating countries to submit to American demands without making any concessions in return. His coercive diplomacy so far is centred only on coercion and no diplomacy. Trump administration's "New Iran Strategy" calling for a complete abandonment of Iran's nuclear ambitions highlight that President Trump might only be interested in a zero-sum nuclear deal.
The similarities in Trump's policy on Iran and Bush administration's discourse in Iraq, which eventually led to its invasion, has raised widespread concerns over Trump administration's ultimate agenda in Iran. Washington's Iran policy raises even more concerns in the wake of President Trump's altering positions on Iran and the presence of certain hardliners guiding Trump's Iran policy. However, so far the pressure campaign seems to have achieved nothing other than a standoff between Tehran and Washington as it has neither led to any change in Iran's regional policies, nor has it succeeded in bringing Iran to the negotiating table. It has, however, led Iran to pump up its uranium enrichment – a sharp contradiction to the entire premise of the 'maximum pressure campaign.'
***


* The Author, Research Intern, Indian Council of World Affairs, New Delhi.
Disclaimer: The views expressed are that of the Researcher and not of the Council.
Endnotes
1 BBC News (2019) US sends Patriot missile system to Middle East amid Iran tensions. online Available at: https://www.bbc.com/news/world-us-canada-48235940 
2 Samore, G (2015). Sanctions Against Iran: A Guide to Targets, Terms, and Timetables. Belfer Center for Science and International Affairs, pp. 3-16.
3 Statement by the Press Secretary. (1995). online Available at: https://clintonwhitehouse6.archives.gov/1995/05/1995-05-08-statement-on-executive-order-iran-trade-ban.html
4 Samore, G (2015). Sanctions Against Iran: A Guide to Targets, Terms, and Timetables. Belfer Center for Science and International Affairs, pp. 3-16
5 President Delivers State of the Union Address. (2002). online Available at: https://georgewbush-whitehouse.archives.gov/news/releases/2002/01/20020129-11.html
6 Remarks by the President on United Nations Security Council Resolution on Iran Sanctions. (2010). online Available at: https://obamawhitehouse.archives.gov/photos-and-video/video/president-obama-iran-sanctions#transcript
7 Stratfor. (2018). Iran's Strategy for Surviving U.S. Sanctions. online Available at: https://worldview.stratfor.com/article/iran-strategy-surviving-us-sanctions-nuclear-deal
8Remarks by President Trump on Iran Strategy. (2017). online Available at: https://www.whitehouse.gov/briefings-statements/remarks-president-trump-iran-strategy/  
9 Geneva International Centre for Justice. (n.d.). Razing the Truth About Sanctions Against Iraq. online Available at: http://www.gicj.org/positions-opinons/gicj-positions-and-opinions/1188-razing-the-truth-about-sanctions-against-iraq 
10 The Guardian. (2002). Transcript: George Bush's speech on Iraq. online Available at: https://www.theguardian.com/world/2002/oct/07/usa.iraq
11 Intent to Designate the Islamic Revolutionary Guards Corps as a Foreign Terrorist Organization. (2019). online Available at: https://www.state.gov/intent-to-designate-the-islamic-revolutionary-guards-corps-as-a-foreign-terrorist-organization/
12 Executive Order Reimposing Certain Sanctions with Respect to Iran. (2018). online Available at: https://www.whitehouse.gov/presidential-actions/executive-order-reimposing-certain-sanctions-respect-iran/
13 Smith, N. (2019). Trump meets with Japan's Abe to defuse tensions with Iran and North Korea. online The Telegraph. Available at: https://www.telegraph.co.uk/news/2019/05/27/trump-meets-japans-abe-defuse-tensions-iran-north-korea/  Accessed 15 Jun. 2019.
14 Donald Trump's tweet dated May 20, 2019
15 Advancing the U.S. Maximum Pressure Campaign On Iran. (2019). online Available at: https://www.state.gov/advancing-the-u-s-maximum-pressure-campaign-on-iran/
16 Remarks by President Trump on Iran Strategy. (2017). online Available at: https://www.whitehouse.gov/briefings-statements/remarks-president-trump-iran-strategy/  Accessed 19 Jun. 2019.
17 RT International. (2019). Bolton & Pompeo 'looking for fight' with Iran, Trump trapped in the middle – Ron Paul. online Available at: https://www.rt.com/usa/460265-bolton-pompeo-fight-iran/  Accessed 20 Jun. 2019.
18 After the Deal: A New Iran Strategy. (2018). online Available at: https://www.state.gov/after-the-deal-a-new-iran-strategy/
19 Wong, E. (2019). Pompeo Says Intelligence Points to Iran in Tanker Attack in Gulf of Oman. online The New York Times. Available at: https://www.nytimes.com/2019/06/13/us/politics/oil-tanker-attack-pompeo.html  Accessed 7 May 2019.
20 Schmitt, E. and E. Barnes, J. (2019). White House Reviews Military Plans Against Iran, in Echoes of Iraq War. online The New York Times. Available at: https://www.nytimes.com/2019/05/13/world/middleeast/us-military-plans-iran.html  Accessed 20 Jun. 2019
21 Dubin, R. and De Luce, D. (2018). Bolton's Ascent Gives Iranian Group a New Lease on Life. online Foreign Policy. Available at: https://foreignpolicy.com/2018/04/30/bolton-iran-mek-terrorism-trump/  Accessed 12 Jun. 2019.
22 Sanchez, R. and Vahdat, A. (2019). US sends naval strike group to Middle East in 'message' to Iran. online The Telegraph. Available at: https://www.telegraph.co.uk/news/2019/05/06/us-sends-naval-strike-group-middle-east-message-iran/  Accessed 12 May 2019.
23 Porter, G. (2015). How a weaker Iran got the hegemon to lift sanctions. online Middle East Eye. Available at: https://www.middleeasteye.net/opinion/how-weaker-iran-got-hegemon-lift-sanctions  Accessed 9 Jun. 2019.