Abstract

The EU and India share the view that the approach to connectivity should be environmentally, economically, socially and fiscally sustainable and provide a level playing field for businesses, while respecting international standards and enhancing governance. Both actors are now working towards shaping the norms around regional connectivity. So far, EU's relations with India has been identified with economic and trade cooperation with the strategic aspect remaining dormant. There is an untapped potential in sustainable connectivity between India and EU and it raises the possibility of increased cooperation between the two and provides an opportunity to make their partnership strategic.

Introduction

For both, the European Union (EU) and India, connectivity initiatives have emerged as a key driver of their respective developmental goals. In recent years, the EU and India have made significant investments in furthering connectivity initiatives in their respective neighbourhoods. Connectivity was also identified as an area of high potential for cooperation between the two partners in the EU's strategy on India. While India is yet to formulate a policy framework on connectivity, the EU published its strategy document titled "Connecting Europe and Asia: Building Blocks for an EU Strategy" in 2018. This paper explores convergences in the approaches towards connectivity in Europe and India. It raises several questions, such as the role envisioned by the EU for itself in collaborating on connectivity initiatives with India, if the normative understanding of connectivity is influenced by the expansion of BRI projects etc.

Approach towards Connectivity

The EU in its Global Strategy 2016 highlighted that, "there is a direct connection between European prosperity and Asian security…we (EU) will deepen cooperation on counter-terrorism, anti-trafficking and migration, as well as enhance transport, trade and energy connectivity." (Emphasis added)[i]. The European Commission and the European External Action Service conducted a Euro-Asian Connectivity Mapping Exercise in 2017 with an objective of defining connectivity to include both "the 'soft' and 'hard' elements, inter and intra-regional connectivity and trade related policies".[ii] It included sectors like: Transport (road, rail, air and maritime); Energy (renewable and non-renewable sources); People-to-People Connect (youth and culture, research, innovation, education); and Digital Economy. The Joint Staff Working Document of the mapping exercise stated that, "Economically, socially and environmentally sustainable infrastructure of good quality is paramount for the EU's approach to connectivity. Such infrastructure must be safe and resilient; encompass climate change mitigation and adaptation; adhere to common sets of environmental, social and governance standards to protect investments to yield; and leave no-one behind. Fiscal sustainability of connectivity interventions is not only a developmental concern but also has wider political implications."[iii]

This broad definition and characteristics of connectivity forms the basis of EU's strategy on "Connecting Europe and Asia – Building Blocks for an EU Strategy" released in 2018. The strategy highlights that, "The relationship between the EU and Asia is of global significance and the ties are likely to increase in the coming years. Asia, with roughly 60% of the world population accounts for 35% of the EU's exports (€618bn) and 45% of the EU's imports (€774bn)."[iv] It reiterates that to unlock the economic opportunities and enhance cooperation, Europe and Asia should cooperate to build sustainable and efficient connectivity between the two continents. The strategy document further defines EU's approach towards connectivity as: "Sustainable Connectivity - has to be economically, fiscally, environmentally and socially sustainable in the long term; Comprehensive Connectivity – has to be based on the idea of creating networks which includes transportation, people-to-people, digital, and energy; and the idea of Rules based Connectivity is to promote open and transparent investment processes".[v]

Although India, as yet, does not have a written connectivity policy, it is pursuing several projects that highlight its normative understanding of connectivity. Speaking at the Raisina Dialogue in 2015, then Foreign Secretary S. Jaishankar said that "connectivity…is both a driver and an outcome of national economic growth - with internal and external dimensions…The interactive dynamic between strategic interests and connectivity initiatives - a universal proposition - is on particular display in our continent. The key issue is whether we will build our connectivity through consultative processes or more unilateral decisions." (Emphasis added)[vi]. This is further highlighted by Prime Minister Modi's views on India's vision of connectivity which includes "restoring bridges and rejoining India with our immediate and extended geographies…building development partnerships that extend from the islands of the Indian Ocean and Pacific to the islands of the Caribbean and from the great continent of Africa to the Americas."[vii]

India's approach towards connectivity is based on multi-modal development and infrastructure projects including rail and road links, energy cooperation, cross-border transits, financial assistance. Some examples of its projects in the neighbourhood include Kaladan Multi-Modal Transit Transport Project with Myanmar and a Trilateral Highway between India-Myanmar-Thailand. To further integrate the region, India along with Asian Development Bank (ADB) in 2016 announced $5 billion investment in development of regional connectivity, to help facilitate movement of people and trade. Under this, with the help of ADB, India is developing two "priority road corridors. The first will connect India with Bangladesh, Nepal and Bhutan through Northern Bengal and the second will connect India-Myanmar through Manipur."[viii] Along with the road initiatives, several Integrated Check posts along the India-Bangladesh and India-Myanmar border will be developed and operationalised to facilitate trade and movement of people. In furthering its developmental cooperation, India has extended a number of Line of Credits (LOC) to the neighbouring countries for their developmental projects, such as US$4.5 bn on LOC for Bangladesh in 2017, for implementation of several projects in the country[ix]; for Nepal, India extended LOC worth US$ 1 bn for "financing of hydropower, irrigation and infrastructural projects"[x]; similarly for Sri Lanka, India has provided almost US$ 1 bn for the development of its railway network.[xi]

Another example of multilateral regional connectivity is the International North South Transport Corridor (INSTC), which is India's attempt to bridge the larger Eurasian region. Initiated in 2000, the 7,200 km long INSTC has been envisaged as the shortest multi-modal transportation route which would link the Indian Ocean with the Persian Gulf, Caspian Sea and St Petersburg. India is also partnering with Japan to develop the Asia-Africa Growth Corridor (AAGC). During Prime Minister Narendra Modi's visit to Japan in 2016, both India and Japan sought to institutionalise socio-economic development of Asia and Africa.  The aim of the growth corridor is to develop infrastructure and digital connectivity in Africa through Indo-Japan collaboration. The objective is to pursue joint initiatives in various sectors such as health, infrastructure, manufacturing, and connectivity. India and Japan have also identified Sri Lanka, Myanmar and Bangladesh as potential areas for collaboration focusing on development of connectivity and infrastructure[xii].

Cooperation or Convergence between India and EU

As India tries to push the infrastructure and connectivity development initiatives in the region, the EU can play a significant role. Although there are similarities in their understanding of the connectivity initiatives, there are several questions that need to be addressed – first -whether these initiatives are a response to the advances made by BRI. One of the areas of convergence between the two partners is in the way they define connectivity. Both have defined connectivity on the basis of economic and environmental sustainability, based on international rules and norms, and financially viable to the host nation, that is it should not leave any country financially unstable. This approach seems largely in response to China's BRI. India has stated that, "We are of firm belief that connectivity initiatives must be based on universally recognised international norms, good governance, rule of law, openness, transparency and equality, and must be pursued in a manner that respects sovereignty and territorial integrity."[xiii] It has further clarified that "Connectivity initiatives must follow principles of financial responsibility to avoid projects that would create unsustainable debt burden for communities; balanced ecological and environmental protection and preservation standards; transparent assessment of project costs; and skill and technology transfer to help long term running and maintenance of the assets".[xiv]Within Europe also there is a growing debate regarding the BRI which is seen as undermining the European interests and rules like environmental standards, non-transparent financial regulations etc. It is also seen as a threat, as China increased it investments in South-eastern Europe and its purchase of a port in Greece[xv].

In short, both partners share common concerns regarding the implications of BRI projects in their respective neighbourhoods. Nonetheless, the connectivity projects initiated by India should not be seen as a response to the BRI. Although, India has formulated its definition of connectivity with respect to BRI, its connectivity projects were initiated in the late 1990s and early 2000s.

Second question that needs to be addressed is - What role does the EU see for itself in advancing connectivity in South Asia - To unlock its growth potential Asia in improving its connectivity networks, nonetheless, resource availability for projects remain constrained. According to a report by the ADB titled 'Meeting Asia's Infrastructure Needs (2017) "…developing Asia will need to invest $26 trillion over the 15-years from 2016 to 2030, or $1.7 trillion per year" in its climate-adjusted infrastructure development.[xvi] It is in this sector that the EU visualises itself as a suitable partner to help develop sustainable, comprehensive and rules-based connectivity. For instance, the EU in its "Connecting Europe and Asia: Building Blocks for an EU Strategy" proposed an initiative to connect "its well-developed Trans-European Network for Transport (TEN-T) framework with networks in Asia". TEN-T is a multi-modal project under which a Europe-wide network of "railways lines, roads, inland waterways, maritime shipping routes, ports, airports and railway terminals have been established".[xvii] This integrated infrastructure would include 217,000 km of railways, 77,000 km of motorways, 42,000km of inland waterways, 329 key ports and 320 airports.[xviii] The Core Network is expected to be completed by 2030 and the Comprehensive Network by 2050[1]. The strategy on connectivity suggests that the EU could offer its expertise and technical knowledge to its partners to map their integrated transportation systems, and further fund the infrastructure development plans, wherever appropriate.
Image 1: TEN-T Network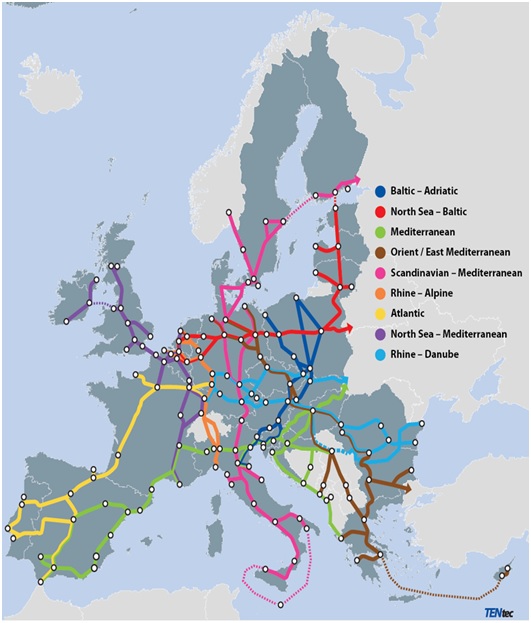 Source: TEN-T Networks, European Commission, https://ec.europa.eu/transport/themes/infrastructure/news/ten-t-corridors_en
An alternative suggestion by the EU is through sustainable financing through diverse financial tools and improved mobilisation of resources. The financing would be available through two plans. First, the European Commission has proposed to include investments in sustainable connectivity in its multiannual financial framework for 2021-2027. Under this, EU plans to mobilise public and private financing through "reinforced EU guarantees, which may be complimented by grants and loans".[xix] The alternative method is through partnerships with international financial institutions and multilateral development banks. The European Investment Bank and European Bank for Reconstruction and Development have, in the past few years, expanded their lending to include infrastructural and connectivity initiatives. The idea now is to expand EU's cooperation with ADB and Asian Infrastructure Investment Bank (AIIB), and strengthen its relations with the World Bank and the International Monetary Fund (IMF). The EU wants to enhance its efforts in economic diplomacy and "intends to support platforms for matching European and Asian businesses, with a focus on SMEs and envisages creating a Business Advisory Group for Euro-Asian connectivity[xx]".

Third question then is, can EU effectively engage with India in its domestic quest for infrastructure and connectivity development - The converging position provides an opportunity to both partners to formulate a coherent policy plan towards connectivity. The EU in its strategy on connectivity has identified India as a priority country and during the 2017 India-EU Summit both sides acknowledged that "connectivity initiatives must be based on universally recognised international norms, good governance, rule of law, openness, transparency and equality and must follow principles of financial responsibility, accountable debt financing practices, balanced ecological and environmental protection, preservation standards and social sustainability"[xxi]. As connectivity refers to both hard infrastructure and soft infrastructure[xxii], the EU has been involved in several soft infrastructure development initiatives in India. The European Investment Bank (EIB) has provided loans for three different metro lines in India – €450 million for Lucknow metro line, €600 million to support the construction of two metro lines in Pune and €500 million for the new metro line in Bangalore.[xxiii] The EU is also an active partner in various India's initiative like 'Smart Cities' where both the partners have signed a Joint Action Plan 2019-2020 to step up their cooperation in "development of smart and sustainable urbanisation"[xxiv] which compliments India's 'Make in India' plan that "presupposes quality and resilient infrastructural development". Under this, the EIB will launch additional "investment projects in urban transport for the value of up to €1 billion apart from its investment in the metro projects".[xxv]

Expanding the scope of understanding of connectivity – people to people connect, energy networks and digital connectivity have come to play a crucial role in the partnership between India and the EU. In terms of people to people connect, India and EU share robust cooperation with India being the largest recipient of the Erasmus Mundus funding for higher education. The EU funds almost 5,800 scholarships per year to Indian nationals with around 200 Indian universities benefitting from various Erasmus funding programmes.[xxvi] Moreover, both sides are committed to taking the cooperation further by initiatives like GIAN programme[2] and Erasmus+ programme.

In the emerging digital connectivity arena, India and the EU have their own domestic initiatives like Digital India and Digital Single Market (DSM), respectively. Apart from its DSM, the EU has also integrated digitalisation programme called 'Digital4Development' in its developmental cooperation. The thrust is to promote digital literacy, digital entrepreneurship and job creation, promotion of affordable broadband connectivity and digital infrastructure.[xxvii] Both India and EU have increased their efforts in linking Digital India and DSM by addressing a range of issues like Information and Communication Technology (ICT) market access, research and development, innovation and internet governance, among other.[xxviii]

Another area of cooperation within the larger projects on connectivity is the development of energy networks between India and the EU. With the establishment of EU-India Clean Energy and Climate Partnership, emphasis has been laid on research and development of innovative solutions, integration of renewable energy within the existing energy systems and easier access to clean and affordable energy for all. The Horizon 2020 programme of the EU has committed almost €9 million (2018-2020) to promote clean, secure and efficient energy and is working in tandem with the Department of Science and Technology, Government of India, to promote energy efficiency.

Fourth and the last question that arises - can EU cooperate with India in third country, a paradigm based on the partnership that India shares with Japan. Japan has emerged as a key partner for infrastructure development in South Asian countries, including India. Japan has established its presence in several key projects in India like bullet trains, western-freight corridor and rapid transport systems. It is also an active partner in developing key infrastructural development in the North-Eastern states. Japan has collaborated with India to not only develop infrastructure within the country but as stated earlier both partners are actively pushing the AAGC along with several infrastructure development initiatives in India's neighbourhood. These collaborations have found resonance in the operationalisation of the Indo-Pacific concept. In the Indo-Pacific, the two partners are planning to cooperate more closely "to promote connectivity, infrastructure and capacity-building in the regions that occupy the inter-linked waters of the Indo-Pacific".[xxix] India-Japan strategic cooperation in infrastructure development presents a template on which the EU could formulate its own policies towards India. Also, India is looking for partners that can help it to achieve sustainable connectivity and infrastructure development within the country as well as at the regional level. For instance, India and EU can explore possible areas of collaboration in Africa. Both are actively engaged in various infrastructure development projects in the region, which can then be used as a platform to expand their cooperation in connectivity initiatives. Moreover, the EU can cooperate with India and Japan in their ambitious AAGC, given its geographical location and economic weight.[xxx]

Assessment

As EU aspires to become a major investor in Asia, it can contribute further in the region in sustainable financing, providing advanced technology for improved connectivity and cross-border infrastructure connections. It can build on its existing history of financing connectivity initiative in Asia and its management of more than "€8 billion of funding in Asia between 2014 and 2020, of which significant resources support bilateral and regional initiatives in the context of connectivity, for example ASEAN's Master Plan on Connectivity and the educational exchange programme ERASMUS+."[xxxi] Moreover, in the next multi-annual budget for 2021-2027, the European Commission has proposed to increase the budget of EU's external action to €123 billion.

Internal and regional connectivity has emerged as central to Indian policy not only in terms of expanding its internal growth but also to increase its trade and role in the region and beyond. By collaborating with India in its growth story and in its connectivity initiatives, EU can emerge as a crucial partner. So far, its relations with India has been identified with economic and trade cooperation with the strategic aspect of the partnership remaining dormant. There is an untapped potential in sustainable connectivity between India and EU and it raises the possibility of increased cooperation between the two. The EU has expressed its readiness to engage with India as is evident from its strategy on India released in 2018. On connectivity, the strategy notes that "connectivity should be sustainable, comprehensive and rules-based… and be environmentally, economically, socially, and fiscally sustainable…while respecting international standards".[xxxii] For the EU and India to jointly undertake projects, both partners need to increase their strategic trust and compliment it with increased investments. The improved dialogue between the two symbolises the growing synergies in the promotion of rule-based international order, sustainable connectivity and transparency in the investments. Keeping in mind India's changing foreign policy and its pragmatic approach towards connectivity issues, the time is right for the EU to align its interests closely to India's ambitions.
***
*Dr. Ankita Dutta, Research Fellow at Indian Council of World Affairs, New Delhi.
Disclaimer: The views expressed are that of the Researcher and not of the Council.
End Notes
[1]Core Network includes important connections linking most important nodes and Comprehensive Network covers all European regions. The Core Network is represented by nine Core Network Corridors, which were identified to streamline and facilitate the coordinated development of the Core Network. Two horizontal priorities, the European Rail Traffic Management System (ERTMS) and Motorways of the Sea complement these.
[2]Global Initiative of Academic Networks (GIAN) Programme was launched by Ministry of Human Resource Development, Government of India to boost the quality of higher education in India through international collaborations. For more details: http://www.gian.iitkgp.ac.in/cgenmenu/objectives
[i]Shared Vision, Common Action: A Stronger Europe – A Global Strategy for the European Union's Foreign and Security Policy, EEAS, June 2016, http://eeas.europa.eu/archives/docs/top_stories/pdf/eugs_review_web.pdf, Accessed on 16 December 2019
[ii]Ibid.
[iii]Ibid.
[iv]Connecting Europe and Asia - Building blocks for an EU Strategy, European Commission and EEAS, Brussels, September 2018, https://eeas.europa.eu/sites/eeas/files/joint_communication_-_connecting_europe_and_asia_-_building_blocks_for_an_eu_strategy_2018-09-19.pdf, Accessed on 17 December 2019
[v]Ibid.
[vi]Speech by Foreign Secretary at Raisina Dialogue in New Delhi, Ministry of External Affairs, Government of India, 2 March 2015, https://mea.gov.in/Speeches-Statements.htm?dtl/26433, Accessed on 17 December 2019
[vii]"Inaugural Address by Prime Minister at Second Raisina Dialogue", MEA, January 17, 2017, mea.gov.in/Speeches-Statements.htm?dtl/27948/Inaugural_Address, Accessed 21 January 2020
[viii]The Indian Express, 11 May 2016, https://indianexpress.com/article/business/business-others/with-adb-aid-india-to-develop-regional-infra-projects-of-5-bn-shaktikanta-das-2794400/, Accessed on 18 December 2019
[ix] The Daily Star, 3 May 2017, https://www.thedailystar.net/world/south-asia/india-cabinet-gives-ex-post-facto-nod-5b-loc-bangladesh-1399999, Accessed on 21 January 2020
[x] The Economic Times, 3 December 2014, https://economictimes.indiatimes.com/news/economy/finance/exim-bank-extends-1-bn-of-loc-to-nepal/articleshow/45361203.cms?from=mdr, Accesses on 21 January 2020
[xi] The Hindu Businessline, 5 July 2016, https://www.thehindubusinessline.com/economy/india-wants-to-construct-new-rail-line-in-sri-lanka/article8812150.ece, Accessed on 21 January 2020
[xii]Factsheet, India Japan Relations, Ministry of External Affairs, Government of India https://www.mea.gov.in/bilateral-documents.htm?dtl/30544/IndiaJapan+Fact+Sheets, Accessed on 18 December 2019
[xiii]Official Spokesperson's response to a query on participation of India in OBOR/BRI Forum, 13 May 2017Ministry of External Affairs, Government of India, https://mea.gov.in/media-briefings.htm?dtl/28463/Official+Spokespersons+response+to+a+query+on+participation+of+India+in+OBORBRI+Forum, Accessed on 18 December 2019
[xiv]Ibid.
[xv]Dr. Astrid Skala-Kuhmann, European Responses to BRI - An Overdue Assessment, Horizons, Issue No. 14, Center For International Relations And Sustainable Development, 2014, pp. 144-155
[xvi]Meeting Asia's Infrastructure Needs, Special Report, Asian Development Bank, 2017, https://www.adb.org/sites/default/files/publication/227496/special-report-infrastructure.pdf, Accessed on 19 December 2019
[xvii]Trans-European Transport Network (TEN-T), European Commission, https://ec.europa.eu/transport/themes/infrastructure/ten-t_en, Accessed on 19 December 2019
[xviii]Infrastructure and Investment, Mobility and Transport, European Commission, https://ec.europa.eu/transport/themes/infrastructure_en, Accessed on 20 December 2019
[xix]Connecting Europe and Asia - Building blocks for an EU Strategy, n.4
[xx]Ibid.
[xxi]Joint Statement 14th India-EU Summit, New Delhi, 6 October 2017, https://ec.europa.eu/commission/presscorner/detail/en/STATEMENT_17_3743, Accessed on 20 December 2019
[xxii]Factsheet, Connecting Europe & Asia -The EU Strategy, EEAS, https://eeas.europa.eu/sites/eeas/files/europe_asia_connectivity_factsheet_1.pdf, Accessed on 24 December 2019
[xxiii]EIB in Asia and the Pacific, European Investment Bank, 16 May 2019, https://www.eib.org/attachments/country/the-eib-in-asia-and-the-pacific-en.pdf, Accessed on 24 December 2019
[xxiv] EU India to intensify cooperation on smart and sustainable urbanization, EEAS, 19 September 2019, https://eeas.europa.eu/delegations/india/67566/eu-india-intensify-cooperation-smart-and-sustainable-urbanization_en, Accessed on 24 December 2019
[xxv]Ibid.
[xxvi]The Hindu Businessline, 8 December 2018, https://www.thehindubusinessline.com/news/education/india-largest-recipient-of-erasmus-funding-eu-ambassador/article25697529.ece, Accessed on 26 December 2019
[xxvii] The EU Digital for Development policy, European Commission, https://ec.europa.eu/futurium/en/eu-au-digital-economy-task-force/eu-digital-development-policy-0, Accessed on 26 December 2019
[xxviii]EU-India Partnership on Information and Communication Technology, https://eeas.europa.eu/sites/eeas/files/ict.pdf, Accessed on 26 December 2019
[xxix] Media Statement by Prime Minister during his visit to Japan, Press Information Bureau, November 11, 2016, http://pib.nic.in/newsite/PrintRelease.aspx?relid=153525, Accessed on 27 December 2019
[xxx] J. Panda, Is There Space for Europe in the Asia-Africa Growth, Asia Global Online, 7 June 2018, Corridor?https://www.asiaglobalonline.hku.hk/is-there-a-place-for-europe-in-the-asia-africa-growth-corridor/, Accessed on 27 December 2019
[xxxi] Explaining the European Union's approach to connecting Europe and Asia, Press Corner, European Commission, 19 September 2018, https://ec.europa.eu/commission/presscorner/detail/en/MEMO_18_5804, Accessed on 3 January 2020
[xxxii]Joint Communication To The European Parliament And The Council - Elements for an EU strategy on India, European Commission, November 2018, https://eeas.europa.eu/sites/eeas/files/jc_elements_for_an_eu_strategy_on_india_-_final_adopted.pdf, Accessed on 27 December 2019