On March 11, 2020, the World Health Organisation (WHO) declared that the world was facing its first-ever pandemic from a coronavirus. Even as Canadians have been asked to stay at home, follow all COVID-19 protocols and healthcare workers battled to fight the virus, the pandemic continues to affect everyday lives. As of 30 March 2021, Canada had 9,76,598 cases and 22,962 deaths[i] with Ontario leading with 3,18,106 confirmed cases. The combination of economic shutdowns, social distancing requirements, low oil prices and historic declines in export volumes have led to an economic slowdown. Recovery would require considerable fiscal and monetary support. The return to normal also hinges on the ability of the government to inoculate its citizens quickly and check the spread of the virus. Both these aspects are discussed in an attempt to understand Canada's response to the healthcare crisis.
Image One: COVID-19 Cases in Canada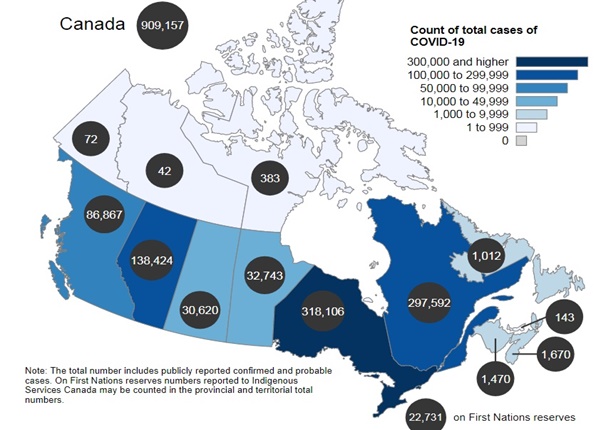 Source: The Government of Canada, https://www.canada.ca/en/public-health/services/diseases/2019-novel-coronavirus-infection.html
Vaccination Strategy

On April 23, 2020, the Government of Canada launched the COVID-19 Immunity Task Force (CITF) effort to help determine the extent of SARS-CoV-2 infection in Canada in the general population as well as in specific communities and priority populations, and understand the nature of immunity related to COVID-19. In December 2020, the Task Force was assigned an additional role in vaccine surveillance and, the Vaccine Surveillance Reference Group was formed. The government also set up the COVID-19 Vaccine Task force (VTF). The task force comprises multidisciplinary experts and industry leaders in the field of vaccines.

Canada rolled out its vaccination programme on 13 December 2020. Five COVID-19 vaccines are currently approved for use in Canada: Pfizer-BioNTech, Moderna, AstraZeneca and COVISHIELD Verity/Serum Institute of India (SII) (COVISHIELD) are given as two doses Janssen is given as one dose. As on date, 5.11 percent of the population has received at least one dose of a COVID-19 vaccine with 1.51 percent of the population having received two doses and 3.60 percent having received one dose vaccine.[ii] Canada has entered into advance purchase vaccine agreements with suppliers to ensure the earliest possible access to the approved COVID-19 vaccine, which also includes India. The current targeted population for the first dose includes: healthcare workers, people working in senior care facilities and those who come in contact with patients, people who are above 70 years of age starting with those above 80 and decreasing the age limit by 5 years increment to reach age 70 as supplies become available and adults living in indigenous communities and those living in isolated areas with limited access to healthcare facilities.
Image Two: Percentage of people Vaccinated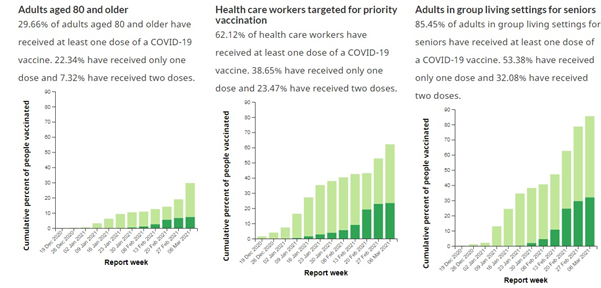 Source: The Government of Canada, https://health-infobase.canada.ca/covid-19/vaccination-coverage/
Despite securing the world's largest number of potential COVID vaccine doses per capita, Canada's vaccination programme is struggling to reach the maximum number of people.  Critics point that Canada delayed signing procurement agreements with manufacturers and its public health system has been unable to cope with the requirement of a nationwide inoculation drive. Vaccine delivery delays, restrictions on vaccine exports by the European Union (EU) and the limited capacity of production by the European manufactures has added to the problem. The staggered supply of vaccines has also led to logistical problems not just for storage, but also on the window between both of the doses needed to be administered of the vaccines. To overcome these issues provincial governments have announced that they intend to secure their own supply bypassing Ottawa.[iii]In some measure to counter the shortfall, Prime Minister Trudeau stated that Canada would start domestic manufacturing of Novavax, a foreign drug.[iv] However, the drug currently is in phase three trials and the Montreal production facility remains under construction. Internationally, the government's decision to buy more vaccines than required has been criticised by public-health policy makers. They stated that such action limits the supply to other nations, especially poor countries.

The federal government also continues to face criticism on the delay in providing test results for COVID-19.  The government has responded by ensuring non-critical tests are waitlisted and lab capacities are improved. This has unfortunately led to side lining of treatment of other diseases and a rise of non-COVID-19 fatalities. Government auditors have also found that the healthcare systems continue to be inadequately prepared and weaknesses in the public health lab and information systems that were repeatedly flagged following the 2003 SARS crisis were never fixed before the arrival of COVID-19. Healthcare officials are concerned that delayed results do not allow them to capture the true spread of the coronavirus. The new infection numbers being reported each day  represent the spread of the virus several days ago, raising questions about the actual current rate of transmission at a time when cases of COVID-19 are rising again.

The Economy

The financial implications of the pandemic on the global economy as well as on the Canadian economy will take years to ascertain. The lockdowns and the forced shutting down of the economy have not only upset the financial calculations in terms of national budgets but have also led to changes to household budgets. The economic divide has become more apparent with those who can afford to perform their jobs remotely and lower end workers who have no option but to report to work such as transport, sanitation, retail workers. COVID-19 has had a disproportionate impact on sectors partly due to the impact of containment measures and the adaptability of their business operations. More than a million Canadians remain under- or unemployed while the second wave of COVID-19 cases and increased restrictions in many parts of the country have further reduced employment opportunities.

In response to the pandemic, the Government of Canada in March 2020 announced the COVID-19 Economic Response Plan, which committed over C$ 212 billion in direct support to Canadians and businesses.[v] The government also announced a number of measures to help business keep their workers, deferral of income tax obligations, providing additional support to the  business through loans, guarantees and insurance policies. In December 2020, the government announced its largest economic recovery package since the end of the Second World War. The federal government will spend C$ 100 billion on stimulus spending over a period of three years to kick start the economy. The spending will bring the deficit to a historic C$ 381.6 billion by March 2021, an increase of roughly C$40 billion over the previous estimate in July 2020.[vi] The plan is to help provinces and territories to improve COVID-19 infection control, targeted tax relief for businesses, procurement and distribution of vaccines and investments in long-term care homes.

The Canada Recovery Benefit (CRB) gives income support to employed and self-employed individuals who are directly affected by COVID-19 and are not entitled to Employment Insurance (EI) benefits. Those who apply receive C$ 1,000 (C$ 900 after taxes withheld) for a 2-week period. A person can reapply after two weeks if their situation does not improve. They are eligible to apply for a total of 13 times for a total of 26 weeks (for the current time period of the programme between September 27, 2020 and September 25, 2021.) The plan has been successful and has helped close to 9 million people who have received C$ 81 billion by October 2020.[vii]

'Following the onset of the pandemic, Canada experienced a drastic drop in its real gross domestic product (GDP), with the economy contracting 18.2% between March and April 2020. With the gradual easing of pandemic-related restrictions, the business climate has improved. GDP grew for 8 consecutive months, although the overall economic activity is about 3 percent below February's pre-pandemic level. While recent months showed an improvement in economic activity, in light of the resurgence of COVID-19 and a return to a partial shutdown in several provinces, there remains challenges and uncertainty ahead for businesses. By the end of 2020, the Canadian economy had experienced nearly a full year of COVID-19, and businesses were adapting to the new reality by shifting to online sales, reducing hours, laying off staff, applying for government funding or seeking rent relief.'[viii] The Canadian GDP is predicted to have contracted by 5 percent in 2020, and it will likely continue to lag in economic growth in 2021. However, as the Canadian dollar continues to appreciate and there is a rise in government bonds yields, economists predict that the Canadian economy will show positive growth towards the end of 2021. They are also hopeful that as Canadians have increased their household savings, when the country opens, they would be more willing to spend thus boosting the economy.

The socioeconomic impact of the pandemic has been uneven. Visible minorities and  indigenous communities with limited access to healthcare facilities and pre-existing diseases/underlying health conditions have been at greater risk of COVID-19. Women, youth, Indigenous peoples and new Canadians were disproportionately impacted by the pandemic. They are overrepresented in the retail and tourism sectors, which were among the most severely hit. 'Prior to the pandemic, the unemployment rate among Indigenous people was 1.8 times the rate among non-Indigenous people, reflecting long-lasting disparities in labour market conditions. During the pandemic, unemployment increased for both Indigenous and non-Indigenous people. However, by the end of 2020, unemployment remained higher among Indigenous people—12% and 11% among Indigenous men and women, respectively, compared to 8% among non-Indigenous men and women. Visible minorities also continue to suffer from higher unemployment, financial instability and access to low wage jobs.'[ix] Any recovery plan should be socially inclusive, aimed at offering the skills, training and social support required to enable re-engagement into the workforce for all.

The federal government's recovery policy aims to encourage more entrepreneurship and help the existing small businesses survive through tax benefits and subsidies. What has also become apparent is that any new economic recovery should also focus on the healthcare sector. This world requires investment in human capital as well as in infrastructure. The government also outlined an economic recovery policy through immigration. Immigration is viewed as essential for both short-term economic recovery and long-term economic growth.

Economic recovery is expected to be uneven across sectors and demographic groups, and it is expected to come in waves. If we look at GDP as an indicator, a return to pre-COVID-19 levels is unlikely before 2022.

Conclusion

Canada has declared March 11, 2021, as a National Day of Observance to commemorate the people who lost their lives due to COVID-19 and the significant impacts it has had on all Canadians. In an effort to control the resurgence of the virus, provincial governments in Canada are imposing lockdowns and stay-at-home orders. The federal government has extended its international travel restrictions for travellers till 21 April 2021 and for US travellers till 21 March 2021. Nonetheless, the shortage of vaccines is compounding the problem as Canada lags  in its vaccination goals. The federal government has yet to announce a comprehensive plan on how it plans to overcome shortages in distribution and procurement with import restrictions by both the European Union and US. Canada has received two million doses of AstraZeneca from India. However, with the EU suspending the vaccine over concerns of blood clots in some recipients, it remains to be seen if Canada will take similar steps amid a vaccine shortage. For the moment Prime Minister Trudeau has reassured Canadians that the medicine is safe and regulators from Health Canada will continue to analyse available information. The assurance comes as provinces start to expand their vaccination rollouts.

A year after the COVID-19 pandemic, nations continue to grapple with the health crisis that has exposed gaps in healthcare systems, income inequalities within the nation and among nations and a 'nation first' perspective when it comes to the global distribution of vaccines.
*****
*Dr. Stuti Banerjee, Research Fellow, Indian Council of World Affairs, New Delhi.
Disclaimer:Views expressed are personal.
Endnotes
[i] The numbers have been taken from Government of Canada https://www.canada.ca/en/public-health/services/diseases/2019-novel-coronavirus-infection.html
[ii] Numbers have been taken from Government of Canada, https://health-infobase.canada.ca/covid-19/vaccination-coverage/#a3. Information is as available on 15 March 2021.
[iii] Rob Nickles, "Manitoba buys COVID-19 vaccine candidate, first province to bypass Ottawa," https://www.reuters.com/article/us-health-coronavirus-canada-vaccine/manitoba-buys-covid-19-vaccine-candidate-first-province-to-bypass-ottawa-idUKKBN2AB2I5?edition-redirect=uk, Accessed on 17 March 2021.
[iv] Rachel Aiello, "With Novavax deal, Canada could be producing COVID-19 vaccine domestically by the fall," https://www.ctvnews.ca/politics/with-novavax-deal-canada-could-be-producing-covid-19-vaccine-domestically-by-the-fall-1.5291835, Accessed on 17 March 2021.
[v] The Government of Canada, "Canada's COVID-19 Economic Response Plan," https://www.canada.ca/en/department-finance/economic-response-plan.html, Accessed on 14 March 2021.
[vi] Reuters, "Canada deficit seen higher, government eyes up to C$100 billion in stimulus spending," https://www.reuters.com/article/us-canada-budget-idUSKBN28A2YS, Accessed on 14 March 2021.
[vii] Tracy Lindeman, "What Canada's COVID response can teach the U.S. about social safety nets," New York, https://fortune.com/2020/10/23/canada-unemployment-cerb-economy-growth-coronavirus/, Accessed on 14 March 2021.
[viii] The Government of Canada, Statistics Canada, "Impact of COVID-19 on small businesses in Canada, first quarter of 2021," https://www150.statcan.gc.ca/n1/pub/45-28-0001/2021001/article/00009-eng.htm, Accessed on 16 March 2021.
[ix] The Government of Canada, Statistics Canada, "COVID-19 in Canada: A One-year Update on Social and Economic Impacts," https://www150.statcan.gc.ca/n1/pub/11-631-x/11-631-x2021001-eng.htm, Accessed on 16 March 2021.