In many African countries death or removal of a long-time ruler does not result in a change of regime. The remnants of the old regime consolidate their hold over the structures of power and continue on a more or less similar path. Zimbabwe, after Robert Mugabe, offers a good example. Despite the removal of Robert Mugabe, who ruled Zimbabwe with an iron-fist for 37 years (1980-2017), his party the Zimbabwe African National Union (Patriotic Front) continues to remain in power.[i] In fact, it has strengthened its hold over the country. Another interesting feature of such regimes is their close connection with the armed forces and unwavering support from foreign powers. Senior members of the army are intimately involved in sharing the fruits of power and therefore, they see no reason to make a decisive break from the past. Such regimes, irrespective of their less than exemplary record on human rights, economic development and democracy, are useful actors for major powers in their global strategies. As long as the larger objectives of major powers are being fulfilled by the regime, they tend to turn a blind eye to the domestic behaviour of the ruler. The latest developments in Chad point towards the validity of these arguments.

Chad is one of the poorest countries in the world which is located in the arid, Sahel region of Africa. Sahel region is located between the Sahara Desert and the tropical savanna of Africa and spans from the Atlantic Ocean to the Red Sea. Countries in the Sahel region are facing serious challenges in ensuring development and security. Many states are facing a grave threat to the state authority from rebels and/or terrorists. Chad is a land-locked country located at a crucial location as it connects North Africa, the Horn of Africa and West Africa. It borders Libya to the north, Sudan to the East, Central African Republic to the South and Nigeria, Niger and Cameroon to the West. Chad was colonised by France and continues to remain a staunch French ally in Africa. French business and political elites have expansive interests in Chad and in the past, the former colonial power has not hesitated to militarily intervene in Chad.[ii]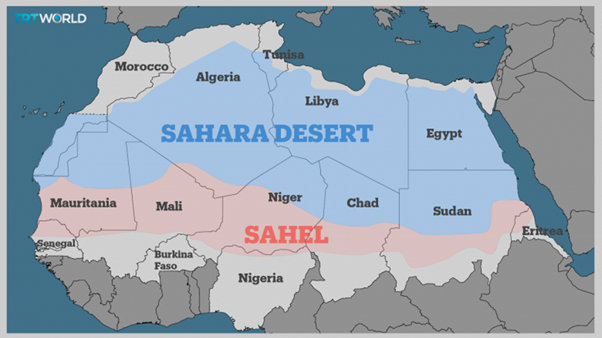 Sahel Region
(Source: https://www.trtworld.com/africa/african-union-to-deploy-3-000-troops-to-restive-sahel-34165 )

Since 1990, Chad was ruled by Idriss Déby, an authoritarian ruler, who died recently while commanding troops who were fighting the rebels advancing from the north towards the Chadian capital of N'Djamena. Déby was commander-in-chief of the Chadian military and had acquired power by staging a coup against his mentor and another authoritarian ruler, Hissen Habre. Although Chad has had formal structures of democracy, power was concentrated in the hands of the president.[iii] For now, the National Council of Transition (NCT), which consists of Chadian military officers, has appointed Déby's son Mahamat Idriss Déby as the interim president for the next 18 months. NCT has also dissolved the government and national assembly.[iv] Moving forward, it is likely that, the old regime will strengthen its hold over the power and continue to rule. Meanwhile, the death of Idriss Déby has serious implications for the domestic politics of Chad and also for counter-terror operations in the Sahel region.

Déby belongs to the generation of African rulers who assumed power in the late 1980s and early 1990s. It includes Yoweri Museveni of Uganda (in power since 1986), Omar-al-Bashir of Sudan (who ruled from 1989 till 2019) and Isaias Afwerki of Eritrea (ruling since 1993). These leaders maintained their firm grip on the country and managed to survive for more than three decades despite the challenges to the regime and their personal authority. In 2019, Sudan's al-Bashir was finally forced to give up power under popular pressure and now, Idriss Déby has died on the battlefield. However, Museveni and Afwerki have stayed on. Déby, had he not died, would have also continued for the foreseeable future. He had recently amended the constitution which would have enabled him to rule for life. Just before his death, he had won the presidential polls as well.[v] In his 31 years of rule, Déby faced multiple coup attempts, growing domestic opposition and rebel attacks. He survived all these challenges. However, the country did not progress in any meaningful way under Déby despite the discovery of oil. Reportedly, he had accumulated vast amounts of personal wealth and corruption was rife in the regime. However, Déby was also a steadfast Western ally in the counter-terror operations in the Sahel.[vi]          

In the Sahel region, the last decade has seen Islamist militancy gaining significant ground and is posing a direct threat to regional peace and security. Boko Haram, a local Islamist insurgency, and offshoots of Al Qaeda and Islamic State are active in the region. It must be remembered that Sahel forms the faultline between Christian and Islamic influences in Africa and states like Chad, Sudan and Nigeria have been forced to deal with the consequences, sometimes violent, of religious diversity and the growth of extremism. In the context of rising power of terrorist groups and regional as well as global response to this threat, a major turning point came in 2013. In Mali, Islamists attacking from the north had almost captured the capital Bamako in 2013, before the French army intervened after it realised the imminent threat. Even now, the government of Mali is battling the Islamist insurgency.[vii] In northern Nigeria, Boko Haram terrorists have operated with impunity and Nigerian army has not been able to contain the threat. Boko Haram has managed to strengthen itself around the Lake Chad basin where the borders of Nigeria, Niger, Chad and Cameroon converge.[viii]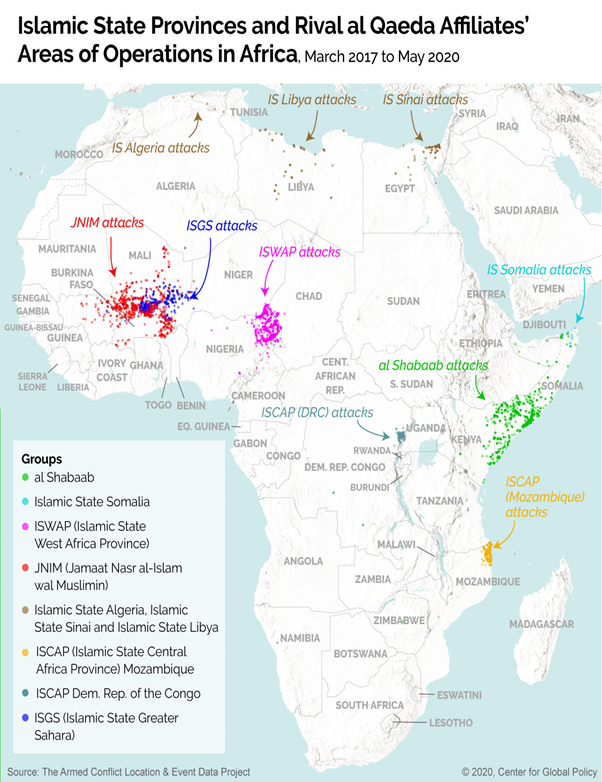 Terrorism in Africa
(Source: https://newlinesinstitute.org/isis/isis-in-africa-the-caliphates-next-frontier/ )

Other states in the Sahel such as Burkina Faso, Mauritania, Niger and Chad have also been affected by Islamist terrorism to a varying degree. The arid Sahel region is impoverished and is home to ungoverned spaces where state authority is virtually non-existent. The borders between states are porous and groups like Boko Haram have been able to make the most of such conditions. For these weak states, it is difficult to provide effective civil and military administration and bring economic development to the region. Therefore, terrorists have been able to operate with relative ease. In fact, in 2015, Islamic State set up a West African Province, known as the ISWAP, around Lake Chad Basin and Boko Haram merged with it. However, owing to the operational and doctrinal differences, Boko Haram split from ISWAP in 2016. Now, both groups are active in the region and continue to launch lethal attacks on civilian and military targets.[ix] The civil war and instability in Libya since 2011 have been major contributing factors as well. Therefore, Western powers along with regional actors like the African Union (AU) and the Economic Community of West African States (ECOWAS) are engaged in shaping the counter-terror efforts in the Sahel region. United Nations Security Council (UNSC) has also taken note of the seriousness of the threat of terrorism in the Sahel.[x]

France and the United States (US) are the most active Western powers in the counter-terror efforts in the Sahel. France launched Operation Serval in 2013 to assist the Malian government in its fight against the Islamist terrorists. In 2014, Operation Barkhane succeeded Operation Serval and since then French military has been actively engaged in conducting anti-terror operations in the Sahel. Operation Barkhane is headquartered in the Chadian capital N'Djamena and covers Mali, Niger, Burkina Faso and Chad. France has deployed 4500 soldiers in the Sahel and the force engages in a range of activities including combat patrols, intelligence gathering and training. The Chadian military is a key partner for France in these efforts.[xi] Chad has also allowed the US to operate a drone base for counter-terror operations.[xii]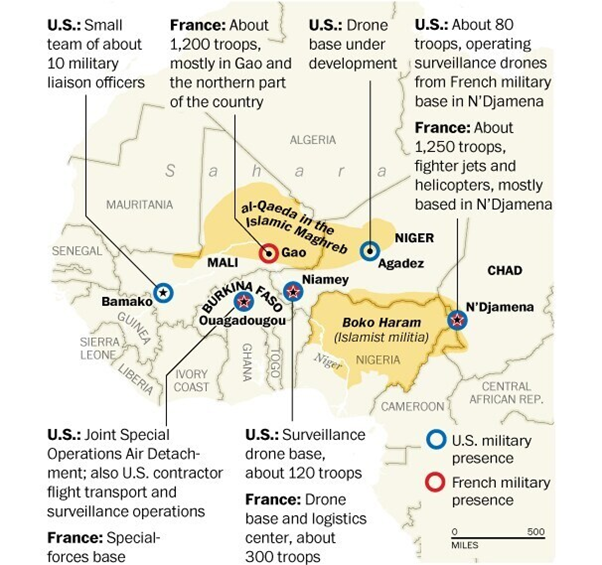 US and French Military Presence in West Africa
(Source:https://www.washingtonpost.com/world/national-security/military-footprints-in-the-sahara/2014/09/01/2ffa5d2c-321b-11e4-9e92-0899b306bbea_graphic.html)

Chad's relevance for the anti-terror efforts in the Sahel is not limited to hosting the US and French bases. Among the regional armed forces, the French-trained military of Chad have been considered as the most competent.[xiii] The Chadian military has been battle-hardened by decades of experience of fighting rebels and has played a key role in the fight against Boko Haram in northern Nigeria.[xiv] In the G-5 regional force, comprised of militaries from Chad, Niger, Mali, Burkina Faso and Mauritania, the Chadian military is the most powerful and Idriss Déby was more than willing to take on the Islamist terrorists. Recently, it had committed 1200 soldiers for the deployment at the flashpoint border zone between Niger, Mali and Burkina Faso.[xv] It is a signal of the willingness and capabilities on the part of Chad to have committed troops for these efforts. Therefore, in the efforts against Islamist terrorists in the Sahel, the role and co-operation of Chadian military is crucial.

In the context of counter-terror efforts, the role of a willing local partner like Chad cannot be overstated. The death of Idriss Déby and the appointment of his son as his successor is therefore welcomed by France. Mahamat Idriss Déby has also led Chadian troops and is likely to continue the same policies as pursued by his father.[xvi] However, for now, the immediate challenge for the Chadian government is to neutralize the threat posed by rebels who have launched the latest attacks from Libya. The rebel group, formed in 2016, is known as Front for Change and Concord in Chad (FACT) and consists of mainly army officers and fighters from Goran tribe. They have a non-aggression pact with Libyan warlord Khalifa Haftar.[xvii] It is rumoured that Haftar and the Russian military contractor company Wagner group are arming and training these rebels. However, Haftar has also been known as an ally of France and France was a staunch ally of Idriss Déby. Therefore, France and Déby's loyalists have a reason to be angry with Haftar.[xviii]

Apart from this, another key factor to be considered is the peace and stability in the Darfur region of Sudan. In the past, instability in Darfur has had an adverse impact on the stability of Chad and Chad has had a complicated engagement with the problem of Darfur.[xix] Therefore, Chad faces security challenges from the West (Lake Chad Basin and Sahel region) and North (Libya) and has to be mindful about the East (Sudan). In this milieu of security challenges on the periphery of Chad, improving governance, delivering economic development and welfare of citizens is likely to take a backseat. The regional states are aware that without the Chadian military forces, anti-terror efforts in the Lake Chad and Sahel region will weaken and the regional security situation is likely to worsen. Therefore, whatever happens in Chad, owing to its crucial geostrategic location, the impact will be felt across the region.      
*****
*Dr. Sankalp Gurjar, Research Fellow, Indian Council of World Affairs,
Disclaimer:Views expressed are personal.
Endnotes
[i] AFP, "Zimbabwe parliament sworn in after ZANU-PF victory", France24.com, September 5, 2018, available at: https://www.france24.com/en/20180905-zimbabwe-parliament-sworn-after-zanu-pf-victory (Accessed on April 26, 2021) 
[ii] Joe Gazeley, "The death of Déby has exposed the limits of French influence in Chad", Democracy in Africa, April 22, 2021, available at: democracyinafrica.org/the-death-of-deby-has-exposed-the-limits-of-french-influence-in-chad/ (Accessed on April 26, 2021) 
[iii]Paul Melley, "IdrissDéby: Chad's future rocked by president's battlefield death", BBC News, April 21, 2021, available at: https://www.bbc.com/news/world-africa-56822431 (Accessed on April 26, 2021) 
[iv]Al Jazeera, "Deby's death and Chad's next day: This is what the army announced", April 20, 2021, available at: https://www.aljazeera.com/news/2021/4/20/chads-military-announces-new-interim-government-after-deby-death (Accessed on April 26, 2021) 
[v]John Campbell, "Deby's Death Heightens Uncertainty in Chad, West Africa", Council on Foreign Relations, April 21, 2021, available at: https://www.cfr.org/blog/debys-death-heightens-uncertainty-chad-west-africa (Accessed on April 26, 2021) 
[vi]Ibid 
[vii]Alexis Arieff, "Crisis in Mali", Congressional Research Service, October 21, 2020, available at: https://fas.org/sgp/crs/row/IF10116.pdf (Accessed on April 26, 2021) 
[viii]Global Conflict Tracker, "Boko Haram in Nigeria", April 22, 2021, available at: https://www.cfr.org/global-conflict-tracker/conflict/boko-haram-nigeria (Accessed on April 26, 2021) 
[ix] Jason warner and Charotte Hulme, "The Islamic State in Africa: Estimating Fighter Numbers in Cells Across the Continent", CTC Sentinel, 11(7), August, 2018.
[x]UNSC, "Ignoring Sahel Region Will Have 'Disastrous Implications' for West Africa, Peace Operations Chief Warns Security Council", Relief Web, November 16, 2020, available at: https://reliefweb.int/report/burkina-faso/ignoring-sahel-region-will-have-disastrous-implications-west-africa-peace (Accessed on April 26, 2021) 
[xi]European Council on Foreign Relations, "Mapping Armed Groups in Mali and the Sahel", May, 2019, available at: https://ecfr.eu/special/sahel_mapping/operation_barkhane (Accessed on April 26, 2021) 
[xii] David Welna, "Amended Travel Ban Threatens U.S. Military Relations With Chad", NPR, September 26, 2017, available at: https://www.npr.org/2017/09/26/553799094/amended-travel-ban-threatens-u-s-military-relations-with-chad (Accessed on April 26, 2021) 
[xiii]John Campbell, "Deby's Death Heightens Uncertainty in Chad, West Africa", Council on Foreign Relations, April 21, 2021, available at: https://www.cfr.org/blog/debys-death-heightens-uncertainty-chad-west-africa (Accessed on April 26, 2021) 
[xiv] David Welna, "Amended Travel Ban Threatens U.S. Military Relations With Chad", NPR, September 26, 2017, available at: https://www.npr.org/2017/09/26/553799094/amended-travel-ban-threatens-u-s-military-relations-with-chad (Accessed on April 26, 2021) 
[xv]Al Jazeera, "Chad deploys 1,200 troops to quell Sahel violence", February 16, 2021, available at: https://www.aljazeera.com/news/2021/2/16/chad-to-send-troops-to-sahel-flashpoint-amid-regional-summit (Accessed on April 26, 2021) 
[xvi]BBC Monitoring, "Chad's new leader - Mahamat IdrissDébyItno", April 22, 2021, available at: https://www.bbc.com/news/world-africa-56836109 (Accessed on April 26, 2021) 
[xvii]TRT World, "Who are the rebels that killed Chadian president Deby?", April 20, 2021, available at: https://www.trtworld.com/africa/who-are-the-rebels-that-killed-chadian-president-deby-46068 (Accessed on May 8, 2021) 
[xviii]Al Jazeera, "Who are Chad's FACT rebels and what are their goals?", April 21, 2021, available at: https://www.aljazeera.com/news/2021/4/21/who-are-chads-fact-rebels-and-what-are-their-goals (Accessed on May 8, 2021) 
[xix]Michelle Gavin, "The Unfolding Consequences of Idriss Déby's Death", Council on Foreign Relations, April 22, 2021, available at: https://www.cfr.org/blog/unfolding-consequences-idriss-debys-death (Accessed on April 26, 2021)