On 17 January 2022, Emirati oil facilities in the Musaffah industrial area and the Abu Dhabi international airport were hit by winged Quds missiles and Sammad-3 drones launched by the Houthis under Operation Hurricane Yemen. It led to three deaths including two Indian nationals. Consequently, UAE and the Arab League asked the United States (US) to re-designate Houthis as a terrorist organisation. A week later, the Houthis launched Zulfiqar missiles targeting Abu Dhabi that were intercepted by the US forces at Al-Dhafra airbase. In the third related incident, the UAE defense forces intercepted a Houthi missile on 31 January 2022. Incidentally, at the same time, Israeli President Isaac Herzog was on a two-day visit to UAE signifying strengthening ties after the signing of Abraham Accords in 2020.

Earlier, UAE came under the Houthi line of fire in 2018, however the January 2022 drone and missile attacks breached the Emirati territorial security for the first time. Four years ago, UAE was attacked by the group while fighting to oust them from the port city of Hodeidah and since then has avoided direct engagement. However, in December 2021, the Giants Brigade trained and supported by the UAE, forced Houthis out of the Shabwah governorate, and is currently pushing into Al-Bayda and Marib that have strategic significance for the group.[i] The Houthi military spokesperson Brigadier General Yahya Sarie stated that the attacks aimed to warn the aggressor states of Saudi Arabia, UAE and the US of further blows in the future.[ii]

The UAE has been part of the Saudi-led military coalition that intervened in Yemen in March 2015 to restore the Abdrabbuh Mansur Hadi government in Sana'a. However, since 2019 it has gradually scaled down its involvement and ended all direct combat operations. Nonetheless, it has supported the secessionist Southern Transition Council (STC) which now controls most of the Aden region. Yemen has strategic significance for the UAE as control over its southern territory is key for power projection in the Bab al-Mandeb, Gulf of Aden, Red Sea and East Africa. Presence of a military base on the Mayun Island and Aseb port in Eritrea, access to Berbera port in Somaliland[iii] as well as influence over the Socotra Island through the STC provides UAE leverage over the major shipping routes.[iv]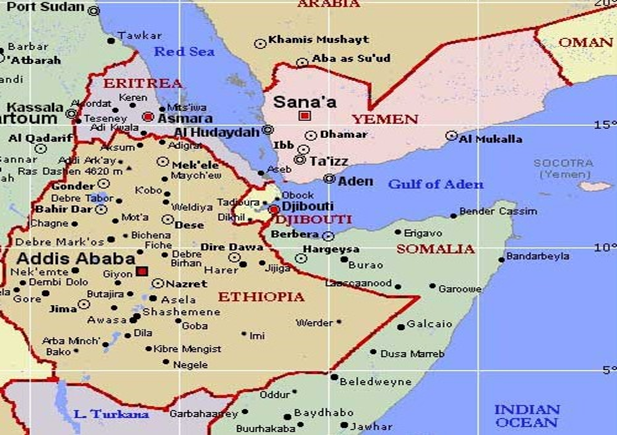 Source: World Sites Atlas, Sudan and the Horn of Africa, http://www.weltrekordreise.ch/flags-maps/horn_africa_map.jpg accessed on 11 February 2022.
The Geo-Political Implications

The attacks on UAE have geo-political implications for the region and will lead to widening of the conflict. It underlines that the Houthi group has been emboldened as it proved its capability to reach non-bordering territories. Houthis have been engaged in targeted attacks at Najran, Makkah, Riyadh, Jazan, Asir, Jeddah and Khamis Mushaytin Saudi Arabia since 2015;[v] the group attacked two oil installations affecting half the oil supply of Saudi Arabia in 2019.[vi] The Houthi Deputy Chief of General Staff Major General Ali Al-Moshki said that the attacks proved the group's ability to reach Emirati territory with the help of advanced weapons, cadres and intelligence.[vii] The attacks were condemned widely by the international community.

The Houthi attacks in UAE can dilute the ongoing efforts for improvements in ties with Iran that provides logistic support to the group. Iran is to re-open Tehran's representative office to the Organization of Islamic Cooperation in Riyadh and has also shown inclination to re-open its embassy in Saudi Arabia in near future.[viii] In the first week of January 2022, Iran's Foreign Minister Hossein Amir Abdollahian said that the ongoing dialogue with Saudi Arabia was positive and constructive and Tehran was ready to restore relations at any time.[ix] In December 2021, the Emirati National Security Advisor met Iranian President Ebrahim Raisi and said that the security of the regional countries is intertwined, and Iran supports the security of the Persian Gulf states.[x] Nevertheless, Saudi Arabia retaliated to the Houthi attacks on UAE conducting an air raid at a detention facility in Saada.[xi] UAE as well as Saudi Arabia have been careful in not blaming Iran for the attacks on Emirates.

The Houthi attacks have raised concerns over the security and stability in the UAE. The Gulf country has asked the US for the re-designation of Houthis as a terrorist organisation and Washington has announced that it would send guided-missile destroyer USS Cole and fifth-generation fighter aircraft to the UAE. With the rebel group advising foreign investors and firms to leave unsafe UAE[xii] and threatening to attack the site of Dubai Expo,[xiii] it is evident that the group aims to tarnish UAE's image as a tourism and commercial hub. Secondly, it has the potential to disrupt the flow of oil and gas from the region through the Strait of Hormuz that is situated 317 km from Abu Dhabi. The attack would also raise the financial cost for the UAE as it intends to strengthen its defense capabilities through acquisition of advanced weapons and technology.

Lastly, the resultant escalation of the conflict may lead to further loss of lives of Yemenis in addition to the intensification of the humanitarian crisis. Yemen is undergoing one of the largest humanitarian crises in the world with 71 per cent of the population including 10 million adults and 11 million children in need of assistance. The conflict has led to the destruction of health and education facilities. 2.3 million children face acute malnutrition and 15.4 million people need access to water, sanitation, and hygiene services.[xiv]
*****
*Dr. Lakshmi Priya, Research Fellow, Indian Council of World Affairs, New Delhi.
Disclaimer: Views expressed are personal.
Endnotes
[i]Why did the Houthis attack the UAE? Everything you need to know, Al-Jazeera, 31 January 2022,
https://www.aljazeera.com/news/2022/1/31/explainer-a-simple-guide-to-the-uae-houthi-escalation accessed on 02 February 2022.
[ii]Army carries out "Yemen Hurricane" in UAE territories, Yemen News Agency, 17 January 2022, https://www.saba.ye/en/news3172265.htm#:~:text=17%20(Saba)%20%2D%20The%20armed,US%2DSaudi%2DEmirati%20aggressionaccessed on 02 February 2022.
[iii]Abdulwahhab Al-Qassab,Strategic Considerations of the UAE's Role in Yemen, Arab Centre Washington DC, 9 March 2018,
https://arabcenterdc.org/resource/strategic-considerations-of-the-uaes-role-in-yemen/ accessed on 01 February 2022.
[iv]Arwa Mokdad, What the UAE takeover of Yemen's islands really means, Responsible Statecraft, 14 June 2021, https://responsiblestatecraft.org/2021/06/14/what-the-uae-takeover-of-yemens-islands-really-means/accessed on 01 February 2022.
[v]TIMELINE: Houthi attacks on Saudi Arabia, Arab News, 13 June 2019, https://www.arabnews.com/node/1510206/ampaccessed on 01 February 2022.
[vi]Saudi Arabia: Drones attack Riyadh oil facility; no damage, The Economic Times, 20 March 2021,
https://economictimes.indiatimes.com/news/international/saudi-arabia/saudi-arabia-drones-attack-riyadh-oil-facility-no-damage/articleshow/81599467.cmsaccessed on 02 February 2022.
[vii]Operation Yemen Hurricane II reflects growing deterrence: Official, Al-Mayadeen, 25 January 2022,
https://english.almayadeen.net/news/politics/operation-yemen-hurricane-ii-reflects-growing-deterrence:-ofaccessed on 02 February 2022.
[viii]Iran to reopen OIC representative office in Saudi Arabia, Al-Jazeera, 17 January 2022,
https://www.aljazeera.com/news/2022/1/17/iran-to-reopen-oic-representative-office-in-saudi-arabiaaccessed on 20 January 2022.
[ix]Iran foreign minister says ready to restore relations with Saudi Arabia at any time: Al-Jazeera, Reuters, 6 January 2022,  https://www.reuters.com/article/iran-saudi-idAFC6N2TI00Qaccessed on 21 January 2022.
[x] Parisa Hafezi, UAE security official pays rare visit to Iran to discuss ties, regional issues, Reuters, 6 December 2021,
https://www.reuters.com/world/middle-east/uae-security-official-iran-discuss-ties-regional-issues-state-media-2021-12-06/ accessed on 24 January 2022.
[xi]Dozens killed in Saudi-led coalition air raid on Yemen prison, Al-Jazeera, 21 January 2022,
https://www.aljazeera.com/news/2022/1/21/several-killed-in-airstrike-on-yemen-prisonaccessed on 29 January 2022.
[xii]Rezaul H Laskar, Yemen's Houthi rebels threaten to expand operations against UAE, Saudi Arabia, Hindustan Times, 25 January 2022, https://www.hindustantimes.com/world-news/yemens-houthi-rebels-threaten-to-expand-operations-against-uae-saudi-arabia-101643034790054.html accessed on 27 January 2022.
[xiii]Houthis threaten to attack Dubai Expo if Yemen war not halted, Middle East Eye, 26 January2022, https://www.middleeasteye.net/news/yemen-houthis-threaten-attack-dubai-expo accessed on 27 January2022.
[xiv]Yemen Humanitarian Situation Report, 30 September 2021, UNICEF, https://www.unicef.org/documents/yemen-humanitarian-situation-report-30-september-2021
accessed on 02 February 2022.