As per the World Bank's economic outlook for East Asia and the Pacific released in April 2022, the growth projection for Southeast has been downgraded to 5 percent in 2022 – down from the earlier forecast of 5.4 percent.[i]According to the Asian Development Outlook 2022, the GDP forecast for Southeast Asia in 2022 and 2023 is projected at 4.9 and 5.2 percent, respectively.
Figure 1: Southeast Asia Growth rate of GDP (% per year)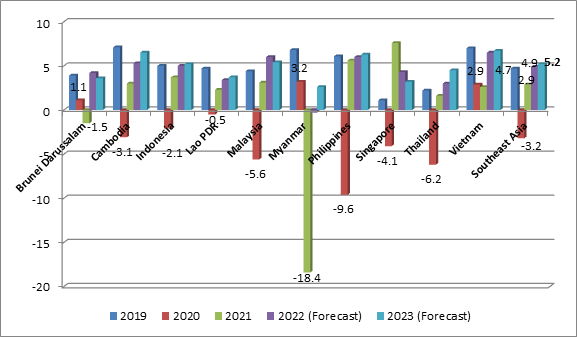 Source: Asian Development Bank
Indicated in Figure One, the impact of the pandemic was evident in Southeast Asia where the overall GDP contracted by -3.2 percent in 2020. This sharp decline in the GDP in 2020 is attributed to negative growth witnessed in all Southeast Asian countries except for Brunei, Myanmar, and Vietnam. In 2021, despite other countries in the region witnessing a positive growth – except Myanmar and Brunei – the overall GDP increased marginally by 2.9 percent. Myanmar's sharp decline of -18.4 percent in its GDP could be attributed to the political crisis which had major economic implications. Even prior to the pandemic Southeast Asia was already witnessing an economic slowdown as a consequence of a decline in global demands along with increasing US-China trade tensions. The region focuses primarily on four sectors; travel, tourism, Medium, Small and Micro Enterprises (MSMEs), and agriculture. The nation-wide lockdowns to contain the spread of the pandemic impacted the vulnerable sectors such as health, transport, tourism, hospitality industry, and the small and medium enterprises. Southeast Asia, on account of the pandemic, faced multiple challenges including health, economic, financial, and environmental.[ii]

The region which was recovering from the pandemic, led to optimism on the economic growth for 2022. However, due to multiple shocks which include the conflict in Ukraine, which is already causing major disruptions on food and energy security, will slow the economic recovery in Southeast Asia. While in terms of trade with Russia the effects of the war will not be felt as strongly in Southeast Asia since the former is its ninth-largest trade partner with few major investments. However, there would be indirect impacts– from disruptions of global supply chains and the rising energy and food prices. Countries in the region such as Vietnam, which is today one of the most interconnected countries in the world economy would be vulnerable to the external shock posed by the crisis. For instance, Vietnam's growing tech export industry that depends on the Russian exports of key components such as nickel, krypton, aluminium, and palladium used in manufacturing semiconductors would be impacted since cost of production would increase.[iii]

Ukrainian government in late March put a stop to the export of wheat, oats, and other staple foods essential to the global food supply. Southeast Asian countries such as Indonesia, Malaysia, the Philippines, and Vietnam are heavily dependent on wheat imports from Ukraine, which is a key food ingredient for items such as instant noodles which are a buffer food for the middle to lower economic community. Indonesia is the largest wheat importer in the world with 10.29 million tonnes in 2020.[iv] About 75 percent of Indonesia's imports from Ukraine are cereals, making it its largest supplier at 2.96 million tons, followed by Argentina, and Australia.[v]

The jump in global energy prices since the beginning of the conflict in Ukraine is another factor which would slow down the region's economic recovery. Southeast Asia gets most of its crude oil from the Middle East and parts of Africa and is therefore, less vulnerable than other nations directly impacted by sanctions on Russian oil. However, with the increase in the price of crude in the international market all countries are being affected. The impact of rising oil costs is being felt in subgroups of consumer prices, such as transport, housing, electricity, gas, and other fuels. A consequent of this has led to Indonesia, which is the largest supplier of palm oil in the world to impose a ban on the exports of both crude palm oil and its refined products, such as cooking oil in April. This move by the Indonesian government is to ensure that its domestic consumers are not impacted and that the price of staple goods remains stable and affordable.[vi] The ban is adversely impacting the global edible oil market, affecting the cost of cooking oil and adding to the existing inflationary pressure.[vii] The move to ban export of palm oil would also impact Indonesia's economy. The step taken to keep domestic prices stable is at odds with the commercial interests of its palm oil producers and exporters.[viii] Indonesia dominates the world production of vegetable fats and oil with more than a third of total global export share. Vegetable fat and oil is the country's top export earner, which stood at US $ 20 billion in 2020, in which palm oil is the major item. By banning its top-earning product, Indonesia could see its trade position deteriorate at a time when the Indonesia rupiah has already dropped to an eight-month low, after the ban was announced.[ix]

Conclusion

Prior to the pandemic, the geopolitical tensions between the US and China had spurred a shift of foreign direct investment into Southeast Asia with businesses expanding in the region. While the Ukrainian conflict remains highly fluid, the economic consequences are already very serious. Southeast Asia which was on the economic recovery path, the ongoing crisis which is having a substantial impact on the global economy would elevate the already existing inflationary pressures caused during the pandemic. The impact on food and energy security which is causing disruptions in the global supply chains could threaten Southeast Asia's economic recovery from the pandemic. Economic recovery in Southeast Asia would be conditioned by how countries can provide the extra support to the respective sectors which have been worst hit by the pandemic. Further the post pandemic recovery would also be largely dependent on the global environment under which the ongoing volatility steaming form the conflict in Ukraine, if not contained, will likely cause serious economic problems for Southeast Asia.  
*****
*Dr. Temjenmeren Ao is a research fellow at the Indian Council of World Affairs.
Disclaimer: Views are personal. 
References:
[i]"World Bank says war shocks will drag on Asian economies", NPR, April 5, 2022, https://www.npr.org/2022/04/05/1090986114/world-bank-says-war-shocks-will-drag-on-asian-economies, Accessed on April 28, 2022.
[ii]"ASEAN-India Development and Cooperation Report 2021: Avenues for Cooperation in Indo-Pacific", ASEAN-India Centre at RIS, p. 244. 
[iii]Deutsche Welle, "Ukraine Conflict: Asia feels economic brunt", Frontline, March 22, 2022, https://frontline.thehindu.com/dispatches/ukraine-conflict-asia-feels-economic-brunt/article38460079.ece, Accessed on May 4, 2022.
[iv]Ainur Rohmah, "Ukraine Crisis Disrupts Indonesia's Wheat Supply", Asia Sentinel, May 2, 2022, https://www.asiasentinel.com/p/ukraine-crisis-disrupts-indonesia-wheat-supply?s=r, Accessed on May 6, 2022.
[v]Jayanty Nada Shofa, "Russia-Ukraine Conflict may affect Indonesia's wheat supply", Jakarta Globe, March 2, 2022, https://jakartaglobe.id/business/russiaukraine-conflict-may-affect-indonesias-wheat-supply, Accessed on May 5, 2022.
[vi]James Guild, "Why Indonesia Banned Palm Oil Exports", The Diplomat, May 3, 2022, https://thediplomat.com/2022/05/why-indonesia-banned-palm-oil-exports/ , Accessed on May 5, 2022. 
[vii]Anuradha Raghu, Pratik Parija, and EkoListiyorini, "Food protectionism ramps up as Indonesia bans palm oil exports", The Economic Times, April 29, 2022, https://economictimes.indiatimes.com/small-biz/trade/exports/insights/food-protectionism-ramps-up-as-indonesia-bans-palm-oil-exports/articleshow/91167554.cms, Accessed on May 4, 2022.
[viii]James Guild, "Why Indonesia Banned Palm Oil Exports", The Diplomat, May 3, 2022, https://thediplomat.com/2022/05/why-indonesia-banned-palm-oil-exports/ , Accessed on May 5, 2022. 
[ix] Trinh Nguyen, "Why Indonesia's Palm Oil Export ban could backfire", Carnegie Endowment for International Peace, April 28, 2022,  https://carnegieendowment.org/2022/04/28/why-indonesia-s-palm-oil-export-ban-could-backfire-pub-87014, Accessed on May 12, 2022