On January 1, 2023, Mozambique, Ecuador, Japan, Malta and Switzerland have joined United Nation's security Council (UNSC) as the new non-permanent members and will serve till 31 December 2024. These five states won largely uncontested and will join Albania, Brazil, Ghana, Gabon, UAE at the Security Council. Mozambique was elected as a non- permanent member to the United Nations Security Council on June from the Africa and Asia Pacific group, Mozambique garners 192 votes.[i]  It is for the first time that Mozambique will serve in the Council since its Independence in 1975. Mozambique is strategically located and is considered an important choke point in the Indian ocean and one third of world's shipping traverses from Mozambique Channel. It is rich in natural resources such as rubies, natural gas and iron ore.  According to Mozambican President Filpe Nyusi, "Mozambique will contribute to building peace in the world, advocating dialogue and multilateralism."[ii] The key issues that will cover Mozambique's agenda at UNSC will be terrorism, wider representation of Africa, climate change and energy security.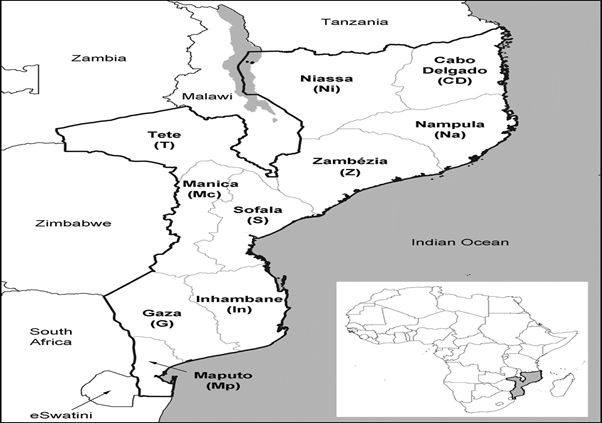 Source: ResearchGate
Focus on Terrorism

As Mozambique joins the United Nations Security Council for the first time, it will bring attention to terrorism.[iii] According to Mozambican Ambassador to UN, Pedro Comisario, "Paramount among the contemporary threats to international peace is the progressive Africanization of terrorism affecting our continent"[iv].  He asserted that " Mozambique is ready to deal with terrorism during its tenure and that International community should work together to stamp out terrorism. In the coming days, will communicate some important lessons we learned". Since last five years, there has been a significant rise of terrorism in the Cabo Delgado region of northern Mozambique, bordering Tanzania. An IS affiliate, Al Shabab, has launched several attacks in Cabo Delgado. According to the UN estimates the violent attacks by the militants have resulted in the massive displacement of one million people from the region. In this context, it needs to be noted that Cabo Delgado region is rich in natural resources such as rubies and natural gas. Most of the world's biggest oil producing companies such as Mitsui (Japan), Oil Videsh, Oil India, BPCL (India) and CNPC (China) have invested in Mozambique's gas sector. However, terror activities have adversely impacted the mining and natural gas sector of Mozambique, which attracts massive investment every year.[v]

Promotion of African Agenda

Mozambique's Foreign Affairs Minister Oldemiro Baloi at UNSC has stated that that Africa is facing a range of challenges today and stressed upon the need to reform the United Nations Security Council. According to Oldemiro Baloi, "Tension and instability in the parts of Africa particularly in the states like Madagascar, Democratic Republic of Congo, Guinea Bissau, Somalia, Sudan, South Sudan and Mali is of great concern for Mozambique". He further stated that Mozambique will advocate reform of the Security Council and will push for African concerns, a region which has suffered historical injustice.  According to President Nyusi "Africa has no permanent member on the Security Council"[vi].

Climate Change and Energy Security

Climate change is one of the significant priority areas for Mozambique in 2023. Mozambique is extensively affected by climate change and has suffered massive losses due to extreme weather conditions. Repeated cyclones have damaged the agricultural produce in the past couple of years. Therefore, a major priority for Mozambique in the UNSC is to upscale mobilization of climate financial support to advance climate justice and to provide solutions to the global energy crisis, given that Mozambique's energy resources provide major opportunities to the international community in the natural gas and hydropower sector.[vii] According to President Nyusi "Climate Change is real. As a country we are in a region prone to extreme weather events. Therefore, we have no way out to embark on the measures aimed at sustainable development". He added that financial support should be given to the Disaster Risk Reduction as well as to metrological and hydrological services.

Conclusion

Mozambique takes a seat at the United Security Council at a time when arms insurgency in Cabo Delgado province remains the major security challenge.[viii]. It needs to be noted that Mozambique has called for a global strategic plan of action and a detailed program that involves resolution of conflict situations. Mozambique's Foreign Affairs Minister Oldemiro Baloi has explained about the relevance of multilateral mechanism for the resolution of disputes through peaceful means. It is to be seen how Mozambique takes up its domestic and regional agenda at the UNSC.
*****
*Dr. Gauri Narain Mathur, Research Fellow, Indian Council of World Affairs, New Delhi.
Disclaimer: The views expressed are personal.

Endnotes
[i] 'Mozambique: Dialogue and Multilateralism at UN Security Council- President'. Club of Mozambique, 10 June 2022, clubofmozambique.com/news/mozambique-dialogue-and-multilateralism-at-un-security-council-president-watch-218579/
[ii] Ibid
[iii] Julian Pecuet,' Mozambique to join UN Security amid Russian Overtures', The Africa Report, https://www.theafricareport.com/212725/mozambique-to-join-un-security-council-amid-russian-overtures/
[iv] Otiatio Opali, 'UN Security Council gets new voice from Africa', China Daily , 5 January 2023,  http Chinadaily.com.cn/a/2023/
[v] Ruchita Beri, ' Rising Terrorism in Mozambique',  IDSA, 3 November 2021, https://idsa.in/issuebrief/rising-terrorism-in-mozambique-rberi-031121
[vi] Ibid
[vii] Rafeal Carvahlo, 'What is the COP 27 and Why is it Important for Mozambique', Further Africa, 2 November 2022,  https://furtherafrica.com/2022/11/02/what-is-the-cop27-and-why-is-it-important-to-mozambique/
[viii] 'UN Security Council Welcomes New Members including two first timers', United Nations, 4 January 2023, https://www.thehindu.com/news/international/un-security-council-welcomes-new-members-including-two-first-timers/article66336418.ece