Iran will be the newest member of the largest regional organisation- the Shanghai Cooperation Organisation (SCO), when it joins the forum in April 2023 under the chairmanship of India. Comprising 40 per cent of the world's population and 30 per cent of the global GDP, SCO can provide Iran with a multilateral institutional capacity to strengthen trade and connectivity in the region, fight terrorism, and revive its economy against the crippling US sanctions. According to Foreign Minister Hossein Amir Abdollahian, Iran's accession to the SCO proves Tehran's commitment towards a "balanced, smart, active and dynamic" foreign policy approach and the idea of 'Asian Multilateralism'.[i] This paper focuses on Iran's accession to the Eurasian organisation, highlighting potential opportunities for Tehran and speculations for the future of the Persian state.

Iran and the SCO

Iran has been an observer in the SCO since 2005, and almost after 15 years, its bid for full and permanent membership in the organisation was approved at the 2021 Summit in Dushanbe. A formal Memorandum of Understanding (MoU) with Iran was signed last year at the 2022 Summit held at Samarkand, Uzbekistan.[ii] Gaining membership to SCO is not a small feat for Iran; faced with US sanctions, SCO membership gives it greater legitimacy and acceptance in the international arena. There are reports that Tajikistan had apprehensions regarding Iran's membership due to Tehran's support for the Islamic Movement of Tajikistan.[iii] On the other hand, Russia and China have supported Iran's full membership in the Organisation.[iv] After the confirmation of Iran's membership in the SCO, the country's Foreign Minister, Hossein Amir-Abdollahian, announced that Iran has now entered a new stage of cooperation in various areas, including economic, commercial, transit, and energy.[v]

Iran's interests and SCO Membership

Iran has several economic and geostrategic interests in the region and Tehran's geopolitical position, population, energy supplies, connectivity potential, human resource, and soft power enables it to achieve the same. Over the years, the Iranian economy has suffered on account of West-imposed sanctions due to its nuclear developments. The USA withdrew from the Joint Comprehensive Plan of Action (JCPOA) nuclear deal in 2018 and imposed a policy of 'maximum pressure' on Iran. As a result, Tehran is focusing on Look East to achieve its economic and strategic objectives; it has reformulated its foreign policy from 'Neither East Nor West' to 'Pivot to East'. According to Ayatollah Khamenei, the Supreme Leader of Iran, the foreign policy is preferring neighbours over remote countries.[vi] Strengthening trade can play a significant role in providing Iran's economy with the support it needs.

Trade and Economy

SCO can provide the sanction-hit Iranian economy with a huge boost via resilient trade. It can promote Iran's trade, increase the inflow of investments, spur growth in tourism, and access to an alternate system in the global financial network. Iran's rich oil and gas resources make Tehran a viable member to participate in the SCO energy talks. Iran was the fifth-largest oil producer in OPEC in 2021, accounting for 24 per cent of oil reserves in West Asia and 12 per cent in the world.[vii] Iran could gain significant access to the Central Asian Republics (CARs), which can be potential export markets for Iranian goods. In 2021, Iran surpassed USD 37 billion in trade with other SCO members, accounting for 30 per cent of total foreign trade.[viii]

Iran's Deputy Foreign Minister for Economic Diplomacy, Mehdi Safari, stated that the SCO economies have the potential of multi-billion dollar markets for Tehran, expressing its accession into the SCO as a great opportunity for business and trade.[ix] Ruhollah Latifi, the Customs Administration spokesperson, stated that in the second quarter of 2022, Iran's non-oil exports to SCO members increased by 20 per cent, amounting to USD 5.5 billion.[x] Moreover, President Ebrahim Raisi stated that, as an SCO member, Iran seeks to benefit from the infrastructure that exists in Asia and the neighbouring countries.[xi] In order to strengthen its economy, Iran needs to develop its trade corridors, ensuring safe and quick transport of goods and services.

Connectivity 
Fig: North-South Transport Corridor & Chabahar Port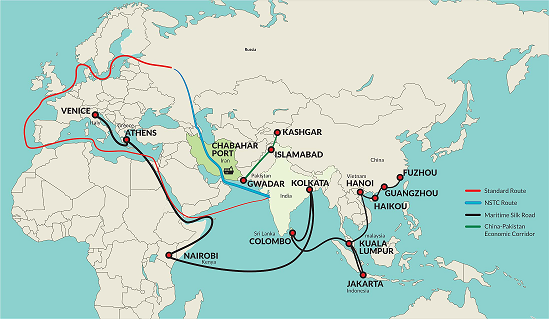 Source: Construction Business News (https://www.cbnme.com/analysis/an-alternate-route-chabahar-port-for-india/)
Iran's geographical position is crucial for SCO. Iran is at the main crossroads connecting the organisation's primary members and the dialogue partners[xii] states together. Besides connecting at least four major regions- Central Asia, South Asia, West Asia and the Caucasus, the International North-South Transit Corridor (INSTC), has its pathway via Iran.[xiii] Being the latest member of SCO, Iran can fulfil its long-term goal of becoming a hub country by playing a critical role in this transit corridor.

Iran has assured member states of providing safe, reliable and stable routes on the North-South Corridor, alongside supplying infrastructure to its southern port of Chabahar. Moreover, Chabahar Port connects India with the Central Asian region and Europe. The development and utilisation of the port's capacity and infrastructure can boost trade in the region, especially through the INSTC. Tehran is also keen to develop the Iran-Afghanistan-Uzbekistan corridor, connecting cities like Mazar-i-Sharif and Herat directly to the Chabahar port.[xiv]

Counter-Terrorism

Iran's official membership in the SCO can strengthen the key security goals stipulated in Article 1 of the SCO Charter, namely to "jointly counteract the three evils of the region terrorism, separatism and extremism".[xv] Iran can play a central role in dealing with Afghanistan's security concerns pertaining to terrorism, extremism, drug trafficking, and transnational crimes.[xvi] Afghanistan has become the operating base for several terror networks like Islamic State, al-Qaida and the East Turkestan Islamic Movement. For Iran, stabilising Afghanistan or at least minimising the spillover effects of terrorism or conflict in the country is one of the top priorities as an SCO member. Through SCO Regional Anti-Terrorist Structure (SCO-RATS), Iran can take part in the biannual anti-terrorism exercises[xvii], coordinating efforts with other members to fight the 'three evils' of the region.

SCO Membership: A Boost to Iran's Relations with Regional Powers

The inclusion of Iran in the SCO has increased the substantial value of the organisation, as the experts suggest that SCO now has all the necessary players it requires to solve regional challenges. Developing further bilateral or multilateral relations with the most significant members of SCO- Russia, China and India, is essential for promoting Tehran's interests in the region.

Iran-Russia

A strengthened Iran is of great significance as from Moscow's perspective, Iran can function as a vital instrument to counter NATO by engaging in geopolitical power struggles in the region.[xviii] Iran, through its influence in the region, can undermine US interests in West Asia and promote Russia's objectives in the region. Recently, Iran has also provided drones to Russia, which are used in the latter's military engagements with Ukraine.[xix] Incessant economic sanctions, along with the growing concern about the emerging, US-backed Gulf Arab-Israeli bloc[xx] that could tilt West Asia's balance of power further away from Tehran, have motivated Iran to pursue deeper economic and strategic ties with Russia. According to Iranian state media, "Iran is determined to boost its ties with Russia, from economic to aerospace and political fields."[xxi] Russia can also utilise its position in the Eurasian Economic Union (EAEU) to promote Iran's interests further.

Iran-China

Iran's entry into the Eurasian organisation aligns with China's expanding economic and geopolitical footprints in West Asia. Tehran's membership can unlock new opportunities for Beijing to expand its regional influence and promote its geoeconomic Belt and Road Initiative (BRI) project.[xxii] By strengthening relations with Iran, Beijing can diversify its energy sources. Tehran and Beijing have also developed strategic relations in recent years, evident through the 25-year Comprehensive Strategic Partnership agreement signed between the two in 2021.[xxiii] The two States have also established wide-ranging ties via non-energy economic links, arms sales and defence cooperation.[xxiv]

Iran-India

Iran and India share strong economic and commercial ties. For Iran, India is crucial for international connectivity and trade through INSTC and Chabahar port. Iran depends on India for the import of rice, tea, fruits, drugs, sugar, jewellery and electrical machinery. The two nations can work on diversifying their payment channels to expand trade and commerce. India has also invested extensively in Iran's Chabahar port to boost Eurasian outreach and provide Tehran with the infrastructural impetus its economy requires. Economically, the SCO provides a huge potential for growth to Iran and India. A huge demographic dividend and a large market share for oil and other commodities within its proximity make India a significant partner for Iran.

Conclusion

According to Iranian experts, Iran's entry into the SCO, presumably expanding relations with Russia and China, can give Tehran more leverage to negotiate with the US and Europe. However, maintaining close ties with Moscow and Beijing may not be as fruitful as Tehran anticipates. It is unclear as to why or how willing the West would be to lift Iranian sanctions considering its assumed closeness to Russia and China.[xxv] However, being at the crossroads with both Russia and China, it is clear that the US will be vigilant of Iran's closeness to them through the SCO membership. Iran's foreign policy, which prioritises West Asia and developing relations with neighbours, will expand through the pursuit of meaningful participation in the Eurasian economic and security institution, such as the SCO, with the hope of reviving its sanctions-hit economy.
*****
*Rahul Ajnoti is a Research Intern at the Indian Council of World Affairs
Disclaimer: Views expressed are personal
[i]Abdollahian, H. A. (2022, September 16). "SCO: An opportunity to bolster Eurasian convergence". CGTN. Retrieved January 16, 2023, from https://news.cgtn.com/news/2022-09-16/SCO-An-opportunity-to-bolster -Eurasian-convergence-1dmTvERt2GA/index.html
2(2022, September 15). "Iran signs memorandum to join Shanghai Cooperation Organisation". Al Jazeera News Agency. Retrieved 1 February 2023, from https://www.aljazeera.com/news/2022/9/15/iran-signs-memorandum-join- shanghai-cooperation-organisation
[iii]Motamedi, M. (2021, September 19). "What Iran's membership of Shanghai Cooperation Organisation means". Aljazeera. Retrieved 27 January 2023, from https://www.aljazeera.com/news/2021/9/19/iran-shanghai-cooperation- organisation
[iv]Lavrov: Moscow supports Iran's membership in SCO (July 2022).IRNA. Retrieved 31 January 2023, from https://en.irna.ir/news/83865244/Lavrov-Moscow-supports-Iran-s-membership-in-SCO
[v]Zafar, S. (2022, September 15). "Iran signs 'memorandum of commitment' for full SCO membership".Anadolu Agency. Retrieved 31 January 2023, from https://www.aa.com.tr/en/middle-east/iran-signs-memorandum-of-commitment-for-full-sco- membership/2685515#
[vi]Sanaei, M. & Karami, J. (n.d.). "Iran's Eastern Policy: Potential and Challenges". Global Affairs, Russia. Retrieved January 16, 2023, from https://eng.globalaffairs.ru/wp-content/uploads/2021/09/025-049.pdf
[vii](2022, November 17). Analysis —"Energy Sector Highlights". U.S. Energy Information Administration (EIA). Retrieved 1 February 2023, from https://www.eia.gov/international/overvie
[viii]Golmohammadi, V. (2022, September 19). "Iran's SCO accession: A timely yet insufficient gambit". ORF Raisina Debates. Retrieved January 16, 2023, from https://www.orfonline.org/expert-speak/irans-sco-acc ession-a-timely-yet-insufficient-gambit/
[ix]Azizi, H. (2022, September 28). "What Iran really seeks from the SCO".Amwaj Media. Retrieved 25 January 2023, from https://amwaj.media/article/what-iran-really-seeks-from-the-sco
[x]Grajewski, N. (2022, September 14). "Iran One Step Closer to SCO Membership". The Washington Institute. Retrieved 31 January 2023, from https://www.washingtoninstitute.org/policy-analysis/iran-one-step-closer-sco- membership
[xi]Zafar, S. (2022, September 15). "Iran signs 'memorandum of commitment' for full SCO membership".Anadolu Agency. Retrieved 31 January 2023, from https://www.aa.com.tr/en/middle-east/iran-signs-memorandum-of-commitment-for-full-sco- membership/2685515#
[xii]At present, SCO dialogue partners include Armenia, Azerbaijan, Bahrain, Cambodia, Egypt, Kuwait, Maldives, Myanmar, Nepal, Qatar, Saudi Arabia, Sri Lanka, Turkiye and the UAE.
[xiii]Tishehyar, M. (2022, December 28). "Why Is Iran's Membership in the Shanghai Cooperation Organisation Important?".Valdai Club. Retrieved January 27, 2023, from https://valdaiclub.com/a/highlights/why-is-iran-s -membership-in-the-shanghai/#masha_0=4:25,4:38
[xiv](2022). "Iran-Afghanistan-Uzbekistan Transit Corridor Operational".Mehr News Agency. Retrieved 31 January 2023, from https://en.mehrnews.com/news/162082/Iran-Afghanistan-Uzbekistan-transit-corridor-operational
[xv]Charter of the Shanghai Cooperation Organization. (2002). CIS Legislation. Retrieved 27 January 2023, from https://cis-legislation.com/document.fwx?rgn=3851
[xvi]Gupta, P. K. (2022, November 30). "Prospects for India's Presidency of Shanghai Cooperation Organisation (SCO)". The Financial Express. Retrieved January 18, 2023, from https://www.financialexpress.com/defence /prospects-for-indias-presidency-of-shanghai-cooperation-organisation-sco/2896765/
[xvii]Weitz, Richard. (2011, May 25). "MILITARY EXERCISES UNDERSCORE THE SCO's CHARACTER". Retrieved 1 February 2023, from https://www.cacianalyst.org/publications/analytical-articles/item/12293-analytical-articles-caci-analyst -2011-5-25-art-12293.html
[xviii]Saleh, A. & Yazdanshenas, Z. (2022, August 25). "The Ukraine war has made Iran and Russia allies in economic isolation".Atlantic Council. Retrieved 31 January 2023, from https://www.atlanticcouncil.org/blogs/iransource/the- ukraine-war-has-made-iran-and-russia-allies-in-economic-isolation-heres-how/
[xix]Iran International Newsroom. (2022, September 11)."'Made In Iran' Russian Drones Have American, Canadian Parts". Retrieved 31 January 2023, from https://www.iranintl.com/en/202211091085
[xx]The bloc comprises of mainly Israel, Saudi Arabia and the UAE. Read more at https://www.reuters.com/world/ middle-east/us-israel-push-arab-allies-joint-defence-pact-amid-iran-tensions-2022-07-07/
[xxi](2022, September 15). "Iran set to become permanent member of SCO".The Express Tribune. Retrieved 1 February 2023, from https://tribune.com.pk/story/2376820/iran-set-to-become-permanent-member-of-sco
[xxii]Ghiselli, A. (2022, April 5). "Understanding China's relations with the Middle East".East Asia Forum. Retrieved 31 January 2023, from https://www.eastasiaforum.org/2022/04/05/understanding-chinas-relations-with-the-middle-east/
[xxiii](2023). "China-Iran Comprehensive Strategic Partnership: Likely Challenges for India".ManoharParrikar Institute for Defence Studies and Analyses. Retrieved 25 January 2023, from https://idsa.in/issuebrief/china-iran- strategic-partnership-quamar-priya-300421
[xxiv]Khan, A. (2022, September 20). "What does Iran's membership in the SCO mean for the region?".The Diplomat. Retrieved January 17, 2023, from https://thediplomat.com/2022/09/what-does-irans -membership-in-the-sco-mean-for-the-region/
[xxv]Eftekhari, F. (2021, September 7). "Why Is Iran So Keen on Joining the SCO?".The Diplomat. Retrieved 31 January 2023, from https://thediplomat.com/2021/09/why-is-iran-so-keen-on-joining-the-sco/