Following Russia's recognition of the self-proclaimed regions of Ukraine - the Donetsk People's Republic (DPR) and the Lugansk People's Republic (LPR) - the German Chancellor Olaf Scholz, on 22 February 2022, halted the certification process for the Nord Stream 2 gas pipeline project. Chancellor Scholz said, "the decision would send a clear message to Moscow that such actions are unjustified and incomprehensible".[i] The decision drew condemnation from Moscow, where the former Russian President and deputy chair of Russia's Security Council, Dmitry Medvedev, said, "Welcome to the brave new world where Europeans are very soon going to pay €2,000 for 1,000 cubic metres of natural gas!".[ii] This marked the beginning of a fresh wave of crises for the already controversial Nord Stream 2 project.

The paper briefly introduces the Nord Stream 2 project and explores the changing German position on the project. It further discusses the implications of the halt of the Nord Stream 2 project for Russia.

Nord Stream 2 Project

Launched in 2015, the Nord Stream 2 is a 1200 km natural gas pipeline under the Baltic Sea that will transport gas from the Russian coast near St. Petersburg to Lubmin (near Greifswald) in Germany, thus circumventing Ukraine's transit system. It runs parallel to the Nord Stream 1 pipeline, operating since 2011. Once operational, Nord Stream 2 is projected to have the capacity to move 55 billion cubic meters (BCM) of gas annually, thus doubling the annual gas export capacity of the Nord Stream system to 110 bcm.[iii] Gazprom, the state-owned Russian company, has contributed up to 50 per cent of the project financing, while the rest is supported by five European energy companies - Uniper and Wintershall (German), Engie (French), OMV (Austrian) and Royal Dutch Shell (Dutch/British). However, the project has been plagued by delays and is heavily criticised by Germany's partners, such as the US, Ukraine, Poland, Romania, Slovakia, Hungary, Latvia and Lithuania. These states believe that the pipeline is part of a broader geopolitical strategy of Russia to undermine the West by increasing European reliance on Russian gas supplies and potentially giving Moscow leverage over the security of supply. 
ap of Nord Stream 2 Pipeline Project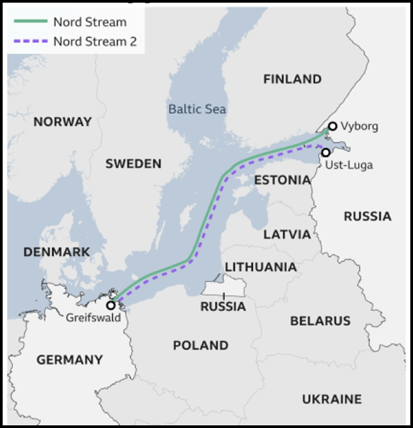 Source: BBC
Changing German Position on Nord Stream 2

Germany and Russia have developed a strong energy partnership. The following graph highlights Germany's gas imports from USSR/ Russia from 1970-2018.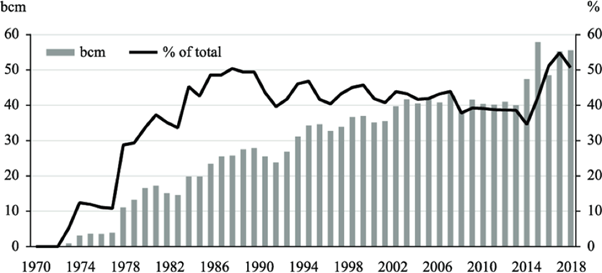 Source: Research Gate
Germany has continued to import large volumes of gas from Russia in recent years. Even during the Russian action in Crimea in 2014, the German government maintained the energy partnership with Moscow by keeping the energy sector out of sanctions.[iv] As one of the world's largest importers of natural gas, Germany currently sources nearly all (94 per cent in 2018) of its gas needs from abroad[v], with Russia supplying the majority (around 55 per cent).[vi] Therefore, prior to Russia's 'Special Military Operation' in Ukraine, Germany had supported the Nord Stream 2 pipeline as an essential 'Commercial Undertaking'.

Nord Stream 2 is crucial to Germany, and the advocates of the pipeline believe that the project will provide Germany with a relatively less expensive energy source. The supporters argue that if the project becomes operational, Germany would become the primary transit area and receive an estimated 2 billion dollars annually for gas transportation to Southern and Eastern European countries.[vii]

While the German government has defended the pipeline, it is important to acknowledge that from the very outset, the project has faced opposition. On the domestic level, Berlin has encountered opposition from environmental groups, whose members contend that the Nord Stream 2 will impact the Baltic Sea's fragile ecosystem and jeopardise the country's move to a low-carbon economy. The United States and the United Kingdom have also criticised Nord Stream 2 as "a Russian geopolitical project intended to weaken European energy security".[viii] 

Additionally, the pipeline is of a particular concern to Germany's eastern neighbours for three reasons. First, with Nord Stream 2, Gazprom could directly supply large quantities of gas to Western European markets through Germany, thereby circumventing East European countries. This could lead to improved market position of Gazprom in Western Europe at the expense of Eastern Europe and could also impact the price ratio between the east and the west.[ix] Second is the loss of transit fees for east European countries. Currently, some of the gas to Germany passes through Poland, for which it is paid less than $200 million.[x] If the pipeline becomes operational, it would adversely impact the economy of Poland. Third, since Gazprom is an important tool of Russian foreign policy, this would further increase Russia's leverage in the region. Currently, one-third of Russian gas exports to Europe pass through Ukraine, so several Central European nations are highly sensitive to the changing dynamics of Russian-Ukrainian relations.[xi] As reflected in a previous dispute between these two countries, which led to Russia shutting down its gas pipelines to Ukraine and leaving millions of Europeans without gas in the winter months of 2006 and 2009.

Alternatives for Germany

In the months following the Russia - Ukraine crisis, Germany has managed to reduce its dependence on Russian gas from 55 per cent in February to 35 per cent in May 2022.[xii] Nevertheless, it still faces a significant challenge in replacing the remaining share with alternative sources. As a member of the EU, it also relies on the EU's efforts to seek sustainable alternative sources. EU officials have sought alternative gas supplies in recent months from Africa, the United States, Qatar and Azerbaijan amid escalating tensions with Russia – the EU's biggest gas supplier. EU is actively engaging in an energy dialogue with its partners in North Africa and the Eastern Mediterranean on a political level. Taking into account the vast potential of gas reserves in Africa, the energy ministers from Algeria, Nigeria and Niger, on June 20 2022, agreed to accelerate the work on the mooted $13 billion Trans-Saharan gas pipeline (TSGP), which could carry 30 billion cubic metres per year of gas exports from the three countries to Europe.[xiii] A Memorandum of Understanding was signed with Egypt and Israel for LNG exports to EU countries via the eastern Mediterranean. The European Commission also signed a Memorandum of Understanding with Azerbaijan to double imports of Azeri natural gas to at least 20 billion cubic metres (bcm) a year by 2027.[xiv] Nevertheless, switching to other (non-Russian) gas sources may result in significant financial costs for Europe when the European economy is already struggling due to the ongoing COVID recovery and Russia-Ukraine crisis.

On a bilateral level, German Chancellor Scholz went on a three-day Africa tour in May 2022 to explore new energy agreements. During his visit, the African Energy Chamber (AEC) advocated for a strong German-Africa Partnership, recognising Germany's role in advancing energy security across the continent. Chancellor Scholz's first stop was Senegal, where he offered Germany's help to develop an offshore gas field - Tortue Ahmeyim LNG project. The first flows of fossil gas from the Greater Tortue Ahmeyim field are expected in December 2023. The second stop was Niger, where he opened dialogue around energy partnerships for the exploration and development of commercial green hydrogen. The last stop was South Africa. Chancellor Scholz praised South Africa as a 'key country' for Germany and called for deepening economic ties, particularly in the area of energy, investment, and trade. These visits highlight the recent efforts by the German government to diversify its energy resources away from Russia.

Implications for Russia:

While Europe needs Russian gas, Gazprom also relies on the European market for sales to support Russian government budgets. Gazprom paid 2.3 trillion rubles, equivalent to $32 billion from its sale of natural gas to Russia's budget in 2020, which amounts to around 6 per cent of budget revenues.[xv] But a barrage of economic sanctions in the wake of Russia's action in Ukraine threatens to cut its revenues. For the first time since 1998, Gazprom shares fell after the Russian energy giant cancelled its dividend in June 2022. As a result, Gazprom's stock price fell by 30 per cent before the Moscow stock exchange intervened to halt trading.[xvi]

Another implication is in the payment mechanism. On March 31, Russian President Vladimir Putin signed a decree laying out a new procedure for payment for Russian gas supplies in rubles. President Putin said Moscow would refuse to accept payments under gas contracts from "unfriendly states (which includes all European Union members) in compromised currencies, including dollars and euros".[xvii] The move was designed to support the rouble, which had collapsed against other currencies since Russia's action on Ukraine on 24 February 2022. As a result of this decree, the Russian currency rose, and the rouble leapt to a three-week high past 95 against the dollar on March 23 before settling close to 100 in Moscow.[xviii] However, Kadri Simson, EU Commissioner for Energy, said, "Paying in rubles through the conversion mechanism managed by the Russian public authorities and a second dedicated account in Gazprom bank cannot be accepted".[xix] Following this decision, Russia cut off the gas supply to  European countries such as Poland and Bulgaria after they refused to pay in rubles. This discontinuation has forced these countries to import gas from other sources resulting in rising gas prices.[xx]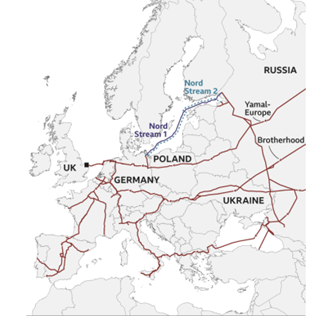 Source: BBC
Another implication is the exit of major European energy companies such as BP, Shell, and Equinor from Russian joint ventures - a considerable blow to Russian oil and gas production and clean technology development plans. In particular, Shell's announcement that it would divest from Gazprom's Nord Stream 2 pipeline, in which it holds a 10 per cent stake worth $ 1 billion.[xxi] Also, Shell is selling its 27.5 per cent stake in LNG liquefaction terminal Sakhalin-II, which started operations in 2009, and its 50 per cent stake in the Salym Petroleum company, which has a license to produce hydrocarbons in Siberia.[xxii]

Domestically, as a positive development for Russia, Gazprom used the Nord Stream 2 infrastructure to develop gas supplies to its North-western Federal District. This decision has accelerated the gasification of private households and the implementation of various investment projects in the Leningrad Region. Gazprom is implementing this 26 km long inter-settlement gas pipeline project - from Glades to Vyborg district of the Leningrad region - as a part of its Gas Supply and Gasification Development Program, 2021-2025. By 2025, Russia's level of gasification is expected to rise to 75.7 per cent from 71.47 per cent.[xxiii] This internal gasification is one of the top priorities of the state's official policy under President Vladimir Putin.

Russia is also exploring new markets, with Asia-Pacific emerging as a promising alternative. Due to Asia's economic success, its energy needs have increased significantly. According to the Gas Market Report Q3 2022, the Asia Pacific region remains the main source of natural gas consumption growth between 2021 and 2025, contributing close to half of the global consumption gains (or nearly 70 per cent of the net demand increase).[xxiv] In the next 20 years, demand for energy resources will grow by 85 per cent in the Asia-Pacific Region, where prices are visibly higher than in Europe.[xxv] As per the Russian 'Energy Strategy to 2035', Russia focuses on expanding the gas transport infrastructure in eastern Siberia and the Far East, building up liquefied natural gas facilities, and ensuring the resilience of the energy system. Russia already sends gas to China via its Power of Siberia pipeline, which began pumping supplies in 2019. Moscow exported 16.5 billion cubic metres (bcm) of gas to China in 2021.[xxvi] Two-thirds of the gas that Russia sends to Asia comes in the form of liquefied natural gas (LNG): 14 bcm from the Sakhalin-2 project, going to Japan, Korea, Taiwan, and China, and 8.5 bcm from Yamal LNG, serving mostly China, but also Japan, Korea, Taiwan, and India (smaller volumes went to Bangladesh, Indonesia, and Singapore).[xxvii] Recently Russia, in February 2022, agreed to a 30-year contract to supply gas from its Far East island of Sakhalin across the Japan Sea to northeast China's Heilongjiang province, reaching up to 10 bcm a year around 2026.[xxviii] The deal bolstered Russia's energy alliance with Beijing among Moscow's strained ties with the west over Ukraine. 
The following figure outlines the Existing and Future Russian Gas exports to Asia.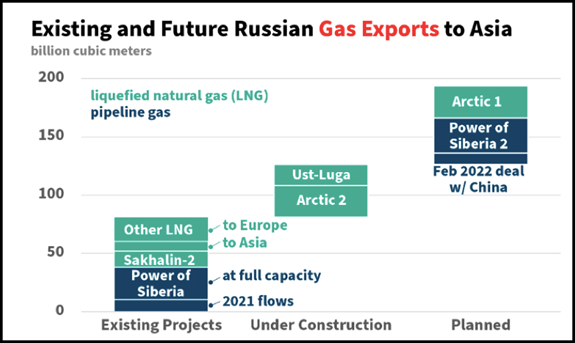 Source: Centre for Strategic and International Studies
Conclusion

To conclude, the progress on Nord Stream 2 pipeline, pegged as mutually beneficial for Germany and Russia, is now dependent upon the resolution of the Russia-Ukraine crisis. The current geopolitical crisis has created a situation in which both Germany and Russia face huge socio-economic costs due to halt of the pipeline. However, the delay in the implementation of the project has pushed both Germany and Russia to diversify and seek new energy markets globally. But it is important to note that these diversification efforts - such as active development of export infrastructure, construction of new gas pipelines and Liquefied Natural Gas terminals - cannot be done overnight. Therefore, in the long term, any diversification efforts by Germany and Russia will require building a reliable cooperation framework, acknowledging various socio-economic and geo-political limitations, developing innovative and sustainable pipeline infrastructure and developing best practices in investment and trade.  Meanwhile, in the short term, efforts to resolve the present crisis through diplomatic means should be sought.
*****
* Aashriti Gautam, Research Intern, Indian Council of World Affairs, Sapru House, New Delhi.
Disclaimer: The views are of the author. 
Endnotes
[i] Ukraine crisis: Germany halts Nord Stream 2 approval, Deutsche Welle (DW), 22 February 2022, https://www.dw.com/en/ukraine-crisis-germany-halts-nord-stream-2-approval/a-60867443, Accessed on 27 July 2022.
[ii] Gas price can climb to 2,000 euros amid Nord Stream 2 decisions, TASS, 22 February 2022, https://tass.com/economy/1408445, Accessed on 24 July 2022.
[iii] Nord Stream 2: Background, Objections and Possible Outcomes, Steven Pifer, April 2021, https://www.brookings.edu/wp-content/uploads/2021/04/FP_20210412_nord_stream_2_pifer.pdf, Accessed on 1 August 2022.
[iv] Germany responds to Russia, halting Nord Stream 2 pipeline, Melissa Eddy, The Economic Times, 23 February 2022,https://economictimes.indiatimes.com/news/international/world-news/germany-responds-to-russia-halting-nord-stream-2-pipeline/articleshow/89761069.cms?from=mdr, Accessed on 1 August 2022.
[v] Gas pipeline Nord Stream 2 links Germany to Russia but splits Europe, Julian Wettengel, Berlin , 20 April 2022, https://www.cleanenergywire.org/factsheets/gas-pipeline-nord-stream-2-links-germany-russia-splits-europe, Accessed on 1 August 2022.
[vi] If Russia cuts its gas supplies to Germany, what happens next?, Benjamin Wehrmann, 20 June 2022, https://energypost.eu/if-russia-cuts-its-gas-supplies-to-germany-what-happens-next/, Accessed on 3 August 2022
[vii] The Politics of Nord Stream Pipeline between Russia and European Union, Dr. Karamala Areesh Kumar and C Achila Chang , The Diplomatist. 26 March 2022, https://diplomatist.com/2022/03/26/the-politics-of-nord-stream-pipeline-between-russia-and- European-union/, Accessed on 1 August 2022
[viii] Geopolitical Weapon or Commercial Venture? Politics and Economics of Nord Stream 2, Washington, https://ceres.georgetown.edu/research/student-projects/geopolitical-weapon-or-commercial-venture-politics-and-economics-of-nord-stream-2/, Accessed on 2 August 2022.
[ix] Nord Stream 2 means gains for Germany but pain for Europe , Georg Zachmann, Bruegel, 23 June 2017, https://www.bruegel.org/comment/nord-stream-2-means-gains-germany-pain-europe, Accessed on 24 July 2022.
[x] Russia-Ukraine crisis: How the Nord Stream 2 gas pipeline fits into the predicament and what happens next, The First Post, 24 February 2022, https://www.firstpost.com/world/russia-ukraine-crisis-how-the- nord-stream-2-gas-pipeline-fits-into-the-predicament-and-what-happens-next-10404391.html, Accessed on 24 July 2022.
[xi] The Security Implications of Nord Stream 2 for Ukraine, Poland, and Germany, Mark Temnycky, Washington, 17 March 2021,https://www.wilsoncenter.org/blog-post/security-implications-nord-stream-2-ukraine-poland-and-germany, Accessed on 4 August 2022.
[xii] If Russia cuts its gas supplies to Germany, what happens next?, Benjamin Wehrmann, 20 June 2022, https://energypost.eu/if-russia-cuts-its-gas-supplies-to-germany-what-happens-next/, Accessed on 3 August 2022.
[xiii] African gas pipeline projects revived due to European gas crisis, 23 June 2022, https://www.intellinews.com/african-gas-pipeline-projects-revived-due-to-european-gas-crisis-248456/, Accessed on 1 August 2022.
[xiv] EU signs deal with Azerbaijan to double gas imports by 2027, Al Jazeera, https://www.aljazeera.com/news/2022/7/18/eu-signs-deal-with-azerbaijan-to-double-gas-imports-by-2027, Accessed on 1 August 2022.
[xv] Gazprom, Rosneft Shares Tumble, but the Energy Giants Are Putin's Safety Net, The Wall Street Journal, 28 February 2022, https://www.wsj.com/articles/russian-energy-giants-gazprom-rosneft-fuel-moscows-state-coffers-11646043993, Accessed on 27 July 2022.
[xvi] State Firms Gazprom, Sberbank Opt Out of Dividend Payout, The Moscow Times, 30 June 2022, https://www.themoscowtimes.com/2022/06/30/state-firms-gazprom-sberbank-opt-out-of-dividend-payout-a78159, Accessed on 29 July 2022.
[xvii] Russia is developing simple, feasible mechanism to pay for gas in rubles — Kremlin, TASS, 29 March 2022, https://tass.com/economy/1428997, Accessed on 27 July 2022.
[xviii] Putin announces gas currency switch for unfriendly countries, Al Jazeera, 23 March 2022, https://www.aljazeera.com/news/2022/3/23/rouble-firms-past-100-vs-dollar-as-putin-announces-gas-currency-s,  Accessed on 27 July 2022.
[xix] EU says using Russian roubles payment scheme would breach sanctions, Reuters, 2 May 2022, https://www.reuters.com/article/ukraine-crisis-eu-gas-idAFA5N2VD02C, Accessed on 1 August 2022.
[xx] The Security Implications of Nord Stream 2 for Ukraine, Poland, and Germany, Wilson Center, Washington, 17 March 2022, https://www.wilsoncenter.org/blog-post/security-implications-nord-stream-2-ukraine-poland-and-germany, Accessed on 1 August 2022.
[xxi] Shell joins BP in selling Russian assets as pressure on Kremlin-linked firms grows, The Guardian, 28 February 2022, https://www.theguardian.com/world/2022/feb/28/shell-to-exit-joint-ventures-with-gazprom-and-pull-out-of-nord-stream-2, Accessed on 25 July 2022.
[xxii] Shell to divest from Gazprom, Nord Stream 2, Politico, 27 July 2022, https://www.politico.eu/article/shell-to-divest-from-gazprom-nord-stream-2/Accessed on 26 July 2022.
[xxiii] Gazprom Speeds Up Gasification Scheme, Warsaw Institute, 29 April 2021, https://warsawinstitute.org/gazprom-speeds-gasification-scheme/, Accessed on 27 July 2022.
[xxiv] Gas Market Report, Q3-2022, International Energy Agency,https://iea.blob.core.windows.net/assets/c7e74868-30fd-440c-a616-488215894356/GasMarketReport,Q3-2022.pdf, Accessed on 1 August 2022.
[xxv] BP Energy Outlook 2019 edition, https://www.bp.com/content/dam/bp/business-sites/en/global/corporate/pdfs/energy-economics/energy-outlook/bp-energy-outlook-2019.pdf, Accessed on 27 July 2022.
[xxvi]Russia, China agree 30-year gas deal via new pipeline, to settle in euros, Reuters , 4 February 2022,  https://www.reuters.com/world/asia-pacific/exclusive-russia-china-agree-30-year-gas-deal-using-new-pipeline-source-2022-02-04/, Accessed on 1 August 2022.
[xxvii] Can Russia Execute a Gas Pivot to Asia? H. Andrew Schwartz, Washington, 4 May 2022, https://www.csis.org/analysis/can-russia-execute-gas-pivot-asia, Accessed on 1 August 2022.
[xxviii] Russia, China agree 30-year gas deal via new pipeline, to settle in euros, Reuters , 4 February 2022,  https://www.reuters.com/world/asia-pacific/exclusive-russia-china-agree-30-year-gas-deal-using-new-pipeline-source-2022-02-04/, Accessed on 1 August 2022.