Following years of political differences that reached a new low in the aftermath of the Gaza-Israel conflict (2018), Türkiye and Israel decided to resume their bilateral relationships on August 17, 2022, beginning with the appointment of the Israeli Ambassador to Türkiye on September 19, 2022[i] and the Turkish Ambassador to Israel on November 11, 2022.[ii]With the resumption of diplomatic ties, Israel is also set to operationalise its trade office in Istanbul.[iii]Besides this, Türkiye and Israel are also collaborating to strengthen their defence partnerships.[iv]Changing dynamics in the Turkish-Israeli relationship has implications for the West Asian region as a whole. This issue brief will examine the interests driving the normalisation of diplomatic ties between Türkiye and Israel and its regional implications.

Background

Since Türkiye recognised Israel as a sovereign State in 1949, there have been instances of collaborations as well as disputes in their diplomatic relationship. Bilateral relations got particularly strained in 2010 when commandos of the Israeli Naval unit Shayetet 13 raided the Turkish ship Mavi Marmara.[v] Nine Turkish citizens died from the attack on the six civilian vessels attempting to break Israel's siege of Gaza. Following the strike, Türkiye sought an official apology from Israel, financial support for the victims' relatives, and an end to Israel's siege of Gaza.[vi] The then and now Israeli Prime Minister Benjamin Netanyahu apologised for the incident to the then Prime Minister and current President of Türkiye, Recep Tayyip Erdogan, in 2013.

On December 2015, Israel and Türkiye reached a preliminary agreement to normalise relations, which included the return of Ambassadors, after years of negotiations. In June 2016, the two countries officially ratified an agreement to mend their six-year-old divide, however, the July 20, 2018, attack on Gaza had an adverse impact on the dynamics of the Israeli and Turkish bilateral ties. The cooperation between the two parties was effectively terminated, and both sides recalled their Ambassadors. A new attempt at reconciliation began in May 2020 when El Al Airlines of Israel began transporting medical supplies for COVID-19 from Israel to Istanbul for the first time in ten years. However, it was not until early 2022 that high-level communications, intelligence sharing, and trade relations were resumed between the two countries.[vii]

Development in Türkiye-Israel Diplomatic Ties in 2022

In March 2022, Israeli President Isaac Herzog paid his first high-level visit to Türkiye, followed by visits by acting Israeli Prime Minister Yair Lapid and Turkish Foreign Minister Mevlüt Cavusoglu.[viii] Following this visit, Turkish Foreign Minister Mevlüt Cavusoglu and Minister of Energy Fatih Donmez visited Israel on May 25, 2022. The visit's objectives included the advancement of bilateral ties to the point of appointing Ambassadors and discussing the subject of strategic collaboration in the energy sector. Cavusoglu had a fruitful discussion on all facets of diplomatic ties with the then Israel's Foreign Minister, Yair Lapid. Cavusoglu highlighted that the Palestinian issue could only be resolved by establishing two states within the confines of UN guidelines. In a working luncheon that followed, Minister Cavusoglu met with Israel's Minister of Regional Cooperation, Esawi Frej, and Minister of Tourism, Yoel Razvozov. He also met with representatives from the Turkish Union in Israel and the Israel-Türkiye Business Council.[ix]

In August 2022, Turkish President Recep Tayyip Erdogan and Israeli caretaker Prime Minister Yair Lapid decided to restore full diplomatic ties and reinstate their respective consul generals and Ambassadors.[x] On September 20, 2022, Turkish President Tayyip Erdogan met with Israeli Prime Minister Yair Lapid on the sidelines of the UN General Assembly. During this meeting with Erdogan, Lapid expressed appreciation for the recent restoration of full diplomatic ties between the two countries and the appointment of a new Israeli Ambassador to Türkiye on September 19, 2022. Following this development, another positive step taken by Ankara has been the appointment of the Turkish Ambassador to Israel on November 11, 2022.[xi]

Turkish and Israeli Interests in the Restoration of Diplomatic Ties

Türkiye and Israel's restoration of ties illustrate the possibility of future integration in the region, as well as Israel's demonstration that a cordial relationship can exist with Türkiye. The ties confirmed Türkiye' s status as a democratic and secular country.[xii] For Türkiye, its primary goal was to address and overcome its economic difficulties and regional interests, through strengthening ties with regional players, Türkiye is seeking to attract investments from other West Asian countries, enabling Türkiye' s economy to recover from its current state of decline. Good bilateral relations with regional partners will also allow it to focus more on addressing the nation's economic problems and voter expectations especially in view of forthcoming Presidential election.[xiii] In recent months, the Jerusalem Chamber of Commerce (Jerccom) has started operating with the goal of fostering business and trade links in support of efforts to normalise relations between the two countries. On December 6, 2022, representatives of almost 450 Turkish enterprises and dozens of Israeli companies met for business-to-business discussions, underscoring the impetus for advancing commercial relations between the two countries.[xiv]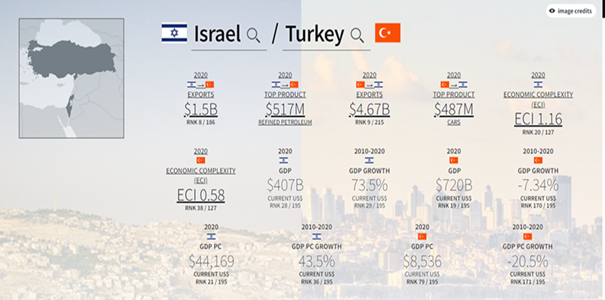 Source: The Observatory of Economic Complexity, https://oec.world/en/profile/bilateral-country/isr/partner/tur
Fig. 1. Türkiye-Israel trade data
With the strengthening of diplomatic ties between Türkiye and Israel, the two countries can expect a surge in bilateral trade. Over the past ten years, the two countries have successfully protected their economic ties from political crises, which has allowed continued expansion of bilateral trade. Israel's exports amounted to $1.5 billion to Türkiye in 2020. Refined petroleum ($517 million), propylene polymers ($140 million), and scrap iron ($134 million) were the top exports from Israel to Türkiye. Cars ($487 million), raw iron bars ($402 million), and hot-rolled iron bars ($150 million) were Türkiye' s top exports to Israel in 2020, as evident in Fig. 1. According to the UN's COMTRADE statistics on global commerce, Türkiye exported $6.36 billion to Israel in 2021.[xv]

Israel also believes that Türkiye will be the most economically viable option if it wants to export its offshore gas to Europe. Türkiye and Israel can also develop a long-term strategic partnership with Europe. It would be beneficial to both diplomatically and economically.[xvi]  Türkiye is looking for ways to diversify its oil import sources; on the other hand, Israel is emerging as a major natural gas exporter in West Asia and is pursuing to expand its energy markets.[xvii]After economic deflation in the last few years, Türkiye has taken steps to improve political, security, and economic ties with Israel and other West Asian countries such as the UAE and Saudi Arabia. Türkiye has taken steps to end its regional isolation. Israel can look at it as a future economic partner as it strengthens its bilateral ties.  

Türkiye and Israel can benefit from cooperation in the field of security. Israel has worked to mend ties with Türkiye to curtail Ankara's support to Hamas. Saleh al-Arouri and Ismail Haniyeh, two prominent Hamas figures who are on Washington's list of foreign terrorists, have been openly hosted by Erdogan, as recently revealed by Axios report of the USA. Israel's Shin Bet intelligence agency emphasised in the internal conversations concerning Türkiye that any normalisation process must entail curtailing Hamas activity in Türkiye.[xviii]

West Asia's geostrategic landscape has drastically changed over the past ten years, particularly in the wake of the Abraham Accords 2020. Israel's power dynamics in Turkish-Israeli ties have also been slightly altered favourably by this deal. Türkiye and Israel have a stake in creating a regional order, and for this they must fight terrorism, counter balance Iranian influence growing in Syria, and scale back Israeli support for Kurdish separatist movements in northern Iraq.[xix] Israeli authorities also believe that mending ties with Türkiye will help them effectively conduct security and intelligence activities pertaining to Iran. It is emphasised that the establishment of proper ties between Israel and Türkiye enables both countries to concentrate on issues of concern in the region.[xx] For example, Hamas is an irritant for Israel, whereas Türkiye struggles to deal with the Kurdish problem. Both countries are wary of the growth of Iranian influence in Syria and the activities of its proxy group Hezbollah.

Additionally, the normalisation of relations between the countries also creates potential for productive collaboration in non-traditional areas. Turkish commercial airlines are expected to conduct a trial of flights for Palestinians from the West Bank via Ramon Airport, which is intended to be part of Israel's policy of gestures toward the Palestinian population.[xxi] There is potential for cooperation on climate change-related concerns, particularly with regard to technologies for the effective management of water supply, which might serve as the foundation for initiatives in which other countries would participate.[xxii]

On November 1, 2022, elections were held in Israel for the fifth time in a period of three and a half years. Former Prime Minister Netanyahu won[xxiii] 64 seats out of 120 in the Knesset, leaving the opposition, led by centrist outgoing prime minister Yair Lapid, with 54 seats.[xxiv]Turkish President Recep Tayyip Erdogan set a letter of congratulations to Prime Minister Netanyahu. Erdogan expects the new government will continue cooperation between Türkiye and Israel in all areas, in a way that will bring peace and stability to the region.[xxv] Also, on 17th, November 2022 in a telephonic conversation, President Erdogan expressed hope that Israel's election outcomes would be favourable for the nation and the region. President Erdogan said that it was in the shared interest of Türkiye and Israel to maintain the relationship by respecting sensibilities on the basis of shared interests and to strengthen them on a sustainable basis. He highlighted the start of a new era in Turkish-Israeli relations as a result of the strong will displayed by both sides.[xxvi]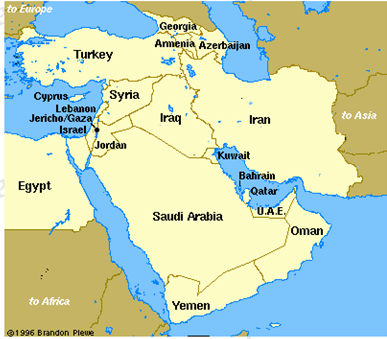 Source: https://www.politicalresources.net/mideast-map.htm
Fig. 2. Map of Middle East
Türkiye-Israel Diplomatic Ties: Its Regional Implications

The rapprochement of Türkiye and Israel has significant regional implications. The path of normalisation may significantly aid in mending Türkiye-Egypt ties. Türkiye has been attempting to mend its relations with Egypt, but Ankara's support for the Muslim Brotherhood has kept Egypt on the edge. Israel might be a key player in that process of rapprochement between Egypt and Türkiye.[xxvii] After the coup that displaced the Muslim Brotherhood–backed Egypt President Mohammed Morsi, in 2013, relations between Egypt and Türkiye had deteriorated. The Muslim Brotherhood and the policies of the new President Abdul Fattah al-Sisi were swiftly criticised by Türkiye. The governments of Egypt and Türkiye have continuously criticised each other since then.[xxviii]

Syria's relationships with both Israel and Türkiye have been contentious. Damascus will be impacted by the reestablishment of diplomatic ties between Türkiye and Israel. Israel and Türkiye can be better placed to deal with Syria, a nation that borders both Israel and Türkiye. Türkiye and Syria had disagreements on the Hatay Province's self-annexation to Türkiye in 1939, water disputes brought on by the South-eastern Anatolia Project, and Syria's support for the Kurdistan Workers' Party (abbreviated as PKK) and the now-disbanded Armenian Secret Army for the Liberation of Armenia.[xxix] Israel and Syria engaged in intense battle with one another throughout the Lebanese Civil War, the Lebanon War of 1982, and the War of Attrition(1967-1970). Syria has never recognised Israel as a legitimate state.[xxx]Iran's growing presence in Syria's territory is a concern for both Ankara and Tel Aviv.

Similarly, the restoration of diplomatic ties between Türkiye and Israel will have implication for Iran. Iran recognised Israel as a legitimate state in 1950. Relations between the two countries markedly improved after the 1953 coup d'état, which saw the pro-Western leader Mohammad Reza Pahlavi reinstalled as the Shah of Iran. Iran cut all diplomatic and business ties with Israel after the Islamic Revolution of 1979, and its theocratic government does not acknowledge Israel's legal status as a state.[xxxi] Furthermore, throughout the past 20 years, there have been repeated patterns of amity and hostility in the relations between Iran and Türkiye. The political and ideological conflict between Türkiye and Iran has gained more momentum as a result of the Arab Spring. The primary cause of the escalating tensions in the relationship has been Türkiye' s backing of the Syrian opposition. The only actual West Asian state ally of Iran is Syria. The Shi'a theocracy in Iran and the secular, Alawite-dominated Baathist administration in Syria back each other strongly.[xxxii] However, with the restoration of ties between Türkiye and Israel, defence force of the two countries will be better placed to counter Iranian forces. On October 27,2022 Israeli Defence Minister Benny Gantz visited Türkiye and met Turkish President Erdogan as well as his counterpart Hulusi Akar; for the first time in a decade. At the start of the meeting, Gantz praised Erdogan for the efforts made by his nation's defence organisations in preserving the lives of Israeli citizens and members of the Turkish Jewish community. He said that these initiatives have a great deal of potential to improve the countries' official military and security cooperation.[xxxiii]

Conclusion

Türkiye and Israel have demonstrated their intention to prevent their political differences from impeding the expansion of the bilateral cooperation by giving more weight to the conduct of a foreign policy based on Realpolitik. Israel and Türkiye have common geo-economic and strategic interests. Israel is aware that Türkiye might keep the Palestinian issue alive to appease its citizens. However, this unique bond of convenience that is fostering between Türkiye and Israel may be able to deter threats in the region. Depending on the circumstances, both Israel and Türkiye would aim to maximise their gains either unilaterally or bilaterally but the journey ahead won't be without challenges. The Russian special military operation in Ukraine and the possibility of regional instability in the West Asian region brought on by economic issues like rising energy and food prices, raise the stakes for regional security. In light of this, it is more important than ever for Israel and Türkiye to work together for a long-term partnership.
*****
*Anjali Singh, Research Intern, Indian Council of World Affairs, Sapru House, New Delhi.
Disclaimer: The views are of the author. 
Endnotes
[i] Prime Minister's Office (2022, September 21), First meeting of an Israeli PM and Turkish President since 2008, https://www.gov.il/en/departments/news/event_erdogan210922,   Accessed on 2022, August 24
[ii]   الوكالة الوطنية للإعلام (2022, November 11), Erdogan officially appoints Turkish Ambassador to Israel: Decree, https://www.nna-leb.gov.lb/en/regional/575501/erdogan-officially-appoints-turkish-ambassador-to, Accessed on 2022, November 14
[iii] Historic Event in Istanbul,  https://www.jpost.com/business-and-innovation/banking-and-finance/article-724609, Accessed on 2022, December 22
[iv] Yaniv Kubovich and Jonathan Lis (2022, October 27), Israel's Gantz announces restoration of defense ties with Turkiye, https://www.haaretz.com/israel-news/2022-10-27/ty-article/.premium/israels-gantz-to-meet-erdogan-in-Turkiye-announce-restoration-of-diplomatic-ties/00000184-17ad-d7a2-a7a5-1fedfc140000,  Accessed on 2022, November 1 
[v] Mavi Marmara was a Turkish aid flotilla headed for the blockaded Gaza Strip, and raided in international waters by Israeli Navy.
[vi]Anadolu Ajansı (2016, June 27), Turkiye-Israel relations: A timeline, https://www.aa.com.tr/en/middle-east/Turkiye-israel-relations-a-timeline/598666, Accessed on 2022, September 2
[vii] Dov S. Zakheim (2022, September 1), Turkiye, Israel, and the road to Capitol Hill. The Jerusalem Strategic Tribune, https://jstribune.com/zakheim-Turkiye-israel-and-the-road-to-capitol-hill/, Accessed on 2022, September
[viii] Brenda Shaffer, Atlantic Council (2022, August 23), Washington wins as Turkiye and Israel restore normal ties https://www.atlanticcouncil.org/blogs/Turkiyesource/washington-wins-as-Turkiye-and-israel-restore-normal-ties/, Accessed on 2022, September 7
[ix] Republic of Türkiye Ministry of Foreign Affairs (2022, May 25), Visit of foreign minister Mevlüt Çavuşoğlu to Israel (2022, May 25), https://www.mfa.gov.tr/sayin-bakanimizin-israil-i-ziyareti--25-mayis-2022.en.mfa, Accessed on 2022, September 15
[x] Prime Minister's Office Press Releases (2022, August 17), PM Lapid speaks with Turkish President Recep Tayyip Erdoğan, https://www.gov.il/en/departments/news/spoke_erdogan170822,  Accessed on 2022, August 25
[xi] Ministry of Foreign Affairs (2022, September 20), https://www.gov.il/en/departments/news/pm-lapid-meets-with-turkish-president-erdogan-20-sep-2022, Accessed on 2022, September 21
[xii]Matthew Cohen, Charles Freilich, ResearchGate (2014, January),  https://www.researchgate.net/publication/276964886_Breakdown_and_Possible_Restart_Turkish-Israeli_Relations_under_the_AKP?enrichId=rgreq-33535064766e44be14a89a685a45c6a7-XXX&enrichSource=Y292ZXJQYWdlOzI3Njk2NDg4NjtBUzoyMzExOTkxNDI1NzYxMjhAM, Accessed on 2022, October 14
[xiii] Indo-Asian News Service, The Siasat Daily (2022, August 29), With reset of diplomatic ties, fresh start for Turkiye-Israel relations, https://www.siasat.com/with-reset-of-diplomatic-ties-fresh-start-for-Turkiye-israel-relations-2400920/,  Accessed on 2022, September 5
[xiv] Historic Event in Istanbul,  https://www.jpost.com/business-and-innovation/banking-and-finance/article-724609, Accessed on 2022, December 22
[xv] Turkiye exports to Israel - 2022 data 2023 forecast 1989-2021 Historical, trading economics, 20 million indicators from 196 countries, https://tradingeconomics.com/Turkiye/exports/israel, Accessed on 2022, October 12
[xvi] Indo-Asian News Service, The Siasat Daily  (2022, August 29), With reset of diplomatic ties, fresh start for Turkiye-Israel relations, https://www.siasat.com/with-reset-of-diplomatic-ties-fresh-start-for-Turkiye-israel-relations-2400920/,  Accessed on 2022, September 5
[xvii] The Economic (2022, July 17), View: Realpolitik and the gradual rapprochement between Israel and Turkiye, https://economictimes.indiatimes.com/news/international/world-news/view-realpolitik-and-the-gradual-rapprochement-between-israel-and-Turkiye/articleshow/92932411.cms,  Accessed on 2022, September 6
[xviii] A. Erdemir, Foreign Policy (2022, February 11), Embattled Erdogan signals Turkish-Israeli thaw, https://foreignpolicy.com/2022/02/11/erdogan-Turkiye-israel-thaw/, Accessed on 2022, October 4
[xix] Brenda Shaffer, Atlantic Council (2022, August 23), Washington wins as Turkiye and Israel restore normal ties, https://www.atlanticcouncil.org/blogs/Turkiyesource/washington-wins-as-Turkiye-and-israel-restore-normal-ties/, Accessed on 2022, September 7
[xx] The National (2022, August 10), Turkiye-Israel flights for West Bank Palestinians to start soon, https://www.thenationalnews.com/mena/2022/08/10/Turkiye-israel-flights-for-west-bank-palestinians-to-start-soon/,  Accessed on 2022, September 2
[xxi] Ibid
[xxii] Gallia Lindenstrauss, Remi Daniel, INSS Insight (2022, August 28), Normalization between Turkiye and Israel: Will it last? https://www.inss.org.il/publication/Turkiye-israel-normalization/, Accessed on 2022, September 6
[xxiii] Kenig, O. (2022, November 13), Farewell elections, hello 37th government. Israel Democracy Institute - The Israel Democracy Institute, https://en.idi.org.il/articles/46409, Accessed on 2023, January 19
[xxiv] Erdogan congratulates Netanyahu on election win. (2022, November 10). Report News Agency. https://report.az/en/region/erdogan-congratulates-netanyahu-on-election-win/, Accessed on 2023, January 19
[xxv] Harkov, L. (2022, November 10). Erdogan calls to 'continue cooperation' with Netanyahu-led Israel. https://www.jpost.com/israel-news/article-722061, Accessed on 2023, January 19
[xxvi] Erdogan congratulates Netanyahu on election win. (2022, November 17). Directorate of Communications. https://report.az/en/region/erdogan-congratulates-netanyahu-on-election-win/, Accessed on 2023, January 19
[xxvii] With reset, Turkiye and Israel look to build durable ties that can reshape the region (2022, August 18), The Times of Israel, News from Israel, the Middle East and the Jewish World, https://www.timesofisrael.com/with-reset-Turkiye-and-israel-look-to-build-durable-ties-that-can-reshape-the-region/, Accessed on 2022, September
[xxviii] Hürcan Aslı Aksoy and Stephan Roll, Stiftung Wissenschaft und Politik (SWP), A thaw in relations between Egypt and Turkiye, https://www.swp-berlin.org/en/publication/a-thaw-in-relations-between-egypt-and-Turkiye,
[xxix] Syria: Turkish embassy closed, senior Intel officer assassinated (2012, March 26), Al Bawaba, https://www.albawaba.com/main-headlines/syria-turkish-embassy-closed-senior-intel-office-assassinated-418505, Accessed on 2022, October 27
[xxx] Michael Rossi and Jaume Castan Pinos, (2020, February 17), Introduction to inconvenient realities: The emergence and resilience of Parastates. Cambridge Core, https://www.cambridge.org/core/journals/nationalities-papers/article/abs/introduction-to-inconvenient-realities-the-emergence-and-resilience-of parastates/42154CA2D4E4AFF0FED70116F5947157,  Accessed on 2022,October 27
[xxxi] Foundation, E. I, Welcome to encyclopaedia Iranica, Encyclopædia Iranica, https://iranicaonline.org/articles/israel-i-relations-with-iran, Accessed on 2022 ,October 28
[xxxii] F. Stephen Larrabee and Alireza Nader, Turkish-Iranian relations in a changing Middle East (2013, August 29), Rand National Defense Research Institute, https://israeled.org/timeline/the-united-arab-emirates-and-israel-sign-a-joint-agreement-to-pursue-full-normal-relations/, Accessed on 2022, October 28
[xxxiii] Yaniv Kubovich and Jonathan Lis (2022, October 27), Israel's Gantz announces restoration of defense ties with Turkiye, https://www.haaretz.com/israel-news/2022-10-27/ty-article/.premium/israels-gantz-to-meet-erdogan-in-Turkiye-announce-restoration-of-diplomatic-ties/00000184-17ad-d7a2-a7a5-1fedfc140000, Accessed on 2022, November 1