The East China Sea contestations have been a recurrent security challenge for Japanese policy makers. In November 2022, Japanese Prime Minister Fumio Kishida expressed his concerns over China's development in the East China Sea and considered it "unacceptable".[i] Foreign Minister Yoshimasa Hayashi also released a statement regarding China's increasing efforts to extract natural resources in the East China Sea.

China has claimed the Senkaku/Diaoyu islands, which are of geostrategic importance and under the administrative control of Japan. According to Japanese scholars and experts, China started making public announcements about its claims over the islands in the year 1969, when the United Nations Economic Commission for Asia and the Far East reports proclaimed East China Sea as having the "the most important oil and gas potential in the region".[ii]

It was after China discovered Chunxiao gas fields in the year 1994,[iii] that resulted in additional premise for control over the Senkaku islands because of geographical proximity. China's overlapping maritime claim with Japan in the East China Sea is also one of the contributing factors to the East China Sea dispute.

China is exploring the Chunxiao gas and oil fields in the waters near the median line, which is claimed by Japan as its Exclusive Economic Zone (EEZ) boundary. In Tokyo's perspective, Beijing fails to recognize the demarcation of the EEZ, which has further intensified the situation.[iv] Japanese Defense White Paper mentions China's increasing attempt to change the status quo and increase in its coercive behavior in the South and East China Seas - these developments have raised serious security concerns for Japan.[v] The National Security Strategy (NSS) of December 2022, recently revised by Japan, has also highlighted that the East China Sea dispute needs to be resolved urgently.[vi]

This paper will look into the dispute, primarily the Senkaku/Diaoyu and Chunxiao gas fields, and its implication on Japan's security from the perspective of Japan.

Japan's ownership claims to the Senkaku islands

Japan, which currently has the administrative control over the Senkaku islands, argues that there were no signs of Chinese ownership of the islands when Japan took over the island before the Sino-Japanese war in 1895.[vii] While Beijing argues, the Treaty of Shimonoseki established that China would give Japan "the island of Formosa, together with all the islands pertaining or belonging to the island of Formosa".[viii] However, there is no specific mention of the Senkaku islands in the treaty of Shimonoseki. China maintains that the Senkaku islands come under a group of islands belonging to Taiwan,[ix] although Japan emphasises that Chinese maps identified Senkaku islands as Japanese territory.[x]  

Japan claims the Senkaku islands were terra nullius before 1895. Japan also claims that the islands were not its territory until the Cabinet decision on 14 January 1895 when the islands were officially incorporated into Japanese territory.[xi] While the treaty of Shimonoseki was signed on 17 April 1895, Japan states that the Senkaku islands were not obtained by aggression or treaty. The Senkaku islands were already under Japanese control before signing the Treaty of Shimonoseki. According to Tokyo, the San Francisco Peace Treaty specifies the transfer of the Senkaku islands from the Japanese to the control of the United States after World War II. When the US took over the control of the islands, neither China nor Taiwan protested. As per Japan, it was after 1970s China started to claim ownership of the islands.[xii] Later, the administrative right of the Senkaku islands were reverted back to Japan in accordance with the Agreement between Japan and the USA concerning the Ryukyu Islands and the Daito Islands that entered into force in 1972.[xiii]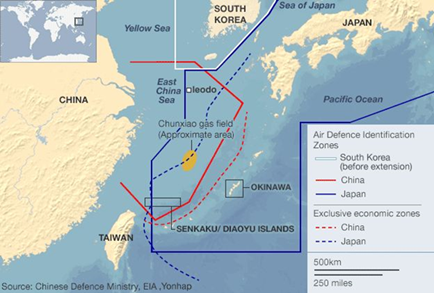 FIG-1: Map of Chunxiao gas field and the Senkaku/Diaoyu island dispute.
Source: https://www.bbc.com/news/world-asia-pacific-11341139 
Current Contestations

Beijing has intensified its maritime assertion in the East China Sea over the past years. China established its Air Defence Identification Zone (ADIZ) as a "defensive emergency measure" in order to have a greater control over the East China Sea. Intentional overlap of the Chinese ADIZ with the Japanese airspace of the Senkaku islands has created a major security concern for Japan. Even during the COVID-19 pandemic when most of the countries were battling against Coronavirus, Chinese Coasts Guards' vessels were seen in the territorial waters of Japan surrounding the Senkaku islands.[xiv]

On August 2022, Ministry of Foreign Affairs of Japan had published a White Paper expressing its concerns over Chinese Coast Guards often navigating in the Japanese territorial water for the purpose of surveillance of Japan's fishing boats.[xv] Besides, on 4 August 2022, People's Liberation Army (PLA) launched military exercises in sea areas around Taiwan. China fired a ballistic missile in the Japanese EEZ during a massive military drill aimed at Taiwan for the first time.  The drills were carried out just about 60 km away from Yonaguni Island and Hateruma Island in Japan's Okinawa Prefecture. [xvi]

In the last East Asia Summit held in Phnom Penh, on 13 November 2022, US President Joe Biden emphasised the importance of freedom of navigation in the East China Sea.[xvii] According to few Japanese scholars, China wants to gain access of the jurisdictional control over the maritime area of the Senkaku islands.[xviii]  During this Summit, Japanese Prime Minister Fumio Kishida criticised Beijing for its increased incursions in the East China Sea and its infringement upon Japan's sovereignty. He also criticised China for its "sovereignty violation activities" in the East China Sea.[xix]

Implications on Japan's Security Policy

Amidst the changing security scenario, Japan has made considerable changes in its National Security Strategy and Defense spending over the past years. "Worldwide annual military spending in 2020 was $2.0 trillion. Japan's military spending in the same year accounted for 2.5 percent of that amount with $49.1 billion, placing it on ninth position globally."[xx] According to Japan's Defense Budget Report of 2022, Tokyo will be enhancing its defense capabilities given the current geopolitical situation. It would also build a "multi-dimensional defense force" with capabilities in space, cyberspace and electromagnetic spectrum. In order to counter airborne and maritime threats Japan is developing capabilities in maritime and air domain along with missile defense capabilities.[xxi]

The recent National Security Strategy (NSS) of Japan, published in December 2022, highlights the complexity of Japan's security situation, and repeated the vision of Japan by the White Papers published in 2020. "Defense capability represents Japan's will and ability as a sovereign nation, to deter as well as eliminate threats from reaching Japan and, defend Japanese nationals' life, person and property along with territorial land, waters and airspace by exerting efforts on its own accord and initiative."[xxii] This statement demonstrates how Japan has maintained its ability to neutralise any threat through the use of counterstrike capabilities. One of the points of contention had been the discussion of increasing the defense budget to 2 percent of GDP.[xxiii] The Japanese government plans to spend a total of 43 trillion yen over the next five years until fiscal 2027. Japan is also making efforts to enhance its cyber defense capabilities by strengthening specialized units, participating in practical cyber defense exercises, and conducting personnel training.[xxiv] The cyber security measures will be important to counter cyber threats from China and even North Korea.

Various measures against violation of Japanese territory are also being undertaken by the government of Japan. Under international law of sea, the countries have complete and exclusive sovereignty over their territorial airspace. The Japan Air Self-Defense Force (JASDF) employs early warning and control aircraft, together with warning and control radars, to locate and identify aircraft operating in the area surrounding Japan. Tokyo's proposed purchase of Tomahawk cruise missile[xxv] and Raytheon-built SM-6 Block from the US in the near future is an important milestone for Japan's security.[xxvi] Japan has been proactive in participating with regional organisations and initiatives such as Quad and Free and Open Indo-Pacific (FOIP).One of the main agendas of Quad is to establish a rules-based international order, which is in line with Tokyo's regional aspirations.[xxvii] In January 2022, Prime Minister Fumio Kishida had a video conference with Australian Prime Minister Morrison where they condemned the unilateral attempts to change the status quo by China in the East China Sea. Both the leaders also agreed to strengthen their bilateral and defense cooperation for the realisation of the goal of Free and Open Indo-Pacific.[xxviii] In the ASEAN (Association of Southeast Asian Nations) summit held in Cambodia on 14 November 2022, US President Joe Biden appreciated Japan's decision to increase the defense budget. Both the leaders also acknowledged the need for stronger deterrence and cooperation in the changing security dimensions in the Indo-Pacific [xxix] and its alliance with the US to deter China from its growing expansionist agenda.

Conclusion

China's growing antagonistic move in the South and East China Seas has been a catalyst in escalating tensions between Japan and China. The changing security environment including the nuclear threat from the DPRK has had significant implications on Japan's security policy. Prime Minister Fumio Kishida has made transformational changes in the security policy of Japan. With Beijing's continued coercion and increased assertiveness, East China Sea is likely to become heavily militarized in the near future. Compelling Japan to move towards stronger deterrence and an overt defense posture.
*****
*Muskan, Research Intern, Indian Council of World Affairs, Sapru House, New Delhi.
Disclaimer: The views are of the author. 
Endnotes
[i] The Hindu, "Japan PM Kishida Calls China's development in East China Sea Unacceptable," Accessed on 13 November 2022, https://www.thehindu.com/news/international/japan-pm-kishida-calls-chinas-development-in-east-china-sea-unacceptable/article65441896.ece
[ii] Masahiro.A, "Geopolitical Consideration of the Senkaku Islands," Accessed on 11 November 2022,
https://www.spf.org/islandstudies/research/a00007.html
[iv] J. Sean, "Sea of Confrontation: Japan – China Territorial and Gas Dispute Intensifies," Accessed on 11 November 2022,
 https://apjjf.org/-J.-Sean-Curtin/2117/article.html
[v] Ministry of Defense of Japan, "Defense of Japan 2022," Accessed on 13 November 2022, https://www.mod.go.jp/en/publ/w_paper/wp2022/DOJ2022_Digest_EN.pdf
[vi] Minister of Foreign Affairs Japan, "Adoption of the New National Security Strategy (NSS)," Assessed on 31 December 2022, https://www.mofa.go.jp/press/release/press4e_003192.html
[vii] European Parliament Briefing, "Sino-Japanese Controversy over the Senkaku/Diaoyu/Diaoyutai Islands: An Imminent Flashpoint in the Indo-Pacific?," Accessed on 17 November 2022, https://www.europarl.europa.eu/RegData/etudes/BRIE/2021/696183/EPRS_BRI(2021)696183_EN.pdf
[viii] ibid.
[ix] Alexander M. Peterson, "Sino-Japanese Cooperation in the East China Sea: A Lasting Arrangement," Accessed on 12 January 2023, https://core.ac.uk/download/pdf/216742933.pdf
[x] Embassy of Japan in the Netherlands, "Press Release: Position of Japan on the Senkaku Islands," Accessed on 17 November 2022, https://www.nl.emb-japan.go.jp/e/policy/response%20senkaku.html
[xi] Three truths about the Senkaku islands. Ministry of Foreign Affairs of Japan (n.d.). Retrieved on 12 January 2023, from https://www.mofa.go.jp/region/asia-paci/senkaku/three_truths_1.html
[xii] Ministry of Foreign Affairs, "Japanese Territory," Accessed on 19 November 2022, https://www.mofa.go.jp/region/asia-paci/senkaku/three_truths_1.html
[xiii] ibid
[xiv] The Sasakwa Peace Foundation, "China's Maritime Security Policy and the Coronavirus Outbreak: An Analysis of Chinese Activities," Accessed on 19 November 2022,  https://www.spf.org/iina/en/articles/furuya_01.html
[xv] J. Ogura, "Japan Says Chinese Coast Guard Ships in the Longest Violation of its Territorial Waters in a Decade," Accessed on 21 November 2022, CNN https://edition.cnn.com/2022/06/24/asia/chinese-ships-japan-territory-senkaku-diaoyu-islands-intl-hnk/index.html
[xvi] The Diplomat, "China's Live-Fire Drills Near Taiwan send Ballistic Missiles to Japan's EEZ," Accessed on 14 November 2022, https://thediplomat.com/2022/08/chinas-live-fire-drills-near-taiwan-send-ballistic-missiles-into-japans-eez/
[xvii] The White House Papers, "Readout of President Joe Biden's Participation in the East Asia Summit, November 13, 2022," Accessed on 20 November 2022, https://www.whitehouse.gov/briefing-room/statements-releases/2022/11/13/readout-of-president-joe-bidens-participation-in-the-east-asia-summit/
[xviii] T. Ikeshima, "China's Air Defense Identification Zone (ADIZ) and its Impact on the Territorial and Maritime Disputes in the East and South China Seas," Accessed on 20 November 2022, https://core.ac.uk/download/pdf/144455287.pdf
[xix] The Japan Times, "Kishida Criticizes China for Increased Incursions around Senkaku's," Accessed on 20 November 2022, https://www.japantimes.co.jp/news/2022/11/13/national/japan-china-criticism/
[xx]Nippon News, "Japan Ranks Ninth in Global Military Spending 2020," Accessed on 22 November 2022, https://www.nippon.com/en/japan-data/h01019/
[xxi]Ministry of Defense of Japan, "Defense Program and Budget of Japan: Overview of FY2022 Budget" Accessed on 22 November 2022,  https://www.mod.go.jp/en/d_act/d_budget/pdf/20220420.pdf
[xxii] Ministry of Defense of Japan ,"Defense of Japan 2022" Accessed on 2nd January 2023 https://www.mod.go.jp/en/publ/w_paper/wp2022/DOJ2022_EN_Full.pdf
[xxiii] Ibid
[xxiv] Ibid
[xxv]The Guardian, "Japan Considering Buying US Tomahawk Cruise Missile," Accessed on 27 November 2022,  https://www.theguardian.com/world/2022/oct/28/japan-considering-buying-us-tomahawk-cruise-missiles
[xxvi]USNI News, "Japan Set to Buy SM-6S IN Potential $450 m Deal Says the State Department,"  Accessed on 27 November 2022, https://news.usni.org/2022/10/20/japan-set-to-buy-sm-6s-in-potential-450m-deal-says-state-deptartment
[xxvii] The European Parliament, "Quad: A Multilateral Security Framework of Democracies in the Indo-Pacific Region," Accessed on 27 November 2022, https://www.europarl.europa.eu/RegData/etudes/BRIE/2021/690513/EPRS_BRI(2021)690513_EN.pdf
[xxviii] Ministry of Foreign Affairs Japan, "Japan-Australia Leaders Teleconference Meeting," Accessed on 27 November 2022, https://www.mofa.go.jp/a_o/ocn/au/page1e_000369.html
[xxix]AN News, "Biden Meets Japanese PM Kishida, Condemns North Korea's Ballistic Missile Programs," Accessed on 27 November 2022,
https://www.aninews.in/news/world/asia/biden-meets-japanese-pm-kishida-condemns-north-koreas-ballistic-missile-programs20221114083707/