In a meeting on the sidelines of G-20 Summit in New Delhi on September 9, 2023, co-chaired by India & the United States, Saudi Arabia, the European Union, India, the United Arab Emirates, France, Germany, Italy and the US signed a Memorandum of Understanding to work together to establish the India - Middle East - Europe Economic Corridor (IMEC). The IMEC comprises of an Eastern Corridor connecting India to the Gulf region and a Northern Corridor connecting the Gulf region to Europe. It includes a railway and ship-rail transit network, road transport routes and digital connectivity. IMEC is a part of the Partnership for Global Infrastructure Investment (PGII) – a developmental initiative aimed at narrowing the infrastructure gap in developing countries as well as help towards accelerating progress on Sustainable Development Goals (SDGs). 

IMEC has been devised with the objective to stimulate economic development through enhanced connectivity and economic integration between Asia and Europe.[i] Once implemented, it will accelerate business and trade between the regions and would further boost political cooperation and energy security. 

The announcement of IMEC has attracted a number of commentaries comparing it with the decade-long China's Belt and Road Initiative (BRI). In this context, the paper argues that the initial process and principles followed/adopted by IMEC has clear advantage over China's BRI. It also analyzes the responses from China.  
Proposed Route of IMEC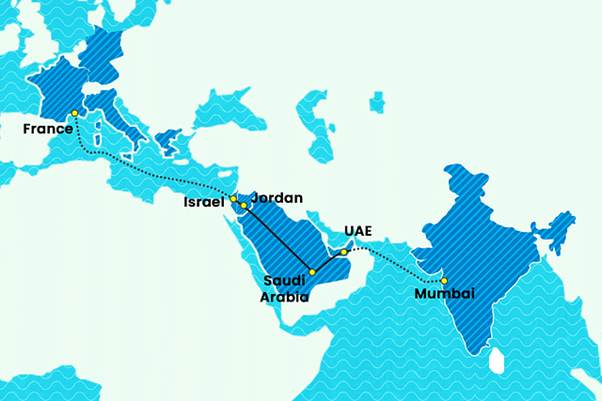 Source: https://swarajyamag.com/world/back-to-the-future-how-the-imec-echoes-ancient-trade-routes
The Process 

The consultative and dialogue driven approach adopted by the participants of IMEC has advantage over unilateral announcement of the BRI in October 2013. The fact remains that BRI was announced as a Chinese project, without prior consultation with prospective partner countries. The Vision Document for BRI was released by China only in 2015. BRI also faced backlash (in some regions) and various controversies, including those related to forcing participant countries into a "debt-trap". In 2019, China's Ministry of Finance issued Debt Sustainability Framework in an attempt to counter the criticism over China's debt practices. This also demonstrates the institutional character of BRI, which is essentially a China-led and China-controlled initiative. Hence, it contradicts the idea of equality and genuine multilateralism. 

On the other hand, IMEC participants initiated a dialogue driven process. The idea of such a connectivity project was mooted in I2U2 inaugural virtual meeting held in July 2022 involving India, Israel, UAE and the US. The National Security Advisors (NSAs) of the US, India, and the UAE, met Saudi Arabia's Crown Prince Mohammed Bin Salman in Riyadh in May 2023. The NSAs meeting focused on expanding the infrastructure connectivity in the region apart from other issues.[ii]  The signing of MoU by the participating countries was a result of the dialogue driven consultative process. The participants reportedly intend to meet in two months to develop and commit to an action plan with relevant timetables. This will be done in a collaborative fashion by building consensus rather than any one country dictating its terms to other participants. 

The Principles 

India maintains that connectivity initiatives must be based on universally recognized international norms, good governance, rule of law, openness, transparency and equality. It must follow principles of ecological and environmental protection and should bring greater economic benefits to all in an equitable and balanced manner. [iii]

While speaking at the MoU signing event, Prime Minister Shri Narendra Modi  highlighted the following principles: (a)Adherence to international norms, rules and laws; (b) Respect for the sovereignty and territorial integrity of all countries; (c) Promoting financial viability instead of debt burden; and (d) to follow all the environmental parameters.[iv] There is a consensus on these important principles among partner countries and that is reflected in the MoU signed on September 9, 2023. The IMEC indicate a shift from China-led infrastructure towards a multilateral, more inclusive and transparent approach. 

While initiating connectivity projects, it's extremely important to ensure that fundamental principles are followed in letter and spirit. The partner countries of IMEC are poised to follow the fundamental principles and norms of multilateral institutions, including transparency, compliance, accountability, concern for environment and consensus building. The participation of World Bank representative in the MOU signing ceremony is also a positive development. European Commission President Ursula von der Leyen has described the project as "a green and digital bridge across continents and civilizations".[v]

Impressions from China

China's Foreign Ministry has welcomed the IMEC so long it does not become a "geopolitical tool". [vi] A number of commentaries from China have also talked about the IMEC as a counter to China's BRI. Some have termed the corridor as "politically exclusive" while others have referred to ideological and geopolitical factors attached to it.[vii] There is also a view in China that IMEC would not make progress if it excludes China.[viii] Chinese experts also talk about several roadblocks or impediments which include achieving consensus and securing finances for the IMEC.[ix]

It may be noted that BRI is essentially a bilaterally negotiated agreement/MoU by China with around 140 countries and does not necessarily follow universally recognised international norms and fundamental principles of openness and transparency as well as respect to sovereignty and territorial integrity of all countries.[x]

The consultative process adopted by the participant countries of IMEC is expected to build consensus on all issues related to planning, principles and execution of the project. It is evident from the recent G-20 Summit in New Delhi that India has a huge capacity to build bridges between countries and achieve consensus in a divided world.   

The geopolitical factors raised by the Chinese commentators need attention. The world is now divided and various kinds of geopolitical contestations especially those between China and the US need to be factored while preparing further plans related to the IMEC. 

Conclusion 

The signing of MoU to establish IMEC should be considered as a formal beginning of the process. The participant countries have committed themselves to work together and prepare an action plan in the time frame of next two months. Further details about the project including assessment of project costs and mode of finances are expected to come after consultations.  However, there is hardly any doubt that there is consensus among partner countries to follow a consultative mechanism and adhere to fundamental principles. And this might be the prime reason for countries like Italy to join IMEC which is all set to pull out from China's BRI. 

Connectivity initiatives must follow principles of financial responsibility to avoid projects that would create unsustainable debt burden for participant countries. The world has witnessed an emerging consensus against non transparency and policies which promote unsustainable loan or the debt trap for participating countries. 

Comparison is a method of analysis and well-known practice in academics.  It is natural that experts have started comparing IMEC with BRI. However, IMEC creates a distinction from BRI in terms of the process and principle it has followed.  Further, it is noteworthy that IMEC has a distinctive advantage. At every stage of planning and execution it can study experience/practice of China's BRI to avoid negative consequences as happened in the case of BRI.
*****
*Dr. Sanjeev Kumar, Senior Research Fellow, Indian Council of World Affairs, New Delhi.
Disclaimer: Views expressed are personal.
Endnotes
[i] "Memorandum of Understanding on the Principles of An India - Middle East - Europe Economic Corridor", available at  https://www.mea.gov.in/Images/CPV/Project-Gateway-Multilateral-MOU.pdf , Accessed on 03.10.2023
[ii] Dr. Arshad "New Joint Railway Network in West Asia" ICWA Viewpoint, available at  /show_content.php?lang=1&level=3&ls_id=9738&lid=6234, Accessed on 03.10.2023.
[iii] "Official Spokesperson's response to a query on participation of India in OBOR/BRI Forum". 13 May 2017, available at  https://mea.gov.in/media-briefings.htm?dtl/28463/Official+Spokespersons+response+to+a+query+on+participation+of+India+in+OBORBRI+Forum Accessed on 20.09.2023
[iv] "English translation of Prime Minister's remarks at the event on Partnership for Global Infrastructure Investment (PGII) & India-Middle East-Europe Economic Corridor" available at  https://www.mea.gov.in/Speeches-Statements.htm?dtl/37090/English_translation_of_Prime_Ministers_remarks_at_the_event_on_Partnership_for_Global_Infrastructure_Investment_PGII__IndiaMiddle_EastEurope_Economic_ Accessed on 20.09.2023
[v] "G20 Summit: 'India-Middle East-Europe' economic corridor, a modern-day spice route, announced." available at https://www.livemint.com/news/india/g20-summit-india-middle-east-europe-economic-corridor-announced-rail-ship-links-to-be-launched-soon-11694262483342.html accessed on 03.10.2023
[vi] "New Delhi Declaration reaffirms G-20 is body for economic issues, 'not geopolitics': China"  available at https://www.thehindu.com/news/international/new-delhi-declaration-reaffirms-g-20-is-body-for-economic-issues-not-geopolitics-china/article67296205.ece accessed on 20.9.2023
[vii]  For details see, Deepak B. R. "China is keeping an eye on IMEC" September 17, 2023, available at https://sundayguardianlive.com/opinion/chinais-keeping-an-eye-on-imec, Accessed on 03.10.2023
[viii] "IMEC A Copy of Belt and Road Initiative, Says China Social Media", September 17, 2023, available at  https://stratnewsglobal.com/china/imec-a-copy-of-belt-and-road-initiative-says-china-social-media/, Accessed on 20.09.2023
[ix] For details see, Deepak B. R. "China is keeping an eye on IMEC" September 17, 2023, available at https://sundayguardianlive.com/opinion/chinais-keeping-an-eye-on-imec, Accessed on 03.10.2023
[x]  Kumar, Sanjeev Ed. China's BRI in different Regions of the World: Cooperation. Contradiction and Concerns (New Delhi& London: Knowledge world/Rutledge, 2022 and 2023)