On October 7th, Hamas carried out a terrorist attack against Israel which killed hundreds of civilians, soldiers and with dozens taken as hostages. In addition, to the inability of Israel to anticipate the attack, the question of how Hamas developed it's striking capability against the much superior Israel is awaiting answers.  Several investigations have signalled that apart from the traditional fiat currencies, cryptocurrency played a prominent role in financing Hamas to acquire the requisite striking capability. Since 2021, Gaza groups have raised over US $130 million in cryptocurrency i.e. US $41 million by Hamas and US $93 million by Palestinian Islamic Jihad.[i] This episode shows how Crypto which is a decentralised, unregulated currency not backed by governments is directly challenging state sovereignty and legitimacy. Governments today are facing two sets of challenges in particular: the first pertaining to money laundering, illegal arms trade, drugs trade, environmental degradation, etc. The other set of challenges comprises of regional disputes, superpower rivalry (US-China crypto war), and terror financing which directly impacts the course of conflicts and war. This resurgence of crypto has implications for India which has seen one of the largest adoption of the crypto in recent times. Therefore, it is necessary to understand crypto, it's active role in shaping wars and conflicts and the need to regulate it. 

Thus, this viewpoint aims to discuss the what and why of crypto, how crypto is shaping conflicts and wars, implications for India and the need to regulate crypto.

What and Why of Crypto?

Cryptocurrency or crypto is a decentralised digital currency (a medium of exchange like US Dollar) which uses cryptography[ii] to control both it's creation and verification. Cryptocurrency runs on blockchain technology which is a digital ledger (database) of transactions grouped into blocks and distributed across networks of computer (nodes).[iii] No single system controls the ledger and instead, a decentralized network of computers keeps a blockchain running and authenticates its transactions, hence even these complex coding based transactions are traceable as they are publically available.[iv] Crypto is stored in a blockchain wallet which facilitate smooth exchanges and secure transactions as they are cryptographically signed. New cryptocurrency is created by solving complex mathematical equations and is referred to as mining. Buying and selling of crypto can be done through peer-to-peer or exchange platforms (Binance, WazirX, CoinDCX, CoinSwitch, Kuber, etc).

Figure 1 Source: TechTarget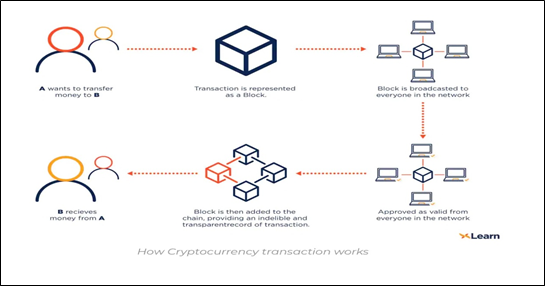 Figure 2 Source: WazirX
There are around 1600 types of crypto currency, the most famous being Bitcoin, Ethereum, Tether, Dogecoin etc.[v] These cryptocurrencies are increasingly held as investments and are used to buy goods and services, such as software, digital real estate, etc. 

The crypto owes it's genesis to the 2008 global financial crisis when an anonymous person created first crypto currency i.e. the Bitcoin.[vi] The idea behind a decentralised digital currency was to challenge the centralised state currency whose failure led to high unemployment, failure of banks, housing crisis, huge layoffs, increasing inflation, beggar-thy-neighbour policies, economic inequality etc. Cryptocurrency passed on the power of making currency to people instead of the State and the banks making it more democratising in nature.[vii] It is a popular and growing investment opportunity which easily facilitates fund transfer between two parties. The transactions associated with cryptocurrency are tax free; inflation free and with minimal processing fees as opposed to the bank led currency system. Payments are safe, secure and offer a level of anonymity.[viii] As a currency option for the future, at present there is focus on investing in cryptocurrencies and their mining. 

Beside from being an attractive currency option for individuals and groups, Crypto has been a huge help for States which are reeling under the burden of economic sanctions (Russia, Iran, North Korea, etc) and countries which are experiencing high inflation especially Latin American countries like Venezuela, El Salvador (El Salvador in 2021 adopted Bitcoin as legal tender) etc.[ix]

On one hand, the advantages that Crypto offer are innumerable; however, the decentralised nature of cryptocurrency transactions makes it vulnerable and easily accessible for illegal activities such as money laundering, tax-evasion, drug trafficking (Silk Road Digital black market)[x], and is also being used by sanctioned states (North Korea's missile program). Also, they are susceptible to market volatility (Bitcoin lost over 60% of its value in 2022)[xi] and consume vast amounts of electricity (on an average, each US $1 in Bitcoin market value created was responsible for US $0.35 in global climate damages, which is equivalent to carbon emissions in the range between beef production and crude oil burned as gasoline)[xii]. Further crypto's role in regional disputes, superpower rivalry i.e. US-China crypto war and terrorism is carving a new niche in international politics. 

How Crypto is shaping Conflicts and Wars? 

War as a feature of international politics is amongst many variables where money and war share a circular relationship i.e., one fuels the other. Wars are fought for gains but without money wars cannot be fought.[xiii] In today's time, the cryptocurrency is slowly supplanting traditional currencies to reshape wars and in turn the international politics. International politics has its foundation in Westphalian statist world order and money in the form of currency of the State is prerequisite for the legitimacy and sovereignty of the modern State. State currencies are centralised, regulated and backed by central banks of the states. But Crypto as discussed above is an unregulated, decentralised currency which challenges the authority of the modern State. The cryptocurrency is not just a growing investment opportunity for the business but is also shaping conflicts and wars. 

Regional Disputes including Civil Wars: 

Today the globe is witnessing various regional theatres of conflicts such as Israel-Hamas, Russia-Ukraine, civil wars in Libya, South Sudan, Ethiopia, and Armenia-Azerbaijan, etc. These ongoing major conflictual zones have seen a rise in the usage of cryptocurrencies as a medium of funding apart from their traditional fiat currencies. For example, online searches for bitcoin, ethereum and dogecoin have increased in Libya, Syria and Palestine, brushing aside the usual focus of interest in stock markets and safe-haven investments in gold and property.[xiv] In Lebanon's Chouf Mountains crypto mining is on the rise as well.[xv] Further, the Ukraine-Russia conflict has witnessed crypto taking a role with over 212 million dollar worth of crypto having been donated to pro-Ukrainian war efforts, according to Elliptic (a blockchain analytics firm).[xvi] And roughly US $80 million worth of crypto has gone directly to the Ukrainian government for buying military equipments, medical supplies etc. Also, Russia has also used crypto to bypass international sanctions (100 pro-Russian groups have raised around US $5.4 million worth of crypto over the past year).[xvii] Crypto as a financial source has been advantageous to the weaker sides which face difficulty in rasing money through conventional means. 

Superpower Rivalry: US-China Crypto war: 

Cryptocurrency and blockchain technology are a primary battleground in America's rivalry with China—and the U.S. is far behind.[xviii] The Chinese-affiliated cryptocurrency exchanges form the vast majority of global trading. The Chinese Communist Party has already established bilateral agreements and is deploying its central bank digital currency (CBDC), the e-Yuan, in Ecuador, Peru, and other major port locations across South America challenging the US dollar dominated global financial system leading to intersection of crypto and geopolitical tensions.[xix]

Terrorism and Crypto: 

Apart from donations, cash and charities, crypto has become a considerable source of income for the terrorist organisations. The United Nations estimates that cryptocurrencies account for 20% of terror financing in the world.[xx] Throughout 2022, TRM (blockchain lab based in US) has tracked cryptocurrency and blockchain technology use by terrorist groups, their supporters and associated fundraising campaigns. And found out that the fundraising campaigns for ISIS families held in internment camps in northeastern Syria have seen a significant driver of cryptocurrency usage among ISIS and its supporters.[xxi] TRM has identified dozens of fundraising campaigns that accepted cryptocurrency in 2022, raising between a few dollars to tens of thousands. Terrorist groups like Hamas, who have been the target of repeated disruptions in their fundraising campaigns, remains among the most sophisticated cryptocurrency users in the terror financing. Terror financing through crypto is challenging the traditional currencies and the global financial system to bypass sanctions and continue their terror activities. 

Implications for India and the need to regulate crypto 

In the context of rising significance of crypto, India has emerged as a leader in the Global Crypto Adoption Index followed by Nigeria, Vietnam, the US, and Ukraine.[xxii] Also, in December 2022, India has rolled on the retail version of CBDC (Central Bank Digital Currency). Crypto is an attractive innovation and investment opportunity for India though adequate measures would have to be put in place to prevent it's illegal use and protect the economy from harm. Finance Minister Nirmala Sitharaman has emphasized the need to pay urgent attention to issues related to cryptocurrencies by the international community. 

There was no consensus to regulate the crypto globally until recently and different states have been responding differently with no clear agenda as the crypto innovation is happening at a lightning speed. However, India has made a mark under it's G20 Presidency through the New Delhi Leader's Declaration which recommended to undertake the amalgamation of the expertise of IMF and Financial Stability Board (FSB) to regulate crypto and develop a global framework to ensure harmony between national security and technological innovation.[xxiii] This is a landmark initiative of the G20 under India's Presidency. The objective is to draw up a comprehensive regulatory framework for crypto assets. 

Crypto is there to stay and the world today needs a clear regulatory framework which promotes not only it's optimal use but prevents it's misuse.
*****
*Anubha Gupta, Research Associate, Indian Council of World Affairs, New Delhi.
Disclaimer: Views expressed are personal.
Endnotes
[i] Gianluca Pacchiani, "Terrorists raised $130m in crypto since 2021; sought more via social media after attack," The Times of Israel, October 25th, 2023, Available at https://www.timesofisrael.com/gazan-terror-groups-raised-over-130-million-in-crypto-to-fund-attack/ Accessed on 26th October, 2023.
[ii] It is a method of protecting information and communications through the use of codes (mathematical concepts and a set of rule-based calculations called algorithms), so that only those for whom the information is intended can read and process it.
[iii] Adam Hayes, "Blockchain Facts- What is It, How it Works, and how it can be used," Investopedia, 23rd April, 2023. Available at https://www.investopedia.com/terms/b/blockchain. asp, Accessed on 25th October, 2023.
[iv] Ibid.
[v] Mathew Se Salvo, "Why are Venezuelans seeking refuge in crypto-currencies?" BBC, 19th March, 2019, Available at https://www.bbc.com/news/business-47553048 Accessed on 24th October, 2023.
[vi] Torsten Hoffman, "CRYPTOPIA: Bitcoin, Blockchains and The Future of the Internet," YouTube, 27th February, 2022. Available at https://www.youtube.com/watch?v=Y2qe3hFeQ5, Accessed on 25th October, 2023.
[vii] Anshu Siripurapu and Noah Berman, "Cryptocurrencies, Digital dollars, and the Future of Money," Council on Foreign Relations, 28th February, 2023. Available at https://www.cfr.org/backgrounder/cryptocurrencies-digital-dollars-and-future-money, Accesssed on 25th October, 2023
[viii] Ibid.
[ix] Mira Patel, "How Cryptocurrencies could impact the geopolitics and change the nature of money," Indian Express, 25th March, 2022. Available at https://indianexpress.com/article/research/how-cryptocurrencies-could-impact-geopolitics-and-change-the-nature-of-money-7829747/#:~:text=While%20embracing%20cryptocurrency%20might%20have,ability%20to%20set%20monetary%20policy, Accessed on 27th October, 2023.
[x] Jake Frankenfield, "Silk Road," Investopedia, 26th July, 2021, Available at https://www.investopedia.com/terms/s/silk-road.asp, Accessed on 27th October 2023.
[xi] Cheyenne DeVon, "Bitcoin Lost over 60% of its value in 2022,-heres how much 6 other popular cryptocurrencies lost," CNBC, 23RD December, 2022. Available at https://www.cnbc.com/2022/12/23/bitcoin-lost-over-60-percent-of-its-value-in-2022.html, Accessed on 30th October, 2023.
[xii]Andrew L. Goodkind, Benjamin A. Jones and Robert P. Berrens, "Economic estimation of Bitcoin mining's climate damages demonstrates closer resemblance to digital crude than digital gold," Scientific Reports, 29TH September, 2023. Available at https://www.nature.com/articles/s41598-022-18686-8, Accessed on 26th October 2023.
[xiii] Kenneth Moure, "Money in Wars," in Kazuhiko Yago, Stefano Battilossi and Youssef Cassis (ed.) Handbook of the History of Money and Currency, (Singapore: Springer, 2018), p. 995. Available at https://link.springer.com/referencework/10.1007/978-981-13-0596-2#bibliographic-information, Accessed on 26th October, 2023.
[xiv] Phillip Inman, "Cryptocurrencies rise in popularity in world's conflict zones," The Guardian, February 9th, 2021, Available at https://www.theguardian.com/technology/2021/feb/09/rise-in-popularity-of-cryptocurrencies-in-worlds-conflict-zones, Accessed on 27th October, 2023.
[xv] Nicholas Shafer, "Cryptocurrency Mining in Lebanon," Carnegie endowment for International Peace, September 15, 2022, Available at https://carnegieendowment.org/sada/87924 , Accessed on 28th October, 2023.
[xvi] "Crypto in Conflict," Elliptic Report 2023. Available at https://www.elliptic.co/resources/crypto-in-conflict,  Accessed on 28th October, 2023.
[xvii] Ibid.
[xviii] Adam Zarazinski, "What's at the center of the U.S.-China power struggle? Crypto," Fortune Crypto, July 29th, 2023. Available at https://fortune.com/crypto/2023/07/29/whats-at-the-center-of-the-u-s-china-power-struggle-crypto/ , Accessed on 1ST November, 2023.
[xix] Ibid.
[xx] Deutsche Welle, "How cryptocurrency fueled Hamas' terror attack on Israel," The Indian Express, October 16, 2023. Available at https://indianexpress.com/article/world/cryptocurrency-fueled-hamas-terror-attack-israel-8984250/ , Accessed on 1ST November, 2023.
[xxi] "Terrorist Financing: Six Crypto related Trends to watch in 2023," TRM, February 16, 2023. Available at https://www.trmlabs.com/post/terrorist-financing-six-crypto-related-trends-to-watch-in-2023 , Accessed on 1ST November, 2023.
[xxii] "The 2023 Global Crypto Adoption Index," Chainanalysis, September 12, 2023, Available at https://www.chainalysis.com/blog/2023-global-crypto-adoption-index/#keytakes , Accessed on 2nd November, 2023.
[xxiii] Vivan Sharan, "Our Crypto regulation can draw upon the New Delhi Declaration," September 11, 2023. Available at https://www.livemint.com/opinion/online-views/our-crypto-regulation-can-draw-upon-the-new-delhi-declaration-11694446421111.html , Accessed on 2nd November, 2023.