For a country ruled by a theocratic-republic and subjected to decades of sanctions and war threats, Iran exudes cultural and political vibrancy, where everything from religion and politics, continental European philosophy and literature to women's rights are passionately discussed.
I arrive in Tehran a day after over one million Tehranis had joined Soleimani's funeral procession in the city. A Greek journalist at the Tehran Dialogue Forum, an annual Persian Gulf international conference, tells me that she walked more than three kilometres. Still, she couldn't find a single poster of Soleimani discarded on the road. The Iranian Foreign Minister Javad Zarif, who delivered the keynote address, renamed the conference venue – the building housing a premier foreign policy think tank affiliated with the Iranian foreign ministry – after 'our proud martyr General Qasem Soleimani.' In Shi'i Islam, martyrdom, that is death in the line of defending the religion and nation or at the hands of an oppressive power, is of deepest religious significance. The Revolutionary Iran which fought an eight-year-long war with Iraq in the first decade of its existence prides itself on being the 'ummat-e-shahid parvar' (nation of martyrs).


A City in Mourning


Outside the exquisite mosque of Tarbiat Moddares University, a graduate university established after the revolution with the purpose of training professors, hangs a large, often-seen poster of Supreme Leader Khamenei and Soleimani, engaged in a seemingly intense conversation. Below them is the text of the Leader's statement warning the United States of an incoming 'harsh revenge' (intekam sakht). The header of the poster reads 'congratulations and condolences to Hazarat Vali Asr and the Supreme Guardian and the martyr producing nation of Iran.' Vali Asr is the 'leader of the Age,' the occulted twelfth Imam Mahdi, who is the legitimate ruler according to Shi'i political thought. The Supreme Leader heads the state as the deputy of the hidden Imam. Soleimani's face, sometimes sombre and sometimes with an endearing smile, was on thousands of posters across the city. Most of these posters described him as the 'anti-Zionist' and 'anti-terrorist' force, while others simply had two words' harsh revenge' written in bold red Persian letters.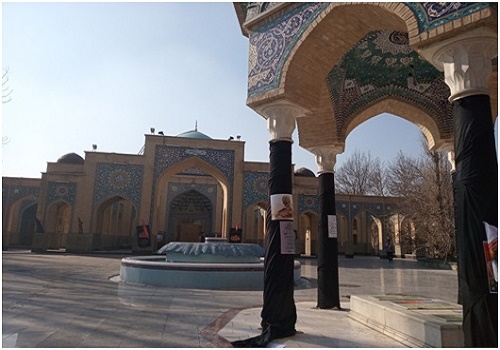 (Black flags of mourning at mosque in Tarbiat Modarres University, Tehran, Photo:Deepika Saraswat)
The next morning I wake up to the news that Iranian missiles had hit the ain-al-Assad base in western Iraq. It was the base from where the Americans had launched their January 3 strike on Qasem Soleimani, Commander of the Qods Force, the external arm of the IRGC, and Abu al-Muhandis, the Deputy Commander of Iraqi paramilitary Hashd al-Shaabi, who had gone to receive Soleimani at Bagdad airport. As President Trump's 'All is well' tweet somewhat dampened the premonitions of war, Iran's state media was celebrating that the national dignity and pride hurt by Soleimani's assassination has been restored. On FM radio in my taxi, I hear a crowd chanting 'Sepah-e-Azizan, Tasakur Taskkur' (Dear Guards, thank you, thank you). The taxi driver, a retired school teacher, tells me that a senior IRGC leader is saying that the 'era of hit and run is over.' At that moment I thought it was finally time to visit the U.S. Den of Espionage Museum, the former U.S. embassy compound where a group of revolutionary students held fifty-two American diplomat hostage for 444 days from November 7, 1979, after the United States had taken in the deposed Shah. In the front lawns of the compound are strewn a number of coffins draped in the U.S. and Israeli flags and a number of combat helmets painted with U.S. flags hang over tall wooden crosses, creating a vivid scene of American soldiers' cemetery. Over the main building hangs a huge banner of Soleimani, with a caption in both Persian and English 'An entire world will avenge you.'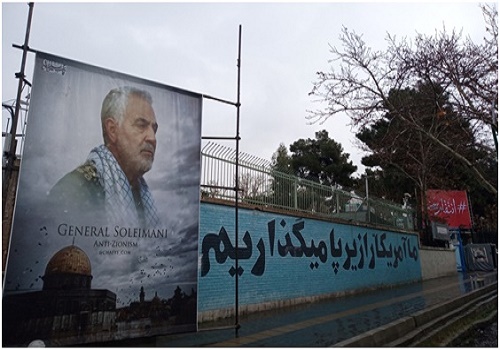 (The fence of former US embassy compound, the bold Persian letters read ma Amrika ra zeer pa miguzarim (we keep America under our foot); the red hording in the distance reads  #intakam sakht (harsh revenge) Photo: Deepika Saraswat)
In the opening gallery, first we see Leader Khamenei's statement that "'Death to America' means "Death to trump, John Bolton and Pompeo. We have nothing to do with American people." Next are many posters about how the United States supported Ssaddam's army during Iran-Iraq war, continues to 'orchestrate domestic terrorism in Iran,' imposes 'medical sanctions' on Iran, squaring with the narrative of Iran's oppressed nationalism. The museum tour-leader takes me through rooms with massive teletype machines for 'secret communication,' document disposer machines, a soundproof glass room for 'secret meetings,' underscoring how the embassy was essentially a den of spies. On a wall, under a portrait of Ayatollah Khomeini is a handwritten slogan in Persian and English 'there is no time for imperialism in Iran anymore.' In what used to ambassadors' office, we see pictures of hostages celebrating Christmas and New Year, showing how students treated heir hostages well and 'according to Islamic norms.' There are few other visitors on this snowy morning.


Shaheed Soleimani: the Symbol of Iranian Heroism 


Next day I was to meet a professor at Shahid Beheshti University, a Shah-era university, which was established in 1959 and called Daneshgah-e Melli or National University. After the revolution, the university was re-named after Mohammad Beheshti, a cleric-jurist who is considered the architect of Iran's post-revolution constitution with welayat-e-faqih (guardianship of jurist) as the basis of the Islamic Republic. Beheshti was 'martyred' in June 1981 alongside seventy-two other Member of Parliament and leaders in the bombing of the headquarters of the cleric-dominated Islamic Republic Party by leftist-Islamist Mojaheddin e-Khalq, which opposed clerics' consolidation of power in the wake hostage crisis. As I enter the Department of Economic and Political Science, I step over American and Israeli flags painted in the door-way. I had been in the same building five years ago, and flags were there back then as well. The professor I am meeting is visibly distressed; he calls the assassination of Soleimani a 'geopolitical earthquake.' Next, he tells me he is from Kerman, the hometown of Soleimani, and his brother served under Soleimani during Iran-Iraq war. He speaks of personal sacrifices Soleimani made at the battlefield; that his one arm and left eye were damaged during the war with Iraq. He opines that Soleimani represents elements of Iranian heroism that is a simple man, who connected with ordinary people, displayed the highest level of morality as a military commander and was a very loyal defender of the territorial integrity of the Iranian nation. Elaborating on Soleimani as a symbol of historic Iranian heroism, he refers to the unjust killing of Siavash by Turanian king Afrasiab, the 'great tragedy' of Shahnameh (Book of Kings). Shahnameh is the national epic of Iran compiled by Firdauasi in tenth century A.D. Siavash is the symbol of innocence in Iranian literature and mythology. The son of Kai Kavoos, the mythological Shah of Greater Iran, Siavash was raised and trained as a warrior by Rostam, the legendary hero of Persian mythology. Upon his return to the royal palace, he proves his innocence when he rejects the advances of his step-mother Saudbeh, who was ready to kill her husband to marry young Siavash. Siavash then self-exiles himself to Turan and marries Princess Farangis, the daughter of Afrasiab. He was executed in Turan after being falsely accused of treachery against Afrasiab. It is the old warrior Rostam who avenges Siavash by killing Afrasiab. Iranians appeared equally determined to avenge the unjust killing of Soleimani.


A former Speaker of Parliament, whom I met a few days later, compared Soleimani to Nader Shah, the powerful eighteenth-century ruler, who despite his humble background emerged on the scene during a period of territorial collapse following Safavids defeat by the Afghans at the battle of Gulnabad in 1722. The short reign of Nader Shah Afshar is remembered for his restoration of old borders of Persia in a series of brilliant military campaigns, defeating the Ottomans in the west and Afghans in the east, and securing the withdrawal of Russians in the north by negotiation and anti-Ottoman alliance. The comparison with Nader Shah looks compelling when you hear Muhammad Javad Ali Akbari, the Friday Prayer leader in Tehran. He eulogises Soleimani for defending the country by maintaining different proxies in the region and creating new ones such as Fatimiyoun and Zeinabiyoun – comprising of Afghan and Pakistani Shi'i and fighting in support of Bashar al-Assad in Syria – and for creating a chain of resistance linked to the command centre, that is Iran. He argues that 'the outcome has been improved security, elimination of the Daesh and spread of the culture of resistance.' He compares Soleimani with other heroes of the revolution such as Mostafa Chamran, Hasan Bagheri, Ebrahim Hemmat and Hossein Kharrazi, all high-ranking IRGC officers who died during the war with Iraq. He calls the people pouring on the street for Soleimani's funeral procession as a referendum on the welayat-e-faqih, the institution of the Supreme Leader. In Tehran where all major intra-city expressways, streets and squares are named after martyred generals and clerics, an expressway connecting Resalat district in east Tehran with Mosalla, has been re-named Qasem Soleimani expressway. It is clear that the slain military commander is a powerful symbol of Iranian nationalism, a curious mix of oppressed Islamist nationalism – that is the historical memory of collectively resisting imperial aggression – and the glory of ancient civilisation and culture.


A City of Confusing Contrasts 


In the last century, the city of Tehran has expanded from its old centre towards the cooler northern foothills of Alborz. The northern suburbs or ba'la-shahr (high-city), with high rise residential towers, clothing stores selling high-end international brands brought in from Dubai or Turkey, young girls in westernised attires, with their hejab barely over their heads, stands in sharp contrast to South Tehran or pa'in (low), which stretches into arid plains towards the holy city of Qom. In South Tehran, you see more women wearing the full-body cloak that is a black colour chador. Smoke billowing cement factory chimneys and the sun-beaten brown rocky hills in the distance present an urbanscape strikingly different from snow-covered and breezy foothills in the north.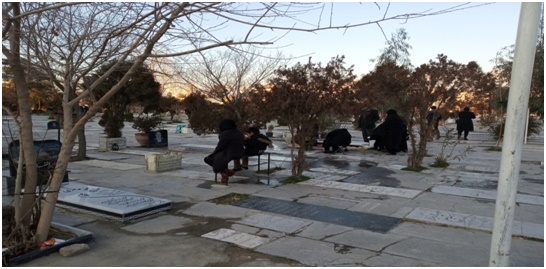 (Ibn Babawayh cemetery gets its name from its most famous occupant Shykh Sadukh, a Persian Shi'ite scholar from 10 century AD, who is also called Ib Babawayh, Rey. Photo: Deepika Saraswat)
On a Thursday evening, which is the beginning of the weekend in Iran, I am at Ibn Babawayh cemetery in the town of Rey on the southern limits of Tehran. It is the oldest cemetery in what is called the greater Tehran metropolitan area. You see people turning up with cans of water, flowers and sweets and cucumbers. Faithful believe that spirits of the dead return from Thursday evening till sunrise on Friday. People wash the graves of the departed, put a lantern, flowers and recite Fatiha, the prayer for the dead, and then sit there sipping tea. Later in the evening, an Indian friend who has been working with a Persian language newspaper in Tehran for some years offers to take me to Darakeh, a popular joint in northern foothills with river-side restaurants and hiking trails. We call a snap, Iran's mobile app-based ride-hailing service. Our driver is a smart young man, a student by day and cabbie at night. I am told, given the state economy under sanctions, many professionals enlist with snap for extra income.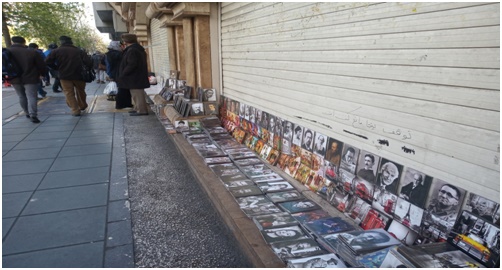 (Enghelab Street runs parallel to the University of Tehran, on sidewalks you see wood prints of American actors and directors and European Enlightenment philosophers alongside famous Iranians, Photo: Deepika Saraswat)
In the very crowded centre of the city, at the intersection of the two most important streets, Enghelab and Vali Asr is located Park-e-Daneshjoo (Student Park). It is a performing arts complex (theatre shahr) opened in 1962, and since the revolution, the Ministry of Culture and Islamic Guidance has overseen its operation. Located within walking distance from the both University of Tehran and Aazdi Tower, another pre-revolution monument in the city, it is a hub of art and politics. It attracts not only art lovers, students, young couples, homosexuals and also drug-peddlers. On the evening I was there with an Indian friend, riot police surrounded the circular structure, yet people were walking in and out with an air of normalcy. On the Enghelab Street, a small crowd of young men and women had organised a candlelight vigil for the victims of Ukrainian flight mistakenly downed by the IRGC. My Indian friend tells said, half in jest, it is Tehran's Jantar-Mantar, anti-regime protests happen here at a regular interval of every two-three months. As soon as we walked into a nearby cafe, we hear that riot police has fired tear gas at protesters. 


The Pixel Cafe gets its name from 8-bit pixel art photographs on its walls. You see three different photographs of Marilyn Monore, one of Johnny Depp and between them is Farough Farroghzad, the legendary Iranian novelist. If many celebrate Marilyn as a symbol of both sensuality and innocence, Forugh Farroghzad, more than sixty years after her death and a revolution that overturned the pantheon of national icons, is loved and revered as a quintessential iconoclast. Farroghzad's intimate, rebellious poetry changed Iranian literary style. A young barista tells me that her books were banned in Iran until the last decade. He is effusive as he speaks about Forroughzad's tumultuous, life. At a very young age of 16, she married her cousin, famous artist Parviz Shapour against her family's wishes, and then soon after they had a son, she left them to pursue poetry and arts. Later, she had a legendary love affair with Ebrahim Golestan, a writer film-maker, who now lives in London. I am intrigued when the young barista showers equal praise on the ninetieth-century French novelist Gustave Flaubert. Later I see on his Instagram page that he is reading Persian translation of 'Sentimental Education, Tarbiat Ehsasat. I ask a young Iranian diplomat I know if he has ever read Flaubert, he enthusiastically responds that 'Madame Bovary' and 'Sentimental Education' are his favourites. It is anyone's guess why Flaubert who wrote his masterpiece 'Madame Bovary' at a time when an elected President Louis-Napoléon Bonaparte had staged a coup transforming himself from president to emperor and ruled by propaganda, is popular with certain Iranian youth.
(Cafe culture has flourished not only in Tehran, but most Iranian cities. Photo: Deepika Saraswat)
I was back once again at Enghelab Street on my last evening in Tehran. There I met Tahoura, a young chador wearing young girl, whom I had stopped for asking directions to pixel cafe. In almost fluent English, she requested if she could make a recording of my views on her country and people, after she offered to walk me to the cafe. I played along, and she never stopped recording even when our conversation had moved to me, asking her why she was taking Arabic classes and what she thought of General Soleimani. She tells me that she had decided to wear chador not because her parents were traditional-minded –her mother is a teacher and did not wear chador herself – but because she wanted to experiment and found it both protective and empowering. Next, she says that Soleimani is her hero, a perfect man. She likes him because he didn't bother about whether women wore chador or not. She says her friends were surprised to know that she was learning Arabic, but she thinks it will help her understand the Quran for herself. Tahoura is not pleased when I speak of comparison of Soleimani with Nader Shah, a monarch. She says Nadir Shah was 'so strict and did not let the people choose their government.' She is only fourteen, but I doubt if her adoration for a leader whom she thinks supports the cause of personal freedom and democracy would change when she grows up.


Secular Liberalism on the Rise?


The cafe going, cigarette and hookah smoking and French literature-loving stylish young men women of Iran are a far cry from revolutionary citizenship that some leaders of the Islamic Republic still have in their minds. They are as much concerned with issues of civic freedom, individual agency and democracy as they are proud nationalists who are hurt by the U.S. assassination of their top general Soleimani. In pre-revolution decades, Iranian intellectuals focussed on the search for authenticity in the face of rapid pace westernisation under Pahlavi monarchy, a cultural condition equated with disease gharbzadegi or weststruckness by Ahmad Fardid, a professor of philosophy at Tehran University. Jalal al-e Ahmad, who popularised the notion argued that if left untreated gharbzadegi or excessive fascination with all things Western would lead to the demise of Iran's indigenous cultural, political and economic fabric. Ali Shariati, who became prominent as a roshanfekr, enlightened intellectual, became pivotal in transforming Islam from a private moral and religious system to a revolutionary movement. Continental European philosophy, especially Heidegger and Sartre's existentialism, taught at universities by French-educated lecturers had influenced intellectuals, such as Fardid, in their search for cultural authenticity in decades leading to the revolution. The works Al-e Ahmad and Shariati are still seen in bookstores in Tehran, but the changed political context of a theocratic republic and waning importance of Marxism, which seriously influenced revolutionary Islamism, means that Iranian youth has gravitated towards liberalism. Since the Ayatollahs have come to rule the country, Viennese philosopher Karl Popper, whose 'The Open Society and its Enemies' was translated into Persian by Ezzatollah Fouldvand in mid-eighties, and whose critique of Marxism was popularised by religious-intellectual Abdulkarim Soroush, has captured much attention in Iran. Popper, in his Philosophy of Science put forward the idea that no science or knowledge can be absolute or 'proved' but only be falisified through experiment and experience. He railed against ideological claims to 'truth' and centralisation of power by Marxists and Fascists – whom he called 'false prophets.' His defence of an open society in which every human has value and can think freely has struck a chord with Iranians such as Souroush, who saw that Islamic ideology risks reducing the totality of an entire religion to an unchanging worldview. German philosopher Jürgen Habermass, whose ideas of civil society and public sphere, as key components of a functioning democracy, have equally appealed to Iranians, and Richard Rorty, an American philosopher of pragmatism tradition, made well-received visits to Tehran in the early 2000s when President Khatami was seeking dialogue among civilisations. 


In Qom, the seat of religious learning, bookstores after bookstores are filled with books on Islamic law, philosophy and jurisprudence; I even saw a title on nuclear jurisprudence. Titles such as 'The Crisis of Modernity and Islam,' 'Ashura: A revolution in Conscience and Body,' 'Einstein and Religion,' 'Muhammad in Europe: A Thousand Years of Western Myth-Making,' 'Principles of Upbringing Based on Quran,' 'Guidance in Following Virtues and Avoiding Sins' 'Economic Jihad: Based on Quran' suggest systematic efforts to create Islamic models of governance but also guiding manuals for life according to religious norms. A substantial number of books on the U.S. and Israeli espionage operations including Persian translations of 'Brainwash: the Secret History of Mind Control' and 'Burn before Reading: Presidents, CIA directors, and Secret Intelligence,' 'A Spy for All Seasons: My Life in the CIA' are part of conservative Islamist threat discourse of the United States meddling and interfering the affairs of the Islamic Republic. But amongst all these, you see 'Rise and Fall of Nazism,' 'The Liberalism Lady: Hannah Arendt,' 'Iranian Liberalism,' and books by Abdulkarim Soroush, the exiled religious-intellectual who has called for a liberal-democratic reading of Islam.


What is unfolding in Iran is more than a century-long process of Iran coming to terms with the Western colonial modernity, in which issues of imagining a modern Iranian nation and its relation with Iran's Islamic and pre-Islamic history and with the West – paradoxically seen as a reference point for technological and economic progress and a hegemonic power impinging on the rights and dignity of non-western and Muslim nations – have been the subjects of a contentious politics defined by foreign engineered coups, and popular revolutions. The 1979 Islamic Revolution overthrew the Westernising and U.S. backed Pahlavi Shah. Ending the history of Iranian tradition of imperial monarchy or Shahanshahi (the 'king of kings'), it set Iran on the path of the 'great experiment of democracy' to borrow a phrase from Popper. The Islamic revolutionary project, as re-affirmed by the Supreme Leader on the fortieth anniversary of the revolution in February last year, is about rebuilding the Islamic civilisation. However, the philosophical tension between the Islamic and the republic and relations with the west, especially the United States, continue to be debated by different factions, in which the religious-ideological worldview of the Supreme Leader has often had the upper hand. Such a worldview however is unsustainable among a youth, which not only shares in the cultural fluidity of a globalised world but is also negotiating their individual agency against a powerful state apparatus, which seeks to reproduce an Islamic collective self. I think of 23-year-old Raheel, how she turned her hejab into a stylish headgear, as she made a cup of Omani tea. This young woman from Ahvaz supports herself with her part-time job as a barista and hopes to get a job abroad after she finishes her studies in healthcare engineering. Living abroad is the only route to her dream of travelling around the world; she says ruefully, 'Iranian currency is too week, there is no money in Iran.'

*****
*Dr. Deepika Saraswat, Research Fellow, Indian Council of World Affairs.
Disclaimer: Views expressed are personal.