On March 25, Iran's government banned internal travel and warned of a 'second wave' to the coronavirus outbreak.This move came after a week of high daily death rate, reporting 143 new deaths in past twenty four hours, taking the death toll 2,077 and 2,206 new confirmed cases increasing the tally to 27,017.[1] The fear of a 'second wave' loomed large as several Iranians ignored the advice of the health ministry officials and travelled for vacations on Nowruz, the Persian New Year festival celebrated on March 20. To support government's efforts, President Rouhani requested Supreme Leader Ayatollah Khamenei for a fund of $1 billion from the sovereign wealth fund of the country, to be used by the Health Ministry and unemployment insurance fund.[2] The Islamic Revolutionary Guard Corps (IRGC) 'modern warfare units,' responsible for dealing with biological, chemical and cyber-attacks, launched fresh 'biological defense' drills and disinfection operations across the country.[3]In early March when Iran along with South Korea and Italy reported thelargest outbreak of the virus outside China, IRGC Commander Major General Hossein Salami told an Iranian news agency that "novel coronavirus might be a biological weapon first aimed at China, then Iran and other states.[4]The IRGC, which is responsible for defending the Islamic Republic against internal and external threats, has established a biological operations base, and is playing a front-line role in public health efforts.

Iran's Lockdown Dilemma

Iran's first case of infection was reported from Qom on February 18, when two elderly people tested positive posthumously. Officials pointed that one of the first two casualties was an Iranian merchant, who used indirect flights to travel to China after Iran had suspended all flights between Iran and China following the World Health Organisation (WHO) declaration of coronavirus outbreak in China as a Public Health Emergency of International Concern on January 30.[5] After initial cases of infection were found in Qom, authorities asked people to not to go to Qom, but the shrine of Fatima Masumeh was not closed until March 17. In a matter of few weeks, Qom, a major Shi'i pilgrimage and religious studies centre drawing thousands of international visitors round the year – overwhelming of them being Shi'i from neighbouring countries – had become the veritable epicentre of virus outbreak in the region.

Schools, universities, shopping centres and bazaars had been closed in Qom, Tehran and several cities, but the government had refrained from enforcing lockdown of cities, fearing that its economic fallout would only complicate efforts to combat the virus.[6] Furthermore, to enforce a lockdown, the government must be able to support its citizens. IrajHarirchi, the deputy health minister, who came down with novel coronavirus when addressing a press conference on February 25, was questioning the usefulness of quarantining the affected towns. He argued that such "measures belong to the period before the World War I in dealing with epidemics like bubonic plague, cholera etc. The Chinese are also not satisfied with quarantining towns as it has its consequences." He went on to argue that "let's say if you send people in Qom home for ten days, they will all travel to places and spread the virus across the country."[7] President Rouhani maintained that authorities would continue to 'only quarantine individuals.' According to Chinese media, Chinese experts have been present in Iran, helping their Iranian counterparts contain the virus with "accurate and effective quarantine measures" since February 29.[8]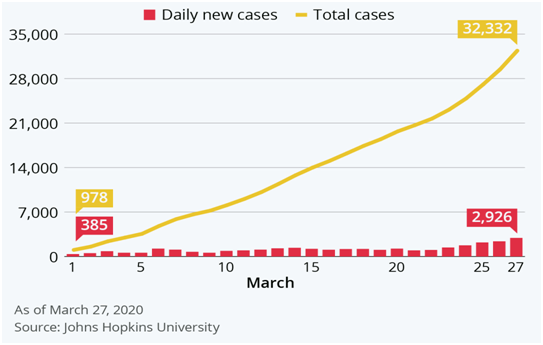 COVID-19: Iran, Source: https://www.statista.com/chart/21100/coronavirus-in-iran/


Even though the initial infections in Iran were imported cases, where quarantining individuals could have been effective in containing the spread, but it was clear that imported cases had not been identified on time, therefore the risk of community spread was real. Furthermore, large gatherings during the annual commemoration of the anniversary of the Islamic Revolution on February 11 and parliamentary election on February 21 aggravated the situation. On March 19when authorities reported 149 deaths, thehighest single day toll since the outbreak, the virus had not only spread to all 31 provinces and capital Tehran- with a population of around 9 million in the city and 16 million in the wider metropolitan, had become the worst hit.[9] The fatality rate stayed the same – one person every 10 minute – on March 26, when 156 deaths were reported. By this time, 24 Iranian parliamentarians and top officials including First Vice President EshaqJahangiri had been infected.[10]

Fresh Diplomatic Efforts for Sanction Relief

Iran's response to the crisis was impeded by the shortage of necessary protection gear and equipment for frontline medical professionals dealing with people suspected of being infected by coronavirus. Humanitarian goods such as medical equipment and medicines are technically exempt, but banking transactions for such purchases has been rendered difficult because of over-compliance by banks wary of falling afoul of the U.S. sanctions.[11] On March 12, Iranian Foreign Minister JavadZarif made a public plea for sanction relief and medical assistance. In his letter to the United Nations Secretary General Antonio Guterres, he called US sanctions "obstacles to the sale of medicine, medical supplies and humanitarian goods" and these "unilateral and illegal sanctions should end."[12] President Rouhani wrote a letter to world leaders, including his counterparts in the region, underlining how Iran's fight against the coronavirus was being "severely hampered" by US sanctions, while urging them to cease observing them.[13] In another move signalling how Iran's financial woes were impeding its efforts, Iran's Central Bank approached the International Monetary Fund (IMF), to access the lending agency's Rapid Financial Instrument, which is available to all members facing an urgent balance of payments needs.[14] The European Union (EU) extended support to Iranian request to the IMF and unveiled plans to send 20 million euros in humanitarian aid to Iran.[15]

Even as China and Russia called on the United States to give sanctions relief for humanitarian reasons, the US officials maintained that 'maximum pressure on the regime will continue' and that 'US sanctions are not preventing aid from getting to Iran.'[16] As the rocket attacks on the US bases in Iraq continued, which Washington routinely blames on Iran-backed militia, on March 18, the US Department of State sanctioned nine new entities and three individuals trading in or transporting Iranian petrochemicals, and providing 'revenue to the regime that it may use to fund terror and other destabilising activities, such as recent rocket attacks on Iraqi and Coalition forces located at CampTaji in Iraq."[17] On March 27, the US Treasury Department imposed fresh sanctions on 20 companies based in Iran and Iraq and some Iranian officials for their links to the IRGC, which has been labelled a terrorism organisation since April, 2019.

Regional Response: Aid and Accusations

The receipt of medical aid became critical for Iran as many countries including European Union, source of much of Iran's medical supplies and Russia announced regulations limiting the exports ofventilators, surgical masks, hazmat suits and other protective gears to ensure supplies for their own citizens. The role of Iran's neighbours, therefore, became important in containing the outbreak beyond Iranian borders. The United Arab Emirates (UAE) in collaboration with the WHO sent an aircraft carrying 7.5 tons of medical supplies on March 3. Later, following a telephonic conversation between Foreign Minister Mohammad JavadZarif and his Emirati counterpart Abdullah bin Zayed bin Sultan Al Nahyanon ways to contain the pandemic, UAE sent another consignment of 32 tons of medical supplies and equipment. Kuwait also stepped in with plans for a donation of $10 million to Iran to fight against COVID-19. Iran sought to keep its border with Turkey open for trade and transit by implementing specific health protocols. Turkey, Iran's key transit route to Europe, assured that Iranian trucks could cross Turkey's common borders with Bulgaria, Georgia and Greece. Ankara also delivered medical supplies including 1,000 diagnostic kits, and a whole range of protective gear for medical professionals.[18] President Rouhani reached out to Qatari Emir Sheikh Tamim, who welcomed Iran's proposal for the formation of mutual medical protocol allowing trade and travel between the two countries.[19]Following the reports of confirmed cases in Iran on February 19, Iraqi provinces sharing borders with Iran, namely Basra, Meysan and Wasitclosed their borders to Iranians and any foreigner who had been in China in the last 14 days.[20] According to Iranian media, border crossings with Iraq were temporarily closed for trade and transit to carry out disinfection work.[21]Keeping the borders with neighbouring countries open for trade is crucial for the Iranian economy isolated by the US sanctions.

Saudi Arabia, which had banned its citizens and expatriates from travelling to Iran denounced Iran for granting entry to Saudi citizens entry amid coronavirus outbreak and urged it to reveal the identities of those who visited the country since the start of February. Riyadh's statement came after the Kingdom reported five flu-like cases, four of them being citizens who had visited Iran via Bahrain and Kuwait and did not disclose their travel details.[22] The Saudi statement maintained that 'these actions are a proof of Iran's direct responsibility in increasing COVID-19 infections and in the virus's outbreak around the world.[23] Bahrain followed suit by accusing Iran of "biological aggression" by covering up the spread of the coronavirus and failing to stamp the passports of Bahraini travellers.[24] Soon after discovering its first case, Saudi Kingdom suspended visas for the year-round pilgrimage of Umrah, and barred its citizens, residents and those from six-nation Gulf Cooperation Council from entering Mecca and Medina. It took stronger measures as the reported cases reached 900 on March, 25. It has banned people from entering in or leaving from Riyadh, Mecca, and Medina and port city of Jeddah. To deal with economic fallout of the coronavirus pandemic and low oil prices brought about by the collapse of its supply cut deal with Moscow in early March; Kingdom has announced a stimulus package of $32 billion focussing on helping the banking sector and small and medium-sized enterprises.[25]

Conclusions

Iran's failure to identify the imported cases on time and then failure to quarantine cities with high concentration of positive cases, namely Qom and Tehran, resulted in a nation-wide pandemic. From early on, Iran's response to novel coronavirus was complicated by the crippling US sanctions, religious and economic concerns over enforcing lockdown of shrines, cities and Iranian borders. Iran's early mobilisation of the IRGC and basij volunteers in leading the public health efforts is crucial not only in terms of coping with the public health security situation, but forestalling any potential anti-regime unrest.

Iran's renewed diplomatic efforts towards for sanction relief on humanitarian grounds have yielded no results as the United States enforced new sanctions, while offering humanitarian aid, which was swiftly rejected by Iranian leadership. As shortage of medical equipment stymied Iran's efforts, Iran's gulf neighbours, especially UAE and Turkey stepped in by sending necessary medical supplies. All of Iran's neighbours have positively responded to President Rouhani's call for regional cooperation in dealing with the pandemic, with the exception of Saudi Arabia and Bahrain, which have blamed Iran for the virus spread in the region.
*****

*Dr. Deepika Saraswat, Research Fellow, Indian Council of World Affairs.
Disclaimer: The views expressed are that of the Researcher and not of the Council.


Endnotes
[1]Coronavirus: Iran bans internal  travel to avert 'second wave', 25 March, 2020, BBC, https://www.bbc.com/news/world-middle-east-52039298, Accessed 27 March, 2020
[2] Iran to cover 90% of COVID-19 patients' expenses, Middle East Monitor 28 March 2020, https://www.middleeastmonitor.com/20200328-iran-to-cover-90-of-covid-19-patients-expenses/, Accessed on 29 March, 2020
[3] IRGC Starts Nationwide Biological Defense Drill, Iran Daily, March 26, 2020, http://www.iran-daily.com/News/267076.html, Accessed on 27 March, 2020
[4] Iranian Revolutionary Guard Chief Claims Coronavirus may be US Biological Weapon, TASS,  5 March 2020, https://tass.com/world/1127137, Accessed on 27 March, 2020
[5]Iran says 43 infected with Coronavirus , eight dead: Officials, Reuters, 23 February, 2020, https://www.reuters.com/article/us-china-health-iran-toll/iran-says-43-infected-with-coronavirus-eight-dead-official-idUSKCN20H0AT, Accessed on 27 March, 2020
[6] Iran's top Security Body Rejects Lockdown of epidemic area, Al-Monitor, 11 March 2020, https://www.al-monitor.com/pulse/originals/2020/03/iran-coronavirus-toll-rise-lockdown-epidemic-areas.html, Accessed on 27 March, 2020
[7] Iran's Deputy Health Minister has contracted Coronavirus, Iran Wire 25 February, 2020 https://iranwire.com/en/features/6742, Accessed on 27 March, 2020
[8] Chinese Red Cross Teams Aid Iran's COVID-19 Fight, China Daily, 11 March 2020,  https://www.chinadaily.com.cn/a/202003/11/WS5e681e8aa31012821727df8d.html, Accessed on 29 March, 2020
[9]Iran announces 149 more coronavirus deaths, toll rises to 1433, The Hindu, 20 March, 2020, https://www.thehindu.com/news/international/iran-announces-149-more-coronavirus-deaths-toll-rises-to-1433/article31118292.ece, Accessed 27 March, 2020.
[10] Iran enlist Pakistan for Support against Sanctions as Pandemic Spreads, Al-Monitor, 27 March, 2020, https://www.al-monitor.com/pulse/originals/2020/03/iran-pakistan-support-sanctions-coronavirus.html, Accessed on 29 March, 2020
[11] The Humanitarian Impact of US Sanctions on Iran, Atlantic Council, 29 October, 2019, https://atlanticcouncil.org/event/the-humanitarian-impact-of-us-sanctions-on-iran/, Accessed on 27 March, 2020
[12] Iran urges UN 'to disregard Human Sanctions, Mehrnews, 14 March 2020. https://en.mehrnews.com/news/156681/Iran-urges-UN-to-disregard-inhuman-US-sanctions. Accessed on 27 March, 2020
[13] US Sanctions 'severely hamper' Iran Coronavirus Fight, Rouhani says, Reuters 14 March 2020, https://www.reuters.com/article/us-health-coronavirus-iran-idUSKBN2110HL, Accessed on 27 March, 2020
[14] Iran seeks Financial Assistance  from IMF First Time Since 1962 to counter Coronavirus Pandemic, The Hindu Businessline13 March, 2020,  https://www.thehindubusinessline.com/news/world/iran-seeks-financial-assistance-from-imf-for-the-first-time-since-1962-to-counter-coronavirus-pandemic/article31057034.ece#, Accessed on 27 March, 2020
[15] EU to Provide 20 Million Euros in Humanitarian aid to Iran, Reuters 23 March, 2020, https://www.reuters.com/article/health-coronavirus-eu-iran/eu-to-provide-20-mln-euros-in-humanitarian-aid-to-iran-idUSL8N2BG6OK, Accessed on 28 March, 2020
[16] U.S. to Iran: Coronavirus won't save you from sanctions, Reuters, 20 March, 2020,https://www.reuters.com/article/us-health-coronavirus-iran-usa/us-to-iran-coronavirus-wont-save-you-from-sanctions-idUSKBN21712L, Accessed on 27 March, 2020
[17] Further Sanctions on Entities Trading in or Transporting Iranian Petrochemicals, US Department of State, 18 March, 2020, https://www.state.gov/further-sanctions-on-entities-trading-in-or-transporting-iranian-petrochemicals/, Accessed on 27 March, 2020
[18] Turkey Send Medical Supplies to Iran, Tasnim News, 17 March 2020, https://www.tasnimnews.com/en/news/2020/03/17/2225756/turkey-sends-medical-supplies-to-iran, Accessed on 27 March, 2020
[19]Rouhani: Coronavirus requires Global Cooperation to Contain, Iran Daily, 29 February, 2020, http://www.iran-daily.com/News/266328.html, Accessed on 27 March, 2020
[20] Iraq Deploys Health Teams at Iran's borders to block Coronavirus from Entering, Kurdistan 24, 20 February 2020, https://www.kurdistan24.net/en/news/796e14ce-b402-4307-aa63-96d747a77ef0, Accessed on 27 March, 2020
[21]Iraqi Borders to be Shut Down for one week, Mehrnews, 5 March, 2020, https://en.mehrnews.com/news/156378/Iraqi-borders-to-be-shut-down-for-one-week, Accessed on 27 March, 2020.
[22] Saudi Arabia denounces Iran for accepting Saudi visitors amid Coronavirus, Reuters, 6 March 2020,  https://www.reuters.com/article/us-health-coronavirus-saudi-iran/saudi-arabia-denounces-iran-for-accepting-saudi-visitors-amid-coronavirus-idUSKBN20S2IT, Accessed on 28 March, 2020
[23]Ibid
[24] Bahrain accuses Iran of 'biological aggression' over COVID-19, Aljazeera, 13 March, 2019 https://www.aljazeera.com/news/2020/03/bahrain-accuses-iran-biological-aggression-covid-2019-200312165334964.html, Accessed on 29 March, 2020
[25] Saudi Arabia announced $32 billion in emergency funds emergency funds to mitigate oil, coronavirus impact,, CNBC, 20 March, 2020, https://www.cnbc.com/2020/03/20/coronavirus-and-oil-saudi-arabia-announces-32-billion-stimulus.html, Accessed on 29 March, 2020