Abstract
This paper focuses on analysing the outbreak and responses to COVID-19 in the Oceania Region, with a special focus on Australia and New Zealand's response to the crisis. It also looks at the early stages of the virus outbreak in the Pacific Islands.  

As the world is struggling to tackle one of the biggest challenges of our time, to global public health, the outbreak and rapid escalation of novel coronavirus (COVID-19) which started in Wuhan, Hubei province of China, has now spread across the globe. On 11 March 2020, the World Health Organization (WHO), assessing the levels of spread and severity, declared COVID-19 outbreak a 'Pandemic'. The 'pandemic' has already resulted in enormous human, social and economic losses around the world. Countries in the Oceania particularly Australia has experienced considerable increase in number of COVID-19 cases. New Zealand has also reported significant number of cases in recent days. Even the remotely located small island states in the South Pacific have not been able to escape the virus with many of them reporting few positive cases.

COVID-19 Outbreak and Response in Australia

The first cases of COVID-19 in Australia were identified in late January 2020. The numbers have rapidly increased since early March.[1] Australia has now recorded positive cases in all its territories, with maximum number been reported in the New South Wales (NSW).[2] Major east coast cities including Sydney, Brisbane and Melbourne have experienced rapid increase in numbers.  As on 30 March Australia reported 4,200 COVID-19 cases and 18 deaths.[3]

Responding to the outbreak, Prime Minister Scott Morrison announced the creation of a new National COVID-19 Coordination Commission (NCCC) on 25 March, "to coordinate advice to the Australian Government on actions to anticipate and mitigate the economic and social effects of the global coronavirus pandemic".[4] The National Cabinet is acting on the advice of the Australian Health Protection Principal Committee.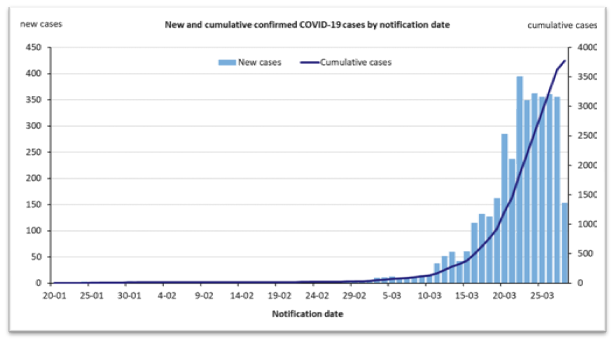 Figure No.: 1
New and cumulative COVID-19 cases in Australia by notification date
Source: Australian Government, Department of Health
Recognising the risks posed by infection overseas and changes to border and travel restrictions in more countries, the Australian government announced strict travel restrictions to slow the spread of the virus. Unprecedented 'Level 4' restrictions were announced for the first time by the Department of Foreign Affairs and Trade, telling Australians 'not to travel abroad' and those abroad must return now.[5] On 19 March, Minister for Foreign Affairs, Marise Payne notified that "Australia will not allow the entry of people who are not citizens, permanent residents or their immediate families".[6] The Australian Government also announced facilitating commercial charter flights to bring back hundreds of Australians from Peru and Uruguay. In addition, any Australian returning home needs to follow 14 days compulsory isolation.  On 27 March, the government announced compulsory enforced quarantine for citizens returning from overseas in government allocated hotels and facilities rather than home quarantine and to ensure this armed forces have been deployed.

Earlier on 15 March, Prime Minister Morrison announced a 30-day ban on all foreign cruise ships docking in Australia, however, four ships which were already on their way, including the 'Ruby Princess' were given an exemption.[7] Panic struck when on 19 March the 'Ruby Princess' was allowed to dock at Sydney's Circular Quay and 2,700 passengers were allowed to disembark without health checks. Passengers were told to self-isolate themselves, with many travelling further to different parts of the country from Sydney. As the number of new cases linked to 'Ruby Princess' have started being reported from different territories[8], federal and state governments have been blaming each other for this episode.

The outbreak of COVID-19 has brought to light differences between the federal and the state governments. Contradictory guidelines from the federal government, state officials and health officials in recent days over the necessary precautions to be taken, have caused ambiguity. Morrison's government has so far backed away from the more blanket lockdowns on public movement.[9] While the leaders of NSW and Victoria have expressed that they are ready to go ahead tighter restrictions.

States are imposing additional border restrictions on movement of people. Western Australia became the first state to close borders for rest of the county on 24 March, announcing travel ban between the states with a fine up to $50,000, in case of any violations.  Premier Mark McGowa plans to introduce further restrictions on travel within the State from applicable from 31 March onwards to assist in reducing the spread of COVID-19. Under these new restrictions, people will not be permitted to leave their regional boundary, barring some exemptions.[10] The island of Tasmania has already effectively shut itself off from the Australian mainland. Other states are also following the suit.

Australians have been advised to stay at home and practice social distancing. As per latest guidelines announced on 29 March, public gathering will be limited to two people, to be enforced with fines against violation. In most of the country pubs, clubs, gyms and cinemas are no longer permitted to open. Some of the media reports have also hinted that the government is contemplating locking down the country for six months, depending on the medical data in coming weeks.[11] All non-urgent elective surgeries have been temporarily suspended. Australian Government Deputy Chief Medical Officer Professor Paul Kelly outlined that "the country has one of the highest rates per population of testing for coronavirus in the world. We have conducted more than 184,000 tests, with less than two per cent returning positive. Australia is very well prepared for this outbreak."[12]

The pandemic inevitably will result significant short-term and long-term economic disruptions. Some economic analysts have predicted unemployment rate to hit more than 10 percent, resulting in possibility of more than 1 million Australians losing their jobs.[13] National Australian Bank economist Kaixin Owyong said that "the pandemic is causing havoc across all industries, with hospitality bearing the brunt, business of all sizes are affected".[14] Major airlines including Qantas and Virgin have been hit badly as they have had to cut their domestic and international flights in response to the crisis.

As the spread of the virus worldwide has broadened, and is expected to be more prolonged on 22 March, the Commonwealth Government released the second stage of its economic plan to cushion the economic impact of COVID-19 and help build a bridge to recovery. A total of $189 billion, which is 9.7 per cent of annual GDP, is being injected into the economy by Government. This includes first set of stimulus package of $17.6 billion announced on 12 March. The stimulus package broadly focuses on supporting households, assisting businesses to keep people in a job and providing regulatory protection and financial support for businesses to stay in business.[15]

An additional assistance of $150million was announced on 28 March, to support vulnerable Australians experiencing domestic, family and sexual violence through emergency accommodation, crisis services and counselling.[16] Further on 30 March, Prime Minister Scott Morrison announced $130 billion package to support wages for 6 million Australian workers. This he said brings "Government's total economic support to $320 billion, representing 16.4 per cent of GDP".[17]

COVID-19 Outbreak and Response in New Zealand

As on 31 March, New Zealand has 647 confirmed and probable Covid-19 cases in the country.[18]  Prime Minister Jacinda Ardern placed New Zealand under highest 'Alert Level 4-Eliminate'. Alert level 4 means that that disease is not likely to be contained and likely to have 'sustained and intensive transmission and widespread outbreaks'.[19] The government has declared a 'state of national emergency' across the country on 25 March. Announcing the emergency Prime Minister Jacinda Ardern said "today we put in place our country's second ever State of National Emergency as we fight a global pandemic, save New Zealanders' lives and prevent the very worst that we've seen around the world from happening here".[20]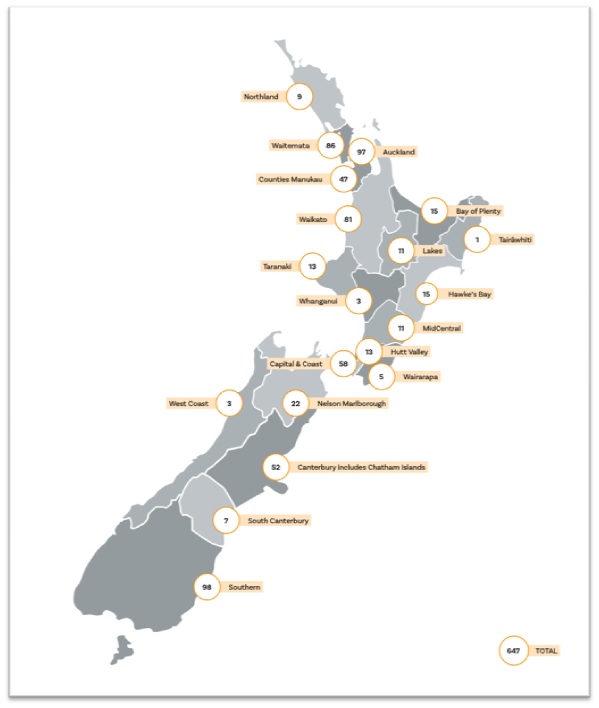 Figure No. 2
Total Cases as on 31 March
Source: Ministry of Health, New Zealand

While announcing the alert the Prime Minister highlighted that up to 10,000 New Zealanders abroad were expected to return home over the next five days, and authorities expected "several thousand" more cases to be confirmed before strict self-isolation rules began to "flatten the curve" of new infections.[21] On 26 March, Prime Minister announced four-week unprecedented lockdown with only essential services-including banks, supermarkets and pharmacies-to operate. People have been instructed to stay at home, educational facilities and businesses are closed except for essential services and lifeline utilities, rationing of supplies and requisitioning of facilities, travel severely limited, major reprioritisation of healthcare services are range of the measures which are being undertaken.[22]  No indoor and outdoor events can proceed. The New Zealand government has made unprecedented travel restrictions to slow the spread of the COVID-19. Borders were announced to be closed to almost all travellers from midnight 19 March. As an essential service, Air New Zealand will continue to operate. Later, the government extended the timeframe for all travellers to return home by midnight on 27 March. The government has announced the COVID-19 Economic Response Package, of $12.1 billion, representing 4 percent of country's GDP. It is the "most significant peace-time economic plan in modern New Zealand history".[23]

Situation in Pacific Islands

Even the small and far flung Pacific Islands have not been able to evade the 'pandemic'. Fiji has confirmed five cases so far,[24] while the number in New Caledonia is seven.[25] French Polynesia and Papua New Guinea have also confirmed COVID-19 cases.

The first case in Fiji was confirmed on March 19 in Lautoka. In the light of pandemic, Fiji had earlier restricted entry to all travellers from mainland China, Italy, Iran, Spain and South Korea and later extended to the United States and Europe, including the United Kingdom. Further, the government announced shutting all passenger travels at the Nadi Airport from 26 March. In addition, the government has announced restrictions on public gathering and guidelines have been issued for self-isolation and quarantine similar to other countries. Prime Minister Frank Bainimarama said that new travel restrictions are the strongest and widest-reaching in Fijian history.[26] Fiji Airways has suspended 95% of international flights, in response to COVID-19 until the end of May.

Federated States of Micronesia has prohibited entry to any person who has been in any country with a COVID-19 case in the past two weeks-which is nearly half the world. Marshall Islands has closed all air travel in the country for two-weeks. Both Vanuatu and Cook Islands have turned back cruise ships-a critical source of income for the countries.[27] Tonga has also announced a week long lockdown as a preemptive measure. Samoa currently has no confirmed COVID-19 cases; however a state of emergency is now in place across the country. The World Bank has delivered US$5.1 million in immediate funding to support Samoa's efforts to prepare and manage its response to COVID-19.[28] World Health Organisation (WHO) has also emphasized that it is working with Pacific Island health officials in "pulling in resources with different areas of expertise, in order to provide timely support". A six-month 'Pacific Action Plan for 2019 Novel Coronavirus Preparedness and Response' is being implemented in coordination with the WHO.[29]

Countries in the Pacific are scaling up efforts to ensure that they are ready to respond to the challenge of the pandemic. Since most of these islands do not have testing capacity onshore, they have introduced extensive restriction on international travellers and focused on isolating its population. Fiji, recently, opened its first facility capable of testing for the virus, one of only four such facilities in the region.[30] These small island states neither have the economic nor medical capacities to deal with the outbreak of this nature. Precaution is the only way for them.

Therefore, as the world continues to grapple with challenge of COVID-19, it remains to be seen how long it will take for the crisis to be under control. The social and economic consequences of the crisis will be better evaluated in the long term. Countries in Oceania are focusing to dedicate all their efforts to make sure that the outbreak does not become as deadly as it has been in some of the European countries. The coming few weeks are crucial in the fight against the pandemic.
*****

*Dr. Pragya Pandey, Research Fellow, Indian Council of World Affairs.
Disclaimer: The views expressed are that of the Researcher and not of the Council.


[1]New and cumulative COVID-19 cases in Australia by notification date,https://www.health.gov.au/resources/publications/new-and-cumulative-covid-19-cases-in-australia-by-notification-date
[2]Coronavirus (COVID-19) current situation and case numbers, https://www.health.gov.au/news/health-alerts/novel-coronavirus-2019-ncov-health-alert/coronavirus-covid-19-current-situation-and-case-numbers
[3] Media Release, Prime Minister of Australia, 30 March 2020,  https://www.pm.gov.au/media/statement-update-coronavirus-measures
[4]Media Release, Prime Minister of Australia,  25 Mar 2020, https://www.pm.gov.au/media/national-covid-19-coordination-commission
[5] Coronavirus (COVID-19) – information for Australian travelers, https://www.smartraveller.gov.au/COVID-19-australian-travellers
[6]https://twitter.com/MarisePayne?ref_src=twsrc%5Egoogle%7Ctwcamp%5Eserp%7Ctwgr%5Eauthor
[7] Four cruise ships given special permission to dock in Australia despite 30-day coronavirus ban, 21 March 2020,
https://www.abc.net.au/news/2020-03-21/coronavirus-four-cruise-ships-dock-australia-national-ban/12077824
[8] Interstate coronavirus cases from Ruby Princess jump as more than 100 outside NSW test positive, https://www.theguardian.com/world/2020/mar/28/interstate-coronavirus-cases-from-ruby-princess-jump-as-32-queenslanders-test-positive
[9] Reuters, March 27, 2020 https://www.reuters.com/article/us-health-coronavirus-australia-curbs/australia-introduces-enforced-quarantine-for-returning-citizens-idUSKBN21E0CB
[10] WA travel restrictions come into place from midnight Tuesday, Friday, 27 March 2020, https://www.mediastatements.wa.gov.au/Pages/McGowan/2020/03/WA-travel-restrictions-come-into-place-from-midnight-Tuesday.aspx
[11] Reuters, 27 March, https://www.reuters.com/article/health-coronavirus-myer-closure/update-2-australias-myer-to-close-stores-temporarily-shed-10000-employees-idUSL4N2BK2RY
[12] COVID-19 in Australia: we are not Italy, Iran or Spain
 https://www.health.gov.au/news/covid-19-in-australia-we-are-not-italy-iran-or-spain
[13] Coronavirus hit almost half of Australian businesses even before social distancing, ABS reveals, https://www.abc.net.au/news/2020-03-26/coronavirus-economic-impact-in-australia-abs/12092488
[14] I.bid
[15]Supporting Australian workers and business, Joint media release , https://ministers.treasury.gov.au/ministers/josh-frydenberg-2018/media-releases/supporting-australian-workers-and-business
[16] Twitter:https://twitter.com/MarisePayne/status/1244078842714546176
[17] Media Release, 30 MARCH, https://www.pm.gov.au/media/130-billion-jobkeeper-payment-keep-australians-job
[18] Ministry of Health, New Zealand, https://www.health.govt.nz/our-work/diseases-and-conditions/covid-19-novel-coronavirus
[19] COVID-19 Alert System, New Zealand Government, https://covid19.govt.nz/government-actions/covid-19-alert-system/#new-zealand-covid-19-alert-levels
[20]State of National Emergency declared to fight COVID-19, 25 MARCH 2020,  https://www.beehive.govt.nz/release/state-national-emergency-declared-fight-covid-19
[21] Coronavirus: as New Zealand lockdown begins, fears rise for abuse victims and the homeless
https://www.scmp.com/week-asia/health-environment/article/3077043/new-zealand-begins-coronavirus-lockdown-concerns-mount
[22] Ibid no. 15
[23] COVID-19 Economic Response Package, 17 March, https://www.beehive.govt.nz/feature/covid-19-economic-response-package
[24]Fiji Confirms Fifth Case of COVID-19,  http://www.health.gov.fj/fiji-confirms-fifth-case-of-covid19/
[25]Covid-19: New Caledonia cases rise to seven, https://www.rnz.co.nz/international/pacific-news/412432/covid-19-new-caledonia-cases-rise-to-seven
[26] Fiji restricts travel from US, UK and Europe, https://www.rnz.co.nz/international/pacific-news/412143/fiji-restricts-travel-from-us-uk-and-europe
[27] ALEXANDRE DAYANT  and JONATHAN PRYKE, Anticipating Covid‑19 in the Pacific, https://www.lowyinstitute.org/the-interpreter/anticipating-covid-19-pacific
[28] World Bank, Press Release, March 27, https://www.worldbank.org/en/news/press-release/2020/03/27/world-bank-provides-us5-1m-for-samoa-covid-19-response
[29] Pacific steps up preparedness against COVID-19, https://www.who.int/nauru/news/detail/21-02-2020-pacific-steps-up-preparedness-against-covid-19
[30] Pacific nations employ island fortress tactics to combat coronavirus spread, March 13,
https://www.reuters.com/article/us-health-coronavirus-pacific/pacific-nations-employ-island-fortress-tactics-to-combat-coronavirus-spread-idUSKBN21002U