Pakistan's tally of COVID-19 confirmed cases have crossed the eleven thousand mark[1] but the confusion surrounding the fight against coronavirus continues. The prime source of this confusion is the ambiguous and lacklustre response by the federal government.All the four provinces—Balochistan, Khyber Pakhtunkhwa,Punjab and Sindh—have struggled to contain the spread of the contagionas have the federal capital Islamabad and Pakistan Occupied Jammu & Kashmir (POJK). As of now, Punjab has the highest number of cases (4,767), followed by Sindh (3,671), Khyber Pakhtunkhwa (1,541), Balochistan (607), POJK[2] (355), and Islamabad (214). The overall death count stands at 237, whereas the number of those stated to have recovered is 2,527.[3] The provinces wise[4]  doubling rate varies from 23 to 7 days. Occupied Gilgit-Baltistan has the lowest doubling rate with  cases increasing from 148 on March 30, to 300 on April 23, 2020.[5] Khyber Pakhtunkhwa took 11 days to reach to 1,541 on April 23, from 744 on April 11, 2020.[6] In the federal capital Islamabad, cases have gone up from 107 on April 9, to 214 on April 23, 2020. Punjab has slightly higher doubling rate from Islamabad as it took 12 days to almost double its tally from 2,336 on April 10, to 4,767 on April 23, 2020.[7] Sindh has so far the highest doubling rate as it took little over 7 days to increase its tally from 1,668 on April 15 to 3,671 on April 23, 2020.[8]

In terms of number of cases and death rates, South Asia appears to be doing better than Europe, United States and other parts of the world. Some unsubstantiated reports list a range of factors from better immunity to the compulsory vaccination of Bacillus Calmette-Guerin (BCG).[9]Some studies have also been commenced to find out if that is the case. Dr Denise Faustman, the Director of Immunobiology at Massachusetts General Hospital and Associate Professor of medicine at Harvard Medical School is of the view that the BCG vaccine might help people build immune responses to thing other than TB, causing "off-target effects."[10]

However, some others analysts suggest that this could also be the result of low-level of testing in these countries.The epidemic spread in Pakistan can be contextualised against the situation in India for the purposes of understanding the situation more clearly. On an average, cases in Pakistan are doubling every ten days which appears to be relatively better than is the case in India where cases double every nine days. However,this could also be the result of relatively lower levels of testing.As of April 23, 2020, the total number of tests, including multiple tests of many patients, conducted in the country were 131,365 out of which 11,155turned out to be positive.[11] Till April 24, 2020, India tested, including multiple tests of many patients, at least 525,667 out of which 23,259 turned out to be positive.[12] In other words, in Pakistan every 100 tests results in 8.491 positive cases, whereas in India the average is 4.424. The difference is significant if one considers the overall population of the two countries.Some analysts believe that the official number of cases are only a fraction of actual cases. They attribute multiple reasons to this which inter alia includes unwillingness of people to come forward for testing due to stigma or fear of being quarantined, low-levels of testing, deliberate under-reporting, and efficacy and accuracy of tests being done.[13]Prof. Ata-Ur-Rahman, Chairman of Coronavirus Task Force constituted by Ministry of Science & Technology, says that Pakistan has the capacity to conduct 20,000 tests per day, however, at present only 7,000 tests are conducted per day.[14]In his opinion, Pakistan should be conducting 50,000 to 100,000 tests per day to be able to understand the magnitude of the spread in the country.[15]

There is also some controversy over the reliability of data in Pakistan. On March 16, 2020 Prime Minister Imran Khan himself stated that decisionmakers needed accurate data for tackling the coronavirus situation and ordered for compilation of accurate data about COVID-19 patients and the number of deaths.[16] He was particularly concerned about some media reports suggesting hundreds dying in one hospital alone and Edhi Welfare Trust receiving over 300 dead bodies in the last 15 days.[17]

Initial TepidResponse

Given the geographical proximity with China, from where the outbreak started, and Iran, which saw an exponential increase in the number of cases, Pakistan should havetaken timely measures. More than a month before the first case was detected, Pakistan's National Institute of Health (NIH) had issued an unambiguous advisory about the upcoming crisis and also recommended enhanced surveillance and vigilance to deal with the situation.[18]The federal government showed no real urgency inacknowledging the gravity of the situation given Pakistan's vulnerabilities and risks of importing the infection from China or Iran.

Misplaced Priorities

Islamabad prioritised its strategic relations with Beijing over the safety and security of its citizens at home and those stranded in various cities of China. For example, when many countries were making arrangements to evacuate their citizens stranded in China, Pakistan consciously decided against any such move. Zafar Mirza, Special Assistant to Prime Minister on health, stated "We believe that right now, it is in the interest of our loved ones in China. It is in the larger interest of the region, world, country that we don't evacuate them now…We stand by China in full solidarity."[19] Hundreds of students,  stranded in the city of Wuhan, felt that in order to save China from any embarrassment, Pakistan arrived at the decision of not evacuating them.[20] Some of the students even wondered whether they were pawns in a larger geopolitical game.[21]

To show solidarity with its all-weather-friend, President ArifAlvi accepted a Chinese invitation and embarked on a two-day visit to Beijing on March 16, 2020. This was the time when coronavirus was spreading and there were  about 167,515 global confirmed cases out of which 81,077 were in China alone.[22] In South Asia, India was leading with 114 confirmed cases followed by Pakistan (52), Sri Lanka (19), Afghanistan (16), Maldives (13), Bangladesh (5), Nepal (1), and Bhutan (1).[23]At such a sensitive time, President ArifAlvi led a high-level delegation to China, which also included Foreign Minister Shah Mahmood Qureshi and Minister for Planning and Development and Special Initiatives Asad Umar.[24] The top leadership did not hesitate to shake hands, a practice which was being discouraged globally due to the COVID-19 outbreak, in full public glare. This was also in complete disregard to the WHO guidelines which required people to maintain social-distancing.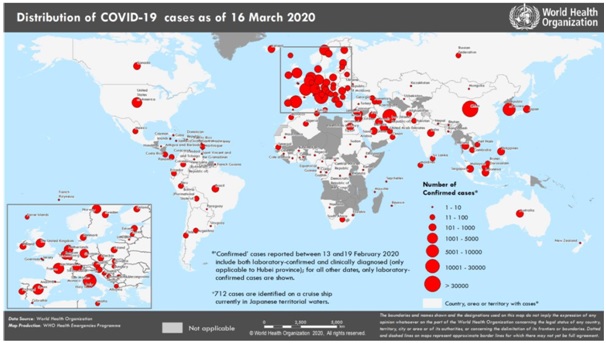 Source: World Health Organisation
According to the joint statement, Pakistani President's visit was primarily aimed to show solidarity with China. The statement  mentioned that "Given the depth and breadth of Pakistan-China ties and the finest traditions of both countries to always stand by each other particularly in challenging times, President ArifAlvi's first visit to Beijing was a singular expression of Pakistan's solidarity with its 'iron brother'."[25]The joint statement also mentioned that the two countries reaffirmed their support on issues concerning each other's core national interests. The Pakistani side also raised the Kashmir issue and briefed the Chinese side on its concerns and position on the developing situation in India's Jammu & Kashmir.[26] This shows how misplaced Pakistan's priorities are at the time of a public health emergency at home.

Cracks in"National Consensus"

Unlike many other countries, there seems to be no national consensus over the issue in Pakistan. Various stakeholders and powerbrokers including the religious right have radically divergent views and the federal and provincial governments have failed in convincing people to avoid large gatherings in religious congregations. Friday prayers in almost all the mosques continued upto a late stage without any restrictions. At a time when other Muslim countries were taking strong measures to enforce social distancing, institutions in Pakistan failed to act on time. Many were surprised by the way Saudi Arabia handled the situation after the detection of the first COVID-19 case on March 2, 2020. In the next two days, its government had  suspended the Umrah[27]and subsequently asked Muslims of the world to wait before finalising their Hajj plans.[28]In contrast, despite a clear advice by the government, on March 11, 2020 about one hundred and fifty thousand people gathered at Raiwind TableeghMarkaj in Raiwind for five-day TableeghIjtima.[29]

The clerical establishment did not pay heed to the advice being given  and went ahead with the event which contributed in the increase of COVID-19 cases in the country.[30]Most of the participants came from various parts of Pakistan, whereas some also arrived from other countries.[31]Later many Tableegh-i-Jamaat preachers were found to be infected with coronavirus. Instead of strictly enforcing laws, thegovernment took the easier way out of looking away. As the clerics in the country were not ready to listen to their own government, Pakistan's President had to approach Egypt's Al-Azhar and Supreme Council to issue a fatwa in this regard. On March 25, 2020 Al-Azhar issued a fatwa which emphasised that public gatherings, including congregational prayers at mosques might lead to increase in the coronavirus cases and thus governments in the Muslim countries have full jurisdiction to cancel any such events.[32]Why did Pakistan have to rely on Al-Azhar's fatwa to convince its people not to visit mosques for Friday prayer?  The human rights campaignerI. A. Rehman in his Dawn column "A season of regrets," argued that:


We are paying for the idea of dual sovereignty planted in the minds of the faithful by the Objectives Resolution…According to this resolution…sovereignty belongs to Allah and He has delegated it to the people to be exercised within the limits prescribed by Him….Ask any Muslim citizen about his duty in the event of a conflict between Allah's command and a state law or directive and everybody knows the answer.[33]


The Fatwa, Clerics, Government, and Ramazan

The cumulative effect of the fatwa, issued by Al-Azhar,and government advisories as well as restrictions initially resulted in closure of most of the mosques for general public. However, many influential clerics still refused to fall in line. Some even encouraged people to attend the mosques for Friday prayers in greater number. For example, the prayer leader of the Jamia Mosque Qutbain Karachi stated that "The government and police are making statements to create a sense of fear. Nothing will happen. Karachi is a city of 20 million, the government cannot implement its decision in every nook and cranny."[34]As Ramazan drew closer, clerics started pressurising the government to not stop people from attending mosques. It is also important to note that it is in the month of Ramazan many extremist outfits also collect charities on various pretexts including fighting for the rights of their Kashmir brethren. There might have been pressures from this quarter as well. The government finally caved in and on April 18, President ArifAlvi met prominent ulema and religious leaders to work out a plan allowing congregational prayers and Taraweehduring Ramazan.[35] Later a 20-point action plan was agreed upon which allowed congregational prayers and Taraweeh while adhering to precautionary measures to stop the spread of coronavirus.[36]

Many in civil society questioned this decision of the government and the Pakistan Medical Association (PMA) asked the Prime Minister to revisit his decision.[37]Instead Imran Khan bizarrely defended the move by saying that Pakistan is an independent nation and people could not be stopped from visiting worship places.[38] He further added that:


I felt very bad when I saw police beating up people. Ramazan is a month of worship, people want to go to mosques. Do we forcefully tell them to not go to mosques? And if they go, will police put worshippers in jail? This does not happen in an independent society. In an independent society [we] make people come together. In an independent society, people use their independent minds and then decide what is better for the country and what is not.[39]


Lack of Political Unity

Efforts to formulate a national response have been limited although many opposition leaders have refrained from criticising the Prime Minister at this crucial juncture. The Pakistan Peoples Party (PPP) Chairman Bilawal Bhutto Zardaritook the initiative to call for a multiparty conference on COVID-19 to formulate a national strategy. The conference took place through video-link on March 24, 2020 in which about 15 leaders of National Assembly and Senate participated. Prime Minister Imran Khan also joined the meeting briefly but made unilateral interventions without really taking on board what others were trying to convey. This was therefore a lost opportunity to forge a national consensus.[40] The conference, reportedly, was marred by walkout by opposition leader in the National Assembly Shahbaz Sharif and Bilawal Bhutto Zardariprotesting against Prime Minister leaving the discussion mid-way.[41] While leaving the conference, Shahbaz Sharif said "Is this level of seriousness? The Prime Minister should have realised that it was supposed to be a consultative session…We wanted to sit down to debate on how we can save the country together."[42]

The Lockdown Debate

In hope to decrease the infection rate and buy precious time to speedup preparations, a number of countries in the world have resorted to lockdown. There is no uniformity in the imposition of lockdown, as the nature and intensity of it differ from country to country. In South Asia, India has the strictest lockdown in place. In Pakistan, lack of political unity came to the fore on the question of lockdown in the country to buy time for preparations to deal with the health crisis of this magnitude. Bilawal Bhutto Zardari was the first opposition leader to openly suggest for a national lockdown. On March 21, in a series of tweets, he categorically pitched for a nationwide lockdown. His tweets read:


Pakistan must move towards lockdown. Every hour, every day that we delay is going to make dealing with the pandemic more difficult. We're already late, should've done it earlier, need decisive action ASAP to mitigate this crisis now….No province can handle this alone. We need the full force of the federal government to facilitate a lockdown, increase tests and assistance for those in need. While we hope for the best we must prepare for the worst…At this rate our health system will be overwhelmed. We must learn from the experience of other countries. It's a question of when not if. Stay at home now until the government makes up its mind. Stay at home to protect yourselves & others.[43]


The multiparty conference, which took place to discuss the COVID-19 outbreak, too agreed that "quick and consensual action" was required to deal with the massive challenge.[44] However, from the start Prime Minister Imran Khan, was reluctant to follow other countries in imposing a lockdown. At a time when the people at large were looking towards the federal leadership for timely action, Imran Khan appeared to be side-lining the question.His first address to the nation on March 22, 2020 was full of rhetoric but no substance. He stuck to his popular phrase AapneGhabranaNahi Hai(You need not be perturbed) but did not provide a roadmap to fight the contagion. He also downplayed the severity of the disease and its spread in the country.

As Prime Minister refused to take the lead and ruled out the imposition of a national lockdown, Murad Ali Shah, Chief Minister of the Sindh province, took it upon himself to deal with the pandemic in his province. He ordered the closing of schools, imposed severe restrictions on people's movement, regulated public spaces, commercial as well as industrial activities, and shut airports within its jurisdiction.[45] This was followed by other provinces and the Centre[46] but in varying degrees due to which one witnessed "Lockdowns and not the lockdown" in the whole of the country. Although, the lockdowns came into force in the last week of March, Prime Minister Imran Khan did not change his views. Instead of supporting the provinces in enforcing the lockdown, Prime Minister went on to justify his position of not imposing a lockdown and in a way criticised those who favoured the severe restriction in place. On April 9, the government also took a decision to re-open low-risk industries so that the essential supplies could be ensured.[47]The government maintained that economic and social impact of the COVID-19 outbreak was a greater crisis than the pandemic itself.[48]

Many believe that any relaxation may prove counterproductive and reopening certain industries to save the economy would be disastrous. As cases continued to spiral, the opposition members of the special parliamentary committee on COVID-19 asked the government to impose stricter and a uniform lockdown across the country.[49] However, the government came up with a fresh proposition—"the Smart Lockdown." The smart lockdown, explained Moeed Yusuf, Prime Minister's Special Assistant on National Security, would be imposed only in those areas where cases are reported and other areas should remain open.[50]

Reacting to this new strategy, the English daily The Dawn in its editorial on April 21, 2020 wrote that in the absence well-established patterns of coronavirus spread, provinces should not jump the gun.[51] Mohsin Raza Malik in his column The Pandemic and Politics argued that "We couldn't respond to this challenge as one nation. While the medics, law-enforcers and military personnel are fighting on the frontline against the contagion in Pakistan, our politicos have just chosen to play politics with the coronavirus issue to serve their narrow political ends."[52]

Conclusion

Unlike in Europe and the United States, the COVID-19 infection rate in Pakistan appears so far to be moderate- common with thetrend in some other south Asian countries also.  The national average of doubling rate of the infection too is not alarming, in a comparative sense,with provincial average ranging from 23 to 7 days. However, in the absence of a national consensus and implementation strategy, Pakistan's fight against coronavirus is severely challenged.At a time when social gatherings are being avoided throughout the world and Saudi Arabia has suspended Umrah and Hajj, Prime Minister Imran Khan, under pressure from the clerical establishment of the country, has allowed mosques to remain openduring the holy month of Ramazan. Although, members of civil society and doctors' associations have criticised the government's decision, the opposition parties have maintained a studied silence over the issue. Questions are also being raised over Prime Minister Imran Khan's indecisive seemingly trapped in the dilemma of lives versus livelihood.  due to which there are varying degrees of provinces-led lockdowns in the country. The opposition and sections in civil society are in favour of a complete and unified lockdown in the country, whereas Imran Khan remains non-committal.Of late, the federal government has come up with a new "Smart-Lockdown"strategy under which highly sensitive areas would be placed under strict restrictions. Will there be any takers of this strategy at home? Or it will further add to the prevailing confusion? The point also is that the month of Ramazan, when activity slows down naturally, was a real opportunity for Pakistan to flatten the curve and ramp up preventive measures. Indecisiveness and lack of strategic clarity may lead to this opportunity being missed. 
***** 
*Dr. Ashish Shukla, Research Fellow, Indian Council of World Affairs.
Disclaimer: The views expressed are that of the Researcher and not of the Council.

Endnotes/References
[1]Government of Pakistan (2020), Official Portal for COVID-19, April 24, 2020, retrieved from http://covid.gov.pk/stats/pakistan
[2] Pakistan officially refers POJK as Gilgit-Baltistan (GB) and Azad Jammu & Kashmir (AJK). 
[3] Government of Pakistan (2020), Official Portal for COVID-19, April 24, 2020, retrieved from http://covid.gov.pk/stats/pakistan 
[4] For the purpose of comparison with other provinces, occupied Gilgit-Baltistan is treated as a province.
[5]Government of Pakistan (2020), Official Portal for COVID-19, April 24, 2020, retrieved from http://covid.gov.pk/stats/pakistan
[6] Ibid.
[7] Ibid.
[8] Ibid.
[9]Bacillus Calmette-Guerin (BCG) vaccination is done in developing countries to prevent Tuberculosis and Leprosy.
[10] Yu, Gina (2020), "How a 100-year-old vaccine for tuberculosis could help fight the novel coronavirus," CNN, Aprill 10, 2020, retrieved from https://edition.cnn.com/2020/04/09/health/tuberculosis-bcg-vaccine-coronavirus/index.html
[11]Ibid.
[12] Covid-19 Tracker India, April 24, 2020, retrieved from https://www.covid19india.org/
[13] Ahmed, Shahzeb (2020), "'It's the math, stupid': Why we may be reading the Covid-19 numbers all wrong," The Dawn, April, 14, 2020.
[14] Rahman, Ata-Ur (2020), "Task Force Efforts," The News, April 22, 2020.
[15] Ibid.
[16] Raza, Syed Irfan (2020), "Imran emphasises need for reliable data to tackle Covid-19," The Dawn, April 17, 2020.
[17] Ibid.
[18] NIH (2020), "Advisory on Pneumonia outbreak due to novel coronavirus, in Wuhan City, Hubei Province, China," No: F.1-22/Advisory/FEDSD/2020, Islamabad: National Institute of Health. 
[19] Siddiqui, Naveed (2020), "Evacuation of Pakistanis in China against larger interest of country, says Dr Zafar Mirza," The Dawn, January 30, 2020. 
[20] Hadid, Diaa (2020), "Pakistani Students in Wuhan Say Pakistan Won't Evacuate Them For Political Reasons," National Public Radio, February 16, 2020, retrieved from https://www.npr.org/2020/02/16/806417296/pakistani-students-in-wuhan-say-pakistan-wont-evacuate-them-for-political-reason 
[21] Abi-Habib, Maria (2020), "As Foreigners Flee China, Pakistan Tells Its Citizens to Stay," New York Times, February 11, 2020. 
[22] WHO (2020), Coronavirus disease 2019 (COVID-19) Situation Report-56," Geneva: World Health Organisation.
[23] Ibid.
[24] The News (2020), "President ArifAlvi arrives in Beijing on two-day visit to China," March 17, 2020. 
[25] Government of Pakistan (2020), Joint Statement: Deepening Comprehensive Strategic Cooperation between the Islamic Republic of Pakistan and the People's Republic of China, March 17, 2020. 
[26] Ibid. 
[27] France 24 (2020), "Saudi Arabia suspends Umrah pilgrimage due to coronavirus fears," March 4, 2020, retrieved from https://www.france24.com/en/20200304-saudi-arabia-suspends-umrah-pilgrimage-due-to-coronavirus-fears 
[28]Al Jazeera (2020), "Saudi tells Muslims to wait on Hajj plans amid coronavirus crisis," April 1, 2020, retrieved from https://www.aljazeera.com/news/2020/03/saudi-tells-muslims-wait-hajj-plans-coronavirus-crisis-200331174534584.html 
[29] Rehman, Zia-ur, Maria Abi-Habib et.al. (2020), "'God Will Protect Us': Coronavirus Spreads Through an Already Struggling Pakistan," New York Times, March 26, 2020. 
[30] Ibid. 
[31]The Dawn (2020), "Raiwind moot goes ahead despite coronavirus fears," March 12, 2020. 
[32]The Dawn (2020), "Egypt's Al-Azhar issues fatwa permitting Juma prayers' suspension in Pakistan," March 26, 2020. 
[33] Rehman, I. A. (2020), "A season of regrets," The Dawn, April 16, 2020. 
[34]The Express Tribune (2020), "Mosques remain open in Pakistan as coronavirus case rise to nearly 2,500," April 3, 2020.
[35] Hussain, Javed (2020), "President Alvi outlines plan agreed with ulema on congregational prayers during Ramazan," The Dawn, April 18, 2020.
[36] Ibid.
[37] Malik, Amer (2020), "Congregational prayers in mosques may spread virus," The News, April 23, 2020.
[38]The Nation (2020), "Can't stop people from visiting mosques: PM," April 22, 2020.
[39]The Dawn (2020), "'We are an independent nation': PM Imran responds to questions over keeping mosques open," April 21, 2020.
[40] Rehman, Sherry (2020), "Parliament and the Pandemic," The Express Tribune, April 6, 2020. 
[41] Yasin, Asim and Muhammad Anis (2020), "PM Imran Khan calls for holistic approach to fight corona," The News, March 26, 2020.
[42] Ibid.
[43] Retrieved from https://twitter.com/BBhuttoZardari/status/1241379724586356738, April 20,  2020. 
[44] Tahir, Zulqernain and Imran Ayub (2020), "MPC wasn't national action plan against Covid-19," The Dawn, March 25, 2020. 
[45]Suleri, Abid Qaiyum (2020), "Strengthening federating units," The News, April 5, 2020. 
[46] Ibid. 
[47] Ahmed, Waqas (2020), "Govt to reopen low-risk industries across the country," The Express Tribune, April 10, 2020. 
[48] Ibid. 
[49] Wasim, Amir (2020), "Opposition calls for stricter, more uniform lockdown," The Dawn, April 21, 2020. 
[50]Junaidi, Ikran (2020), "Centre calls for 'smart lockdown'," The Dawn, April 20, 2020.
[51]The Dawn (2020), "Smart Strategy?," April 21, 2020.
[52] Malik, Mohsin Raza (2020), "The pandemic and politics," The Nation, April 6, 2020.