After three weeks of contemplation, on April 7, 2020, Prime Minister Shinzo Abe declared a 'state of emergency' for a month in seven prefectures including the national capital Tokyo as a measure to revamp Japan's fight against the COVID-19 pandemic. The announcement came in the context of a rapid increase in infection since the first week of April. On declaring the emergency Abe called the COVID -19 as the 'the biggest crisis since World War II'.[i] On April 16, the government further expanded the state of emergency to the whole nation.

Emerging COVID-19 situation in Japan busted the myth that the country is an exception, or there is an easy way out from the wrath of the global pandemic. Many thought of Japan as an outlier, after it managed to keep a low rate of virus infection for the last two months without taking any hard measures.[ii] However, the recent spike in cases brought the Japanese approach and its leadership under severe criticism for being slow and not taking the epidemic seriously. With the declaration of the state of the emergency, the Japanese government has reinvigorated its response. Though it is too early to evaluate the new approach, questions are being asked about the timing and the limited authority that the emergency law has in enforcing social distancing.

COVID-19 Situation in Japan: From an Outlier to a Hotspot?

Despite being the first country to report the COVID-19 outside China as early as January 16, the virus infection in Japan remained very low until mid-March. Japan reported under 1000 cases during this phase. Many of the cases were linked to the cruise ship Diamond Princess docked outside the port of Yokohoma.[iii]  From late March, Japan witnessed a sudden increase in new infections, peaking on April 11 with new 750 cases. Numbers have doubled in a week after the declaration of the emergency. As on April 26, Japan has reported about 13200 confirmed cases of COVID-19 and 317 deaths.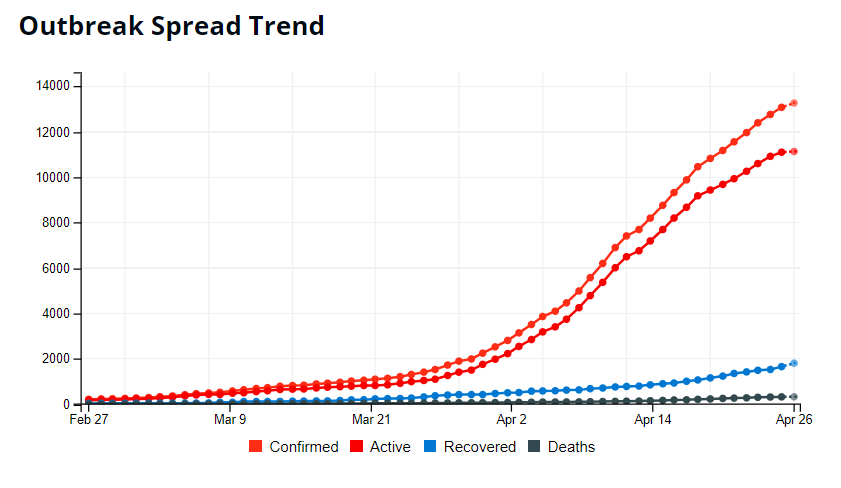 Source: https://covid19japan.com/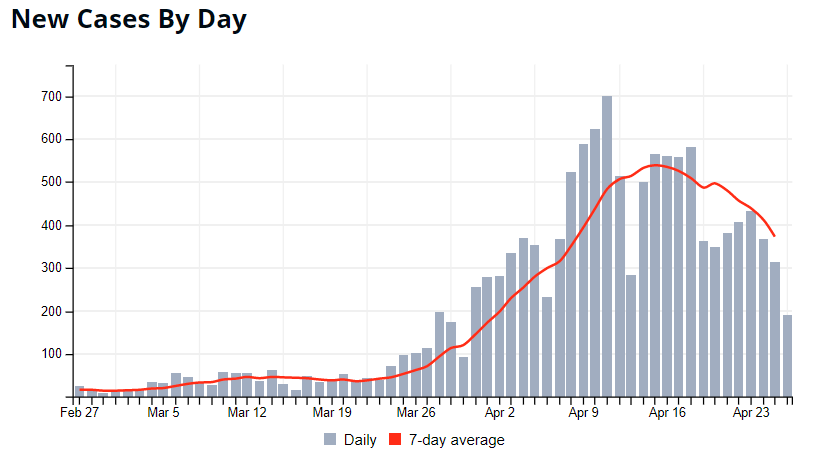 Source: https://covid19japan.com/
The situation in Japan is not as grave compared to what is happening in the United States (US) and Europe; however, the emerging trend is alarming. Three-fourth of the total cases were added in the last two weeks. Moreover, one-fourth of the total cases are being reported from Tokyo, a city with a population of 14 million. Osaka, the second-most populous city in Japan, is another centre of the virus outbreak. What is more concerning about the emerging situation is the increase in the number of cases whose source is untraceable. Given that source and contact tracing is a crucial strategy in containing the virus infection, experts are increasingly concerned about the possibility of a large scale community outbreak.[iv]

Japan's Approach: Until the Emergency Declaration

The emerging situation suggests that the measures that Japan adopted over the last two months were not enough in containing the virus outbreak. Following its initial response of restricting the entry of international passengers from the Chinese province of Hubei, Japan's strategy until recently has focussed on identifying and containing clusters, selective testing, and treating severe cases.[v] In the last week of February, the Japanese government requested the shutting down of schools and encouraged people to practise social distancing, but such measures were voluntary. Until the first week of April, economic, business and social activities in Japan remained normal.

Japan's handling of the COVID-19 cases of the cruise ship Diamond Princess, highlighted how ill-prepared the country was in recognising the seriousness and responding to the pandemic from the very beginning.[vi] Delayed respose and inappropriate quarantine measures have been cited as reasons for the spread for the spread of the virus both in the ship and to Japanese soil.[vii] Apart from having no dedicated institution to respond to an epidemic outbreak[viii], perhaps the leadership's insistence to 'remain cool and everything is okay' attitude in a context where the country was scheduled to host the Olympics later this year also contributed in playing down the seriousness of the pandemic in the initial stage.[ix]

The Japanese approach to contain the COVID-19, adopted a minimal test regime employing strict criteria, contrary to the World Health Organization (WHO) recommendation of extensive testing.[x] Japan tested only those people who had sustained COVID-19 symptoms for more than four days combined with the history of foreign travel or contact with a COVID-19 patient. The approach means that the priority was not to identify the spread of the infection but to focus on treating patients who need medical attention and tracing clusters of infection.  As on March 31, Japan conducted 32,497 tests, much below its capacity. Japan's 300 test per million people is no way comparable to its neighbour Korea, which conducted 8000 test per million people.[xi]  Japan's approach for not conducting tests is being widely criticised. Critics argue that the actual cases of infection in Japan could be much more than what is reported if it were to test more.[xii]

In the context of rising cases, the Japanese government has come under severe pressure and had to change its response, which many have criticised to be slow and soft.[xiii] For instance, the administration though had legal measures at its disposal to declare a state of medical emergency since mid-March; hesitated to make the bold move because of its impact on the economy.[xiv] Prime Minister Abe said in late March that Japan "does not need to declare a state of emergency", [xv] despite repeated warning from Japan Medical Association that the medical system was in a "state of crisis."[xvi] In a recent survey, 80.4 per cent of respondents from across Japan said that the decision came too late. The public approval rating of the government fell 5.1 percentage points to 40.4 per cent.[xvii] Some of the other measures of Abe to distribute two-cloth mask to each Japanese household has also received much criticism to the extent of public ridicule.[xviii]

Emergency declaration: What does it mean on the ground?

The emergency declaration put the prefectural governors in charge of leading the fight against the epidemic who have the authority to take measures that they see deem to contain the outbreak. These measures include urging citizens to stay home, avoiding non-essential travel and shutting down businesses and economic activities. Such requests, however, are not legally binding, meaning that the government cannot take any legal action for non-compliance.

However, the governors have the power to secure adequate supplies of medicines and other necessary goods and to punish uncooperative businesses involved in the supply of such items. The governors also can expropriate private infrastructure even without the consent of the owner to use them as temporary medical facility. Under the circumstances, prefectures have come up with various measures, including requesting a range of businesses to shut down during the emergency period in exchange for compensation packages, people to avoid unnecessary travel and work from home.

The limited legal authority under the emergency provision is the legacy of the post-War Japanese constitution. As a country that experienced severe incursions on individual rights under the pretext of national emergency before the Second World War, the current constitution of Japan has given an upper hand to the protection of individual rights and liberty over government authority. Given that there is no direct provision to declare emergency in the Japanese constitution, to prepare the constitutional/legal ground for declaring emergency in the wake of COVID-19 outbreak, the government had to revise the 'New Influenza Special Measures Act'- a law passed in 2012 in early March.

Having no legal authority to enforce lockdown, by emergency declaration, the government is sending out a powerful message to people to understand the urgency of the situation. It appears that emergency declaration so far has been effective to some extent, but nowhere near the intended goal of the government to reduce social interaction among people by 70 to 80 per cent.[xix] The latest google mobility reports suggest that since the declaration of the emergency, there has been a significant reduction of activities in sectors like retail, recreation, transportation and workplace.[xx] The extension of the emergency to the whole of the country is a means to deter the spread of virus taking account of the 'Golden Week Holiday' falling in late April and early May, which in normal times is an occasion for travel and shopping in Japan.

Along with the declaration of emergency, Prime Minister Abe also approved a record high economic stimulus package of one trillion USD -- equivalent to 20 per cent of the country's GDP – to ease the pressure on the economy. Abe has also unveiled a plan to direct cash transfer of 100,000 yen ($933) to all people regardless of their incomes.[xxi] Meanwhile, the government has also initiated lumpsum payments of up to 2 million yen (about $18,600) to support the small and medium industries, that are getting affected by the pandemic.
With increasing cases in Tokyo and Osaka, the prefectural governments have become proactive in Japan's fight against the epidemic. Tokyo governor, Yuriko Koike has been the most proactive leader by calling for the declaration of an emergency as early as mid-March. She has already warned the Tokyo population that a citywide lockdown may become "the only option left" if there is an increase in the virus infection.[xxii]

Conclusion

In a matter of two weeks, Japan, which appeared to have flattened the curve of the infection in March, has suddenly become the subject of discussion of becoming a COVID-19 hotspot. Prime Minister Abe and his administration are  widely criticised for being their tepid approach to the pandemic. Recent surveys suggest that  public sentiment is very critical.[xxiii] While cultural aspects like a strong emphasis on personal and public hygiene and social distancing, and good health care system, helped Japan in putting up a fight against the epidemic, institutional and leadership sluggishness have been evident.

Prime Minister Abe, who is now facing the most precarious crisis in his political career, will be reminded of what happened to his predecessor Naoto Kan, who was forced to resign taking responsibility of the government's slow response to the 2011 Fukushima disaster. Though the COVID-19 situation in Japan has not reached the level of the 2011 Fukushima, if not addressed swiftly and adequately, COVID-19 is a recipe for a far worse tragedy. Recognising this reality, Prime Minister Abe has refered to the situation as that of a "third world war"[xxiv], and taken extrodinary measures. While it is too early to evaluate the effectiveness of the extrodinary measures that are being taken, its fair to say that Tokyo's response to COVID-19 so far has not fared well to fit to the image of a 'resurgent Japan' that Prime Minister Abe has been working so hard for by hosting the Olympics. 
[i] "Emergency declared in Japan for Tokyo, Osaka and five other virus hot spots", Japan Times, April 7, 2020, https://www.japantimes.co.jp/news/2020/04/07/national/japan-coronavirus-emergency-declared/#.XpvXGcgzbIV, Accessed on April 15, 2020. 
[ii] "Why is Japan still a coronavirus outlier?", Japan Times, March 21, 2020, https://www.japantimes.co.jp/opinion/2020/03/21/commentary/japan-commentary/japan-still-coronavirus-outlier/#.XprTpMgzbIU, Accessed on April 15, 2020.
[iii] "Inside the cruise ship that became a coronavirus breeding ground", The Gaurdian, March 6, 2020, https://www.theguardian.com/global-development/2020/mar/06/inside-the-cruise-ship-that-became-a-coronavirus-breeding-ground-diamond-princess, Accessed on April 15, 2020. 
[iv] "Untraceable cases in Japan raise fear outbreak spiraling out of control", Japan Times, April 14, 2020, https://www.japantimes.co.jp/news/2020/04/14/national/untraceable-covid-19-cases/#.XpWn9MgzbIU, Accessed on April 15, 2020. 
[v] John, Jojin, "COVID-19 Situation in East Asia: A Comparative Perspective", April 3, 2020, /show_content.php?lang=1&level=3&ls_id=4678&lid=3518, Accessed on April 15, 2020. 
[vi] Pallavi Aiyar, "Japan's Diamond Princess fiasco", The Hindu, February 29, 2020, https://www.thehindu.com/news/international/japans-diamond-princess-fiasco/article30951825.ece, Accessed on April 15, 2020. 
[vii] "Top Japanese government adviser says Diamond Princess quarantine was flawed", CNN, February 27, 2020, https://edition.cnn.com/2020/02/27/asia/japan-diamond-princess-quarantine-crew-intl-hnk/index.html, Accessed on April 15, 2020. 
[viii] Japan do not have a specialized institute like Centre for Disease Control  (CDC) of the US or such institutions of other country. Institution handling epedemics in Japan is National Institute of Infectious Diseases (NIID). NIID lack autonmy and comes under the control of the Helath Ministry. The primary function of the NIID is  on "basic research" into infections, hence under equipped to contain any infectious outbreak. "Coronavirus outbreak highlights need for independent CDC-style body in Japan", Japan Times, February 24, 2020, https://www.japantimes.co.jp/news/2020/02/24/national/niid-cdc-japan/#.XprMXMgzbIU, Accessed on April 16, 2020. 
[ix] COVID-19: Tokyo will host Olympics, Paralympics as scheduled, says Japan PM, Business Standard, March 15, 2020, https://www.business-standard.com/article/sports/covid-19-tokyo-will-host-olympics-paralympics-as-scheduled-says-japan-pm-120031400893_1.html, Accessed on April 15, 2020. 
[x] "Coronavirus: Why Japan tested so few people", Nikkei Asia Review, March 19, 2020, https://asia.nikkei.com/Spotlight/Coronavirus/Coronavirus-Why-Japan-tested-so-few-people Accessed on March 30, 2020, Accessed on April 15, 2020. 
[xi] "To understand the global pandemic, we need global testing – the Our World in Data COVID-19 Testing dataset", https://ourworldindata.org/covid-testing#japan Accessed on April 18, 2020. 
[xii] "Coronavirus: Why Japan tested so few people", Nikkei Asia Review https://asia.nikkei.com/Spotlight/Coronavirus/Coronavirus-Why-Japan-tested-so-few-people, Accessed on April 14, 2020.
[xiii] Hayden Marks, "Japan's Limited Response to the COVID-19 Pandemic", Diplomat, March 25, 2020, https://thediplomat.com/2020/03/japans-limited-response-to-the-covid-19-pandemic/, Accessed on April 16, 2020. 
[xiv] William Sposato, "Japan Is Testing the Limits of Pandemic Economics", Foreign Policy, April 10, 2020, https://foreignpolicy.com/2020/04/10/coronavirus-stimulus-japan-is-testing-the-limits-of-pandemic-economics/, Accessed on April 16, 2020 
[xv] " Japan 'On The Brink' But Government Resists Declaring Coronavirus State Of Emergency", March 30, 2020 https://www.npr.org/sections/coronavirus-live-updates/2020/03/30/823800576/japan-on-the-brink-but-government-resists-declaring-coronavirus-state-of-emergen, Accessed on April 16, 2020. 
[xvi] "Abe faces calls for decisive action after 'Abenomask' blunder", Nikkei Asian Review, April 3, 2020, https://asia.nikkei.com/Spotlight/Coronavirus/Abe-faces-calls-for-decisive-action-after-Abenomask-blunder, Accessed on April 16, 2020. 
[xvii] "Japan virus cases have doubled since emergency declared, says health minister", Japan Times, April 14, 2020, https://www.japantimes.co.jp/news/2020/04/14/national/japan-covid-19-cases-doubled-under-emergency/#.XpilPsgzbIU, Accessed on April 17, 2020.
[xviii] "Cloth mask deliveries to begin Friday under controversial Abe initiative", Japan Today, April16, 2020, https://japantoday.com/category/national/cloth-mask-delivery-set-to-begin-under-controversial-abe-initiative, Accessed on April 17, 2020. 
[xix] "Japan urges 70% commuter cut in emergency zones and asks nation to avoid nightlife", Japan Times, April 12, 2020, https://www.japantimes.co.jp/news/2020/04/12/national/japanese-government-urges-70-commuter-cut-emergency-zones-extends-nightlife-restriction-request-nationwide/#.Xprh3MgzbIU, Accessed on April 17, 2020. 
[xx] "Mobility changes: Japan", April 11, 2020, https://www.gstatic.com/covid19/mobility/2020-04-11_JP_Mobility_Report_en.pdf, Accessed on April 17, 2020. 
[xxi] "Japan gov't to weigh 100,000 yen cash handout to all", The Mainichi, April 15, 2020, https://mainichi.jp/english/articles/20200415/p2g/00m/0na/082000c, Accessed on April 17, 2020. 
[xxii] "As virus cases surge, Tokyo governor says lockdown may be only way to stem rise", Japan Times, March 24, 2020, https://www.japantimes.co.jp/news/2020/03/24/national/tokyo-governor-urges-cooperation-avoid-city-lockdown/#.XplcycgzbIW, Accessed on April 17, 2020. 
[xxiii] "Abe's 'stay home' message has fueled anger", Mainich Shimbun, April 13, 2020. https://mainichi.jp/english/articles/20200413/p2g/00m/0na/069000c, Accessed on April 17, 2020. 
[xxiv] "The Third World War is not a nuclear war but the spread of viruses" Prime Minister Soichiro Tahara", Yomiyuri Shimbun, April 16, 2020, https://www.yomiuri.co.jp/politics/20200415-OYT1T50203, Accessed on April 17, 2020.