As the world continues to grapple with the COVID-19 pandemic, it's human, economic and social costs around the world have been massive. The challenge of major recession is looming over the international economy; no industry or the sector of the economy is left unaffected. The crisis seems to be causing havoc to the process of globalisation. The maritime domain, which is one of the root enablers of globalisation, being the medium through which 90% of world trade is transported, is facing significant repercussions. As border restrictions are getting tighter, countries impose varying measures to contain the spread of the virus and mitigate its impact, travel is being curtailed, ports are being closed and ship entries being restricted. In brief, the global shipping industry, the main artery of international supply chains, is currently navigating an uncharted course.

Impact on Maritime Industry: Disruption in Supply Chains, Ports and Logistics Infrastructure

As the virus engulfs the world, the outlook for the commercial shipping industry in 2020 continues to worsen. COVID-19 is likely to result in real global economic distress; the WTO estimates that world trade is expected to fall between 13% and 32% in 2020.[1] Maritime industry that has been key to global prosperity for decades, facilitating free and open trade and economic interdependence among nations, is at the forefront of the crisis. The ratings agency Moody's has changed its forecast of outlook for the shipping industry from stable to negative for the next 12-18 months.[2]

The United Nations Conference on Trade and Development (UNCTAD) Maritime Transport Estimate 2019, had already noted a decline in international maritime trade due to "rising trends of protectionism, geopolitics and sanctions, trade tension, tariff escalation between China and the United States and environmental concerns".[3] Maersk, the world's largest container ship and supply vessel operator, had also warned of a tough 2020, stating that industry was under pressure as the trade war and Brexit were dampening growth.[4] The pandemic on top of all this is likely to give a massive blow to the industry, a quick rebound from which will not be easy.

Entire maritime operations from shipyards to carriers of bulk commodities have been affected. Reduction in work force and fall in demands has pushed freight rates lower[5], additional restrictions by countries at the ports like ban on crew changes, is disrupting global supply chains. Goods in transit are being delayed, rerouted, or discharged short of their final destination due to containment measures. As different countries are in various stages of lockdowns, the issue of port congestion with cargo and containers lying unattended has surfaced. Offshore drilling in many countries have also been affected due to the crisis. Related industries like fisheries and seafood will also suffer consequences.

Amidst the prevailing crisis, it is critical for maritime trade that supply chains remain functional. Recognizing the challenge, the Secretary General of the International Maritime Organisation (IMO) Kitack Lim said, "in these difficult times, the ability for shipping services and seafarers to deliver vital goods, including medical supplies and foodstuffs, will be central to responding to and eventually overcoming this pandemic".[6]  He said that member states should realize that containing the virus is important but global trade must be able to continue. Similarly, UNCTAD also emphasised "it is crucial that world's ports are open for ship calls and the movement of crews with few obstacles".[7] IMO, UNTACD and International Maritime Health Association (IMHA) have issued guidelines and advisories, to ensure safety of mariners and staff working in port communities.

The industry is facing both a supply and a demand shock.[8] Supply has been hit as exports out of Chinese ports were heavily disrupted January 2020 onwards due to production shortage in the country. As the virus spread to other parts of world, radical fall in demand is hitting the shipping companies.  Overall, decline in trade is costing container shipping lines US $350 million a week in lost volumes.[9] Analysts at Alphaliner, a shipping consultancy, have said that capacity cuts have been announced on all major maritime routes in the world with more than 250 scheduled sailings cancelled as on April 8, 2020, inactive fleet reached 3m TEU (twenty-foot equivalent unit) mark.[10]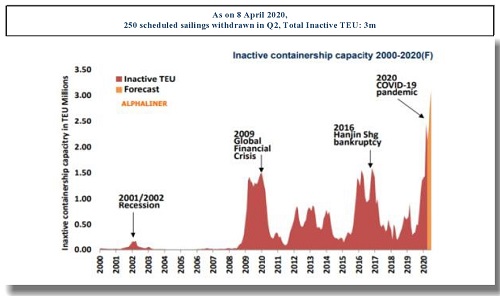 Source: Alphaliner, https://twitter.com/Alphaliner

The oil tanker segment of shipping has not suffered much yet, freight rates for large oil carriers have sustained. As the crude oil prices slumped to historic low, countries and traders intend to import large quantity of crude.  However, it will not be prolonged; downwards pressure will be felt in the  second quarter, as BIMCO's Chief Shipping Analyst, Peter Sand observed "the first quarter of 2020 has been one of the most profitable quarters in the past decade for crude oil tankers once the production cuts set in, the profitable journey is likely to grind to a halt".[11] As industrial demand for oil and gas declines substantially in relation to supply, floating storage at the sea is increasing, a large quantity of tankers is being stockpiled at offshore facilities. Any accidental spillage from the tankers could have catastrophic environmental consequences.

The pandemic will eventually, result in lower economic growth across the world and decrease in demands for movement of goods. China, from where the outbreak started, has one of the largest maritime industries, with some of the busiest ports in the world, accounting for an estimated 40% of business for container shipping companies.[12] This year, for the first time since 1970, China has reported negative growth in annual container volume.[13] Major ports in the country like Shanghai, Ningbo and Shenzhen, witnessed significant drop in activity. The Shanghai International Shipping Institute estimated that capacity utilisation of major ports fell between 20% and 50% towards the end of January, and a sharp increase in the use of port storage facilities was noted.[14] There were reports of Very Large Containership Vessels (VLCVs) leaving Chinese ports filled to just 10 percent of their capacity.[15]  Although, apart from ports in Hubei Province, all other Chinese ports have resumed operations since the end of February, but volumes have not fully recovered[16] and now as the virus has spread across the world, most of the ports are not operating at their full capacity.

One of the effects of the crisis has also been increasing emphasis in some countries for self-reliance and diversification in trade relations in the post-pandemic world, with the crisis showing the global dependence on China. As a more self-reliant economy is likely to be less impacted by such disruptions in the global value chain, countries will also be cautious of putting all their eggs in one basket by outsourcing production to only one country. China is a key player in dry bulk and containerised trade. In 2018 maritime imports from China were estimated at one fourth of maritime trade worldwide.[17] As the Chinese economy, suffers significant contraction, hit by COVID crisis from January 2020 onwards, it will have ripple-effect for rest of the world.

As the epicenter of the coronavirus, moved from China to Europe and to the United Sates, impact is being felt on transatlantic ports. New York based trade data company Panjiva, said "United States' overall seaborne imports fell 15% in the first two weeks of March, including a 44.9% decline in imports from China and a 6.5% slide in goods from Europe.[18] The Port of Seattle and Houston shut down some terminals temporarily in March; port of Los Angeles has also cut down on their operating hours.

The industry is also faced with a shortage of crew due to lockdowns and also that a large number of crew members are stranded on ships in different parts of the world. Nearly 40,000 Indian crews, serving on merchant and cruise ships, are stranded across the globe.[19] Port authorities and custom administration are working hard to facilitate cross-border movement of all forms of freight transport with reduced work force and additional containment measures. Although ports in Europe and the US are automated to a great extent and require limited manning but related sectors are at risk.

The shipbuilding and ship repair segments have been greatly affected. Shipbuilding facilities in China were affected as the epidemic started. In Singapore, two major shipyards Sembawang Shipyard and Keppel, which were kept open as essential services, felt the impact as several labourers tested positive, raising concerns about compromising safety of workers in these setups. SEA Europe, representing maritime civil and naval industries in Europe, warned that Europe risked losing its global leadership in complex shipbuilding and technologically advanced maritime equipment manufacturing, as the capital-intensive and export-oriented sector already confronted by growing competitiveness, trade protectionism, has been hit by the pandemic.[20]

Shipping industry stakeholders represented by the International Chamber of Shipping (ICS) called the United Nations (UN), IMO, UNCTAD, World Health Organization (WHO) and International Labor Organisation (ILO) for ensuring that all governments should continue to allow commercial ships access to ports worldwide and facilitate the movement and rapid changeover of ships' crew. Seafarers should be treated as other international 'key workers' and granted appropriate exemptions from any national travel restrictions.[21] In addition, national and regional groupings have also been responding to the crisis, issuing advisories and instructions from time to time.

The Ministry of Shipping, Government of India, issued instructions to all major and minor ports of the country on March 20, 2020, requiring any vessel before arrival at its first port of call in India, to submit the Maritime Declaration of Health to port authorities, on the health of each person onboard. Vessels arriving from any port in China have to be put in necessary quarantine period of 14 days.[22] The Indian Ports Association (IPA) under the aegis of the Ministry of Shipping, has taken steps to replace manual documentation by digitising some of trade related process through implementation of Port Community System (PCS), including e-payment, e-invoice and e-delivery order. [23] Indian port operators are also experiencing a drop in cargo volu­mes since February. The maritime industry, which is key to the country's export-import trade, is also seeking a seeking a relief package from the government to deal with the impending economic crisis and its impact on ports and logistics sectors.[24]

Impact on the Cruise Industry

The cruise lines like rest of the sectors of the industry, has suffered a major blow due to the pandemic. Many of the cruise-liners have suspended operations and cancelled bookings till the end of this year. Modern passenger ships have much larger number of people onboard than cargo ships, with consequentially higher health hazards. Closed spaces on the ships provide an ideal environment for the virus to spread.  Since the outbreak of the virus, instances of infections at cruise ships have surfaced, resulting in numerous countries banning their entry and showing reluctance to allow docking and disembarkment at their ports. This has happened in the case of the Ruby Princes docked in Sydney, Australia and the Diamond Princess quarantined in Yokohama, Japan, the Grand Princess which was docked in Oakland after idling for days off the California coastline. All these cruise ships added significant numbers in respective country's coronavirus infections. Australia, which has 1200 COVID cases related to cruise ships, announced a 30-day ban on all foreign cruise ships docking in Australia, from 15 March 2020 onwards. Many countries in Southeast Asia banned cruise ships from disembarking their passengers for fear of imported cases.[25] Therefore, cruise ships are facing difficulty in finding safe harbor, as each country can set conditions and screening procedures for entry into its ports. The European Commission in its guidelines pointed out that "cruise operators should take overall responsibility for arranging the repatriation of passengers and crews, including from non-EU ports."[26] The US Centers for Disease Control and Prevention (CDC) is warning people to avoid cruises in general.  The pandemic has therefore, badly affected cruise industry which may not be able to snap back soon given that restrictions on travel and movement of people are likely to remain for some time. Added to this is the fear created at psychological levels would be difficult to overcome.

Conclusion

The maritime industry have been playing a crucial role in sustaining the global economy, maintaining trade, creating jobs, connecting countries, businesses and people, on a level not possible otherwise. The industry is facing an unprecedented challenge due to COVID-19. It has resulted in a situation whereby merchant shipping is facing serious financial crunch and the cruise business has virtually shut down. Overall, medium and long term impact will be determined by global macro-economic trends which seem to appear very grim at this stage.

The pandemic will inflict structural damage on the international economy, the IMF has already warned of major recession following the current 'Great Lockdown'. Although precise impact of the COVID crisis is still unfolding, it has brought to the fore vulnerability of global supply chains and may lead to a tendency of economies turning inward; which will have consequential impact on shipping industry as well. Gita Gopinath, Chief Economist IMF, suggests that the crisis is likely to "hasten the reassessment of globalisation's costs and benefits".[27] With consumption rate falling and GDP contraction all over the world, in coming months the bulk carriers will continue to suffer from significant drop in rates and full capacity not being utilised. One of the aftereffects of the pandemic could also be likely operational changes in the shipping industry. The COVID crisis may act as a catalyst for digital and technological intervention in the industry, to make it more resilient to such shocks in future. The industry stakeholders would be willing to explore use of smart technologies like port digitisation, artificial intelligence, possible use of blockchain technology and Internet of Things (IoT), which have already being gaining traction in recent times, will become even more mainstream.
*****
*Dr. Pragya Pandey, Research Fellow, Indian Council of World Affairs.
Disclaimer: The views expressed are that of the Researcher and not of the Council.


[2] Moody's downgrades outlook for shipping to negative due to COVID-19 pandemic, https://www.thehindu.com/business/Industry/coronavirus-moodys-downgrades-outlook-for-shipping-to-negative-due-to-covid-19-pandemic/article31099164.ece
[3] Review of Maritime Transport 2019, https://unctad.org/en/PublicationsLibrary/rmt2019_en.pdf
[4] Maersk Sees Bleaker Industry Outlook Amid Global Trade Wars, November 15, 2019, https://www.bloomberg.com/news/articles/2019-11-15/maersk-sees-weaker-industry-growth-as-trade-wars-dent-outlook
[5]COVID-19: Impact on Global Shipping and China's Economy,  https://thediplomat.com/2020/03/covid-19-impact-on-global-shipping-and-chinas-economy/
[6] Tackling COVID-19 – a voyage together, 13/03/2020, http://www.imo.org/en/MediaCentre/PressBriefings/Pages/08-IMO-SG-message.aspx
[7] Coronavirus: Let's keep ships moving, ports open and cross-border trade flowing, 25 March 2020,  https://unctad.org/en/pages/newsdetails.aspx?OriginalVersionID=2311
[8] Coronavirus Rattles Shipping Industry as Supply Shock Moves to Demand Decline https://www.wsj.com/articles/coronavirus-rattles-shipping-industry-as-supply-shock-moves-to-demand-decline-11585249552
[10]Idle containership fleet set to hit 3m teu – Alphaliner, April 08, 2020
 https://www.seatrade-maritime.com/containers/idle-containership-fleet-set-hit-3m-teu-alphaliner
[11] OPEC+ Production Cuts Will End Profitable Crude Oil Tanker Journeys, 20 April 2020, https://www.bimco.org/news/market_analysis/2020/20200420_opec_production_cuts
[12] Coronavirus Rattles Shipping Industry as Supply Shock Moves to Demand Decline, https://www.wsj.com/articles/coronavirus-rattles-shipping-industry-as-supply-shock-moves-to-demand-decline-11585249552
[13] Annual China port volume to fall for second time since 1970: Alphaliner, Mar 25, 2020, https://www.joc.com/maritime-news/annual-china-port-volume-fall-second-time-1970-alphaliner_20200325.html
[14] Covid-19 outbreak could force shipping industry into yet another crisis, 23 MARCH 2020, https://www.ship-technology.com/comment/covid-19-outbreak-shipping-industry-crisis/
[15]

COVID-19: Impact on Global Shipping and China's Economy
 https://thediplomat.com/2020/03/covid-19-impact-on-global-shipping-and-chinas-economy/
[17] Review of Maritime Transport 2019,https://unctad.org/en/PublicationsLibrary/rmt2019_en.pdf
[18] Coronavirus Rattles Shipping Industry as Supply Shock Moves to Demand Decline, 26 March 2020, https://www.wsj.com/articles/coronavirus-rattles-shipping-industry-as-supply-shock-moves-to-demand-decline-11585249552
[19] About 40,000 Indian seafarers stranded across globe on account of lockdown: Maritime bodies, April 05, 2020, https://economictimes.indiatimes.com/news/politics-and-nation/about-40000-indian-seafarers-stranded-across-globe-on-account-of-lockdown-maritime-bodies/articleshow/74991612.cms?utm_source=contentofinterest&utm_medium=text&utm_campaign=cppst
[20] A shipping industry leader explains how to keep supply chains moving amid a pandemic, 02 April 2020, https://fathom.world/sea-europe-declaration-on-the-impact-of-covid-19-to-europes-maritime-technology-sector/
[21] Joint Open Letter to United Nations agencies from the global maritime transport industry, March 19, 2020, https://www.ics-shipping.org/news/press-releases/2020/03/19/joint-open-letter-to-united-nations-agencies-from-the-global-maritime-transport-industry
[22] Instructions to all major and minor ports for dealing with novel coronavirus (COVID-19) pandemic -23/03/2020, https://www.mohfw.gov.in/pdf/DGSOrder04of2020.pdf
[23] COVID-19: Shipping Ministry seeks govt intervention for recognition of electronic trade documents, April 19, 2020, https://economictimes.indiatimes.com/industry/transportation/shipping-/-transport/covid-19-shipping-min-seeks-govt-intervention-for-recognition-of-electronic-trade-documents/articleshow/75234471.cms?from=mdr
[24] Corona-hit maritime and logistics sectors seek rescue package as trade slows, 24 March 2020, https://www.thehindubusinessline.com/economy/logistics/corona-hit-maritime-and-logistics-sectors-seek-rescue-package-as-trade-slows/article31149609.ece
[25] The Impact of the Covid-19 Pandemic on Shipping, https://www.maritime-executive.com/editorials/the-impact-of-the-covid-19-pandemic-on-shipping
[26] Coronavirus: guidance on repatriating cruise ship passengers and protecting ship crews
08/04/2020, https://ec.europa.eu/transport/modes/maritime/news/2020-04-08-coronavirus-cruise-ships_en
[27] Geeta Gopinath in "How the Economy Will Look After the Coronavirus Pandemic" 15 April 2020, https://foreignpolicy.com/2020/04/15/how-the-economy-will-look-after-the-coronavirus-pandemic/