Abstract
Recognising the vulnerabilities emerging from the climate change, India and EU have become key stakeholders in the global efforts to combat climate change.India and EU have not only found consensus in their agendas but also share similar concerns on climate change.Both have emerged to be partners in pushing forward ambitious agendas at multilateral level, intensifying their cooperation at bilateral level and setting targets for themselves at domestic level.This paper studies the broader aims of the policies and initiatives put forth by India and the EU and analyses the areas of cooperation between the two partners.

Key Words: Climate Change, Energy Efficiency, GHGs, Sustainable Development
Introduction
Climate change represents one of the greatest challenges to the humanity. According to NASA, the average surface temperature of earth has risen about 1.63 degrees Fahrenheit since the 19th century, driven largely by the increased carbon dioxide (CO2) in the atmosphere. However, maximum warming of the planet has occurred in last 35 years, with the five warmest years taking place since 2010.[i] India and the European Union (EU) have recognised the vulnerabilities emerging from the climate change and have put forth ambitious plans to mitigate the effects of the phenomenon. This paper studies the broader aims of the policies and initiatives put forth by India and the EU. It also analyses the areas of cooperation between the two partners.
Policy Initiatives
The EU has been a proactive player in development and implementation of the climate change policy and has committed to transform the Union into a low carbon and energy-efficient area. The EU set its first package of measures on climate and energy in 2007, which were adopted into legislation in 2009. The package set three key objectives called 20-20-20 targets to be achieved by 2020[ii]: first, a 20% reduction in greenhouse gas emissions (GHG) - it places emphasis on EU Emissions Trading System (ETS) which was established in 2005 with an aim to reduce GHG emissions cost-effectively. Under this, the idea is to limit the emissions from heavy energy-using installations like industrial plants, power stations, aviation sector and covers almost 45% of the EU's GHG emissions[iii]. Within the package, the target is to lower emissions from these sectors by 21% as compared to 2005.[iv] Another important aspect of the package is the National Emission Reduction Targets thatincludes the rest 55% of the total emissions from agriculture, waste, housing, other transportation means. The targets differ among the member states, and the national emission target is 20% reduction by 2020 from 2005 levels.[v] Second, to increase share of renewable energy to 20% - along with the emission reduction targets, member states have set binding national targets for raising the share of renewable resources in their energy needs under Renewable Energy Directive (RED). The idea is to achieve a total of 20% target by 2020 from 9.8% in 2010.Third, to make 20% improvement in energy efficiency -under the Energy Efficiency Directive, the EU has set itself a target of 20% energy saving by 2020. This means lowering of EU's energy consumption to "no more than 1,086 million tonnes of oil equivalent (Mtoe) and primary energy consumption to no more than 1,483 Mtoe".[vi] As per Eurostat data, the primary energy consumption in 2017 was 5.3% above the 2020 targets and the final energy consumption was 3% above the target[vii], highlighting the long road towards energy efficiency.
The EU, in 2014, revised its targets for a post-2020 climate and energy framework. The 2030 framework includes three targets: minimum of 40% cut in GHG emissions (from 1990 levels), at least 27% share for renewable energy and further improvements in energy efficiency. Similarly, in 2018, the EU revised its RED and further amended its Energy Efficiency Directive by increasing their respective targets to a minimum of 32% share for renewable energy and 32.5% improvement in energy efficiency.[viii] EU has also presented its decarbonisation strategy for 2050 where the aim is to cut CO2 emissions by 80–95% compared to the 1990 level and achieve carbon neutrality by 2050.[ix] According to Eurostat data of 2019, EU is on the way to achieve its GHG emission reduction target for 2020, the EU as a whole has cut GHG emissions by 21.7% compared with 1990 levels. In terms of renewable energy, between 2004 and 2017 the share of renewable energy reached 17.5% of gross final energy consumption. This was largely driven by the development in technology, falling cost of renewable energy systems, support schemes for renewable energy etc.[x] In terms of the energy efficiency, as stated earlier, EU has a long way ahead to meet the targets.
Indian government's first push towards a concrete climate policy came in 2007 with the establishment of Prime Minister's Council on Climate Change with the "purpose of formulating and coordinating a national action plan for assessment, adaptation and mitigation of climate change".[xi] The Council came out with National Action Plan on Climate Change in 2008. It identified eight missions[xii]: first, National Solar Mission to promote the use of solar energy. The initial target of achieving 20,000 MW of solar power by 2021-22 was revised in 2015 to 100 GW by 2021-22. The revised target would include 60 GW medium and large land-based solar-power projects, along with 40 GW of grid-connected rooftop projects. Second, National Mission for Enhanced Energy Efficiency of domestic, commercial and industrial sectors – This comes under the Bureau of Energy Efficiency and intends to achieve "total avoided capacity addition of 19,598 MW, fuel savings of around 23 million tonnes per year and GHGreduction of 98.55 million tonnes per year at its full implementation stage". This is to be achieved through four major initiatives - Perform, Achieve and Trade (PAT), Market Transformation for Energy Efficiency (MTEE), Energy Efficiency Financing Platform (EEFP) and Framework for Energy Efficient Economic Development (FEEED)[xiii].                                         

Third, National Mission for Sustainable Habitat - to encourage "sustainable urban planning with the help of policy, infrastructural and research interventions in sectors such as buildings, waste management, water resources and transportation". It covers aspects like optimisation of energy demands by updating the designs for new and large commercial buildings; to improve urban planning; and recycling of material and urban waste management. It also includes research and development (R&D) programmes focusing on waste water use, sewage utilisation, bio-chemical conversion, and recycling options.[xiv] The initiative includes several flagship programmes of Government of India like Atal Mission for Rejuvenation and Urban Transformation (AMRUT), Smart City initiative, Heritage City Development and Augmentation Yojana (HRIDAY), Swachh Bharat and National Urban Livelihoods Mission (NULM), etc. Fourth, National Water Mission – it aims to provide sustainable water supply throughout India by conserving water, minimising waste and ensuring equitable distribution of water resources. Within this, multiple initiatives like establishment of new Hydrological Observation Stations, groundwater monitoring wells, India-WRIS WebGIS[1] etc. have been taken. Fifth, National Mission for Strategic Knowledge on Climate Change – the idea is to create a knowledge system that supports climate change action in India. The key initiative taken is the Global Technology Watch Group (GTWG) which aims to keep track of state-of–the-art technologies emerging globally in eight sectors - coal, renewable energy, agriculture, water, sustainable habitat, manufacturing, energy efficiency and forestry. The mission aims to make the suitable technology commercially available by 2030.
Sixth, National Mission for Sustainable Agriculture – the aim is to improve sustainability, productivity, remuneration and climate resilience of agriculture in India. The four elements of the mission include - Rain-fed Area Development; On-Farm Water Management; Soil Health Management; and Climate Change and Sustainable Agriculture Monitoring, Modelling and Networking. These are aligned with several other initiatives like MGNREGA, Integrated Watershed Management Programme (IWMP), Accelerated Irrigation Benefit Programme (AIBP), Rashtriya Krishi Vikas Yojana (RKVY), National Food Security Mission (NFSM), Pradhan Mantri Fasal Bima Yojna, etc. Seventh, National Mission for Green India to protect, enhance and restore forests. The aim is to increase forest cover on 2.5million-hectare area (mha) and to further improve the quality of forest cover on another 2.5 mha. And eighth, National Mission for Sustaining the Himalayan Ecosystem – six task forces have been established looking at various aspects of Himalayan ecosystems, like natural and geological wealth, forest resources, glaciers etc. so as to understand impact of climate change in the Himalayas.[xv]
Apart from this, Prime Minister (PM) NarendraModi, during his Independence Day speech on 15 August 2019, announced two major initiatives to combat climate change. First, JalJeevan Mission aimed at providing functional tap-water to every household in the country by 2024 and establishment of a separate Jal Shakti ministry. Second, he also urged the Indian citizens to end use of single-use plastic.[xvi] On the international forum, India and France launched the International Solar Alliance in 2015 in which almost 80 countries have joined the efforts. The idea is to provide a "dedicated platform for cooperation among solar resource rich countries where the global community, including bilateral and multilateral organisations, industry, and other stakeholders, can make a positive contribution to assist and help achieve the common goals of increasing the use of solar energy in meeting energy needs of prospective ISA member countries in a safe, convenient, affordable, equitable and sustainable manner"[xvii]. PM Modi also enunciated the idea of an International Coalition for Disaster Resilient Infrastructure during his speech at the UN Climate Action Summit in New York on 23 September 2019. This coalition is expected to serve as a platform for "generation of knowledge and exchange of ideas on different aspects of disaster and climate resilience of infrastructure. It will bring together technical expertise from a multitude of stakeholders to create a mechanism to assist countries to upgrade their capacities and practicesabout infrastructure development in accordance with their risk context and economic needs".[xviii]
India-EU Cooperation in Climate Change
India and the EU recognised the impact of climate change and have been working toward a comprehensive formulation of international standards to fight climate change. However, their approach towards the issue has not always been of convergence as there have been fundamental differences in their approach.
Divergences in the Approach
Climate change is the most significant threat facing humanity. For India and EU, the road towards convergence of their ideas and actions in mitigating the impact of climate change has not been smooth. The most basic divergence in their approach to the issue of climate change has been on the sharing of responsibilities between the developing and the developed world. These differences in responsibility for causing the temperature rise were also acknowledged in United Nations Framework Convention on Climate Change (UNFCC) and Kyoto Protocol, where it was stressed that "parties should act to protect the climate system on the basis of equality and in accordance with their common but differentiated responsibilities and respective capabilities."[xix] The protocol mandated that 37 industrialized nations plus the European Community cut their greenhouse gas emissions. Developing nations were asked to voluntarily comply. More than 100 developing countries, including China and India, were exempted from the treaty.
Ever since the entry into force of the Kyoto Agreement, the international climate change politics has been dealing with the question of who should pay the most and what responsibility should the traditional emitters and larger emerging developing countries bear in financing the effects of the climate change. The rising disagreements over how to interpret the principle of "common but differentiated responsibilities" as enshrined in UNFCC and Kyoto Protocol, has pitted the developed world against the developing particularly in terms of establishing and achieving "meaningful mitigation targets". The Kyoto Protocol includes commitments to curb emissions only from the developed countries without any consequences for non-compliance, while it allows numerous exemptions regarding GHGs for developing countries but fails to provide these countries any incentive to curb their emission. The problem also emerged from the concerns over refusals of countries like India and China to accept the legally binding targets when there were no consequences for the developed countries if they failed theirs.
For India, Kyoto protocol emphasised on two aspects – differentiation between developed nations and developing nations in terms of bearing responsibility for climate action and second, it was able emphasise on its own economic development "all while calling upon principles of equity to push for stronger action by developed countries. This remained steady over the years and is the principal reason why India has acquired a reputation of being a difficult partner in climate negotiations".[xx] India's position started to change from 2007 onwards when it pushed for developing countries to participate in the global efforts to fight climate change during the CoP13 in Bali in 2007. This was followed by release of its first National Action Plan on Climate Change (NAPCC) in 2008. Also, during the Copenhagen Summit in 2009, India as part of BASIC countries (China, India, South Africa, Brazil) announced their voluntary target, for the first time, to reduce their "emissions intensity of its GDP by 20-25% against 2005 levels by 2020".[xxi]
Convergences in Climate Change Cooperation
Both India and EU have emerged to be key stakeholders in the global efforts to combat climate change. As described earlier, both partners have taken several steps and initiated key policy frameworks to mitigate the impact of climate change. Both India and EU were in the forefront during the negotiation and signing of Paris Climate Agreement while also declaring ambitious Intended Nationally Determined Contributions (INDCs) for them.[2] Moreover, with US retreating from its commitments towards climate change, it becomes crucial for EU and India to reinforce their commitments.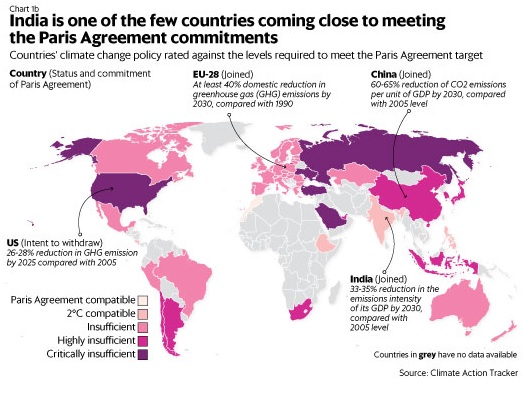 Source: Livemint, 1 September 2019, https://www.livemint.com/news/india/the-four-big-climate-challenges-for-india-1567354297958.html
India and EU recognised climate change as a crucial issue when they signed their strategic partnership in 2004, the consequent Joint Action Plan of 2005 committed both the partners to work together on any future global negotiations on climate change[xxii]. During the 2008 Marseille Summit, sustainable development and clean technology were identified as the priority areas of cooperation. Since then, every joint declaration has made references to the development of sustainable practices, renewable energy, and climate policy. The establishment of Clean Energy and Climate Change Partnership during the 2017 India-EU Summit identified "climate action and clean energy transition as an imperative for the future development of our societies".[xxiii] Under this framework "EU and India would lead and work together with all stakeholders to combat climate change, implement the 2030 Agenda for Sustainable Development and encourage global low greenhouse gas emissions, climate resilient and sustainable development."[xxiv] It also stressed on the International Solar Alliance as a platform to promote renewable energy and to explore best practices for use and deployment of solar initiatives like solar parks, smart grids demonstrations, etc. to further India-EU partnership. Another key initiative highlighted was the cooperation on clean energy transition, India and EU decided to "step-up their dialogue on low carbon energy security in the framework of the meetings of the EU-India Joint Working Group on Energy Security."[xxv]
Under the "Clean Energy and Climate Change", EU supports development of India's off-shore wind development plans – the Facilitating Offshore Wind in India (FOWIND) project is case in point which is being facilitated by a consortium led by Global Wind Energy Council[3]. The EU has granted €4 million to the consortium for the implementation of the project. The idea is to develop a roadmap for offshore wind development in India where Gujarat and Tamil Nadu have been identified as locations for pilot projects. India's first offshore wind project is in the preliminary stage of implementation "on a sea bed area of 70 square kilometres (sq km) with a tentative capacity sizing of 200 MW near the Gulf of Khambat, approximately 25 km off the coast of Gujarat."[xxvi] This project would help India to transition "towards low-carbon development by supporting implementation of national policies and programmes for offshore wind"[xxvii], thereby contributing in the energy efficiency and helping India achieve Ministry of New and Renewable Energy targets of long and medium term offshore wind energy of 5GW by 2022 and 30 GW by 2030.[xxviii]
Another important area of cooperation is the assistance provided by EU in India's Solar Park Programmes. During 2016-19, the number of solar parks in India has increased from one park with capacity of 345 MW to 12 parks of 6500 MW with additional 10 parks under various stages of development[xxix]. Moreover, in 2018, the European Investment Bank signed a package of €800 million towards clean energy investments in India, of which €640 million were earmarked for various solar projects, making India the leading recipient of financing in solar energy outside EU[xxx]. The EU technical assistance is aimed for the management and implementation of the solar parks, thereby contributing in mitigation of climate change impact.
India and EU are also actively engaging through the global initiative of Mission Innovation (MI) thataims to "reinvigorate and accelerate global clean energy innovation with the objective to make clean energy widely affordable". MI was announced during Paris Climate Talks in 2015. Under this initiative, India committed to expand its development, research and demonstration investments from €64 million in 2015 to €130 million by 2020. Also India co-leads three of eight MI innovation challenges – Smart Grids, Sustainable Biofuelsand Off-Grid Access to Electricity[xxxi]. India also participant in several Horizon 2020[4] projects for example iElectrix, which is smart grid cooperation project agreement to set up 1 MW demonstration plant in Delhi. The project is valued at €11 million, of which €8 million are granted under Horizon 2020 programme, and the rest is financed by Enedis (France) and Tata Powers.[xxxii]
The India-EU Water Partnership is a cornerstone of their cooperation on climate change and clean energy. This was an outcome of a Joint Declaration on Water which was adopted in 2016 during the 13th India-EU Summit. The objective is to strengthen the scientific, technological and management capabilities of both India and EU in water management. The priorities identified under this partnership are Ganga Rejuvenation, Capacity Building, Reuse of wastewater and research, Sustainable river basin management, etc. Both the partners have agreed to jointly invest €40 million in seven projects for 2019-23. These projects include – "India-H20: bio-mimetic and phyto-technologies designed for low-cost purification and recycling of water; LOTUS: Low-cost innovative technology for water quality monitoring and water resources management for urban and rural water systems in India; PANI WATER: Photo-irradiation and adsorption based novel innovations for water-treatment; PAVITR: Potential and validation of sustainable natural and advance technologies for water and wastewater treatment, monitoring and safe water reuse in India; PAVITRA GANGA: Unlocking wastewater treatment, water re-use and resource recovery opportunities for urban and peri-urban areas in India; SARASWATI 2.0: Identifying best available technologies for decentralised wastewater treatment and resource recovery for India; SPRING: Strategic planning for water resources and implementation of novel biotechnical treatment solutions and good practices.[xxxiii]"
Assessment
With multiple reports pointing towards extreme climatic conditions – severe rainfall, drought, flash floods, melting of ice-caps – climate change have been increasingly recognised as a "threat multiplier"[xxxiv]. India and EU have been working towards formulation of policies and initiatives that aim to mitigate the impact of climate change. Both have emerged to be partners in pushing forward ambitious agendas at multilateral level, intensifying their cooperation at bilateral level and setting targets for themselves at domestic level.
With the US withdrawing from their climate change commitments, countries like India, EU, and China has pushed forth ambitious plans for mitigating climate change. China has been following an active climate policy by keeping NDC targets under the Paris Agreement. These includes–"Increase the share of non-fossil energy sources in the total primary energy supply to around 20% by 2030; Lower the carbon intensity of GDP by 60% to 65% below 2005 levels by 2030; Increase the forest stock volume by around 4.5 billion cubic metres, compared to 2005 levels". It has also kept itself 2020 pledges which include - overall reduction of CO2 emissions per unit of GDP by 40–45% below 2005 levels by 2020; Increase the share of non-fossil fuels in primary energy consumption to around 15% by 2020; Increase forest coverage by 40 million hectares and forest stock volume by 1.3 billion cubic metres by 2020 from 2005 levels.[xxxv] China has also added vast wind and solar installations to its grid and developed large domestic industries to manufacture solar panels, batteries and electric vehicles. In 2017, it launched a national emissions trading system, which creates a market for buying and selling carbon dioxide emissions allowances.
India and EU are very well positioned to take up the leadership role to drive forward the climate agenda. The adoption of Agenda for Action 2020 during the 2016 India-EU Summit paved the way for intensification of cooperation on climate change issues. Both India and EU are working towards achieving the INDCs they submitted before the Paris climate agreement. They are also partnering with each other on energy efficiency where cooperation is focused on smart grids, off-shore wind projects, solar parks, energy research and innovation. The EU is an active partner in India's flagship programmes of Clean India and Clean Ganga, where India-EU Water Partnership is the most comprehensive, as it not only involves the national authorities but also stakeholders from business, civil society and Indian and EU water authorities. The EU strategy on India also highlights the role both partners can play globally, "EU-India cooperation will contribute to reducing resource pressure and pollution, greenhouse gas emissions and enhancing resilience to climate change."[xxxvi] It also puts in focus the need for a "joint long-term approach where climate action should link innovation support with market-uptake incentives and other support measures, identify and exploit synergies between climate action and related issues such as air pollution and the water-energy nexus, and should seek to integrate adaptation to climate change into disaster risk management and development planning."[xxxvii]
To avoid the worst impact of climate change would require rapid cuts in global GHG emissions; switch from non-renewable resources to renewable resources like solar, wind, etc.; and development of new technologies to push forward energy efficiency initiatives. India and EU have not only found consensus in their agendas but also share similar concerns on climate change. The cooperation on climate change presents India and EU as equal partners with joint responsibility. Therefore, further opportunities need to be explored in research and innovation, technology-transfer, energy efficiency, clean energy transition to mitigate the climate change impact.


*Dr Ankita Dutta, Research Fellow at Indian Council of World Affairs, New Delhi.
Disclaimer: The views expressed are that of the Researcher and not of the Council.
End Notes
[1]India-WRIS WebGIS –It is designed to generate a database and implementation of web enabled water resources information system in the country. It is a joint venture of the Central Water Commission (CWC), Ministry of Water Resources, Central government and Indian Space Research Organization (ISRO). (https://www.esri.in/esri-news/publication/vol7-issue3/articles/india-wris-webgis)
[2] In the run-up to the Paris conference, Indian government announced an INDC of reducing emission intensity by 33 to 35 per cent of 2005 levels, and to produce 40% of electricity from non-fossil fuel-based sources by 2030. EU's commitments included reduction of greenhouse gas emissions by at least 40% by 2030 compared to 1990, under its wider 2030 climate and energy framework.
[3] Consortium partners include the Centre for Study of Science, Technology and Policy (CSTEP), DNV GL, the Gujarat Power Corporation Limited (GPCL) and the World Institute of Sustainable Energy (WISE). National Institute of Wind Energy (NIWE) joined the consortium as knowledge partner in 2015. (http://fowind.in/)
[4]Horizon 2020 is EU's research and innovation programme with a funding of 80 billion Euros available over 7 years (2014-2020). It is seen as means of driving economic growth and creation of jobs, and ensure that Europe produces world-class science, remove barriers to innovation and enhance public-private partnership in innovation. (https://ec.europa.eu/programmes/horizon2020/what-horizon-2020)
[i]Climate Change: How do we know?, Global Climate Change, NASA, https://climate.nasa.gov/evidence/, Accessed on 5 November 2019
[ii]European Council, Tackling climate change in the EU, 25 April 2019, https://www.consilium.europa.eu/en/policies/climate-change/, Accessed on 5 November 2019
[iii]EU Emissions Trading System (EU ETS), European Commission, https://ec.europa.eu/clima/policies/ets_en, Accessed on 5 November 2019
[iv]2020 climate & energy package, Climate Action, European Commission, https://ec.europa.eu/clima/policies/strategies/2020_en#tab-0-0, Accessed on 5 November 2019
[v]Effort sharing: Member States' emission targets, Climate Action, European Commission, https://ec.europa.eu/clima/policies/effort_en, Accessed on 6 November 2019
[vi]EU 2020 target for energy efficiency, Energy Efficiency, European Commission, https://ec.europa.eu/energy/en/topics/energy-efficiency/targets-directive-and-rules/eu-targets-energy-efficiency#content-heading-1, Accessed on 6 November 2019
[vii]Energy Saving Statistics, Eurostat, January 2019, https://ec.europa.eu/eurostat/statistics-explained/index.php/Energy_saving_statistics, Accessed on 6 November 2019
[viii]Europe 2020 Indicators- Climate Change and Energy, Eurostat, August 2019, https://ec.europa.eu/eurostat/statistics-explained/index.php?title=Europe_2020_indicators_-_climate_change_and_energy#General_overview, Accessed on 6 November 2019
[ix]Louise Guillot, Cop24 In Katowice: What Is Europe Doing To Fight Climate Change?, The New Federalist, 15 December 2018, https://www.thenewfederalist.eu/cop24-in-katowice-what-is-europe-doing-to-fight-climate-change, Accessed on 7 November 2019
[x]Eurostat, n.viii
[xi]Prime Minister's Council on Climate Change, Archives - Former Prime Minister of India Dr. Manmohan Singh,  Government of India,https://archivepmo.nic.in/drmanmohansingh/committeescouncils_details.php?nodeid=7, Accessed on 7 November 2019
[xii]HarshalPandve, India's National Action Plan on Climate Change, Indian Journal of Occupational and Environmental Medicine, 13(1), 2009, pp.17-19, https://www.ncbi.nlm.nih.gov/pmc/articles/PMC2822162/, Accessed on 7 November 2019
[xiii]Twelfth Five year Plan (2012-2017), Faster, More Inclusive and Sustainable Growth – Volume 1, Planning Commission, 2013, http://planningcommission.gov.in/plans/planrel/12thplan/pdf/12fyp_vol1.pdf, Accessed on 7 November 2019
[xiv]http://www.indiaenvironmentportal.org.in/content/310003/national-mission-on-sustainable-habitat/, Accessed on 7 November 2019
[xv]Coping with Climate Change: An analysis of India's National Action Plan on Climate Change – Volume 1, Centre for Science and Environment, New Delhi, 2018
[xvi]Firstpost, 15 August 2019, https://www.firstpost.com/india/on-73rd-independence-day-narendra-modi-announces-creation-of-chief-of-defence-staff-post-commits-to-5-trillion-economy-dream-key-takeaways-7167101.html, Accessed on 8 November 2019
[xvii]Vision and Mission of the ISA, International Solar Alliance, http://isolaralliance.org/AboutISA.aspx, Accessed on 8 November 2019
[xviii]Cabinet approves Establishment of an International Coalition for Disaster Resilient Infrastructure - PM to launch CDRI during UN Climate Summit in New York on 23rd September 2019, Press Information Bureau, 28 August 2019, https://pib.gov.in/newsite/PrintRelease.aspx?relid=192854, Accessed on 8 November 2019
[xix]The Principle of Common But Differentiated Responsibilities: Origins and Scope, CISDL Legal Brief, 2002, https://cisdl.org/public/docs/news/brief_common.pdf, Accessed on 14 December 2019
[xx]From Rio to Paris: India in global climate politics, ORF Occasional paper, December 2017, https://www.orfonline.org/research/rio-to-paris-india-global-climate-politics/, Accessed on 14 December 2019
[xxi]India Records Its Climate Actions by Copenhagen Accord Deadline, Natural Resources Defense Council, February 2010, https://www.nrdc.org/experts/anjali-jaiswal/india-records-its-climate-actions-copenhagen-accord-deadline, Accessed on 14 December 2019
[xxii]The India-EU: Strategic Partnership Joint Action Plan, Ministry of Commerce, Government of India, https://commerce.gov.in/writereaddata/trade/India_EU_jap.pdf, Accessed on 8 November 2019
[xxiii]EU-India Joint Statement on Clean Energy and Climate Change, 2017, European Council, https://www.consilium.europa.eu/media/23517/eu-india-joint-declaration-climate-and-energy.pdf, Accessed on 8 November 2019
[xxiv]Ibid.
[xxv]Ibid.
[xxvi]Overview, First Offshore Wind Project of India, https://www.fowpi.in/, Accessed on 9 November 2019
[xxvii]About Project, FOWIND- Facilitating Offshore Wind in India, Global Wind Energy Council, https://gwec.net/about-winds/fowind/, Accessed on 9 November 2019
[xxviii]The Economic Times, 19 June 2018, https://energy.economictimes.indiatimes.com/news/renewable/india-announces-30-gigawatt-offshore-wind-energy-target-by-2030/64651102, Accessed on 9 November 2019
[xxix]EU India step up cooperation on solar energy, EEAS, 28 June 2019, https://eeas.europa.eu/delegations/india_en/64757/EU%20India%20step%20up%20cooperation%20on%20solar%20energy, Accessed on 11 November 2019
[xxx]Euractiv, 13 March 2018, https://www.euractiv.com/section/energy/news/india-takes-lions-share-of-eu-bank-funding-for-solar-power/, Accessed on 11 November 2019
[xxxi]Objective,Mission Innovation, http://mission-innovation.net/our-work/innovation-challenges/sustainable-biofuels/, Accessed on 11 November 2019
[xxxii]EU-India Partnership on Research and Innovation, Delegation of the European Union to India and Bhutan,  https://cdn2.euraxess.org/sites/default/files/eu-india_ri_cooperation_brochure.pdf, Accessed on 13 November 2019
[xxxiii]EU - India to jointly fund seven research and innovation projects to the tune of EUR 40 million to tackle urgent water challenges, EEAS, 14 February 2019, https://eeas.europa.eu/delegations/india/58099/eu-india-jointly-fund-seven-research-and-innovation-projects-tune-eur-40-million-tackle-urgent_en, Accessed on 13 November 2019
[xxxiv]Climate change recognized as 'threat multiplier', UN Security Council debates its impact on peace, UN News, 25 January 2019, https://news.un.org/en/story/2019/01/1031322, Accessed on 14 November 2019
[xxxv]China Pledges, Climate Tracker, https://climateactiontracker.org/countries/china/pledges-and-targets/, Accessed on 5 December 2019
[xxxvi]Joint Communication to the European Parliament and the Council - Elements for an EU strategy on India, European Commission, 2018, https://eeas.europa.eu/sites/eeas/files/jc_elements_for_an_eu_strategy_on_india_-_final_adopted.pdf, Accessed on 14 November 2019
[xxxvii]Ibid.