The news that Russian Prime Minister Mikhail Mishustin had tested positive seems to animate and illustrate how Russia has fallen short in containing the COVID-19 infection surge despite appearing confident in the initial stages and taking early measures to contain the spread of the pandemic. Russia reported its first two cases on 31 January 2020 but no new cases were reported thereafter until mid--March 2020. The infection thereafter began to spread rapidly as Russian tourists returned from Europe. By 30 April 2020, the number of confirmed COVID-19 cases in Russia had grown to99, 399with 972 fatalities.[i]

Fig.1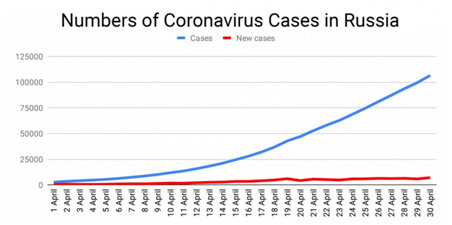 Source: https://static.themoscowtimes.com/image/1360/8c/30-april-cases-russia.jpg

The Surge- Russia's Interface with COVID-19

While Russia had initially claimed that it had contained the spread of COVID-19, the surge suggests otherwise. To prevent further escalation of infected cases residents were ordered to self-quarantine with stringent actions against violators. The quarantine phase has been extended till 11 May 2020 given the accelerating outbreak of infected cases. According to a statement by the Federal State Budgetary Institution (FSBI) Center for Strategic Planning and Management of Medical and Biological Health Risks of the Ministry of Health of Russia at least 10,000 tests were to be performed, beginning from 31st January followed by an increase to 50,000 tests per day. [ii]

Arrangements made for quarantine include home delivery of food and medicines especially for the elderly aged above 65 years and also a large economic stimulus package. The authorities have also promised to make a one-time payment of 4,000 roubles (approximately $50 at the current exchange rate) to each of its senior citizen as compensation for expenses stemming from the quarantine.[iii] Russian Embassies had also made arrangements to evacuate stranded Russian citizens from many countries. For instance, India coordinated with Russia in organising the repatriation of Russian nationals, the majority of whom were located in Mumbai, Goa, Chennai, Kolkata and Delhi.[iv]

To cope with the surge of infected cases, Russian government prepared contingency plans including building a hospital in mid-March at the outskirts of Moscow. The new hospital with 800 bed capacity was built within a month and has begun admitting COVID-19 infected patients from 21 April 2020 to help Moscow to cope with a growing number of cases that have stretched its medical infrastructure. The new hospital is capable of conducting more than 10,000 tests a day and includes a 1,300-capacity hostel to accommodate staff.[v]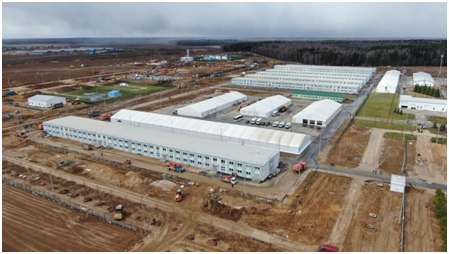 Source: An aerial view shows a new hospital for patients infected with the coronavirus disease (COVID-19) on the outskirts of Moscow, Russia April 17, 2020. https://cdni.rt.com/files/2020.04/original/5e9f18a82030273806746f2a.JPG

While Russia initially appeared better prepared compared to other medically advanced countries such as the United States (US) in combating the pandemic the situation seems to be different now. Despite some early aggressive measures Russia now appears to be struggling to contain the spread of the pandemic.

Russia Falling Short in its Efforts

The rapid spread of infection has posed a major challenge. One of the main reasons for the surge is that the tests/samples during the initial stage were sent to a single lab in Siberia causing a massive backlog at the facility. This meant many Russians continued living their normal lives without much attention to self-isolation. It was not until mid-March that Russia implemented measures for containing the spread of the infection.[vi]

Critics have also raised concerns that the official number of new coronavirus cases as reported may be underestimated. There were also concerns raised by doctors about the accuracy of tests that led Moscow's health department to treat all pneumonia patients as being possibly infected with COVID-19 and route them to hospitals accordingly.[vii]

Within Russia, as of April 30, 2020, Moscow accounted for the highest number of people infected with COVID-19 with over 53.7 thousand cases.[viii] There is growing acknowledgement that "the situation is becoming increasingly problematic" especially in Moscow as it has pushed the city's health care system to its limits. The capital has emerged as a major concern with apprehensions that it could end up in a similar situation like New York should authorities fail to act quickly.

Fig.2
| | | | | |
| --- | --- | --- | --- | --- |
| Provinces/Oblast | Total Cases | Active Cases | Recoveries | Deaths |
| Moscow | 53, 739 | 47,993 | 5,135 | 611 |
| Moscow Oblast | 11,710 | 11,187 | 430 | 93 |
| St Petersburg | 4,062 | 3,254 | 779 | 29 |
| Nizhny Novgorod Oblast | 1,944 | 1,706 | 226 | 12 |
| Dagestan Republic | 1,389 | 1,265 | 112 | 12 |
| Murmansk Oblast | 1,227 | 1,125 | 98 | 7 |
| Krasnodar Krai | 1,071 | 746 | 251 | 20 |
| Tula Oblast | 965 | 862 | 965 | 7 |
| Rostov Oblast | 943 | 848 | 89 | 6 |
| Bryansk Oblast | 901 | 671 |            222 | 8 |
| Leningrad Oblast | 885 | 760 | 115 | 1 |
| Kaluga Oblast | 885 | 829 | 44 | 12 |
| Ryazan Oblast | 880 | 830 | 47 | 3 |
| Tatarstan Republic | 823 | 739 | 83 | 1 |
| Bashkortostan Republic | 766 | 632 | 120 | 14 |
Source: published by Statista Research Department, 30 April 2020. https://www.statista.com/statistics/1102935/coronavirus-cases-by-region-in-russia/

Russia is also stressed regarding medical supplies including the supply of personal protection equipment and ventilators as stated by Minister of health Mikhail Murashko.[ix]Scores of medical staff have quit on grounds of lack of adequate protective equipment in a chronically underfunded health system with poor working conditions and low wages. Russia's traditional role as an aid giver has also reversed with it now seeking assistance from its bilateral partners such as India and China. Russia welcomed India's goodwill gesture to send medicines to help fight the Coronavirus reflecting the spirit of partnership between the two countries.[x] Russia was also appreciative of China sending medical supplies.  A team of Chinese experts from the Chinese Center for Disease Control and Prevention, Heilongjiang Provincial Center for Disease Control and Prevention, is also in Russia.[xi] In the current US led blame game for the spread of the pandemic Russia has been supportive of China. The Russian Foreign Minister Sergei Lavrov during an online interview with Russian and foreign media outlets on 14 April 2020 said that the claims made by the US and its allies that China should pay for economic damages caused by the pandemic and Chinese property abroad should be seized if Beijing does not pay was 'completely unacceptable', as it amounted to blaming China for the spread of COVID-19.[xii]. Russia's partnership with China has become even more crucial given the fact that the return of normalcy in China will lead to increased energy demand, providing Russia the much needed boost to its energy market.

The Russian government has largely focused its efforts on major cities especially Moscow and St. Petersburg. Other cities that are also impacted by COVID-19 have been paid less attention. Admittedly, medical resources outside Russia's major cities are scarce and the country's older population is at higher risk, while there are also worrying signs of the pandemic spreading outside Moscow.

The pandemic is poised to destabilise Russia's economy despite the fact the OPEC countries and Russia have agreed to reduce oil production by about 1 million barrels per day, with Russia making the most dramatic cut of around 500,000 barrels a day.[xiii] Oil prices have however continued to fall. The uncertainty that is set to follow in the post-COVID-19 situation, especially in economic terms, cannot be underestimated. Around 84%of the population is worried by the onset of an economic crisis, according to a survey conducted by the All-Russian Public Opinion Research Center (VCIOM). Based on the survey, a total of 70%of respondents replied that the most difficult period is yet to come, while 14% believe that they are experiencing it now. Only 4% think that the hardest times are a thing of the past, while 3% are convinced that the country is not experiencing the crisis at present, and see no possibility for it to happen in the foreseeable future.[xiv]

On the other hand, while the numbers of COVID-19 infected are growing rapidly, the total number of reported fatalities remains relatively low. This could possibly be because of the health care network that Russia inherited from the Soviet Union. There are around 5,300 hospitals in the country and the number of hospital beds in 2018was nearly 80 per 10,000 population in Russia.[xv]The Mayor of Moscow had stated that the government will start constructing temporary hospitals that will hold a total of 10,000 beds for coronavirus patients.[xvi]Also, since the accelerating infected cases are largely restricted to major cities, especially Moscow and St. Petersburg, the need to focus on medical interventions are possible. Other cities comparatively have shown a lesser caseload with better recovery outcome (as shown in Fig.2). However, Russia's health care system is also quickly being stretched to its full capacity and this is going to be a significant challenge in the coming days.

Russians are often referred to as resilient, has and have faced far more challenging situations in recent history. The Cold War period and the post-Soviet collapse saw frequent shortages of food and other essentials. The significant outbreak of the COVID-19 pandemic has once again put Russia to test not just the population but also the political governance in handling the crisis, health care system and securing economic growth. More importantly, the most glaring factor that needs due attention is the preparedness of Russia's health care system. As almost entirely on dealing with the crisis, the health care system has faced far more challenges such as shortage of medical equipment, infrastructure and staff. While Russia has claimed to have focused on reviving its health care system over the years, the healthcare reforms however, seem to have failed in preparing to deal with a biological threat of this level. Given the infection rate growing exponentially in Russia, one of the biggest tasks ahead for the country in a post-COVID-19 scenario therefore would be to feature public health and health facilities prominently in its domestic reforms.
*****

*Dr. Chandra Rekha, Research Fellow, Indian Council of World Affairs.
Disclaimer: The views expressed are that of the Researcher and not of the Council.

Endnotes

[i]Coronavirus disease (COVID-19) Situation Dashboard, World Health Organization, 16 April 2020.https://covid19.who.int/ Accessed on17  March 2020
[ii] The subordinate organization of the Ministry of Health of Russia successfully launched the production of the latest test system for the diagnosis of coronavirus, 27 March 2020. https://www.rosminzdrav.ru/news/2020/03/27/13602-podvedomstvennaya-organizatsiya-minzdrava-rossii-uspeshno-zapustila-proizvodstvo-noveyshey-test-sistemy-dlya-diagnostiki-koronavirusa Accessed on 11 April 2020
[iii]IlyaKlishin, Why Russian Pensioners Won't Self-Isolate, The Moscow Times, 25 March 2020. https://www.themoscowtimes.com/2020/03/25/why-russian-pensioners-wont-self-isolate-a69746Accessed on 11 April 2020
[iv]India to help Russian organize safe repatriation of its nationals — Ambassador, Embassy of India, Russia. Ambassador's Interview to TASS dated April 11, 2020. https://indianembassy-moscow.gov.in/ambassador-interviews-11-04-2020-3.phpAccessed on 22 April 2020
[v]Moscow opens new coronavirus hospital built in just a month, as Russia braces for Covid-19 PEAK, Russia Today, 21April 2020. https://www.rt.com/russia/486481-moscow-new-coronavirus-hospital/Accessed on 22 April 2020 
[vi]Russia's growing coronavirus outbreak and its challenge to Vladimir Putin, explained, Vox, 06 April 2020. https://www.vox.com/2020/4/6/21200167/coronavirus-russia-vladimir-putin-moscow-cases?fbclid=IwAR0XNuzUmUzhCoAKi63SrFK0HBPuo5vsUZjNqz5p-l_AaeLkvjrLr4u8lEM, Accessed on 18 April 2020
[vii]Moscow, in U-turn, to assume all pneumonia patients may have coronavirus, Reuters, 09 April 2020. https://in.reuters.com/article/us-health-coronavirus-russia-pneumonia/moscow-in-u-turn-to-assume-all-pneumonia-patients-may-have-coronavirus-idINKCN21R2Y0 
[viii]Published by Statista Research Department, Apr 30, 2020.https://www.statista.com/statistics/1102935/coronavirus-cases-by-region-in-russia/
[ix] Andrew Higgings, After Months of Denial, Russia Admits the Virus Is Taking Hold, The New York Times, 10 April 2020. https://www.nytimes.com/2020/04/10/world/europe/coronavirus-russia-moscow-putin.htmlAccessed on Accessed on 21 April 2020
[x]Comments to the Press by President Putin's Spokesperson Dmitry Peskov, Embassy of India, 17 April 2020.https://indianembassy-moscow.gov.in/press-releases-17-04-20.phpAccessed on Accessed on 18 April 2020
[xi] China sends medical experts to Russia to help fight COVID-19, CGTN, 11 April 2020. https://news.cgtn.com/news/2020-04-11/China-sends-medical-experts-to-Russia-to-help-fight-COVID-19-PBshI0UoaQ/index.htmlAccessed on Accessed on 13 April 2020 
[xii]Lavrov castigates attempts to make China pay reparations for COVID-19 damages, TASS, 14 April 2020
Accessed on 30 April 2020 
[xiii]Russia's growing coronavirus outbreak and its challenge to Vladimir Putin, explained, Vox, 06 April 2020. https://www.vox.com/2020/4/6/21200167/coronavirus-russia-vladimir-putin-moscow-cases?fbclid=IwAR0XNuzUmUzhCoAKi63SrFK0HBPuo5vsUZjNqz5p-l_AaeLkvjrLr4u8lEMAccessed on Accessed on 10 April 2020
[xiv] Over 80% of Russians worried by economic crisis — survey, TASS, 23 April 2020. https://tass.com/society/1148579?fbclid=IwAR0ZZSmYlcj-LcK7xkESXMfC6AMyi8xK8EX6L2kKZDR_2bYJn5jm4PCh_OoAccessed on Accessed on 25 April 2020
[xv] Healthcare in Russia - Statistics & Facts, Published by Statista Research Department, Apr 24, 2020https://www.statista.com/topics/4824/health-care-in-russia/ 
[xvi]Coronavirus in Russia: The Latest News | April 30, The Moscow Times, 30 April 2020. https://www.themoscowtimes.com/2020/04/30/coronavirus-in-russia-the-latest-news-april-30-a69117