The coordinated effort by the federal and provincial governments in Canada has helped limit the spread of the COVID-19 virus. The Canadian public has followed public health guidelines, embraced social distancing and other such norms. To minimise the effect of the virus on economies the governments have announced various stimulus packages. Healthcare facilities are being upgraded along with fast pace cooperation to develop a vaccine. Ordinary Canadians are also helping by taking care of the old and the vulnerable communities. Nonetheless, apart from immediate steps, the government has to build a comprehensive strategy of socio-economic assistance.

Prime Minister Justine Trudeau in his news briefing on the COVID-19 pandemic remarked that "Normality as it was before will not come back full-on until we get a vaccine for this… That will be a very long way off.…We will have to remain vigilant for at least a year." He stated that Canada was building 'tools and habits' that would allow it to be much more resilient to such outbreaks in the future. Canada's public healthcare officials further added that a return to a pre-pandemic lifestyle was still not advised. Both Prime Minister Trudeau and healthcare officials have credited the Canadian public that have followed public health guidelines, embraced social distancing and other such norms to slow the spread of the virus. They cautioned that the 'curve needs to flatten' further before the provinces can end their declaration of emergency and begin to revive the economy. It is believed that Canada has not yet reached the peak infection rate for the pandemic as yet. As of 26 May, Canada had 86,647 confirmed cases of COVID-19 with 6,639 deaths. Quebec (48,598 cases) and Ontario (26,191 cases) are the two provinces with the highest number of cases, largely because they are the largest and most populated provinces of Canada.

Image One: Total Number of COVID-19 Cases in Canada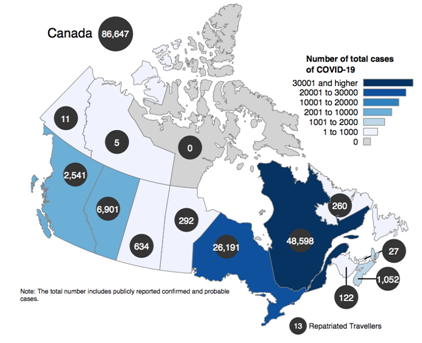 Source: https://www.canada.ca/en/public-health/services/diseases/2019-novel-coronavirus-infection.html?topic=tilelink
Economic Response

As with the rest of the world, social distancing measures and the restrictions placed on economic activities has affected the economy. 'According to the International Monetary Fund (IMF) forecast, the Canadian economy will likely contract by 6.2 percent 2020.' In response to the situation, the government announced a number of stimulus packages. On 8 March 2020, it announced Canada's COVID-19 Economic Response Plan. 'The plan provides support to individual, including from the Indigenous communities, by providing them with more child care, mortgage support, temporary salary top up for low income essential workers and tax benefits to those who have lost income due to COVID-19 pandemic among other measures. It also provides support to businesses so that they do not have to lay off workers, access to credit for rural businesses and communities, self-employed people etc.' On 11 March, Prime Minister Trudeau established the COVID-19 Response Fund 'establishing a more than $1 billion COVID-19 Response Fund. It also earmarked $50 million to support the Public Health Agency of Canada's COVID-19 communications and public education efforts. $500 million was assigned to provinces and territories for critical health care system needs and to support mitigation efforts as needed. It provided $275 million in additional funding building on top of the $27 million announcement to fund coronavirus research in Canada apart from funding for the World Health Organisation (WHO)' 'Additional $82 billion in support representing more than 3 per cent of Canada's GDP' was announced on 18 March 2020 as part of the COVID-19 Economic Response Plan. Further $1.7 billion were announced on 17 April 2020 for targeted measures to help Canadian businesses and organisations keep their doors open, keep their employees on the payroll, and recover quickly when Canada bounces back from this crisis. The government further announced specific packages such as $306.8 million in funding to help small and medium-sized Indigenous businesses, and to support Aboriginal Financial Institutions that offer financing to these businesses.' A '…comprehensive support of nearly $9 billion for post-secondary students and recent graduates. This plan will help provide the financial support they need this summer, help them continue their studies in the fall, and help many get the experience they need to start their careers. 

Apart from the federal government, the provincial legislatives have also announced economic action plans to help support their public healthcare systems and people. The Provincial Government of Quebec, which is dealing with the maximum number of cases, announced a public health emergency on 13 March 2020. (It should be noted that the federal government has not yet declared an emergency. Provincial governments have taken that step. However, it has caused no disruption between the federal and provincial governments' coordinated response to the crisis). Quebec has also laid down certain assistance programmes for individuals and businesses. The various programmes provided financial assistance to temporary workers in isolation, provide capital to small and medium business that can show that their operations have stopped because of COVID-19. It has also made provisions to take special care of senior citizens and their needs.

The Government of Ontario has also declared a provincial state of emergency under the province's Emergency Management and Civil Protection Act. On March 25, the Ontario Minister of Finance announced Ontario's Action Plan: Responding to COVID-19. The plan includes $7 billion in resources for the health care system and direct support for people and jobs. It will make available $10 billion in support for people and businesses through tax and other deferrals to improve their cash flow, protecting jobs and household budgets. The provincial government is committed to a dedicated $1.0 billion COVID-19 contingency fund for emerging needs related to the COVID-19 outbreak. Further it announced an unprecedented $2.5 billion reserve and an increased contingency fund of $1.3 billion to provide continued flexibility to respond to changing global circumstances. The plan includes $3.3 billion in additional health care resources to protect the health and well-being of the people of Ontario.

Similarly, other provincial governments have also declared emergency in their respective regions and announced assistance packages for their healthcare workers and other sectors and individuals. The economic stimulus packages announced are highly focused on immediate needs. Economists anticipate that additional stimulus will be released and updated as the pandemic unfolds while a long term economic package will also be announced by the government at a later date.

Healthcare Response

In response to the COVID-19 pandemic, the federal and provincial government officials have referred to all queries to health care professionals while urging Canadians to follow their advice at all times. This has meant that Canadians do not have multiple authorities guiding them and the response to the pandemic has been centralised and coordinated.

The coordinated effort by the government has helped limit the spread of the virus, nonetheless, 'according to news reports the Global Public Health Intelligence Network (GPHIN) had first alerted about the virus in December 2019. Questions are also being raised at the delay in decision making with respect to the pandemic despite data being available.' The GPHIN, developed by Health Canada in 1997 in collaboration with WHO, is a secure internet-based multilingual early-warning tool that continuously searches global media sources such as news wires and websites to identify information about disease outbreaks and other events of potential international public health concern. GPHIN is credited with helping spot the SARS and H1N1 outbreaks, but like many healthcare preparedness programmes, it needs to be upgraded to take advantage of the latest available technology.

As some provincial governments consider relaxing physical distancing measures, the federal government has set up a special advisory committee made up of medical officers to formulae a national approach to reopen the economy. A key factor in this decision would be to continue to upgrade testing abilities, as medical experts feel that the next outbreak can be contained if healthcare officials can detect and treat new cases quickly. Countries such as South Korea have successfully flattened the curve by conducting widespread testing, including checks of asymptomatic close contacts of people with COVID-19. This approach has allowed officials to quickly identify and isolate new cases, slowing the rate of transmission. However, test rationing in Canada has meant that in most parts of the country so far the only people being tested are those with severe illness or those in other high-risk groups, such as health-care workers.' To reopen its economy Canada would have to conduct extensive testing of its citizens.

Image Two:Number of COVID-19 Cases tested, deaths and cases in Canada as on 26 May 2020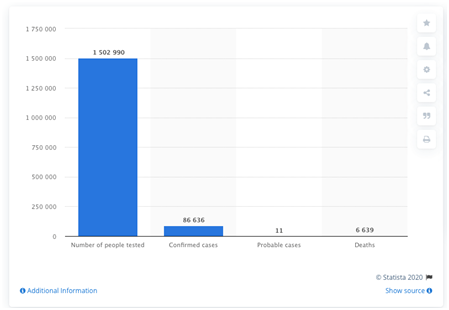 Source: https://www.statista.com/statistics/1107034/covid19-cases-deaths-tests-canada/

Another issues with respect to wide spread testing that needs to be addressed is the mismatch in the province's approach to testing. While the federal government and provincial governments collaborate on testing processes, nonetheless is the provinces have different criteria for deciding that who gets tested. For example, 'Ontario, reserves testing for those sick enough to be admitted to hospital, long-term care residents, health care workers, Indigenous people and those living in remote locations. Quebec is also prioritising those who live and work in long-term care facilities, essential health and public safety workers and people who live in at-risk settings, such as homeless shelters. Manitoba has expanded its criteria to include workers in all essential services. Alberta, on the other hand, has made testing available to anyone showing symptoms of the virus.'

To be prepared for a possible spike in number of patients, Canada is preparing its hospitals including rural hospitals to address emergency COVID-19 patients. Research labs and hospitals are working together to find innovative solutions to problems such as shortage of equipment and medicines as well as the development of a vaccine for the virus. The government has also established a helpline to deal with mental health issues that may arise due to the public health measures that have been taken to contain the spread of the virus. Doctors are also providing their services online to better serve other patients in the midst of COVID-19 pandemic. Nonetheless, there are fears of the effect of the pandemic on Indigenous communities. These communities are among the most vulnerable to COVID-19 due to distance from emergency facilities, access to necessary resources, and underlying health conditions such as respiratory disorders, diabetes etc. that may make COVID-19 infection fatal. Existing healthcare facilities on protected lands may not be able to cope with a large influx of patients. These communities are implementing aggressive measures to combat the spread of the virus, they remain vulnerable due to lack of financial means to seek adequate medical care. Most people of such communities are poor with limited access to clean water and live in cramped conditions that do not allow social distancing. The demand from these communities is for the government to provide psychological help to the people to help them cope with the crisis while also building a comprehensive socio-economic assistance strategy for these communities.

According to the Public Health Department, 'government data modelling predict that if Canada continues to follow stringent measures, the COVID-19 pandemic will claim 11,000-22,000 lives. If restrictions are removed then the numbers are likely to increase exponentially. Strong control/restrictions will ensure that only 1 to 10 percent of people are infected as opposed to 25-50 infection rate by weakening the control with 70-80 percent rate of infection with no control.'

When compared to other countries, it would seem that the Canadian healthcare has been able to manage the virus outbreak comparatively better.

Societal Response

Unlike their counterparts in the United States protesting the stay at home orders, there is widespread support from the Canadians for the measures taken, by both federal and provincial governments, to contain the spread of COVID-19. The daily news briefings by Prime Minister Trudeau and Chief Public Health Officer Dr. Theresa Tam, providing accurate information have been appreciated and Prime Minister Trudeau enjoys high public approval rating of about 54 percent. While the government has announced plans to help the less privileged and those who require assistance, the common people have also volunteered to help those in need. The Government of Canada has put a call out for volunteers to support frontline healthcare workers and is offering full-time jobs to Canadian Forces reservists.

Conclusion

The COVID-19 pandemic response by Canada has allowed it to manage and limit the crisis. The federal and provincial governments have been able to work together to respond to the health-care crisis. The economic stimulus packages have focussed on helping business recover quickly and ensure that people get adequate benefits such as child care and unemployment benefits.

Canada has been able to respond to the pandemic in a relatively effective manner. The governments have been able to ensure medical supply such as ventilators and PPE for healthcare workers. The coordinated response with the governments, federal and provincial, redirecting all medical queries to the experts has meant people have received coherent and consistent guidelines to help contain the spread of the virus. The political polarisation visible in some other countries and in its neighbouring US is missing in Canada. Nonetheless, the virus has the potential to spread quickly and unexpectedly and would require both the federal and provincial governments to continue to work towards an effective response. It is being predicted that a vaccine would be available at the earliest by 2021. Till that happens it would not be a situation of business as usual. Nonetheless, lockdowns is not an effective solution. To resume economic activities Canada would need to follow WHO recommendations of increased testing. This may be best achieved through a uniform criteria of testing rather than the current provincial criteria that differ from each other. In this the government has to take special interest of its indigenous populations. These communities largely have minimum healthcare facilities. With limited economic means available to them, these communities continue to work making them vulnerable.

A major reason for the success of Canada's response to the pandemic has been the support of the citizens in adhering to the social distancing guidelines and accepting the measure that restrict their economic activities. They have also volunteered to support the government measure by engaging in volunteering to help the most vulnerable in the society thereby helping limit the spread of the virus to the old and the poor.

While Canada has implemented plans that address the current consequences of the pandemic, it has to start the process of building a long term response for the post-pandemic society as well.
*****
*Dr. Stuti Banerjee, Research Fellow, ICWA.
Disclaimer: Views expressed are personal.
Endnotes