Abstract

The United States is facing a coronavirus crisiswith the largest number of people infected and dead. Political divisions are visible in the responses initiated by states in the country as is the state of healthcare unpreparedness within the United States. The crisis has also brought to the forefront underlying social issues of race and ethnicity apart from economic costs. The challenge before the United States remains the need for evolving an coordinated national policy in an atmosphere of political polarisation and social differences.

The United States has reported over one million people infected (1,662,414) with the coronavirus and 98,261 deaths (as on 26 May 2020), surpassing all other nations. Even President Donald Trump till recently had been optimistic and said the virus was "very much under control"—has accepted that the pandemic is about to get much worse. The challenge before the United States remains the need for a coordinated national policy in an atmosphere of political polarisation and in a country where states guard their autonomy fiercely.

Image one: COVID-19 Reported Cases in the United States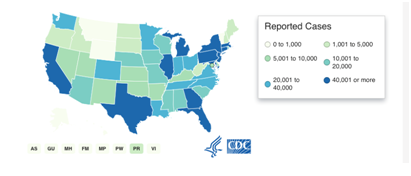 Source: https://www.cdc.gov/coronavirus/2019-ncov/cases-updates/cases-in-us.html

Responding to the Pandemic

i) Healthcare Preparedness: Different States Different Responses

The one criticism facing the Centres for Disease Control and Prevention (CDC), is the lack of wide scale testing. 'Testing is essential for identifying people who have been infected and for understanding the true scope of the outbreak. But when the initial test from the CDC was rolled out to state public-health laboratories in early February one of its components was discovered to be faulty. Since then, academic, clinical, and other laboratories have struggled to get or make new tests and diagnose patients. Red tape has further complicated matters with weeks having passed before testing could be expanded to many labs and hospitals.' Public health officials said the slow pace of early testing played a pivotal role in the fast spread of the virus, which has no proven drug or vaccine to cure it and slow it down.

The United States has conducted 1.6 million tests till date, according to the 'COVID Tracking Project' , but healthcare experts feel twice that many tests would be needed on a minimum to mount an effective battle against COVID-19 virus. However, a national testing strategy is not going to be effective. Individual states would have to formulate their strategies based on the size of the outbreak in the states. 'Those with few COVID-19 cases and deaths so far will need to perform relatively few tests: between 68 and 145 per day in Alaska, for instance. On the other hand, New York would have to do 130,000 to 155,000 tests every day and New Jersey 75,000 to 90,000. Many states are not even close to their goals. New York, for instance, has been averaging barely more than 20,000 tests per day since mid-April. New Jersey has been doing about 7,000, on an average.'

Image Two: Testing Data of the U.S. ( as on 26 May 2020)


Source: https://www.cdc.gov/coronavirus/2019-ncov/cases-updates/testing-in-us.html

Widespread testing will help get information to enable the state administrations to formulate policies such as when to enforce or ease social distancing, the most important tool to slow the virus. Testing will also help effectively allocate medial resources and staff. While the testing is the first step, it is also important to return the tests results quickly. The United States is currently in a backlog of tests, which also need to be cleared. 'Hospitals reported that severe shortages of testing supplies and extended waits for test results limited their ability to monitor the health of patients and staff. When patient stays were extended while awaiting test results, this strained bed availability, personal protective equipment (PPE) supplies, and staffing.'

Apart from testing, the United States is facing a shortage of vital medical equipment and PPE kits for its healthcare workers. According to the U.S. Department of Health and Human Services Office of Inspector General's report titled 'Hospital Experiences Responding to the COVID-19 Pandemic: Results of a National Pulse Survey March 23–27, 2020', hospitals reported that widespread shortages of PPE put staff and patients at risk….and that the lack of a robust supply chain was delaying or preventing them from restocking PPE…. They also reported that shortages of critical supplies, materials, and logistic support that accompany more beds affected hospitals' ability to care for patients. Hospitals reported needing items that support a patient room, such as intravenous therapy (IV) poles, medical gas, linens, toilet paper, and food. Others reported shortages of no-touch infrared thermometers, disinfectants, and cleaning supplies. Isolated and smaller hospitals faced special challenges in maintaining the supplies they needed and restocking them quickly when they ran out of supplies.'

ii) Political Response: Governors/states vs the Federal Administration

Among numerous factors, political polarisation has become a salient feature hampering the United States' efforts to combat the coronavirus pandemic. The COVID-19 pandemic is '...unfolding very differently in Republican- and Democratic-leaning parts of the country. …With a few prominent exceptions, especially Ohio, states with Republican governors have been slower, or less likely, than those run by Democrats to impose restrictions on their residents. So far, the greatest clusters of the disease, and the most aggressive responses to it, have indeed been centred in a few large, Democratic-leaning metropolitan areas, including Seattle, New York, San Francisco, and Boston.' A possible reason for this could be that 'Democrats now dominate the places in the U.S. most integrated into the global economy, which may be more likely to receive international visitors or see their own residents travel abroad. With only a few exceptions, the states with the fewest number of confirmed cases are smaller, Republican-leaning ones between the coasts, with fewer ties to diverse populations and the global economy. This has left Democratic-run cities in 'red states'—such as Houston, Tucson, Nashville, and Atlanta, trying to impose their own rules on public gatherings' with mixed results. While urban centres have been severely impacted by the virus, rural healthcare needs to be prepared for cases from small towns and rural areas as well.

Image Three: COVID-19 cases in Democrat (blue) and Republican (red) Counties



Source: https://www.nytimes.com/2020/05/25/us/politics/coronavirus-red-blue-states.html (Counties are identifies s democrat or republican based on the 2016 presidential election results)

The statements in the early stages of the virus by President Trump and his administration such as "We have it totally under control" and later stating "It's going to disappear. One day – it's like a miracle – it will disappear." This may have confused the general public and prompted them and some health workers underestimate the severity of the pandemic. 'Nancy Pelosi, the speaker of the House of Representative told CNN that President Trump is "costing American lives. His lessening of the severity of the virus early on "was deadly" as will be the delays in delivering medical equipment to where it is needed.'

What has caused further confusion are contradictory and conflicting suggestions from authorities. 'Hospitals reported that changing and sometimes inconsistent guidance from Federal, State, and local authorities posed challenges and confused hospitals and the public. …Hospitals also reported concerns that public misinformation has increased hospital workloads (e.g., patients showing up unnecessarily, hospitals needing to do public education) at a critical time. Hospitals sought centralised communication and public information, including evidence-based guidance, reliable data and predictive models, and a central repository for all COVID-19-related guidance, data, and information. Unlike other nations, which have a national response which have been adopted by states to respond to the situation on the ground, there is a disparity between the federal and state responses in the United States. Most states have responded to the crisis independent of the federal administration.

Social Responses: Race and Ethnicity, Rich and Poor Issues

As states in the United States start to make wearing masks mandatory in public, it has caused anxiety among black Americans and other ethnic minorities. They fear that wearing a mask, especially a homemade mask, would leave them open to police bias and harassment and possibly, being attacked or killed. 'A group of six US senators, including Kamala Harris and Cory Booker, have sent a letter to the Department of Justice and the Federal Bureau of Investigation demanding immediate anti-bias training for law enforcement officials amid the coronavirus pandemic after recent reports from black men who have complained that they were racially profiled for wearing protective face masks. In a video that went viral, an officer in Miami stepped out of his squad car to arrest a black man with a face mask moving items near a van filled with equipment. It was later found that the man, was a doctor who had volunteered to test homeless people for COVID-19. In Illinois, two black men wearing surgical masks were followed by a policeman, who was occasionally gripping his gun, in a Walmart store.'

Image Four:African-Americans and COVID-19 Death Rates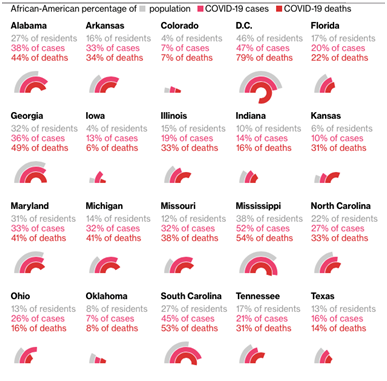 Source: https://www.bloomberg.com/graphics/2020-coronavirus-outbreak-us-african-american-death-rate/ (Racial data for COVID-19 deaths is only available for some states )

While racial demographic information has not been reported for many patients, according to the CDC, current data suggest a disproportionate burden of illness and death among racial and ethnic minority groups. 'Among 580 patients with race/ethnicity data, 261 (45.0%) were non-Hispanic white (white), 192 (33.1%) were non-Hispanic black (black), 47 (8.1%) were Hispanic, 32 (5.5%) were Asian, two (0.3%) were American Indian/Alaskan Native, and 46 (7.9%) were of other or unknown race.' 'Among COVID-19 deaths for which race and ethnicity data were available, identified death rates among Black/African American persons (92.3 deaths per 100,000 population) and Hispanic/Latino persons (74.3) that were substantially higher than that of white (45.2) or Asian (34.5) persons.' Differences in social and economic conditions make it difficult to follow preventive measures against COVID-19 or seek treatment after falling sick. They tend to be multi-generational households living in densely populated areas with limited access to healthcare and insurance. 'Compared to whites, Hispanics are almost 3 times as likely to be uninsured, and African Americans are almost twice as likely to be uninsured.' The financial implications of treatment make it inaccessible to most. They are also likely to continue to work due to economic conditions with no paid sick leaves and with underlying medical conditions making them more susceptible to the virus. There is a need for the state and federal administrations to reach out to these vulnerable communities and ensure that they get adequate help.

Economic Response: Re- opening the Economy

The economic crisis facing the world today has emerged outside the economy. To rescue the economy, the United States Congress passed the largest stimulus package of $ 484 billion on 23 April 2020 (This is in addition to the $ 2 trillion economic packages passed by US Congress last month.) Lawmakers are already working towards the next set of stimulus packages for the stalled economy. It includes $320 billion for the Paycheck Protection Program, designed to help struggling small businesses keep their workers on the payroll. While the figures of the stimulus packages are historic, so would the contraction of the economy. According to the U.S. Department of Labour, the unemployment figures are at its highest ever since the great depression of 1930. Close to 30 million unemployment claims have been filed representing roughly 18.6% of the American labour force, as businesses have laid off or furloughed workers. Joblessness remains a dire problem for the U.S. economy.

In an effort to restart the economy, President Trump established a second task force which was to work with states to build a plan to slowly reopen the economy. Federal and state administrations are in talks with CEOs, business owners and healthcare workers to outline future recovery package and plans to ease restrictions on movement. Many states have either started or announced plans to allow previously shuttered businesses to operate once again mainly to stall joblessness. However, 43 states and Washington DC have ordered or recommended that schools remain closed for this academic session.

Conclusion

Political division over the pandemic has hampered decisive action in the United States. The challenge is too vast to be just left to healthcare officials and requires a coordinated response from both federal and state authorities. It also requires the support of the citizens.

Federal, state, and local governments must consistently urge people to follow medical advice such as stay home and keep their distance from others. Federal officials must take a stronger role in directing medical supplies to areas most in need. Testing for the virus must accelerate and expand so that people who are infected can be quarantined.

The failures of this stage allow not just the United States but other nations to also build systems that will be able to confront the future 'waves' of the COVID-19 virus. At the same time nations would need to anticipate the long-term effects of the crisis and make policies to mitigate them.
*****
*Dr. Stuti Banerjee, Research Fellow, Indian Council of World Affairs, New Delhi.
Disclaimer : Views expressed are personal.
Endnotes


Figures taken from Centres for Disease Control and Prevention (CDC),

https://www.cdc.gov/coronavirus/2019-ncov/cases-updates/cases-in-us.html

, Accessed on 03 May 2020.

Olga Khazan, "The 4 Key Reasons the U.S. Is So Behind on Coronavirus Testing,"

https://www.theatlantic.com/health/archive/2020/03/why-coronavirus-testing-us-so-delayed/607954/

, Accessed on 28 April 2020

This project was launched out of The Atlantic to fill a major gap in publicly available COVID-19 testing data.

Sharon Begley, "Many states are far short of Covid-19 testing levels needed for safe reopening, new analysis shows," 

https://www.statnews.com/2020/04/27/coronavirus-many-states-short-of-testing-levels-needed-for-safe-reopening/

, Accessed on 29 April 2020.

U.S. Department of Health And Human Services Office of the Inspector General, "Hospital Experiences Responding to the COVID-19 Pandemic: Results of a National Pulse Survey March 23–27, 2020",

https://oig.hhs.gov/oei/reports/oei-06-20-00300.pdf

, Accessed on 30 April 2020.

Ibid.

Roland Brownstien, "Red and Blue America Aren't Experiencing the Same Pandemic,"

https://www.theatlantic.com/politics/archive/2020/03/how-republicans-and-democrats-think-about-coronavirus/608395/

, Accessed on 28 April 2020

 Ibid.

The Guardian, "How science finally caught up with Trump's playbook – with millions of lives at stake,"

https://www.theguardian.com/us-news/2020/apr/04/trump-coronavirus-science-analysis

, Accessed on 30 April 2020

Chandelist Duster, "Pelosi on Trump's coronavirus response: 'As the President fiddles, people are dying',"

https://edition.cnn.com/2020/03/29/politics/nancy-pelosi-coronavirus-cnntv/index.html

, Accessed on 30 April 2020.

Op. Cit. 5,

U.S. Department of Health And Human Services Office of the Inspector General.

Fabiola Cineas, "Senators are demanding a solution to police stopping black men for wearing — and not wearing — masks,"

https://www.vox.com/2020/4/22/21230999/black-men-wearing-masks-police-bias-harris-booker-senate

, Accessed on 30 April 2020.

Centers for Disease Control and Prevention, "Morbidity and Mortality Weekly Report (MMWR)," https://www.cdc.gov/mmwr/volumes/69/wr/mm6915e3.htm?s_cid=mm6915e3_w, Accessed on 30 April 2020.

Centers for Disease Control and Prevention, "COVID-19 in Racial and Ethnic Minority Groups,"

https://www.cdc.gov/coronavirus/2019-ncov/need-extra-precautions/racial-ethnic-minorities.html

, Accessed on 30 April 2020.

Ibid.