Tensions in the Mediterranean are not new with Greece and Turkey facing stand-offs over multiple issues since the 1970s. The recent flare-up in the tensions began in July 2020 when the Turkish government declared its intent to send research vessels in the waters which are claimed by Greek government. The move is considered part of Ankara's wider energy exploration efforts in the Eastern Mediterranean. This decision has pitted Turkey against Greece and Cyprus, which consider the areas of exploration as their continental shelves. The involvement of multiple actors, like France, Egypt, and Libya has turned the area into an active conflict zone with issues and actors converging from the EU and MENA region. The paper tries to analyse these differences and assess the impact of the escalation of conflict in the Eastern Mediterranean.

Deepening Fault-lines - Escalation of Conflict

Following are the existing and emerging fault-lines in the region that have resulted in the escalation of the conflict.

   1.  Delineation of Maritime Boundaries

The discovery, exploration and exploitation of resources in the Eastern Mediterranean Sea have bought forth the issue of the delineation of maritime boundaries. According to the UNCLOS, "a country's territorial waters extend up to 12 nautical miles (22.2km) from the shore, and up to 200 nautical miles (370km) from the shore is its Exclusive Economic Zone (EEZ)"[i]. That is, anything found in or under the water within this delineated zone belongs exclusively to the said country. Turkey is not a signatory to the UNCLOS, and has argued that the continental shelf of the country should be measured from its mainland. According to this definition of the delineation, several Greek islands that are off the Turkish southern coast should fall under the Turkish exclusive zone, this is contested by Greece. As a signatory to UNCLOs,Greece has argued that islands also need to be taken into account while delineating a country's continental shelf, as is laid down in UNCLOS. Greece has around 6,000 islands and smaller islets in the Aegean and Ionian Seas[ii], Turkey has opposed this claim and for Greece this is a violation of international law.

Another standing issue is that of Cyprus. Turkey has, time and again, argued that Cyprus is only entitled to 12 nautical miles EEZ until a resolution is reached on the island's status and that Northern Cyprus has rights to explore in the Greek-Cypriot waters. For this purpose, it has deployed exploration ships in the waters to access and harness resources.

These competing claims on maritime boundaries and EEZs have now extended to energy resources pitting Turkey, and Cyprus and Greece against each other. With the discovery of offshore gas in 2011, differences between Cyprus and Turkey have escalated. Cyprus has granted exploration licenses to many multinational oil companies. Turkey has contended that several areas where Cyprus is either exploring resources or giving licenses belong to either the Turkish continental shelf or are in the areas where Northern Cyprus has rights to explore[iii]. Turkey has further argued that Cyprus should not embark on "efforts to commercialise offshore gas deposits until there is a political resolution to the country's long-running dispute"[iv].

   2.  Quest for Energy Resources

Since the 2010 study by the United States Geological Survey estimated that the waters of Cyprus, Egypt, Israel, Lebanon, and Palestineholds 122.4 trillion cubic feet of untapped energy resources[v], the energy geopolitics in the Eastern Mediterranean has been heating up. Perceived to be energy rich, the region is now being actively explored and developed by various nations and actors.

Eastern Mediterranean natural gas reserves remain crucial for littoral countries as they seek to enhance their energy security and push economic development. Countries like Cyprus, Egypt, and Israel have discovered substantial gas reserves further stimulating cooperation between these nations. Major stakeholders in the region include - Italy's Eni which has large stakes in Egypt and exploration blocks off Cyprus and Lebanon. Similarly other stakeholders are BG (United Kingdom), Total (France), Kogas (Korea), ExxonMobil (US) – which have joined Eni in Cyprus. BP (UK) is present in Egypt, while Noble (US) and Israeli companies own Israeli fields.[vi]

The discovery of the Zohr natural gas field in the Egyptian maritime territory in 2015 by Eni has become a game-changer in the region. It is by far the largest Mediterranean gas field. This propelled Eni to push forward an ambitious plan to create a Mediterranean hub and to pool gas resources from Cyprus, Egypt and Israel and cost-effectively market it to European countries.[vii] The idea was to connect subsea fields in Israel and Cyprus to Egypt's pipeline network. Eni further declared in 2018, the presence of significant gas reserves in Calypso fields in Cyprus. This was followed by four major developments – first, the entry of French Total in collaboration in projects with Eni in all of its development operations in Cyprus, enabling France to become a stakeholder; second, Cyprus signing an agreement with Egypt to supply gas to its liquefied natural gas plants for export; third, Israel, signed an agreement with Egypt to export natural gas from Israel's largest offshore field, Leviathan; and fourth, since 2017 Egypt, Greece, Cyprus, and Israel have been in talks to create an energy architecture in the region that more or less excludes Turkey. The talks to create a Mediterranean energy hub to supply gas from the region to Europe using the Egyptian LNG plants would bypass Turkish pipelines. This has led Turkey to express its dissatisfaction in various manner – most prominent being sending exploration and drilling ships in Cypriot water, blocking Eni's drilling ship before it could reach its site in Cypriot waters, forcing the company to withdraw the vessel etc.

   3.  EastMed Pipeline and Eastern Mediterranean Gas Forum
Eastern Mediterranean (EastMed) is a 1,900km natural gas pipeline project which would connect the gas reserves of the Eastern Mediterranean to Greece and then to Italy. The initial capacity of the pipeline is expected to be 10 billion cubic metre/year (bcm/y) to be increased to 20 bcm/y in the second phase of development[viii]. The construction of the pipeline would cost approximately $6.7 billion and is expected to start delivering gas. The pipeline will connect the Leviathan (Israel) and Aphrodite (Cyprus) gas fields in the Eastern Mediterranean to Europe. In January 2020, Greece, Cyprus and Israel signed the Eastern Mediterranean pipeline deal.

Turkey has raised strong objections to the pipeline project saying that it has been intentionally excluded. Besides, Turkey shares difficult relations with Israel, Cyprus and Greece. Long standing issues like the status of Cyprus and the maritime boundary delineation dispute between Greece and Turkey are also influencing the current developments in the Eastern Mediterranean region. Similarly, Turkish relations with Israel have been strained since the 2010 Mavi Marmara incident[ix]. Although, an attempt for normalization was made in 2016 with the signing of the reconciliation agreement and cooperation on transportation of natural gas,however, both sides failed to agree on the economic terms of the transportation of energy resources.

With the establishment of the Eastern Mediterranean Gas Forum, another dimension has been added to the regional energy security architecture. An initiative of Egypt, the idea behind the establishment of the Forum is to create a regional energy market and an exporting hub for Europe. The Forum was convened in 2019 with the participation of energy ministers from Italy, the Republic of Cyprus, Greece, Israel, Egypt, Jordan, and the Palestinian Authority with additional support from the US and the EU. Turkey was again excluded from the initiative. The Turkish foreign ministry in a statement said that "If the purpose of this forum was really cooperation, of course, Turkey and the Turkish Cypriots would be invited to the forum as well… established by some countries with political motives – is dreaming of leaving Turkey out of the energy equation in the Eastern Mediterranean."[x]

   4.  Maritime Pacts and Counter-Pacts

In November 2019, Turkey signed a maritime pact with Libya's Government of National Accord (GNA) effectively creating an EEZ from Turkey's southern Mediterranean shore to Libya's north-east coast. The deal approved by Turkey and Libya in December 2019 "demarcated an 18.6nautical mile line that will form the maritime boundary separating their economic zones"[xi]. The move appeared to be a response to the efforts by Cyprus, Egypt, Greece and Israel to develop the Mediterranean gas reserves. The East-Med pipeline which will run from Israeli fields to Cypriot waters to Greek island of Crete would have to cross this planned Turkey-Libya economic zone. This puts a question mark on the pipeline itself and re-writes the maritime boundaries in the region.

Greece and Cyprus, which have longstanding maritime disputes with Turkey, said that the deal violated the international law of the sea and it was an attempt by Turkey to destabilise the region and scuttle the development of East Mediterranean gas reserves. Greece has argued that it ignores the rights of Greek islands to have EEZs. EU, in its December 2019 Summit also issued a statement rejecting the deal saying that "[it] infringes upon the sovereign rights of third States (and) does not comply with the (U.N.) Law of the Sea"[xii]. Egypt has called it "illegal and not binding", while Israel has said that it has the potential to "jeopardise peace and stability in the area"[xiii].

In August 2020, Egypt and Greece also signed a maritime agreement that fixed their sea boundary and demarcated maritime economic zones. According to Egyptian Foreign Minister, "This agreement allows both countries to move forward in maximising the utilisation of the resources available in the exclusive economic zone, especially promising oil and gas reserves"[xiv]. However, the deal was denounced by Turkey which said that EEZs designated under the agreement were part of its continental shelf thereby rendering the agreement null and void. Also, the agreement violated the Libyan maritime right, adding that "Turkey will not allow any activity in these areas and will continue to resolutely defend its legitimate rights and interests in the eastern Mediterranean as well as those of the self-declared Turkish Republic of Northern Cyprus".[xv]

This pact was in addition to an agreement signed between Italy and Greece in June 2020 which demarcated their respective maritime boundaries, EEZs and exclusive fishing rights in the Ionian Sea amid tension in the Mediterranean region over rights to natural resources. The agreement was an extension of a 1977 accord and opened new possibilities for Greece and Italy to issue licenses for the exploration and exploitation of hydrocarbon resources in the region[xvi].
Map: EEZ Agreements in Eastern Mediterranean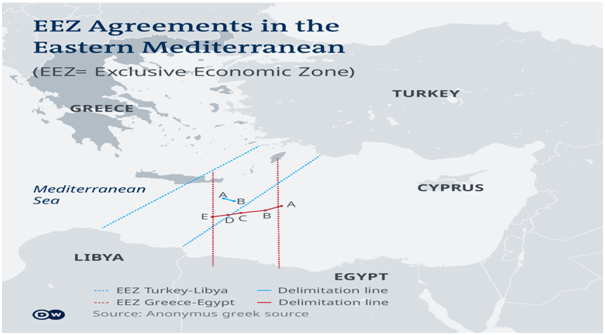 Source: DW, 11 August 2020, https://www.dw.com/en/egypts-leadership-feels-markedly-threatened-by-turkey/a-54533478

   5.  Involvement of Multiple Players

The situation is further complicated by the presence of multiple actors and the postures adopted by them. Strategically, the involvement of many commercial players has led to a scramble for resources in the region. The discovery of gas reserves off Cyprus has prompted the Cypriot government, Greece, Israel and Egypt to work together to explore the resources. Many of the commercial players like Eni (Italy), Total (France), and Delek (Israel) are involved in the region to enhance their portfolios, and diversify their energy resources following on the agendas and priorities of their respective governments. The Eastern Mediterranean resources remain critical for these companies and their respective countries to advance economic growth and energy security. With Turkey increasing its activities such as drilling, dispatching its survey ships and issuing licenses for exploring new areas in the region, tensions have surfaced. The delineation of maritime boundaries remains a critical issue.

As stated earlier, several countries in the region have key stakes in the energy resources of the region, the conflict in Libya has added to increasing tensions. Libya's Government of National Accord (GNA) is recognised by Turkey and UN, while UAE, Egypt and Russia have backed Gen. Haftar, Libya National Army in the conflict. While France's position remains unclear, tensions between France and Turkey emerged when it accused Ankara of violating the arms embargo on Libya in June 2020. The potential of escalation of tensions was visible in February 2020 when France deployed an aircraft carrier in the gas fields near Cyprus[xvii]. This was followed by a stand-off between France and Turkey in June 2020 after a French frigate under NATO command tried to inspect a Tanzanian-flagged cargo ship suspected of smuggling arms to Libya in violation of a UN embargo. The French defence ministry said that its frigate was harassed by three Turkish navy vessels escorting the cargo ship, which was later denied by the Turkish government. This led to France suspending its participation in Sea Guardian, NATO's Mediterranean mission and offering its naval forces to the EU mission responsible for upholding the arms embargo without the involvement of Turkish ships.[xviii] Since then, France has boosted its military presence in the region in support of Greece by deploying two Rafale fighter jets and a naval frigate in the Eastern Mediterranean.

The Eastern Mediterranean Sea has also become active in terms of various military drills. Both Greece and Turkey announced respective military exercises on 25 August 2020 in an area where the Turkish research vessel Oruc Reis was carrying out seismic research escorted by Turkish warships. Other countries also got involved in the various military exercises, like UAE which sent warplanes to the Greek island of Crete for joint training exercises with the Hellenic Air Force along with France[xix]. Similarly, France, Italy, Greece joined Cyprus in joint naval-air drills, codenamed Eunomia from 26-28 August 2020. France and Greece deployed their warships and aircrafts to participate in the exercises, while Cyprus activated its air defence system to test its capabilities[xx]. Turkish air and naval forces conducted joint training exercises in the Aegean Sea to "enhance, maintain and improve the operational capability of joint inter-forces operations" in August 2020 and the armed forces of Turkey and the Turkish Republic of Northern Cyprus (TRNC) on 6 September 2020 started joint military exercises called Mediterranean Storm in Northern Cyprus.

Assessment

The tensions in the Eastern Mediterranean are multi-layered and multi-dimensional in nature. The region's fault-lines are a combination of traditional disputes (Cyprus and maritime boundary delineation) and emerging realities (energy exploration and exploitation, regional alignments). On the surface, it appears to be divergences over energy exploration, but if looked at closely the dispute points towards larger issues of overlapping maritime boundaries, interpretation of UNCLOS and questions related to delineation of continental shelves. Both Turkey and Greece have overlapping claims to areas in the Eastern Mediterranean, with Turkey disputing that each island is entitled to its own continental shelf.
Map: Eastern Mediterranean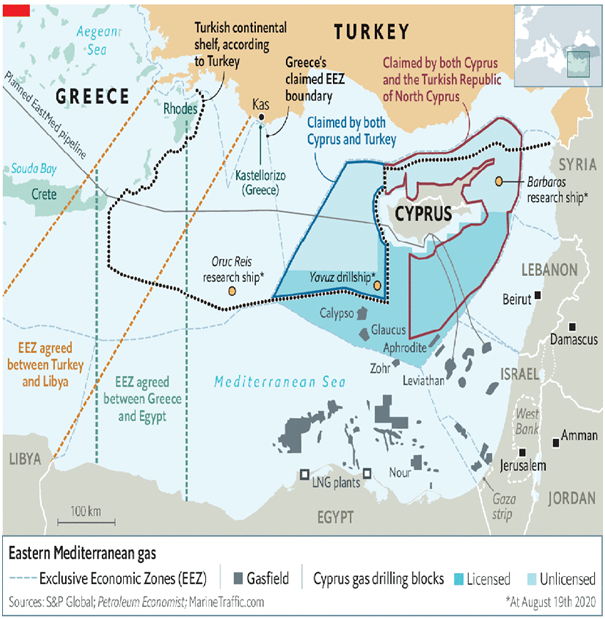 Source: The Economist, 20 August 2020, https://www.economist.com/international/2020/08/20/a-row-between-turkey-and-greece-over-gas-is-raising-tension-in-the-eastern-mediterranean

Beyond the latest concerns, the conflict draws on historical grievances like the status of Cyprus. The invasion of Cyprus by Turkey in 1974 resulted in the partitioning of the island, the North occupied by Turkey and the South by the Greek Cypriots. Turkey has argued that as the status of island is still disputed, Cyprus is only entitled to a 12-nautical mile EEZ and that the Northern Cyprus also has the right to explore in Greek Cypriot waters. With the escalation of crisis, both Turkey and Greece have tried to bolster their positions by signing maritime agreements and drawing exclusive maritime economic zones with Libya and Egypt respectively.

The involvement of multiple actors, like France, Egypt, Israel, and Libya has turned the area into an active geopolitical zone with issues and actors converging from the EU and MENA region. Turkey has signed maritime agreement with Libyan GNA which has expanded Turkish drilling in the region. This agreement is neither recognised by US or by the EU. However, this has led Turkey to intervene in the Libyan Civil war. On the other hand, France, the UAE, and Egypt have provided either military or financial assistance to Libya National Army making them stakeholders in the region.

The regional dynamics is further altered with the initiatives like East-Med pipeline and Eastern Mediterranean Gas Forum. Both these initiatives have excluded Turkey, which has opposed these initiatives on the ground that they undermine its position as the Eastern Mediterranean's key gas exploration and energy export hub. As the brinkmanship increases in the region, the possibility of the accidental escalation increases as well. Although, Turkey called on Greece to enter NATO-backed talks to reduce tensions in the Eastern Mediterranean and prevent unwanted accidents between the countries' militaries[xxi], no concrete stepswere taken to de-escalate the issue.

NATO, on 1 October 2020, announced the framework of a de-confliction agreement between Greece and Turkey, under which they agreed to set up a mechanism to avoid accidental conflicts in the Mediterranean[xxii]. The agreement included establishment of a hotline for use between senior officials should a confrontation arises. Greek Prime Minister, in an interview on 6 October 2020, welcomed the move towards de-escalation of the crisis, saying that the onus lies on Ankara for peaceful resolution of the crisis.[xxiii]Also, EU, in a special summit held on 2 October 2020, warned to impose sanctions on Turkey amid an escalation in tensions with Greece over energy resources and maritime borders.European Commission President Ursula von der Leyen urged Ankara to maintain peace and regional stability and to "abstain from unilateral actions" in the eastern Mediterranean region[xxiv].However, Turkish Navy on 11 October 2020 issued an advisory that its ship Oruc Reis will carry out a seismic survey in the eastern Mediterranean over the next ten days. Two other vessels, the Ataman and Cengiz Han will also continue works in an area including the south of Greek island of Kastellorizo until 22 October 2020.[xxv] This step by Turkey has the potential to increase the possibility of escalation of tensions between various players in the region.
*****
*Dr. Ankita Dutta is a Research Fellow at Indian Council of World Affairs.
Discliamer : The views expressed are personal
End Notes
[i] UNCLOS, https://www.un.org/Depts/los/convention_agreements/texts/unclos/unclos_e.pdf, Accessed 10 September 2020
[ii] Visit Greece, http://www.visitgreece.gr/en/greek_islands#:~:text=Greek%20sovereign%20land%20includes%206%2C000,phenomenon%20for%20the%20European%20continent, Accessed on 10 September 2020
[iii]Reuters, 19 January 2020, https://www.reuters.com/article/us-turkey-cyprus/turkey-spars-with-eu-over-fresh-drilling-off-cyprus-idUSKBN1ZI0G0?il=0, Accessed on 10 September 2020
[iv] Luigi Scazzieri, "Gas Heats Up The Eastern Mediterranean", Centre for European Reform, April 2020, https://www.cer.eu/insights/gas-heats-eastern-mediterranean, Accessed on 10 September 2020
[v]Assessment of Undiscovered Oil and Gas Resources of the Levant Basin Province, Eastern Mediterranean, US Geological Survey, 2010, https://pubs.usgs.gov/fs/2010/3014/pdf/FS10-3014.pdf, Accessed on 10 September 2020
[vi] John V. Bowlus, "Eastern Mediterranean gas: Testing the field", European Council on Foreign Affairs, https://www.ecfr.eu/specials/eastern_med/gas_fields, Accessed on 11 September 2020
[vii]Politico, 16 September 2015, https://www.politico.eu/article/eni-gas-egypt-israel-cyprus-zohr/, Accessed on 11 September 2020
[viii] Eastern Mediterranean Pipeline Project, NS Energy, https://www.nsenergybusiness.com/projects/eastern-mediterranean-pipeline-project/, Accessed on 11 September 2020
[ix]Mavi Marmara Incident - The relations between the two countries strained after the killing by Israeli commandos of 10 Turkish activists on board a ship that was part of an aid flotilla attempting to breach the blockade of Gaza on 31 May 2010.
[x]Daily Sabah, 17 January 2020, https://www.dailysabah.com/business/2020/01/17/ankara-disparages-surreal-steps-by-eastern-mediterranean-gas-forum, Accessed on 11 September 2020
[xi] Bloomberg, 5 December 2019, https://www.bloomberg.com/news/articles/2019-12-05/turkey-s-parliament-backs-contentious-maritime-deal-with-libya, Accessed on 11 September 2020
[xii]Reuters, 11 December 2019, https://www.reuters.com/article/us-eu-summit-greece-turkey/eu-leaders-to-reject-turkey-libya-deal-draft-statement-idUSKBN1YF228, Accessed on 12 September 2020
[xiii]The Washington Post, 20 August 2020, https://www.washingtonpost.com/business/energy/how-tensions-are-rising-over-mediterranean-gas-fields/2020/08/20/e3fa14be-e2fc-11ea-82d8-5e55d47e90ca_story.html, Accessed on 12 September 2020
[xiv]Reuters, 6 August 2020, https://www.reuters.com/article/us-egypt-greece/egypt-and-greece-sign-agreement-on-exclusive-economic-zone-idUSKCN252216, Accessed on 12 September 2020
[xv]Al Jazeera, 7 August 2020, https://www.aljazeera.com/news/2020/08/turkey-denounces-maritime-deal-greece-egypt-200807065300640.html, Accessed on 12 September 2020
[xvi]Bloomberg, 9 June 2020, https://www.bloomberg.com/news/articles/2020-06-09/greece-and-italy-agree-on-maritime-border-for-two-countries, Accessed on 13 September 2020
[xvii]LGC News, 2 February 2020, https://www.lgcnews.com/french-aircraft-carrier-deployed-to-cyprus/, Accessed on 13 September 2020
[xviii]Reuters, 7 July 2020, https://www.reuters.com/article/us-nato-france-turkey-analysis/france-turkey-tensions-mount-after-nato-naval-incident-idUSKBN2481K5, Accessed on 14 September 2020
[xix]Forbes, 26 August 2020, https://www.forbes.com/sites/pauliddon/2020/08/26/uae-sends-fighter-jets-to-support-allies-against-turkey/#5c59501327e1, Accessed on 14 September 2020
[xx]Naval News, 28 August 2020, https://www.navalnews.com/naval-news/2020/08/eunomia-cyprus-greece-france-and-italy-conducting-combined-drills-in-eastern-med/, Accessed on 15 September 2020
[xxi] No: 195, 3 September 2020, Press Release Regarding the Statement of NATO Secretary-General on the Launch of Technical Meetings between Turkey and Greece within NATO, Ministry of Foreign Affairs, Republic of Turkey, http://www.mfa.gov.tr/no_-195_-nato-genel-sekreteri-nin-ulkemiz-ile-yunanistan-arasinda-nato-bunyesinde-teknik-gorusmeler-baslatilmasi-aciklamasi-hk.en.mfa, Accessed on 18 September 2020
[xxii] DW, 1 October 2020, https://www.dw.com/en/greece-turkey-agree-to-nato-deal-to-avoid-conflict-in-mediterranean/a-55127024, Accessed on 12 October 2020
[xxiii] Al Jazeera, 6 October 2020, https://www.aljazeera.com/news/2020/10/6/us-greece-call-for-peaceful-resolution-for-disputes-in-east-med Accessed on 12 October 2020
[xxiv][xxiv] BBC, 2 October 2020, https://www.bbc.com/news/world-europe-54381498, Accessed on 12 October 2020
[xxv] The Hindu, 12 October 2020, https://www.thehindu.com/news/international/turkey-to-conduct-seismic-survey-in-eastern-mediterranean/article32830961.ece, Accessed on 12 October 2020