Among the international actors who are consistently asking the government of Maldives to put an end to the political crisis, the Commonwealth has been a prominent international actor, apart from the EU and the UN. The Commonwealth Ministerial Action Group (CMAG) has been pursuing the government of Maldives as well as the opposition coalition the Maldives United Opposition (MUO) to solve the political crisis in an amicable way. The arrests, imprisonment of opposition leaders as well as some of the members of ruling Progressive Party of Maldives (PPM) who spoke against the government, the trouble within the PPM leadership for control of power has become a major challenge in attaining political stability in the country. The failure to do so by the government led to inclusion of Maldives in the formal agenda of CMAG in its September 2016 meeting and warned of suspension from the membership of Commonwealth in its next meeting scheduled to be held in March 2017. Amidst the background, on 13th October the Government of Maldives had decided to leave the Commonwealth.
            Maldives joined the Commonwealth in 1982. As a small island state it was expected to benefit from the membership of the voluntary association as it is composed of former British colonies with same set of objectives to achieve. Some of the objectives are sustainable development, protection of sovereignty, democracy, peace and security, human rights and rule of law to name the few. Since the member countries of Commonwealth consist of developed, developing and small states, the interaction among the states through the Commonwealth association is expected to benefit the small states in terms of policy advise on political, economic and social developmental issues as well as in technical assistance. 
            Even though the Maldives joined the Commonwealth, the first democratic government was elected only in 2008. Till then the country was under the authoritarian rule of former President Gayooom. In his rule the Commonwealth values of democracy promotion and the state institutions were ignored and there was  strict  control  of  the  President  on  institutions  such  as judiciary, election commission and administrative units. Human rights violations took place and opposition to his regime was brutally suppressed. However, Gayom's rule saw the economic consolidation of the island through development of tourism sector.  Since 2008, the country witnessed political turmoil due to opposition mobilisation against the policies of democratically elected government such as, decentralisation measures, anti-corruption measures, police and judicial reforms. The current regime led by Mr. Yameen which was elected in 2013, introduced various laws such as Anti-Terrorism Law and Criminalising defamation to consolidate power and continues to cripple the voices against the government by using these laws.  This led to political instability which promoted the Commonwealth's active involvement at various levels.
Some of the important observations and role played by the commonwealth in Maldives in response to political situation is given below:
The positions taken by the Commonwealth indicate that it showed keen interests in solving the internal political differences in Maldives. Amidst this background the government of Maldives decided to leave the membership of Commonwealth on 13th October 2016. The statement by the government of Maldives said that, "the Commonwealth has sought to become an active participant in the domestic political discourse in the Maldives, which is contrary to the principles of the Charters of the UN and the Commonwealth. The CMAG and the Commonwealth Secretariat seem to be convinced that the Maldives, because of the high and favourable reputation that the country enjoys internationally, and also perhaps because it is a small State that lacks material power, would be an easy object that can be used, especially in the name of democracy promotion, to increase the organisation's own relevance and leverage in international politics".iii
Reasons for opting out
The government's decision to opt out of Commonwealth explains the fact that, the domestic political turbulences and control for power among the political parties has taken over the priorities set by the Commonwealth. The continuation of status quo in political talks is due to two reasons. One is the trouble within the PPM between the two leaders of the party Mr. Gayoom and Mr. Yameen. Secondly the opposition coalition the Maldives United Opposition (MUO) is making attempts to garner the international support to its efforts to replace the current regime. The government of Maldives accused 'Mr. Nasheed of taking advantage of refugee status in UK to mobilise international opinion against the goverment and disregard shown to the government of Maldives after it allowed him to travel to UK for medical treatment'.iv
            Another reason for non implementation of CMAG recommendations may be related to the divergent perspectives on the merits of membership of Commonwealth. The Maldives case indicates that, the Commonwealth leverage on matters of democracy promotion in Nations is limited and subject to criticism. This is because the democracy promotion is linked to the question of sovereignty and intervention in an independent nation. The Maldives Foreign Minister's article on this matter in the Independent in 2016 illustrates the point above. According to him, 'the Commonwealth has lost much of its relevance and has little empathy towards the struggles of post colonial states such as Maldives'. He also said that, decision to take punitive action against the government was not in line with the report of the Commonwealth backed CoNI on the last Presidential elections, that recognised the elections as free and fair. Whereas the Commonwealth Secretary-General Patricia Scotland said: "the Commonwealth family at large – its member governments and its peoples worldwide – will share my sadness and disappointment at this decision and we hope that this will be a temporary separation and that Maldives will feel able to return to the Commonwealth family and all that it represents in due course."v Ambassador of Maldives to India Ahmed Mohamed also expressed his disappointment over the role of CMAG. He said that, "the questions and uncertainties that the CMAG generated in the political environment resulted in the loss of several investments and project financing opportunities".vi The ambassador also pointed out that, "the CMAG has contravened its own mandate as outlined in Perth in 2011. This mandate clearly states that intervention should take place only when democracy is derailed or democratically elected governments are unconstitutionally overthrown. The Commonwealth's decision to penalise the Maldives was unjustified especially given that the Commission of National Inquiry (CoNI), with members appointed by the Commonwealth, found that the transfer of power was consistent with constitutional provisions".
            The opposition leader Mr. Nasheed and members of his party, on many occasions expressed their disappointment with the CMAG and its inability to influence the Maldives government. Mr. Nasheed during his interview to the Round Table in March 2016 expressed his confidence that, "there is no chance of Maldives leaving the Commonwealth. And he will not seek any election and office if he is wrong on this".vii The opinion specified that he would want Maldives to continue as member of Commonwealth despite the reservations he expressed on the role of CMAG. The opposition MDP also condemned the decision by the government to leave the Commonwealth.  
            Mr. James Dauris the British ambassador to the Maldives in an article in Maldives Independent on 7th December 2016, stated that, "the CMAG's statement was intended to be taken, in the spirit of well-intended advice offered by good friends. By good friends I mean friends who, meaning well, care about us enough to feel it matters to tell us when they think we are getting things wrong as well as when we are getting them right".viii He also said that, the British Government will continue to work with the Maldives and with Maldivians in pursuit of common interests, principles and values, including helping strengthen democracy and human rights.
Economic Engagement
Whether the decision to leave Commonwealth will impact the economy of Maldives is another aspect. Membership of Commonwealth is voluntary and expected to benefit the nations through development of trade linkages. At the same time, implementation of objectives of Commonwealth Charter on democracy promotion, human rights and freedom of expression are not binding. In terms of economic engagement, leaving Commonwealth may or may not affect the trade relations of Maldives with other countries. Below is some of the data on Trade/Aid/Investment and Tourism which would help to understand the impact the decision may have on Maldives economy.
Trade/Aid/Investment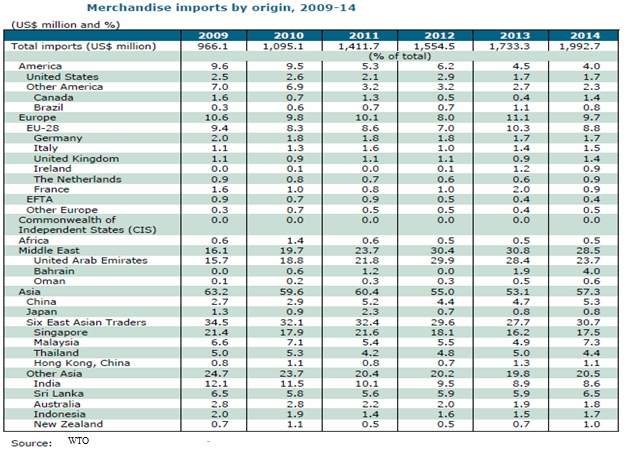 The WTO data of Maldives export destinations from 2009 to 2014 indicate that Asia and European region was the main export destination. Within Asia Thailand was the main export destination, followed by Sri Lanka, Japan and India.  In the Middle East region, the UAE increased its share from 0% in 2009 to 0.5% in 2014 (total exports US$144.8 million). Asian region was the main import destination of Maldives from 2009-2014, followed by Middle East and Europe.  The data shows that the share of imports from Asia (moderately) and Europe had reduced where as the share of Middle East had increased considerably since 2009 from 16.1% of the total trade to 28.5% in 2014.  Machinery and electronics constituted major part of imports followed by food items, fuel, base items, miscellaneous manufactured articles, wood and chemicals. The Commonwealth countries India, Sri Lanka, UK and Malaysia's share is only moderate in Maldives export and import trade, except Singapore. Whether these countries are going to influence the government by altering the trade equations is the question. And in the present scenario these countries may not opt for this option as the imports from Commonwealth countries mostly consists essential items that cater to the larger population. For example, 'from India Maldives imports essential items such as agricultural and poultry produce, sugar, fruits, vegetables, spices, rice , wheat flour, textiles and medicines'.ix  Whereas UK's assistance is mainly targeted towards human resource development and Sri Lanka is also an important partner for import of essential items. The exports constituted mainly Yellowfin Tuna fish, and Skipjack Tuna.
            The bilateral trade with countries such as India, China, USA and Sri Lanka is as follows. India and Maldives Bilateral Trade is Rs. 700 Crore (US $ 105.22 million). Maldives signed, on 15 September 2014, an agreement on establishing a Joint Committee on Economic and Trade Cooperation with China and currently negotiating a China-Maldives Free Trade Agreement. In 2014, 'in the first half year of 2014, China-Maldives bilateral trade volume was over US$ 73 million'.x Another important bilateral economic partner of Maldives is Sri Lanka and in 2013 the bilateral trade volume was $ 71.95 million. Bilateral economic relations between the US and Maldives is improving. For example, "Maldives has signed a trade and investment framework agreement with the United States and held its first meeting in October 2014, providing a forum to examine ways to enhance bilateral trade and investment. Maldives has been designated as a beneficiary country under the Generalized System of Preferences (GSP) program, under which a range of products that Maldives might seek to export would be eligible for duty-free entry to the United States. The GSP program provides an incentive for investors to produce in Maldives and export selected products duty-free to the U.S. market".xi 'On 15 April 2013, an Agreement on Economic, Commercial and Technical Cooperation between the Government of the State of Qatar and the Government of Maldives was signed.  In June 2013, A Trade and Economic Cooperation Agreement between the Government of the Kingdom of Thailand and the Government of Maldives was signed'.xii
            The development assistance and aid received by Maldives also provides an insight into the main donors to Maldives. According to the World Bank data, the Net Official Development Assistance (ODA) and Official Aid received by the Maldives from 2008-2014 has decreased. The table below provides information on the same.xiii
| | | | | | | |
| --- | --- | --- | --- | --- | --- | --- |
| 2008 US$ | 2009 US$ | 2010 US$ | 2011 US$ | 2012 US$ | 2013 US$ | 2014 US$ |
| 54.390.000.0 | 33.200.000.0 | 110.750.000.0 | 53.320.000.0 | 56.530.000.0 | 21`.190.000.0 | 24.780.000.0 |
Source: World Bank
            If we look at the aid given to the Maldives by India, Sri Lanka, Saudi Arabia, EU, China and the US, Maldives receives aid for multiple sectors that ranges from security, military, social and economic development. According to the US Department of State, the U.S. Assistance to Maldives, "aim to promote and enhance maritime security, counterterrorism, law enforcement, and counternarcotics cooperation with Maldivian forces and to help the country's adaptive capacity and resilience to the negative effects of global climate change".xiv In 2016, 'the U.S Agency for International Development (USAID) aid disbursement to Maldives is $1,197,540 (all agencies $1.2m)'.xv The activities implemented by the agency include, Enhance Climate Resiliency and Water Security in Maldives (Maldives GCC), Development Assistance and Personnel (Cross-Cutting).
            China has been an important partner in providing development assistance to Maldives. For example, in 2012, during the visit of Maldives President to China, the government of China pledged $500 million aid. In 'August 2014, China pledged $100 million as part of an Agreement on Economic and Technical Cooperation between the Government of the Republic of Maldives and the Government of the People's Republic of China'.xvi  During the visit of China's president Xi Jinping to Maldives in September 2014, RMB 600 million in grant assistance to the Maldives for next 3 year was offered towards mutually agreed infrastructure projects. Mr. Xi also offered a further 'RMB 20 million assistance in military cooperation, and another RMB 20 million in South-South cooperation towards health and Medicare services in the Maldives'.xvii China is also involved in modernisation of Maldives' Ibrahim Nasir International Airport (INIA) and Male-Hulhule Bridge. The 'Export-Import (Exim) Bank of China had granted a loan of USD 373 million (MVR 57 billion) to the Maldives in 2015 December for the development of Ibrahim Nasir International Airport (INIA). The total cost  of the  project  is  USD  800  million  (MVR 12.3 billion)'.xviii  China pledged $100 million as grant aid to Maldives for the construction of a Male-Hulhule bridge. Maldives in 2014 extended its support to China's Maritime Silk Route Project.
            Saudi Arabia has been aiding the Government of Maldives in areas of economy, education, health and defence. For example, 'it has increased its allocation of scholarships to Maldivian students to one hundred and fifty, from its original fifty scholarships apart from funding various development projects'.xix In 'September 2016 the government of Maldives signed an US$100 million loan agreement with the Saudi Fund for Development (SFD) to finance the expansion of the Ibrahim Nasir International Airport'.xx The SFD also granted a US$80 million loan to finance infrastructure development projects in the reclaimed artificial island of Hulhumalé. In addition to a US$20 million grant for budget support in May 2015, the Saudi Arabian government also provided US$1 million as grant aid to finance the feasibility study for a transhipment port in the Maldives' northernmost atoll. In October 2016, Saudi government pledged $150 million bailout loan to Maldives.
            India is a leading development partner to Maldives and India's humanitarian and development assistance has been vital in supporting Maldives to recover from natural distress and calamities, in improving health sector, capacity building and training (scholarships for students under ICCR, SAARC Chair and ITEC). For example, 'leading institutions of Maldives including the Indira Gandhi Memorial Hospital (IGMH), Faculty of Engineering Technology (FET) and Faculty of Hospitality & Tourism Studies (IMFFHTS) were built with the assistance of India'.xxi When the Tsunami struck the country India provided Rs.10 crores and assistance of US Dollars equivalent of Rs.100 million in July 2007 was given following tidal surges in May 2007. According to the Standing Committee on External Affairs (2014-15) report, overall allocation made in respect of aid and loans to Maldives by India is given in the table below.xxii
| | | | |
| --- | --- | --- | --- |
| Aid and Loans (in Crore) | BE 2014-15 | RE 2014-15 | BE 2015-16 (proposed) |
| Maldives | 183.00 | 25.00 | 183.00 |
            The government of Abdulla Yameen's, Maldives Economic Vision 2013-2018 document mentions that Maldives is open for investments. To attract foreign investment, the government in 2015 brought constitutional changes allowing foreign ownership of land for investments over US$1 billion. Apart from this legislation, "new investment incentives in Special Economic Zones (SEZs) applicable to both domestic and foreign investors, an equitable business profit tax (BPT) (replacing the unfavourable royalty regime), and dispute settlement guarantees were introduced".xxiii
Some of the important projects of the government are;
iHAVEN –Integrated Development Project offers development of 5,700 hectares of land. This is the northern most atoll of the Maldives archipelago in North Thiladhunmathi. Major components of the project include, a container transhipment port, an airport, an international shopping and commercial hub, real estate development, a yatch marine and a cruise line terminal.

Male-Hulhule Bridge to improve the connectivity and mobility of the population of greater Male region.

Expansion of Ibrahim Nasir International Airport (INIA).

Expansion of Domestic and International Airports which include, Upgrading Gan International Airport and redeveloping Hanimaadhoo International Airport as a multi-modal international transport hub

Multi-Speciality Hospital and Maldivian Youth Resource Institute of Arts & Design (MYRIAD);

IT Technopolis, New National Stadium and National Aquatic Centre are some of the investment projects proposed under this government.
            Due to the ease of restrictions on foreign investment Maldives is getting considerable amount of fund from various countries. For example, China and Saudi Arabia have announced considerable amount of funding and showed keen interest in developing INIA and Male –Hulhule Bridge as mentioned above. The Maldives government awarded the creation of a master plan for iHavan- the integrated project to be operated in the northernmost Ihavandhippolhu atoll of the Maldives, to a major Singapore firm Surbana Jurong Pvt Ltd in November 2016. Meanwhile, Boston Consultancy Group of the United States had conducted the feasibility plan of iHavan, and signalled the government to go ahead with the project.
            Sri Lanka has been an important partner for Maldives in terms of developing its tourism in the past along with the trade. June 2014, the two countries signed a Memorandum of Understanding on strengthening cooperation between the Board of Investment of Sri Lanka and the Ministry of Economic Development of the Maldives. As a result there has been an increase in investments in Maldives from Sri Lankan investors. For example, the 'largest Greenfield project announced in 2015 in Maldives according to UNCTAD World Investment Report is in industry segment (hotels), by Sri Lankan company Hayleys with an estimated capital expenditure of $ 183 million'.xxiv Other important investors of Sri Lanka in Maldives tourism sector are, Aitken Spence, already operates five resorts in the Maldives under their Adaaran brand. In March 2016 they signed an agreement with the Maldivian government to lease an additional island, currently an uninhabited island called 'Aarah', to develop it into another resort. 'Browns Hotels and Resorts Ltd. of Sri Lanka, a fully owned subsidiary of Browns Investments PLC, along with Sri Lankan partners Palm Garden and Eden Hotel jointly bought the Maldivian company Bodufaru Beach Resort Private Limited for a combined sum of US$1.5 million. The company holds a 50-year lease for the island of Bodufaru Finolhu in Raa Atoll of the Maldives, and the new owners plan to develop a tourist resort'.xxv 'Ceylon Hotels Corporation (CHC) of neighbouring Sir Lanka announced in 2016 that they have commenced development of a Rs 50 billion (MVR 523 million / USD 34 million) resort in the Maldives'.xxvi
            However, despite the ease of laws on foreign investment, the Foreign Direct Investment (FDI) flows to Maldives in 2015 decreased to $ 324 million from US$333 million in 2014. The political development in Maldives seems to have had an impact on the FDI inflows since 2010. Below is the table of FDI inflows in Maldives.
| | | | | | |
| --- | --- | --- | --- | --- | --- |
| 2010 ($ millions) | 2011 ($ millions) | 2012 ($ millions) | 2013 ($ millions) | 2014 ($ millions) | 2015 ($ millions) |
| 216 | 424 | 228 | 361 | 333 | 324 |
 (Source: UNCTAD World Investment Report 2016) 
Tourism
Tourists Arrivals and Market Share by Selected Markets 2010-2014
Region /Nationality

2010

2011

2012

2013

2014

Europe

505,421 (63.8%)

537,757

(57.7%)

517,809

(54.0%)

527,274

(46.9%)

529,291

(43.9%)

Germany

77,108

905,517

98,351

93,598

98,328

UK

114,158

104,508

91,776

85,869

88,704

Russia

49,111

63,936

66,378

76, 479

66,308

Asia and the Pacific

250,638 (31.6%)

348,887

(37.5%)

384,506

(40.1%)

524,514

(46.6%)

588,845 (48.9%)

China

118,961

198,655

229,551

331,719

363,626

India

22,756

30,978

31,721

38,014

45,587

Japan

38,791

35,782

36,438

39,463

38,817

Korea

24,808

25,285

23,933

30,306

34,896

Africa

5628 (0.7%)

6,465 (0.7%)

7,095 (0.7%)

8271

(0.7%)

8149

(0.7%)

Americas

18,601 (2.3%)

23,654 (2.5%)

26,774 (2.8%)

32,970 (2.9%)

41,044 (3.4%)

Middle East

11,629 (1.5%)

14,570 (1.6%)

21,843 (2.3%)

32,050 (2.8%)

37,201 (3.1%)

Saudi Arabia

4,040

5,005

7,263

10,477

12,405

Total

791,917

931,333

958,027

1,125,202

1,204,857
Source: Ministry of Tourism, Government of Maldives
            The tourism sector contribution to GDP in 2015 is 23.6% a slight decline from 2014 which was at 25.3%.xxvii   In terms of Market share among regions during 2010-2014, Europe has remained on top for four years 2010-2013 and in 2014 Asia and the Pacific is the largest market.  Third leading market was Americas with 3.4 % shares and the Middle East has 3.1% market share. Africa was the least contributing market with only 0.7% market shares'.xxviii The information on tourism arrivals shows that Maldives continue to attract tourists from EU followed by China. Another important emerging market is the Middle East.
            Over all, the above data on trade/aid/investment and tourism in 2016 shows that China, EU, Saudi Arabia are important partners in Maldives economic development along with India and Sri Lanka. According to the World Bank, GDP growth in Maldives slowed down in 2015 owing to slow down in tourism arrivals from China and EU because of domestic political situation. For example, in 2013-2014, the GDP growth was 6.5 percent and it fell to 1.9 percent in 2015. The report estimated a GDP growth rate of 3.5% in 2016'.xxix The World Bank, South Asia Economic Focus 2016 report also mentions 'that construction has overtaken tourism as the most important driver of growth in 2015'.xxx Ease of restrictions by the government on foreign ownership of land may a reason for investments in various projects. At the same time, the data shows that non Commonwealth countries such as China, Saudi Arabia and Thailand are also emerging as important development partners. The foreign assistance received/announced from countries such as China and Saudi Arabia for some of the strategic infrastructure development projects in 2014-2015 indicate that, the Maldives government is successful in its campaign "Aid for Trade", to attract foreign investment in important sectors.
Is it in India's interests?
In this context the role of India as a member of Commonwealth and Maldives neighbour comes into focus. Since the formation of the Yameen government in 2013 India's approach has been very cautious when responding to the turbulent internal political atmosphere in the country. India has been silent on the Maldives opposition request to recognise its new coalition Maldives United Opposition (MUO) and on the refugee status so far. This has promoted the opposition coalition leader Mr. Hamid Abdul Gafoor to say that, 'India's silence on developments in Maldives is troubling and as a robust democracy right next door, you would think India would provide greater moral support to reinstate democracy in the Maldives'.xxxi  Mr. Nasheed also expressed similar view to an interview in the Round Table in March 2016 when he said that, "appeasement with the dictators not going to produce results". At the same time, he stressed on "India First policy". The statement is an indication that, the opposition coalition expects India to condemn the current regime's approach towards political opposition.
            India's approach since the last two years has been 'to engage Maldives both bilaterally and in the Commonwealth framework on issues pertaining to its development and supported political stability and pluralism'.xxxii In this context, Maldives opting out of Commonwealth left few choices for India in terms of influencing the political developments in Maldives through Commonwealth. In a scenario where the political developments are rapidly unfolding towards more political instability, how is India going to persuade or influence through bilateral mechanisms is the question? In the past India and Maldives bilateral relations faced certainties and uncertainties due to internal political developments and political decisions taken by the Maldives government. For example, in the past, in 1980s', attempts to overthrow Gayoom's government was stopped by the Indian intervention and Commonwealth extended the support to India's actions. In 2012, India had frozen the $25 million budget commitment to Maldives after the Indian Company GMR was asked to leave the Maldives under the President ship of Mr. Waheed, which had an impact on bilateral relations.  In October 2016, GMR won the arbitration against the Maldives government and the government paid $ 270 million for unlawful termination of contract with the company to develop the international airport in Male. India may not be opting to use the regional grouping the South Asian Association for Regional Cooperation (SAARC) to influence Maldives in its internal matters. Under these circumstances, one has to wait for the next Presidential elections for a change of government that can guarantee political stability; or, since the opposition is determined to change the government through legal means, there is a possibility of Gayoom securing the support of his party parliamentarians before the 2018 elections. In this scenario, the government may change before the 2018 elections, that might bring much needed political stability in terms of granting much needed political freedom, respect for human rights and freedom of expression to the people. Thirdly, rising extremism in the country and its security implications for India is an issue and it is dealing with the issue currently through continuous bilateral economic and security engagement. And both the countries have had a fruitful engagement on this front. For example, India and Maldives signed an action plan on Defence Cooperation in April 2016, during the visit of the Maldives President to India and Mr. Yameen assured that his government would follow "India first policy". Development of ports, continuous training, capacity building, supply of equipment and maritime surveillance are the main elements of Defence Cooperation. This shows that security of Indian Ocean has been a driving force in continuous bilateral engagement with Maldives and India was also instrumental in persuading the CMAG to avoid punitive action on Maldives in the past. However, Maldives government was unsuccessful in showing any progress on the political talks, which led to inclusion of Maldives in formal agenda of CMAG in September 2016.
Conclusion
The developments above indicate that, Maldives opting out of Commonwealth has taken away a multilateral platform for India to put forward India's position on political developments in Maldives more assertively.  At the same time, Maldives also lost a platform to reconcile the domestic differences with the help of Commonwealth countries. And meanwhile, Maldives increased its economic engagement with non Commonwealth countries.  In this context, how the both the government's are going to deal with the internal political crisis in Maldives which may have implications for security cooperation in future will determine the future India- Maldives relations. As far as Commonwealth's approach towards Maldives is concerned there are apprehensions. Because, Maldives was under one man rule for long and the gains achieved since 2008 in terms of conducting regular elections with multi party participation should not be lost. Establishment of democratic institutions is another step in democracy consolidation and the Commonwealth forum was useful in reminding the country's leadership of the need to do the same.  At the same time, the Commonwealth forum may have to devise new methods such as increasing economic engagement, not just the political engagement by Commonwealth countries to deal with countries that faced one man rule for long. Because, Maldives case demonstrated that, the mechanisms adapted to bring in democratic reforms by Commonwealth were not successful. 
***
* The Authoress is a Research Fellow at Indian Council of World Affairs, Sapru House, New Delhi.
Disclaimer: The views expressed are that of the Researcher and not of the Council.
Endnotes 
i "Statement by the government of Maldives to the Teleconference Meeting of the CMAG", 11 September 2012, http://minivannewsarchive.com/files/2012/09/CMAG-Note.-MFA.pdf
ii  "The Commonwealth Ministerial Action Group has Always Been the Ministerial In Action Group: Their Idea is to Find a Way of Not Acting", Interview in the Round Table by Mr. Mohamed Nasheed", the Round Table, Vol 105, No.34, 14 March 2016, P 251-260, p.252.
iii "The Maldives decides to leave the Commonwealth; commits to continue with its international engagement", 13th October 2016, http://www.foreign.gov.mv/v2/en/media-center/news/article/1999.
iv Mohammed Ahmed, "Why Maldives left the Commonwealth", 29th October 2016, http://indianexpress.com/article/opinion/columns/why-maldives-left/
v "Secretary-General statement on Maldives decision to leave the Commonwealth", 13th October 2016,  http://thecommonwealth.org/media/news/secretary-general-statement-maldives-decision-leave-commonwealth#sthash.XeGRNZ2C.dpuf
vi  Mohammed Ahmed, "Why Maldives left the Commonwealth", 29th October 2016, http://indianexpress.com/article/opinion/columns/why-maldives-left/
vii "The Commonwealth Ministerial Action Group has Always Been the Ministerial In Action Group: Their Idea is to Find a Way of Not Acting", Interview in the Round Table by Mr. Mohamed Nasheed", the Round Table, Vol 105, No.34, 14th march 2016,  P 251-260, p.255.
viii  Dauris James, "Why the Commonwealth and Maldives will miss each other", 7 December 2016, http://maldivesindependent.com/feature-comment/why-the-commonwealth-and-the-maldives-will-miss-each-other-127990
ix Ministry of External Affairs India, Government of India, India-Maldives Relations, February 2016.
x Chinese Vice Minister of Commerce Gao Yan Visits Maldives and Attends the 2nd Meeting of China-Maldives Joint Committee of Economy and Trade, 15 September 2015, http://english.mofcom.gov.cn/article/newsrelease/significantnews/201509/20150901112400.shtml
xi US- Maldives Bilateral Relations, http://www.state.gov/r/pa/ei/bgn/5476.htm
xii WTO, Trade Policy Review, Report by Maldives, 15th February 2016, https://www.wto.org/english/tratop_e/tpr_e/g332_e.pdf
xiii  World Bank, Development Indicators, http://databank.worldbank.org/data/reports.aspx?source=2&series=DT.ODA.ALLD.CD&country=MDV#selectedDimension_WDI_Ctry
xiv US Department of State, US Relations With Maldives, http://www.state.gov/r/pa/ei/bgn/5476.htm
xv US AID  Maldives, https://explorer.usaid.gov/cd/MDV?measure=Disbursements&fiscal_year=2016
xvi Ministry of External Affairs, Government of Maldives, "China to Provide 100 Million Yuan Grant Assistance to the Maldives", 15 August 2016, http://www.foreign.gov.mv/v2/en/media-center/news/article/925
xvii The Presidency, Maldives, "Chinese President Xi highlights that common understanding and joint efforts have brought Sino-Maldives relations to the cusp of elevation to a higher plane. President Yameen thanks President Xi for positively considering his proposal to support the construction of the Male'-Hulhule' Bridge", 15 September 2014, http://www.presidencymaldives.gov.mv/Index.aspx?lid=11&dcid=14821
xviii "Maldives pledges full support for China's new Silk Road", 22 November 2016, http://en.mihaaru.com/maldives-pledges-full-support-for-chinas-new-silk-road/
xix Presidency Maldives, "President Yameen says his visit to Saudi Arabia has strengthened relationship with Maldives", 21 March 2015, http://www.presidencymaldives.gov.mv/?lid=11&dcid=15398.
xx "Saudi Fund lends Maldives US$100m for new airport terminal", 26th September 2016, http://maldivesindependent.com/business/saudi-fund-lends-maldives-us100m-for-new-airport-terminal-126756
xxi Ministry of External Affairs, Government of India, India-Maldives Relations, February 2016, https://www.mea.gov.in/Portal/ForeignRelation/MALDIVES_23_02_2016.pdf
xxii Ministry of External Affairs, Standing Committee on External Affairs (2014-2015), Demand for Grants 2015-2016, 6th Report, Lokh Sabha Secretariat, 15 April 2015, http://164.100.47.193/lsscommittee/External%20Affairs/16_External_Affairs_6.pdf.
xxiii WTO, Trade Policy Review, Maldives, 16 February 2016, https://www.wto.org/english/tratop_e/tpr_e/s332_e.pdf, P.20.
xxiv UNCTAD World Investment Report 2016, http://unctad.org/en/PublicationsLibrary/wir2016_en.pdf
xxv The Maldives invites Sri Lankan investment in the tourism industry, 30 April 2015, http://www.hoteliermaldives.com/the-maldives-invites-sri-lankan-investment-in-the-tourism-industry/
xxvi Sri Lanka firm to develop two resorts in Maldives,30 June 2016,  http://en.mihaaru.com/sri-lanka-firm-to-develop-two-resorts-in-maldives/
xxvii Statistical Year Book of Maldives 2016,  Government of Maldives, http://statisticsmaldives.gov.mv/yearbook/2016/indicators/
xxviii Ministry Of Tourism, Government of Maldives, Tourism Update, Brief Analysis on the Tourism indicators, End June  2016, Vol5, Issue 25, June 2016, file:///C:/Users/Lenovo/Downloads/Major%20Indicators_AprJun%20(1).pdf
xxix South Asia Economic Focus 2016, Fading Tailwinds,  The World Bankhttps://openknowledge.worldbank.org/bitstream/handle/10986/24016/9781464809156.pdf?sequence=4&isAllowed=y,
xxx World Bank, South Asia Economic Focus, Spring 2016, https://openknowledge.worldbank.org/bitstream/handle/10986/24016/9781464809156.pdf?sequence=4&isAllowed=y
xxxi Srinivasan Meera, "India's silence on Maldives is troubling', http://www.thehindu.com/news/international/%E2%80%98India%E2%80%99s-silence-on-Maldives-is-troubling%E2%80%99/article14600043.ece
xxxii Ministry of External Affairs, Government of India, "Question No2826 India's Stand on Maldives", 11May 2016, http://www.mea.gov.in/lok-sabha.htm?dtl/26817/ Question -No2826 -India's- Stand- on Maldives#