Abstract

From end 2020 and the beginning of a new decade, Southeast Asia like the rest of the world has had to rebuild its priorities around addressing the need to manage and limit the fall out of the COVID pandemic. As the region continues to be important in the global economic and political discourse, this paper will examine four key priority areas which would be fundamental to help reset the South East Asian region's s broad developmental goals and agenda. The priority areas discussed in the paper are the ongoing pandemic, the region's economic slowdown, the security challenges, and issues emanating from the impact of climate change. The paper makes the case for the need for a stronger resolve for deeper cooperation which would be crucial towards realising the region's integration process in the post-pandemic world.

Introduction

Over the past few decades, the Southeast Asian region has experienced exponential growth. In the last few years, Southeast Asia through ASEAN has been building its priorities around integration with the establishment of the ASEAN Economic Community [AEC] in 2015. Through the AEC Blueprint 2025, which promotes free flow of goods, services, investment, capital, and skilled labour, the region seeks to build its resilience and improve its growth prospects.[i]

The Pandemic Challenge

For Southeast Asia, addressing public health threats have always remained a top priority as the region has continuously been confronted with diseases such as the Severe Acute Respiratory Syndrome [SARS] epidemic of 2003 and the ongoing COVID-19 pandemic. Under the aegis of ASEAN, the ASEAN Health Cooperation was established in 1980 to help strengthen region-wide cooperation in the health sector.[ii] The outbreak of the COVID pandemic across the region necessitated the need to scale-up, intensify national prevention, preparedness, detection, and response measures by all the ASEAN Member States [AMS]. At their Senior Health Official Meeting held in March 2020, ASEAN stressed the importance of international cooperation and expressed willingness to engage with other Dialogue and Development Partners to exchange information and experiences, technical guidelines, including sharing critical resources for containment and/or mitigation.[iii]
Figure One: Increase in the Number of COVID-19 Cases in ASEAN Member States, March 2020 to January 2021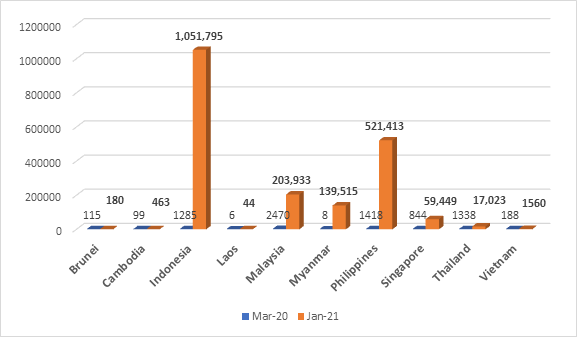 Source:https://www.aseanbriefing.com/news/covid-19-vaccine-roll-outs-in-asean-asia-live-updates-by-country/
The bar diagram indicates that between March 2020 and January 2021, COVID cases have witnessed a surge in some of the ASEAN Member States such as Indonesia, Malaysia, Myanmar, Philippines, and, Thailand. The other Member States such as Brunei, Cambodia, Laos, Singapore, and Vietnam have reported a smaller increase in cases. Amongst the AMS, Indonesia has commenced vaccination of its front-line workers in December; other Member States are either set to begin with their vaccination process by the first quarter of 2021 or are still undergoing vaccine clinical trials.[iv]The region has been successful in managing the spread of COVID-19 by undertaking early measures such as implementing International Health Measures and the activation of its existing health mechanisms which include the ASEAN Emergency Operation Centre Network for public health emergencies.[v]  The Indian Prime Minister at the 17th ASEAN-India Summit  held on November 13, 2020, praised ASEAN for its successful management of the pandemic and announced US $ 1 million aid towards the ASEAN COVID-19 Response Fund and also affirmed New Delhi's resolve to work with the bloc in research and production of vaccines at reasonable prices.[vi]ASEAN needs to continue to collectively respond to the pandemic by prioritising the most marginalised and vulnerable in its recovery plan as there would be a significant socio-economic divide in the aftermath of the pandemic.[vii]

The Economic Slowdown

Southeast Asia's economy in 2020 witnessed a slowdown largely due to the pandemic which directly impacted its core sectors of tourism and manufacturing. The region over the last few years was already witnessing a slowdown as a consequence of a decline in global demand along with increasing trade tensions at the global level. Its economic recovery would largely depend on the recovery of the global economy and also to a certain degree on how the region handles the pandemic and brings it under control. 
Figure Two: GDP Growth and Forecasts 2021-2022 [At Market Prices 2010 US $]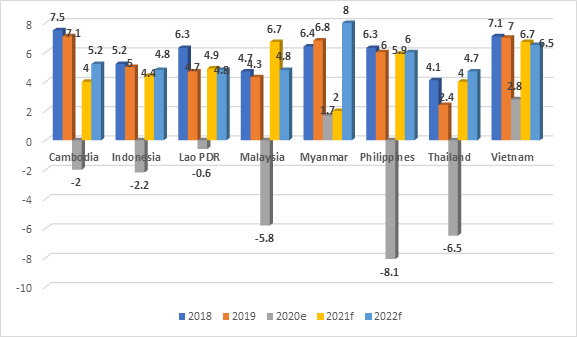 Source: http://pubdocs.worldbank.org/en/693711599838723416/Global-Economic-Prospects-January-2021-Regional-Overview-EAP.pdf
Note: e= estimate; f= forecast
The bar diagram above provides the World Bank GDP growth rates and forecasts for some of the countries in Southeast Asia. The GDP estimates for 2020 indicate a negative growth in most of the countries except Vietnam and Myanmar which could have a growth of 2.8 and 1.7 percent respectively. According to the forecast for 2021 and 2022, with the containment and the roll -out of the vaccines, the economy is expected to return to the pre-pandemic growth rate.  Based on World Bank data in 2020, tourism-dependent economies such as Thailand witnessed a sharp GDP decline of -3.4 percent while Vietnam which was able to control the number of positive cases achieved a GDP of 2.8 percent and is projected to expand by another 6.8 percent in 2021. The more developed ASEAN countries such as Singapore also witnessed a negative growth rate of 6 percent as it is reliant on external trade for local economic activities.[viii] According to Singapore's Ministry of Trade and Industry the 2020 GDP growth is estimated at -6.5 to -6.0 percent. The Singapore economy is forecasted to grow by 4 to 6 percent in 2021 as indicated by its improved performance in the third quarter following the resumption of activities after the three months long Covid Circuit Breaker imposed by its Government ended in June 1, 2020.[ix]

During the 26th ASEAN Economic Ministers (AEM) retreat in Da Nang, Vietnam on March 10, 2020, the statement on "Strengthening ASEAN's Economic Resilience in Response to the Outbreak of the Covid-19", called for collective action within ASEAN and with its external developmental partners. ASEAN, in the post-pandemic period, needs to focus on building the application and use of technology to help in trade facilitation. As part of its Master Plan on ASEAN Connectivity [MPAC], it needs to accelerate critical connectivity infrastructure which is resilient and sustainable.[x] Industries across Southeast Asia face slowdown as this region, which relies heavily on trade and investments, is witnessing a reassessment by foreign investors of their traditional supply chains. How the region is able to adapt and accelerate its integration process through connectivity would be critical in post-pandemic recovery and in countering the long-term socio-economic impact of Covid-19.

Rebalancing the Security Challenges

The region of Southeast Asia continues to grapple with security imbalances ranging from domestic and intra-regional conflicts, to conventional security threats such as territorial disputes, along with non-conventional security risks emanating from international terrorism and organised crime at land and sea to health crises such as the SARS epidemic and the COVID-19 pandemic. The creation of ASEAN in 1967 which kept the focus on building cooperation and reducing the socio-economic divide in the region helped soften the intra-regional tensions that existed amongst the Member States. Over the decades, ASEAN has also taken on the role of maintaining regional peace and stability. In this regard, it founded the ASEAN Regional Forum in 1994, East Asia Summit [2005], ASEAN Defence Ministers' meeting [2006] and ASEAN Defence Ministers Meeting Plus [2010] with the primary objective of protecting and maintaining the sovereignty and territorial integrity of the Member States and sustaining peace and stability in the region.[xi]

While today the scope of inter-State wars in Southeast Asia has diminished to a large extent, ongoing and unresolved issues with extra-regional States which include contestation over the demarcation of maritime borders in the South China Sea continue to threaten stability and peace in the region. The ongoing issue which in recent years has witnessed low intensity engagements such as firing at fishing vessels by the navies of some of the claimants poses a major challenge as it disturbs regional stability essential for promoting trade and commerce. At the 37th ASEAN Summit held on November 12, 2020, ASEAN has called for maintaining peace, stability, and security in the South China Sea. Vietnam as Chair of ASEAN and also one of the claimants to the South China Sea dispute underscored the importance of the 1982 United Nations Convention for the Law of the Sea [UNCLOS] as the legal framework within which all activities should be carried out. The ongoing negotiation of the Code of Conduct [COC] for the South China Sea between ASEAN and China requires an early conclusion which is in accordance with international law and the 1982 UNCLOS. The easing of tension in the South China Sea is essential in ensuring peace, stability, security, and safety which in turn would help promote free flow of trade and commerce.[xii]

Addressing Climate Change

The fourth priority for Southeast Asia is that of climate change as it would have an adverse impact on the economy and human security in the region. According to a McKinsey report published in November 2020, Southeast Asian countries are projected to see an extreme increase in heat and humidity by 2050. This would have a socio-economic impact as it would have an adverse effect on workability as in these countries a high percentage of work takes place outdoors and the economy is driven by the labour-intensive sectors.[xiii]This is attributed to Southeast Asian countries' own green-house gas emitted  through its developmental strategies adopted over the last few decades that helped propel its growth, and the emissions by other more advanced countries. Since the 1960s average temperatures in Southeast Asia have risen with Vietnam, Myanmar, Philippines, and Thailand being amongst the ten countries in the world most affected by climate change in the past 20 years. According to the Asian Development Bank, the impact of climate change would be felt globally the most in Southeast Asia, and if kept unchecked could reduce 11 percent of the region's GDP by the end of the century as it would take a toll on its key sectors such as agriculture, tourism, fishing, apart from impacting the human health and labour productivity.[xiv]

Southeast Asia with its large and growing population, long coastlines, abundant low-lying areas, reliance on the agricultural sector, and dependence upon natural resources is highly vulnerable and the issue needs to be addressed and corrective measures need to be implemented. The ASEAN Member States have been proactively addressing climate change issues in the region. Its leaders have expressed their concern and commitment for ASEAN to play a proactive role in addressing climate change through their declarations to the 2007 Bali and 2009 Copenhagen UN Conferences on Climate Change. ASEAN views the protection of the environment and the sustainable use and management of natural resources as essential to the long-term economic growth and social development of countries in the region.[xv] ASEAN continues to reaffirm its commitment to the United Nations Framework Convention on Climate Change [UNFCCC] and the ASEAN Joint Statement to the United Nations Climate Action Summit 2019. The issue of climate change under the ASEAN Socio-Cultural Community [ASCC] Blueprint 2025 has been aligned with the broader outcomes of the 2030 Agenda for Sustainable Development and national development priorities.[xvi]

Conclusion

The COVID-19 pandemic  continues to remain a top priority across the globe, and while the level of transmission and fatality rates per capita in Southeast Asia remains significantly low, the region has felt its economic impact. The region's growth projection for 2021 and beyond remains positive according to a forecast from the World Bank and the Asian Development Bank. Southeast Asian countries are also looking at reimaging their economies by attracting new investments in labour-intensive manufacturing, green and renewable energy and infrastructures.[xvii] The necessity for Southeast Asia to re-model itself stems not only from the need to limit the economic fallout of the COVID pandemic but also to help adapt to the emerging economic and security environment, and the need to make a more sincere effort to address climate change. The region's ongoing integration process which now enters a new decade will need to build consensus to address these four key priorities.
*****
*Dr. Temjenmeren Ao, Research Fellow, Indian Council of World Affairs.
Disclaimer: Views expressed are personal
[i]"Economic Outlook for Southeast Asia, China and India 2017: Addressing Energy Challenges", OECD, 2016, https://www.oecd-ilibrary.org/docserver/255eb818-en.pdf?expires=1611742667&id=id&accname=guest&checksum=944C070FF9BD5270D530BDC161F443AD, Accessed on January 15, 2021.
[ii]"Working together to address complex health challenges", ASEAN, https://asean.org/asean-socio-cultural/asean-health-ministers-meeting-ahmm/overview-2/, accessed on January 25, 2021.
[iii] "ASEAN senior health officials enhance regional collective actions against COVID-19 pandemic", ASEAN, March 13, 2020, https://asean.org/asean-senior-health-officials-enhance-regional-collective-actions-covid-19-pandemic/, accessed on March 23, 2020.
[iv]"COVID-19 Vaccine Roll Outs in ASEAN and Asia- Live Updates by Country", ASEAN Briefing, January 29, 2021, https://www.aseanbriefing.com/news/covid-19-vaccine-roll-outs-in-asean-asia-live-updates-by-country/, Accessed on January 29, 2021.
[v]"ASEAN health sector sustains cooperation in responding to COVID-19", ASEAN, March 9, 2020, https://asean.org/asean-health-sector-sustains-cooperation-responding-covid-19/, accessed on March 23, 2020.
[vi]Dipanjan Roy Chaudhury, "India announces $1 million aid to ASEAN COVID-19 Response Fund", Economic Times, November 13, 2020, https://economictimes.indiatimes.com/news/politics-and-nation/india-announces-1-million-aid-to-asean-covid-19-response-fund/articleshow/79207359.cms?from=mdr, Accessed on January 20, 2021.
[vii]Harsh Mahaseth, "The ASEAN Response to COVID-19 and the Way Forward", Modern Diplomacy, December 27, 2020, https://moderndiplomacy.eu/2020/12/27/the-asean-response-to-covid-19-and-the-way-forward/, Accessed on January 20, 2021.
[viii]Lee KahWhye, "What lies ahead for South and Southeast Asia's Economies in 2021", ANI, January 4, 2021, https://www.aninews.in/news/world/asia/what-lies-ahead-for-south-and-southeast-asias-economies-in-202120210104154223/, Accessed on January 20, 2021.
[ix]"MTI Forecasts GDP Growth of '-6.5 to-6.0 Per Cent' in 2020 and '+4.0 to +6.0 Per Cent' in 2021", Ministry of Trade and Industry, Singapore, November 23, 2020, https://www.mti.gov.sg/-/media/MTI/Resources/Economic-Survey-of-Singapore/2020/Economic-Survey-of-Singapore-Third-Quarter-2020/PR_3Q20.pdf, Accessed on February 2, 2021.
[x]"COVID-19 Crisis Response in ASEAN Member States", OECD, May 4, 2020, https://read.oecd-ilibrary.org/view/?ref=129_129949-ehsuoqs87y&title=COVID-19-Crisis-Response-in-ASEAN-Member-States, Accessed on January 20 , 2021.
[xi]SampaKundu, "Regional Security in Southeast Asia: Prospects and Challenges for ASEAN", East Asia Research Programme, January 13, 2017, http://earp.in/en/regional-security-in-southeast-asia-prospects-and-challenges-for-asean/, Accessed on January 30, 2021.
[xii]PizaroGoxaliIdrus, "ASEAN eyes code of conduct for disputed South China Sea", Anadolu Agency, November 12, 2020, https://www.aa.com.tr/en/asia-pacific/asean-eyes-code-of-conduct-for-disputed-south-china-sea/2041388, Accessed on January 30, 2021.
[xiii]Jonathan Woetzel, Oliver Tonby, Mekala Krishnan, Yuito Yamada, SuvojoySengupta, Dickon Pinner, RusianFakhrutdinov, and Tetsu Watanabe, "Climate Risk and Response in Asia", McKinsey Global Institute, November 24, 2020, https://www.mckinsey.com/business-functions/sustainability/our-insights/climate-risk-and-response-in-asia#, Accessed on February 1, 2021.
[xiv]AmitPrakash, "Boiling Point", Finance and Development, International Monetary Fund, September 2018, Vol.55, No 3, https://www.imf.org/external/pubs/ft/fandd/2018/09/southeast-asia-climate-change-and-greenhouse-gas-emissions-prakash.htm, Accessed on February 1, 2021.
[xv]Raman Letchumanan, "is there an ASEAN Policy on Climate Change", https://snrd-asia.org/wp-content/uploads/SNRD-Newsletter/issue-2/Documents/Adaptation%20to%20Climate%20Change/Is%20there%20an%20ASEAN%20policy%20on%20Climate%20Resillience.pdf, Accessed on February 2, 2021.
[xvi] "ASEAN Joint Statement on Climate Change to the 25th Session of the Parties to the United Nations Framework Convention on Climate Change (UNFCCC COP25)", ASEAN, November 2, 2019, https://reliefweb.int/sites/reliefweb.int/files/resources/2%20ASEAN%20Joint%20Statement%20on%20Climate%20Change%20to%20the%20UNFCCC%20COP%2025.pdf, Accessed on February 2, 2021.
[xvii]Eoin Daly, Kaushik Das, and Rebecca Yeoh, "Reimagining emerging ASEAN in the wake of COVID-19", McKinsey & Company, September 2, 2020, https://www.mckinsey.com/featured-insights/asia-pacific/reimagining-emerging-asean-in-the-wake-of-covid-19, Accessed on January 15, 2021.