The European Union (EU) remains one of the largest contributors to the global greenhouse gas emissions (GHGs) emitting approximately 2.54 billion metric tons of carbon dioxide (CO2) emissions in 2020[i]. Before the Paris Climate Agreement of 2015, the EU committed to GHGs reduction target of at least 40% below 1990 levels by 2030 and 27% of renewable energy and energy efficiency by 2030[ii]. These targets were revised in 2020 when the member states endorsed a binding EU target of a net domestic reduction of at least 55% in GHGs by 2030 compared to 1990 and to achieve climate neutrality by 2050[iii]. These targets were then codified with the adoption of the European Climate Law in 2021. Following from the European Green Deal released in December 2019, the European Commission unveiled an ambitious roadmap called "Fit for 55: Delivering the EU's 2030 Climate Target on the Way to Climate Neutrality" in July 2021 to further push the process of mitigating the impact of the climate change. The paper looks at the key points of the Fit for 55 Roadmap and provides an assessment of the policy.

Fit for 55 – Key Points

The EU Commission in July 2021 released its Fit for 55 Agenda, which is aimed to strengthen eight existing pieces of legislation and presents five new initiatives, across a range of policy areas and economic sectors: climate, energy and fuels, transport, buildings, land use and forestry.  It is so named because the package is expected to put the Union on track to meet its 2030 goal of reducing emissions by 55% from 1990 levels. The emphasis is placed on the introduction of emissions trading system to new sectors, increased use of renewable energy, greater energy efficiency, measures to curb carbon leakage, etc. The agenda is expected to create a balance between pricing, targets, standards and support measures. These are the EU's most ambitious measure yet to tackle climate change.
Figure – Fit for 55 Package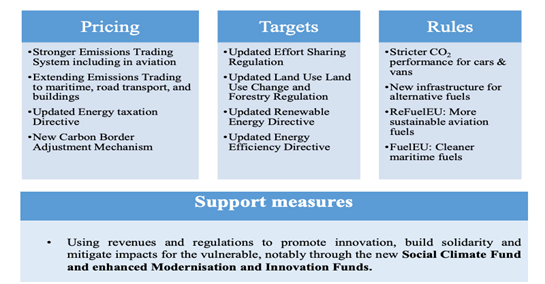 Source: Fit for 55, European Commission

Following are the key observations of the Agenda:

First, is the establishment of the Social Climate Fund to provide funding to the member states to support the citizens affected by the energy or mobility poverty and the transition towards climate neutrality. The communication highlights that – "Energy poverty alone affects up to 34 million people in the EU. The Fund will help mitigate the costs for those most exposed to fossil fuel price increases during the transition"[iv]. Social Climate Fund will provide €72.2 billion in current prices for the period 2025-2032 in the EU budget from the new Emissions Trading System. It will entail support to investments to increase the energy efficiency and renovations of buildings, clean heating and cooling, and integrate renewable energy in a manner that can sustainably reduce both CO2 emissions and energy bills for vulnerable households and micro-enterprises.

Second, expansion of EU Trading System (ETS)[v] to include new sectors - this is one of the most significant changes that are being proposed with the Commission building on its experience of last 16 years. The agenda highlights that the emission trading has been highly effective in bringing down the emissions in a cost-effective way and that the revenues generated can be then used to support the transition to cleaner energy. It is expanded to cover emissions from maritime sector, buildings and infrastructure, and road transport. Under the Commission Agenda, emissions from buildings and road transport would be regulated by a parallel ETS, operating separately from the existing scheme, but with a similar design. The Commission proposed that by 2030 sectors covered by the revised EU ETS[vi] will need to reduce their GHG emissions by 61% up from 40%, compared to 2005 levels. Revenues would be reserved to support vulnerable households and invest in climate measures.

Third, is the promotion of cleaner vehicles and fuels. The Agenda points out that a 90% reduction in overall transport emissions by 2050 will be required to reach climate neutrality. It envisions four proposals for promoting cleaner vehicles and fuels – first is the proposal is for phasing out of petrol and diesel cars by 2035; second, through Alternative Fuels Infrastructure Regulation to ensure the deployment of user-friendly infrastructure for recharging and refuelling cleaner fuels; third, ReFuelEU Aviation to promote sustainable aviation fuel by blending an increasingly high level of sustainable aviation fuels into existing jet fuel; fourth, FuelEU Maritime – to promote sustainable maritime fuels and create new requirements for ships, regardless of their flag, arriving to or departing from EU ports, by imposing a maximum limit on the GHG content of the energy they use and making these limits more stringent over time.

Fourth, emphasis on renewable energy, the Agenda proposes to increase the overall binding target from the current 32% to 40% of renewables in the EU energy mix. It also proposes revision of Energy Taxation Directive to align the minimum tax rates for heating and transport fuels with EU climate and environmental objectives so as to support "green transition with right incentives". Fifth, increasing the EU's natural carbon sink. The idea is to allow the land and ocean ecosystems to recover, and enable biodiversity to thrive again so as to absorb and store more carbon. The Commission has proposed to update the Land Use, Land Use Change and Forestry Regulation (LULUCF) to set higher ambitions for the expansion of the EU's natural carbon removals. It proposes to set an EU target of net GHG removals of 310 million tons of CO2 equivalent by 2030. Specific national targets are proposed to contribute to this shared goal.

Sixth is incentivising innovation. According to the Fit for 55 agenda, the transition to climate neutrality needs to be complemented with innovation. This would be done through four ways – first, the EU's long-term budget and its recovery package NextGenerationEU are tailored to support the green transition. In the 2021-2027 Multiannual Financial Framework - 30% of programmes are dedicated to support climate action, such as agriculture, LIFE programme[vii] etc. Second, the target of using 35% of research and innovation funding under Horizon Europe for green investments to provide necessary resources for building sustainable and innovative solutions to the green transition. Third, Member States' national recovery and resilience plans financed under the Recovery and Resilience Facility would need to contribute to the green transition with measures accounting to at least 37% of the plans' allocations. Fourth, the green transition would further be supported by the revenues generated from the ETS.

Seventh is Carbon Border Adjustment Mechanism (CBAM). With the EU accounting for 8% of global CO2 emissions, it appears determined to ensure that decarbonisation gains in the EU should not push the carbon emissions outside its border. To prevent this, it proposed CBAM, which is designed as a climate action instrument. It aims to introduce a market dynamic that protects the integrity of EU and global climate policy by reducing GHG emissions in the EU and globally. The proposal for a CBAM ensures that the same carbon price will be paid by domestic and imported products and will thus be non-discriminatory. It will come in force in 2023 with a three-year transition period and in the first phase will be applied to five key sectors – iron and steel, aluminium, cement, fertilisers and electricity. The Agenda called the CBAM as an invitation to the EU's partners for jointly increasing their climate ambitions and fulfil their respective Paris Climate commitments.

Assessment of the Policy

The Fit for 55 agenda comes at a make or break moment in the fight against climate change. The recently released Sixth Assessment Report of IPCC presented dire projections of the world which is warming rapidly; sea levels are rising; extreme weather conditions (heat-waves, droughts, wildfires etc.) are becoming frequent and intense, and conclude that human-induced climate change is the main driver of these changes. However, one of the main messages of the IPCC report was that there is still time to avert climate catastrophe through stronger mitigation policies.

In this regard, the Fit for 55 is perhaps the most ambitious climate change agenda. The idea of this legislative proposal is to "deliver the transformational change needed across our [EU] economy, society and industry"[viii] to achieve 55% reduction in GHG emission and 2030 and climate neutrality by 2050. The policy can be viewed as ablueprint in the EU's fight against climate change. However, it has implications at various levels -

Implications for EU

First and foremost being the process and cost of decarbonisation is going to be at the heart of negotiations within the member states and, between the EU and member states. While the Commission has recognised the social impact of the measure and suggested the establishment of Social Climate Fund and contribution from revenues generated from ETS towards social funding, the impact on the vulnerable families and small businesses remains to be assessed.

Also, as the low-carbon technologies will take some time to become easily available, the transition is going to impact the house-hold income, as the consumer will face "higher carbon price while locked into fossil-fuel-based systems with limited alternatives"[ix]. While the EU had carbon pricing system in place since 2005, the extension of carbon pricing to utilities like transportation and heating would further increase the cost of decarbonisation. This is going to be one of the most complicated issues to be negotiated in the EU Parliament. This measure is expected to face massive resistance from business lobbies and national governments, especially Poland, whose economy is heavily reliant on coal.

Various concerns have been raised over the potential impact of decarbonisation on the poor households - French MEP and Chairman of the European Parliament's environment committee, Pascal Canfin said, "Plans to extend the EU's carbon market to transport and buildings would be "politically suicidal" and risk triggering social unrest similar to the 2018 Yellow Vests movement in France". Similarly, Polish climate and environment state secretary, Adam Guibourgé-Czetwertynski, stated that, "this is a mistake and we should rather look for other options to achieve our targets that would be more efficient in terms of reductions they could generate and less problematic from a social point of view"[x].

Another critical issue is that the co-legislators – the EU Parliament and EU Council – will emerge as an arena for intense lobbying by member states, industries and civil society. The draft agenda would be assessed nationally as well as at the EU level during their negotiations. The expectations that some of the policy aims could be diluted cannot be ruled out. Similarly, the text would also be closely scrutinised by the Union's main allies and trading partners – which could lead to rise of potential differences with those that lag behind the EU's climate ambitions.

The introduction of carbon border tax is also expected to raise several critical issues. The CBAM is pegged to level the playing field for EU businesses and prevent any carbon leakage. It is expected to create carbon emission costs on imports of cement, fertilisers, iron and steel, aluminium, and electricity progressively phased in from 2023 until full implementation in 2026. The phasing out of free allocation of carbon certificates during this period is going to another critical issue to be negotiated. The European industries have opposed the abolition of free permit allocations[xi]. Although, the EU in the policy is proposing to gradually phase-out the free allowances, however, the pressure of carbon pricing is expected to dominate the negotiations.

Global Implications

The Agenda calls "global engagement and international cooperation as key to address the climate crisis and the EU actively engages with partner countries bilaterally and multilaterally". However, the CBAM has raised concerns among key EU trade partners, such as China and the US regarding the future trade with the Union. While the US stopped short of criticising the CBAM, in its opinion, it raised concerns over the effective implementation of the border tax[xii]. On the other hand, China on 26 July 2021 issued the statement that "CBAM is essentially a unilateral measure to extend the climate change issue to the trade sector. It violates WTO principles...and (will) seriously undermine mutual trust in the global community and the prospects for economic growth"[xiii].

Similarly, the BASIC countries in April 2021 had issued a joint statement calling introduction of CBAM as "discriminatory and goes against the UN principle of Common but Differentiated Responsibilities and Respective Capabilities (CBDR–RC)"[xiv]. However, the move to introduce carbon border tax has been justified by EU Commission's Vice President Frans Timmermans, "the aim of the game is not to raise revenue from carbon tariffs on imports but to persuade countries to trade with Europe to adopt policies that make tariffs unnecessary"[xv].

Another key issue the Agenda failed to address was the global dimensions of the climate change. It is true that the Agenda is largely limited to EU, however, it needs to incorporate international discourse taking in account the various views of other stakeholders. The international climate change politics has been dealing with the question of who should pay the most and what responsibility should the traditional emitters and the developing countries bear in financing the effects of the climate change. The disagreements over how to interpret the principle of "common but differentiated responsibilities" as enshrined in UNFCC and Kyoto Protocol, has pitted the developed world against the developing. Similarly, the issues related to financial assistance as part of an agreement by the developed countries at the UN Summit of 2009 - where they pledged to contribute US$100 billion every year by 2020 towards climate finance for the developing and less-developed world – needs to be discussed as part of EU's larger climate diplomacy.

Implications for India

India has displayed commitment and leadership by taking affirmative action in climate change mitigation. On the domestic front, India has reduced its emission intensity by 21% of its GDP[xvi] and is on track to achieve its goal of 33-35% by 2030 as promised under Paris commitments[xvii]. India has installed 100 GW of renewable energy capacity, while 50 GW is under installation and 27 GW is under tendering. India has also enhanced its ambition to install 450 GW of renewable energy capacity by 2030.[xviii] As of 2019, Indian renewable energy sector was the fourth most attractive renewable energy market in the world. India ranked fifth in wind power, fifth in solar power and fourth in renewable power installed capacity[xix].

Internationally, India is leading the efforts for combatting climate change with the establishment of International Solar Alliance (ISA) which aims to mobilise more than US$1 trillion[xx] by 2030 to promote solar power globally. ISA, in August 2020, launched "One Solar One World and One Grid"[xxi] plan which aims to connect 140 countries through a trans-national grid that will be used to transfer solar power. India was also a critical in the launching of International Coalition for Disaster Resilient Infrastructure (CDRI) in 2019 at UN Climate Action Summit. It is designed to support the construction of climate-resilient infrastructure. Also, India and Sweden in 2019 established the Leadership Group for Industry Transition (LeadIT), to promote innovation and technology exchange so as to step up efforts to combat climate change within sectors like heavy industry and heavy-duty transports. It is aimed at the transition of heavy industry towards net zero carbon emissions by 2050[xxii].

India remains a critical international stakeholder in terms of charting a low carbon future and its commitments under the Paris Agreement are robust. India and the EU have assumed a leading role in fighting climate change and have been increasingly cooperating with each other on the issue. However, the CBAM, under Fit for 55 agenda, presents a host of challenges for Indian industries. India, as part of the BASIC group, has already opposed to the implementation of the carbon border tax terming it 'discriminatory'. The EU is India's third largest trading partner, accounting for €62.8 billion ($74.5 billion) worth of trade in goods in 2020, or 11.1% of India's total global trade. As India does not have its own carbon tax or cap, the implementation of the CBAM would result in increasing of the prices of Indian-made goods in the EU. This unilateral nature of the measure proposed by the EU would result in making Indian goods less attractive, thereby creating challenges for industries with a large greenhouse gas footprint.

Conclusion

The Fit for 55 presents an ambitious plan to make the EU carbon neutral by 2050. The negotiation and implementation of the policy is going to be the real testing ground for the EU, where it will face diverging interests of member states. It also needs to be remembered that this policy framework is limited to the member states, even if the Union is able to convert itself into a carbon neutral zone, the EU needs to persuade its partners to take effective climate action to drive real change. Already some of its partners have expressed grave concerns over the implementation of CBAM proposed in the Agenda and it also needs to be seen on whether this carbon border tax would prove WTO-compatible. Though, the Agenda outlines a series of actions that can be and should be taken, however, its success in achieving the targets it has set our remains to be seen.
*****
Dr. Ankita Dutta, Research Fellow, Indian Council of World Affairs, New Delhi.
Disclaimer: The views expressed are that of the Researcher and not of the Council.
Endnotes
[i]Carbon dioxide emissions in the European Union 1965-2020, Statista, 21 July 2021, https://www.statista.com/statistics/450017/co2-emissions-europe-eurasia/#:~:text=The%20European%20Union%20produced%20approximately,at%203.99%20billion%20metric%20tons, Accessed on 9 August 2021
[ii]'European policies on climate and energy towards 2020, 2030 and 2050', Briefing, European Parliament, January 2019, https://www.europarl.europa.eu/RegData/etudes/BRIE/2019/631047/IPOL_BRI(2019)631047_EN.pdf, Accessed on 9 August 2021
[iii]European Council meeting (10 and 11 December 2020) – Conclusions, European Council, 11 December 2020, https://www.consilium.europa.eu/media/47296/1011-12-20-euco-conclusions-en.pdf, Accessed on 9 August 2021
[iv]'Fit for 55': delivering the EU's 2030 Climate Target on the way to climate neutrality, European Commission, Brussels, 14 July 2021, https://eur-lex.europa.eu/legal-content/EN/TXT/?uri=CELEX%3A52021DC0550, Accessed on 10 August 2021
[v]Set up in 2005, the EU ETS is the world's first international emissions trading system. The system operates in trading phases. It is in its fourth trading phase (2021-2030), the ETS framework has undergone several revisions to maintain the system's alignment with the overarching EU climate policy objectives. The legislative framework of the EU ETS for phase 4 was revised in 2018 to ensure emissions reductions in support of the EU's 2030 emissions reduction target (40% to 1990 level) and as part of the EU's contribution to the Paris Agreement. It is applicable to two sectors – aviation and; electricity and heat generation, and energy-intensive industry. (https://ec.europa.eu/clima/policies/ets_en)
[vi]Revised ETS includes - Power sector, energy-intensive industry sectors such as oil refineries, steel works, and production of iron, aluminum, metals, cement, lime, glass, ceramics, pulp, paper, cardboard, acids and bulk organic chemicals, as well as aviation, transport, building and infrastructure and maritime sectors.
[vii]The LIFE programme is the European Union's funding instrument for the environment and climate action.
[viii]Fit for 55, n.iv
[ix]Is Europe socially fit for the 'Fit for 55' package?, Social Europe, 19 July 2021,https://socialeurope.eu/is-europe-socially-fit-for-the-fit-for-55-package, Accessed on 12 August 2021
[x]Euractiv, 29 June 2021, https://www.euractiv.com/section/climate-environment/news/planned-eu-carbon-market-reform-is-politically-suicidal-warns-french-mep/, Accessed on 12 August 2021
[xi]Reuters, 10 March 2021,https://www.reuters.com/article/us-climate-change-eu-carbon-idUSKBN2B12FB, Accessed on 12 August 2021
[xii]Euractiv, 11 May 2021,https://www.euractiv.com/section/energy-environment/news/us-raises-concerns-over-europes-planned-carbon-border-tax/, Accessed on 13 August 2021
[xiii]Reuters, 26 July 2021, https://www.reuters.com/business/sustainable-business/china-says-ecs-carbon-border-tax-is-expanding-climate-issues-trade-2021-07-26/?taid=60fe334ecb4037000146c752&utm_campaign=trueAnthem:+Trending+Content&utm_medium=trueAnthem&utm_source=twitter, Accessed on 13 August 2021
[xiv]Joint Statement issued at the Conclusion of 30th BASIC Ministerial Climate Change Meeting, Government of South Africa, 8 April 2021, https://www.gov.za/nr/speeches/joint-statement-issued-conclusion-30th-basic-ministerial-meeting-climate-change-hosted, Accessed on 13 August 2021
[xv]Foreign Policy, 6 August 2021,https://foreignpolicy.com/2021/08/06/climate-conflict-europe-us-green-trade-war/, Accessed on 13 August 2021
[xvi]Reducing Emission Intensity - Emissions intensity is the level of GHG emissions per unit of economic activity, usually measured at the national level as GDP. This is usually done by tapping into non-fossil fuel energy sources and creating additional carbon sinks to fulfil commitment towards fight against climate change.
[xvii]The Economic Times, 5March 2021, https://economictimes.indiatimes.com/news/politics-and-nation/india-to-meet-its-paris-agreement-commitments-ahead-of-2030-pm-narendra-modi/articleshow/81351882.cms?from=mdr#:~:text=%22India%20is%20well%20on%20track,below%202005%20levels%20by%202030., Accessed on 18 August 2021
[xviii] Down to Earth, 13 August 2021, https://www.downtoearth.org.in/news/renewable-energy/india-s-renewable-energy-capacity-at-100gw-still-far-away-from-2022-target-78449, Accessed on 18 August 2021
[xix]Renewable Energy Industry of India, India Brand Equity Fund, 11 August 2021, https://www.ibef.org/industry/renewable-energy.aspx, Accessed on 18 August 2021
[xx]Background, International Solar Alliance, https://isolaralliance.org/about/background, Accessed on 26 August 2021
[xxi]Business Standard, 23 August 2020, https://www.business-standard.com/article/economy-policy/all-you-need-to-know-about-one-world-one-sun-one-grid-plan-120082101244_1.html, Accessed on 26 August 2021
[xxii] 'Sweden and India are taking the lead to transform the heavy industry sector towards a fossil free future', Government Office of Sweden, October 2019, https://www.government.se/articles/2019/10/sweden-and-india-are-taking-the-lead-to-transform-the-heavy-industry-sector-towards-a-fossil-free-future/, Accessed on 26 August 2021