India-Sri Lanka relations have undergone number of shifts in the last thirty years. Internal political situation in Sri Lanka and India's response to the same have mostly shaped bilateral relations. At the same time, both the countries have made efforts to engage with each other including through economic cooperation as well as through regional forums such as South Asian Association for Regional Cooperation (SAARC) and The Bay of Bengal Initiative for Multi-Sectoral Technical and Economic Cooperation (BIMSTEC). India's "Neighbourhood First Policy" as well as Sri Lanka's "India First Policy", has kept the continuity in relations in recent years, despite the change of governments in Sri Lanka. In this context Sri Lanka's Integrated Country Strategy (ICS) paper released in August 2021 by Sri Lankan High Commission in India, a road map for next two years (2021-23) is important as it touches upon the existing bilateral issues and also proposes new areas of cooperation that can be looked into. It also provides a perspective about Sri Lanka's outlook regarding the current state of bilateral relations between India and Sri Lanka.

The ICS paper has been developed by the newly appointed Sri Lanka High Commissioner to India, Milinda Moragoda. The strategy was developed in consultation with Sri Lanka Missions in India, former diplomats and senior Sri Lanka Foreign Service Officers. The ICS paper outlines in detail seven goals that have to be pursued by the Sri Lanka Missions in India.These include: elevating the existing relationship to a strategic level through interactions at political level; bolstering foreign investments and earnings from exports; expansion of collaborations in the fields of strategic cooperation, defence and Indian Ocean Security; enhancing cooperation in the field of culture, education, science and technology; projecting a more positive image of Sri Lanka in India through public diplomacy; enhancing connectivity and promoting Sri Lanka's interests in protecting its ocean resources.[1]It has sought to emphasise on the need to carry forward the already existing relationship to a "special relationship", by working on the seven goals as mentioned above. In this context, the brief touches upon some of the important points mentioned for enhancing cooperation and looks at the current state of affairs and future prospects.  

Notable points of the ICS

Elevate the bilateral relationship to strategic level

To elevate the bilateral relationship to a strategic level, the paper proposes increasing political interactions and the need to address the issue of externally displaced persons from Sri Lanka/Sri Lankan Tamil Refugees in India. Sri Lanka and India relations in post-war years saw a momentum in facilitating political exchanges. A number of high profile visits have taken place in recent years including the visit of Indian Prime Minister to Sri Lanka three times since 2014, in 2019 (June), in 2017 (May), in 2015 (March).  There have been visits of Sri Lanka's Presidents to India in 2019 (November), in 2016 (May and November), and in 2015 (February). The Prime Ministers of Sri Lanka visited India in 2018 (February and October), in 2017 (November and April), in 2016 (October and May) and in September 2015. These high-profile visits are an example of increased cooperation at the highest level.[2] These visits were also followed by visit of Foreign/ External Affairs Ministers of both the countries. Other important suggestion made, for increasing political interaction was to reconstitute a functional and vibrant Indo-Sri Lanka Parliamentary Friendship Group in India's Parliament.[3]

These visits have helped in projecting a positive image of bilateral relations and enhanced scope for exploring cooperation in areas such as economic development projects, connectivity and defence cooperation. While pointing out the gains made in these areas, the paper underlines the need to transcend a "transactional approach" in bilateral relations. This point was made probably, referring to, several not very successful negotiations and agreements that were signed in the past such as unsuccessful Economic and Technical Cooperation Agreement (ETCA) negotiations, Colombo East Container Terminal Issue as well as agreement on developing Trincomalee Oil Tank farm.

The paper also points out the need for Sri Lanka Diplomatic Missions/Consulate in India to go beyond Centre-to -Centre relations and focus on increasing interactions with state governments of Indian Union. Developing relations with Eastern Part of India has been particularly stressed. In this regard, starting a Consulate General of Sri Lanka in Kolkata has been proposed. This proposal is in conjuncture with the current Sri Lankan government's focus on "Asia Centric" foreign policy and its keenness in enhancing maritime cooperation with South East Asia. Sri Lanka is the current Chair of BIMSTEC and planning to host the Summit in December 2021.

Repatriation of Externally Displaced Tamils from India to Sri Lanka

The strategic framework acknowledged the need to address the speedy return of Sri Lankan Tamil refugees in India to Sri Lanka. The paper emphasised that the return of refugees will help to create a positive image of Sri Lanka in India and a vital part of Sri Lanka's reconciliation process.[4] Since the existing mechanisms for facilitating the return of refugees is slow, it proposed that a comprehensive plan will be prepared for a voluntary repatriation of displaced persons, which will be shared with India in the future. The end of war in 2009 did not result in creating a safe, stable, economic and political environment for Sri Lankan Tamils who fled the island nation due to a prolonged conflict (1983-2009) between the government of Sri Lanka and the Liberation Tigers of Tamil Eelam (LTTE). Repatriation process may take time, owing to unwillingness of refugees, to go back to their home country in present political conditions. At present, India has nearly one lakh Sri Lankan Tamil refugees residing in various parts of Tamil Nadu. High Commissioner for Refugees (UNHCR) is currently engaged in the process of repatriation. But the process has been really slow, owing to political situation in Sri Lanka. Since 2002 only 17, 718 refugees returned to Sri Lanka. Though the government of Tamil Nadu has announced a package of ₹317.4 crore for the refugees, the issue is a continuous concern in bilateral relations as well as between the Centre and the State governments within India.

Economic Cooperation: Targets are Set

Sri Lanka's economy has been hit hard by the global pandemic. The country's main source of revenue, the tourism sector saw a drop and so did the country's exports. India emerged as the second largest trading partner in 2020 after China, followed by the USA. The total trade with these three trading partners have declined from USD 12.6 billion in 2019 to USD 10.5 billion.[5]Therefore, Sri Lanka's focus has been to increase its trade volume as well as Foreign Direct Investment (FDI), to recover the economy. FDI from India for the period 2005 to 2019 in Sri Lanka was USD 1.7 billion.[6]The document details the targets set for investment as well as for expanding Sri Lanka's market share in India. It also proposes to follow-up on the existing investments by India in Sri Lanka such as West Container Terminal of Colombo Port, the Trincomalee Oil Tank Farm, cooperation in the power sector and projects under development cooperation. Other than facilitating these projects, the Board of Investments of Sri Lanka (BIO) has set the target of USD 300 million for the year 2021 and USD 256 million for the year 2022.[7]Some of the sectors that have been identified are auto components, food processing, infrastructure, renewable energy and textiles.

The ICS paper also seeks to engage with various state governments in India for enhancing economic linkages. This will help in realising the macroeconomic targets of "Vistas of prosperity and Splendour" set out by Sri Lanka in the document.[8] The previous Unity government in Sri Lanka tried to explore the USD 500 billion possible trade with India comprising all the five South Indian states. The ETCA, proposal that was to facilitate enhanced trade and investment between India and Sri Lanka, however, could not materialise. Opposition to the agreement by few professional groups on the section of trade in services and the political instability at the Centre undermined the negotiations.

The framework document did not mention about the ETCA but raised the issue of 'protectionism, limited market access and unpredictable regulatory environment in India' as the issues affecting Sri Lanka's exports to India'.[9]In 2020, Sri Lanka's exports to India constituted 19 percent of total exports, whereas imports from India constituted about 6percent.[10]The trade target set for the year 2021 was USD 621.9 million and for the year 2022 is USD 674.15 million.[11]Going by the past experience as well as apprehensions about Indian investments and opening up of sectors for trade such as the service sector of Sri Lanka by trade unions of Sri Lanka, it remains to be seen how both the governments will address the apprehensions in future.

People to People Exchanges and Cultural Relations: Some New thoughts

There are few interesting points that were made for enhancing people to people contacts and cultural relations. Sri Lanka is keen to elevate the relationship to a "special relationship" by promoting Buddhist and Hindu exchanges between the two countries through the Buddhist circuit, the Ramayana, the Murugan and the Shiva Shakthi trails as well as the Vailankanni trail in South India.[12]The proposal is in line with recent decisions taken at the bilateral level to promote cultural and people-to-people exchanges. In 2020, India extended USD 15 million grant assistance for the promotion of Buddhist linkages between the two countries.[13]The paper also proposed to open up the possibilities for Sri Lankan scholars and students to learn Buddhist and Pali languages in India.[14]

To further institutionalise the cultural relations, the ICS proposed a setting up of Sri Lanka Cultural Centre at the earliest. It also proposed to foster networks between scholars, journalists and writers and other groups by utilising social media platforms to promote Sri Lanka and project a positive image in India. One of the important recommendations made was to build contacts in prominent think tanks, in the academia and with political researchers who write articles on Sri Lanka.[15] Establishing Sri Lanka-India Chair at universities in the two capitals of Delhi and Colombo is another important point made in the document. India has been a preferred education destination for thousands of Sri Lankan students. In this context, the paper proposes to secure higher educational opportunities for students, including those from underprivileged plantation sector of Sri Lanka, by increasing number of scholarships from the Indian Council of Cultural Relations (ICCR) and other private universities in India.

In recent years efforts have been made to strengthen cooperation in science and technology. In this regard, in 2021, both the governments under their respective ministries have decided to support nine teams consisting scientists from India and Sri Lanka to undertake research on areas such as, food technology; plant based medicines; metrology; space research and applications; robotics and automation; industrial electronics; renewable energy; waste management; information and communication technology.[16]This is a welcome development.  Sri Lanka is also keen to benefit from India's experience in pharmaceuticals. The paper, therefore, proposed setting up of pharmaceutical manufacturing units in Sri Lanka with India's help.

Increasing connectivity: A Long Pending Issue

Enhancing connectivity has been a long pending issue, though efforts are being made for facilitation of sea, electric grid and digital connectivity between India and Sri Lanka for some time. Resumption of sea connectivity was halted due to internal political/conflict situations in Sri Lanka and the use of sea by the LTTE for transportation of its military supplies. This led to restrictions on movements at Palk Bay. However, the end of war did not change the scenario much in terms of increasing sea connectivity. Resumption of passenger ferry services between Thalaimannar-Rameswaram, Colombo-Tuticorn and Kankesanthurai-Karaikal have been much talked about after the war, but these possibilities are yet to materialise. The passenger ferry services between Thalaimannar-Rameswaram were suspended in 1983 after the anti-Tamil riots was resumed briefly after the war in 2011 but gain stopped. A Memorandum of Understanding is currently in place between the two governments to start passenger ferry service, Thalaimannar-Rameswaram and Colombo-Tuticorn.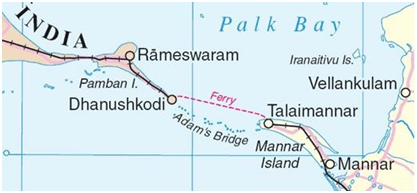 Digital and Air Connectivity

Few steps have been taken for improving digital connectivity. In 2018, educational institutions of both the countries have been connected through high capacity internet by India's National Knowledge Network (INKN) and Sri Lanka's Lanka Education and Research Network (LEARN).[17]An MoU was signed in 2018 for enhancing cooperation between India and Sri Lanka in the IT sector, cyber security and e-Governance.[18]Chennai and Jaffna air link has been restored in 2019.

Electric Grid connectivity

India and Sri Lanka have not been able set up electric grid connectivity till now, despite the geographical proximity. Discussions are underway for the same. India issued guidelines for Import/Export (Cross Border) of Electricity on 18th December, 2018 and hoped to connect with Sri Lanka[19]. Presently, India is connected with Nepal, Bhutan, Bangladesh and Myanmar in the region. India and Sri Lanka are members of the BIMSTEC. The need to connect grids of member countries of the organisation has been on the agenda since 2005. At the BIMSTEC Leaders' Summit in 2016, in Goa, India, an MoU was signed to promote optimal power connection among member states.[20] The other framework that existed in the region to enable cross-border trade is the SAARC Framework Agreement for Energy Cooperation (Electricity)signed by member states in 2014 during the 18th SAARC Summit held in Nepal. Both the countries have these two regional frameworks to promote grid connectivity in the future.

Defence and Indian Ocean Security Cooperation: A New Thrust

Political level strategic cooperation between the two countries has been on the rise in recent years. India has also been the first respondent and played a crucial role in dealing with Sri Lanka's natural disasters such as Tsunami in 2004. Another recent example is the deployment of Indian Coast Guard to handle the oil spill in Sri Lanka's east coast in September 2020.  India was also instrumental in helping the government of Sri Lanka in providing intelligence support before and aftermath of April 2019 Easter Sunday attacks on churches and hotels of Sri Lanka by extremist elements. Security dimension of relations have taken a centre stage and India provided USD 50 million as a special line of credit for counter-terrorism activities in 2019. Both the countries have been part of many joint military exercises such as Mitra Shakti as well as capacity building exercises.

Indian Ocean security has become a priority given the volatile security situation in the region. It has been at the centre of maritime trade for centuries. Given the geographical location of Sri Lanka and India in the region, both the countries have pressed for peace and security in the region and freedom of navigation. Both are members of Indian Ocean Rim Association (IORA) and have been trying to contribute towards strengthening maritime security and safety in the region. The common challenges in the form of traditional and non-traditional security threats such as weapon smuggling, drug trafficking and terrorism have necessitated the need to work together in the security realm. Few examples in recent months confirm the extent of security problem in the high seas. One is the seizure of more than 600 kg of heroin and the arrest of seven Pakistani nationals by the Sri Lankan Navy in the high seas in September 2021[21] and second is the seizure of over 300 kg of heroin, five AK-47 rifles and 1,000 rounds of ammunition carried by a Sri Lankan fishing trawler in March 2021.[22]

The convergence of interests in the security domain is manifested in various meetings held between India and Sri Lanka. After a gap of six years, on 26th November 2020, the National Security Advisor (NSA)-level trilateral meeting took place in Colombo. Reflecting on the present day challenges in the region, India, Sri Lanka and Maldives have agreed to broaden the cooperation in intelligence sharing and in dealing issues such as terrorism, extremism, radicalisation and money laundering.[23]Security aspect of cooperation was reiterated during the meeting of the Deputy National Security Advisor hosted by Sri Lanka on 6thAugust 2021.

Therefore, the ICC paper proposed to develop and explore mechanisms such as 'Troika' mechanism to deal with common security threats. The mechanism was set up during the final phases of war in 2009. From Indian side the National Security Advisor M.K. Narayanan, Ambassador Shiv Shankar Menon, Foreign Secretary and Vijay Singh, Defence Secretary were part of Troika. From the Sri Lankan side Basil Rajapaksa, Senior Advisor to the then President of Sri Lanka Mahinda Rajapaksa; Gotabaya Rajapaksa, Defence Secretary; and Lalith Weeratunga, Secretary to the President of Sri Lanka were part of  'Troika' mechanism. The Troika arrangement could take decisions on behalf of their respective governments to deal with India-Sri Lanka relations amidst the war between the Sri Lankan government and the LTTE. Other than facilitating joint military exercises, increasing number of berths offered by India's Ministry of Defence for training purposes, the paper seeks to strengthen the Office of the Defence Advisor in the High Commission of Sri Lanka, in India.

Protecting Ocean Resources: Caught between politics and livelihood

Geographical proximity between the two countries provided number of opportunities as well as challenges. The maritime boundary issue was settled in 1974 and 1976, in the Palk Bay, Palk Strait and in the Bay of Bengal. However, sharing of ocean resources, particularly the fishermen issue, continues to be a challenge in bilateral cooperation. There is a mechanism in place to address the issue such as Joint Working Group on Fisheries (JWG), which was set up in 2016. Both sides agreed to address the issue on humanitarian grounds through regular consultations. Arrests of fishermen on both sides as well as confiscation of boats were dealt with in regular manner. At the 4th JWG meeting held virtually in December 2020, the need for early release of confiscated boats was discussed as well as cooperation between navy and coast guard in patrolling. Government of India, Tamil Nadu and Puducherry have taken measures to diversify and reduce fishing pressure in Palk Bay area by 'encouraging fishermen to opt for deep sea fishing. Efforts are being made to provide alternative livelihood through seaweed cultivation, mariculture and varieties of aquaculture activities'.[24]

Despite these measures, in 2019 and in 2020, nearly 284 fishermen were arrested and a total of 53 Indian boats were confiscated by the Sri Lankan Navy.[25]In January 2021, Sri Lanka appointed a three-member committee to find a permanent solution, when four Indian fishermen who were killed after their trawler collided with a Sri Lankan navy vessel. The ICS paper has mentioned that Sri Lanka will prepare a proposal involving ministries of both sides as well as fishermen associations and will also highlight the ecological damage caused by bottom trawling and Illegal, Unreported and Unregulated  IUU fishing.

The other issue regarding sharing of ocean resources raised by the paper was delimitation of margins of Continental Shelf. Respective claims of India and Sri Lanka was submitted to the United Nations Commission on the Limits of the Continental Shelf (CLCS).In the past, India has taken a position that it would prefer bilateral discussions on the issue to arrive at mutually beneficial settlement.[26] Both the countries are joint beneficiaries under the Statement of Understanding (SoU) (in Annexe II) of United Nations Convention on the Law of the Sea (UNCLOS).[27]Nevertheless, the issue has not figured much in recent years in bilateral discussions. The CLCS will rule on submissions in the future.It remains to be seen whether both the countries will initiate discussions on the same in the future, as proposed in the paper.

Conclusion

Overall, the ICS paper is important as it put together issues of common concern in bilateral relations. National security and economic stability have been the main thrust of the present government of Sri Lanka. This paper came at a time, when Sri Lanka is under tremendous economic pressure. A small economy dependent on revenue from tourism, exports, investments, narrow production capacity and mounting debt, it was hard during the pandemic. Sri Lanka's total outstanding debt stands USD 35.1 billion[28]. Therefore, it is looking for all possible avenues to manage the economic situation.  Apart from economic issues, the country is also under pressure to show progress on reconciliation from the West. Trade concessions such as EU GST+ have been linked to progress on human rights. Therefore, Sri Lanka would have to maintain a delicate balance in its foreign relations, including with India.

In this context, while recognising the asymmetric nature of India-Sri Lanka relationship, the paper stressed on developing "strategic content" in bilateral relationship and scope for creating multi-faceted platforms for strategic dialogues and cooperation. Interestingly, the paper talks about the trust deficit, 'mainly as a result of geo-political equilibrium in the region'.[29]This point was made, probably, referring to Sri Lanka's foreign relations and India's concern regarding the active presence of other regional powers in its backyard. Sri Lanka is part of China's Belt and Road Initiative (BRI) and has been receiving significant FDI for large infrastructure projects as well as for other social development projects. Some of the projects have a strategic value such as Hambantota Port as well as Colombo Port City. Sri Lanka's excessive reliance on China in dealing with country's economic vulnerabilities is a cause for concern for India. But, Sri Lanka has been insisting that it will not act against India's security interests. Notwithstanding China's economic role in the island nation, India-Sri Lanka economic relations have evolved overtime, which are based on preferential treatment and development needs of the country. India continues to be one of the five largest trade and investment partners for Sri Lanka.

 As far as political relations are concerned, these have improved over the years. India would prefer to have a domestic political solution to the ethnic issue, either based on the 13th Amendment to the Constitution of Sri Lanka, or through domestic mechanisms. In this regard, India chose to involve itself in rebuilding and rehabilitation, after the war in 2009 and has supported Sri Lanka since 2015 at the ​​​​​​​​​​​​​​​​​United Nations Human Rights Council (UNHRC). Sri Lanka, seeks to resolve ethnic issue through domestic mechanism, without involving external actors. But, reconciliation in Sri Lanka remains a complex issue and it is uncertain how a political solution can be found. Moreover, both the countries in recent years have shifted the focus to issues of common concern such as IOR security and increasing non-traditional threats in the region and these areas are likely to remain as important areas of cooperation in coming years.
*****
*Dr Samatha Mallempati is a Research Fellow at the Indian Council of World Affairs, New Delhi.
Disclaimer: The views are of the author.
End Notes
[1] Sri Lanka High Commission in India, "Integrated Country Strategy for Sri Lanka Diplomatic Missions in India (2021-2023)", July 2021, P. VI-VIII, https://www.slhcindia.org/images/stories/N_images/PDF/ics%20english%20final300821.pdf. Accessed on August 12, 2021. 
[2]Ministry of External Affairs, Government of India, Incoming visits Sri Lanka, https://www.mea.gov.in/incoming-visits.htm?1/incoming_visits, Accessed on?[3]Sri Lanka High Commission in India, "Integrated Country Strategy for Sri Lanka Diplomatic Missions in India (2021-2023)", July 2021, P. X, https://www.slhcindia.org/images/stories/N_images/PDF/ics%20english%20final300821.pdf. Accessed on August 12, 2021.
 [4] Ibid. P. XI. 
[5]Central Bank of Sri Lanka, Annual Report 2020, Page 125, https://www.cbsl.gov.lk/sites/default/files/cbslweb_documents/publications/annual_report/2020/en/9_Chapter_05.pdf. Accessed on September 1,  2021.
[6]High Commission of India, Colombo, Sri Lanka, 'India-Sri Lanka Economic and Trade Engagement",  June 2021, https://hcicolombo.gov.in/Economic_Trade_Engagement. Accessed on September 2,  2021. 
[7] Ibid 3, p. XIII, https://www.slhcindia.org/images/stories/N_images/PDF/ics%20english%20final300821.pdf. Accessed on August 12, 2021. 
[8]Government of Sri Lanka,  "National Policy Framework Vistas of Prosperity and Splendour" http://www.doc.gov.lk/images/pdf/NationalPolicyframeworkEN/FinalDovVer02-English.pdf. Accessed on? 
[9] Sri Lanka High Commission in India, "Integrated Country Strategy for Sri Lanka Diplomatic Missions in India (2021-2023)", July 2021, P. XIV, https://www.slhcindia.org/images/stories/N_images/PDF/ics%20english%20final300821.pdf. Accessed on August 12, 2021. 
[10]Central Bank of Sri Lanka, Annual Report 2020, Page 125, https://www.cbsl.gov.lk/sites/default/files/cbslweb_documents/publications/annual_report/2020/en/9_Chapter_05.pdf. Accessed on September 1,  2021. Accessed on August 12, 2021. 
[11] Ibid 3, P. XIV. 
[12]Ibid 3. P. VII. 
[13]Opening remarks in the Special Media Briefing on the India-Sri Lanka Virtual Bilateral Summit
September 26, 2020, https://www.mea.gov.in/Speeches-Statements.htm?dtl/33061/Opening_remarks_in_the_Special_Media_Briefing_on_the_IndiaSri_Lanka_Virtual_Bilateral_Summit. Accessed on? 
[14] Ibid 3, P. XIX. images/stories/N_images/PDF/ics%20english%20final300821.pdf. Accessed on August 12, 2021 
[15] Ibid 3, P. XXII. 
[16]Government of India, Ministry of Science and Technology, "Nine teams of scientists from India & Sri Lanka to research on subjects ranging from food technology to communications technology", 13 April 2021, https://dst.gov.in/nine-teams-scientists-india-sri-lanka-research-subjects-ranging-food-technology-communications. Accessed on September 1, 2021. 
[17]India's NKN, Sri Lanka's LEARN connect with high capacity Net, 15 January 2018, Outlook, https://www.outlookindia.com/newsscroll/indias-nkn-sri-lankas-learn-connect-with-high-capacity-net/1230701. Accessed on September 2, 2021. 
[18]Ministry of External Affairs, Government of India, "Bilateral MoUs, Agreements etc, signed by India with Neighbouring Countries during 2015-18", https://mea.gov.in/Images/amb1/lu1237_2_25_07_2018.pdf. Accessed on September 4, 2021. 
[19] Ministry of Power, Government of India, "Guidelines for Import/Export (Cross Border) of Electricity- 2018", https://powermin.gov.in/en/content/guidelines-importexport-cross-border-electricity-2018. Accessed on September 16, 2021. 
[20]Government of India, Ministry of Power, Memorandum of Understanding for establishment of the BIMSTEC Grid Interconnection, https://powermin.gov.in/en/content/memorandum-understanding-establishment-bimstec-grid-interconnection. Accessed on September 3, 2021. 
[21] Devesh K. Pandey, "Indian agencies track huge heroin seizure off Sri Lanka", 7th September 2021, https://www.thehindu.com/news/national/indian-agencies-track-huge-heroin-seizure-off-sri-lanka/article36341826.ece. Accessed on September 10, 2021.  
[22]ibid 
[23]Ministry of Defence, Sri Lanka, Joint Press Statement, 4th National Security Advisor (NSA) Level Trilateral Meeting on Maritime Security Cooperation between India, Sri Lanka and Maldives, 28 November 2020, Colombo, https://www.defence.lk/Article/view_article/2654. Accessed on September 1, 2021. 
[24]Press Information Bureau, Government of India, Ministry of Fisheries, Animal Husbandry & Dairying 4th Meeting of the India-Sri Lanka Joint Working Group on Fisheries, 30 December 2020, https://pib.gov.in/Pressreleaseshare.aspx?PRID=1684807. Accessed on September 6, 2021. 
[25]Ministry of External Affairs, "Government of India, Question No.1201, Indian Fishermen Killed by Sri Lankan Navy", 11 February 2021, https://mea.gov.in/rajya-sabha.htm?dtl/33508/QUESTION_NO1201_INDIAN_FISHERMEN_KILLED_BY_SRI_LANKAN_NAVY. Accessed on September 1, 2021. 
[26]Ministry of External Affairs, Government of India, "Agreed Minutes of the 7th session of the India-Sri Lanka Joint Commission", 26th November 2010, https://mea.gov.in/bilateral-documents.htm?dtl/4965/Agreed+Minutes+of+the+7th+session+of+the+IndiaSri+Lanka+Joint+Commission. Accessed on September 8, 2021. 
[27]United Nations Convention on the Law of the Sea, P.205, https://www.un.org/depts/los/convention_agreements/texts/unclos/unclos_e.pdf. Accessed on September 8, 2021. 
[28] Department of External Sources, Government of Sri Lanka, Foreign Debt Summary, http://www.erd.gov.lk/index.php?option=com_content&view=article&id=102&Itemid=308&lang=en. Accessed on 20 September, 2021. 
[29] Ibid 3, P. IX.