On October 1 2021, the Iran's Army and the Islamic Revolutionary Guard Corps (IRGC) conducted a large scale military exercise 'Liberators of Khaybar' along its borders with Azerbaijan.[i]  In his interaction with the press, Iran's Ground Forces Commander Brig. Gen. Kioumars Heydari highlighted that "the overt and covert presence of the Zionist regime's proxies and the possibility of a significant number of Daesh terrorists in regional countries add to the importance of this exercise."[ii] Two days later, Supreme Leader Ayatollah Khamenei, in his address to the graduation ceremony of cadets underscored that "the issues concerning Iran's north-western neighbours should be resolved wisely by relying on nations, through the cooperation of the armies of neighbouring countries and by avoiding the presence of any foreign military forces."[iii] Baku has refuted Iranian claims about Israeli presence at Azerbaijan-Iran border as "totally baseless."[iv]

The tensions between Baku and Tehran have been in making since Baku emerged victorious in the Second Nagorno Karabakh war or 'Six-Week war' with Armenia and reclaimed disputed territories along Iran's border. But tensions escalated in mid-September, 2021, when the Azerbaijani border police detained two Iranian truck drivers supplying goods to Armenia and ethnic-Armenian held parts of Nagorno Karabakh via Goris-Kapan highway which crosses the part of Karabakh reclaimed by Azerbaijan last year. In an interview with a Turkish news agency, Azerbaijani President Ilham Aliyev accused Iran of sending trucks 'illegally' into Azeri territory. This raised the alarm in Tehran about border security and connectivity and raise the spectre of Israeli military presence on Iran-Azerbaijan border.[v]

Changing balance of power in the South Caucasus

Analysts have pointed out the role of Turkish and Israeli-made drones in securing Baku's victory in the second Karabakh war.[vi] Over the last decade, Baku has used its energy windfall to forge a burgeoning energy and security partnership with Turkey and Israel. According to the data compiled by Stockholm International and Peace Research Institute (SIPRI), between 2014 and 2018, Baku was the second biggest buyer of Israeli arms, making up to 17 per cent of country's arms export.[vii] Israel receives 40-45 per cent of supplies from Azerbaijan delivered from the Turkey's Mediterranean port of Ceyahan via the Baku-Tbilisi-Ceyhan (BTC) pipeline.[viii] Turkey has invested in training Azerbaijan's armed forces according to NATO standards. In 2019 alone, Turkey and Azerbaijan conducted a total of 13 joint military exercises.[ix] Further, Turkey is not only the largest importer of gas from Azerbaijan; it is crucial to delivering gas from Baku's Caspian field to international markets, especially to Europe. Turkey-Azerbaijan energy cooperation since the opening up of the BTC pipeline in 2005 and the recent commissioning of the Trans-Anatolian Natural Gas Pipeline (TANAP) and the Trans-Adriatic Pipeline as part of the Southern Gas Corridor, a European Commission initiative to deliver gas from Baku's Shah Dengiz gas field on the Caspian Sea to Europe, have secured Turkey the status of a 'major transit country' to Europe and the Mediterranean.[x] Turkey's rising influence in the energy landscape of the Caucasus and the wider European continent has come at the expense of Iran, which has its own ambitions to become the economic/connectivity bridge between East and West and North and South Eurasia.

Terrorist Presence on Iran's Borders

Since, the last year's war, Iran has been concerned about presence of terrorists on its north-western borders.  During the war, Iran's Supreme Leader, while supporting "Azerbaijan's right to liberate its occupied territories", underscored Tehran's concerns without naming any country: "The integrity of international borders should be protected and terrorists should not be allowed to deploy their forces near the borders. According to the reports that we have received, although some people deny them while there are reliable reports confirming this, a number of terrorists from here and there have become involved in this war."[xi] While Ankara and Baku deny such claims, there are historical precedents to Turkey pursuing such a policy in the region.

Analysts observe that during the first Nagorno Karabakh war (1988-94), Chechen rebels and Afghan Mujaheddin fresh off from their victory against the Soviet forces, were paid to fight the 'Armenian occupation'.[xii] At the peak of the war in October, 2020, reports emerged that Turkey and Pakistan – the only country that does not recognise the state of Armenia – were sending 'jihadist mercenaries', earlier deployed in Syria, to fight alongside Azerbaijani army. Most notably, speaking to an Indian news channel, Armenia's Deputy Foreign Minister Avet Adont remarked that "many media houses are reporting that Pakistani fighters have left Pakistan, and again via Turkey, they have reached Azerbaijan to join the mercenaries operating in Azerbaijan."[xiii]

Turkey, Pakistan and Azerbaijan have long extended rhetorical and political support to each other in international forums regarding their territorial claims in Cyprus, Jammu and Kashmir and Nagorno-Karabakh respectively. In recent years they have strengthened their cooperation in a trilateral format. In July, 2021, the three countries signed a 'strategic partnership' document, the 'Baku declaration, which was the culmination of the process that started in 2017 when Azerbaijan's then Foreign Minister Elmar Mammadyarov held the first trilateral meeting with his counterparts from Turkey and Pakistan in Baku.[xiv] On September 12, 2021, Special Forces from Turkey, Azerbaijan and Pakistan conducted their first ever trilateral military exercise 'Three-Brothers-2021' in Baku.[xv]

Fears of Border Change

Since the Russian-brokered ceasefire in 1994, Karabakh and surrounding region, though internationally recognised as part of Azerbaijan, were governed by a self-declared statelet called the Republic of Artsakh, with Stepanakert as capital, run by ethnic Armenians, and backed by Armenia.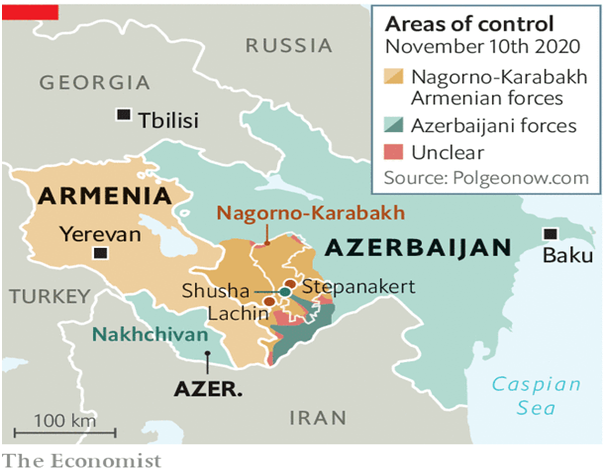 (Map: Areas of control at the time of signing of ceasefire by Azerbaijan and Armenia on November 10, 2020)
Iran, being a multi-ethnic nation, opposes ethnic irredentism and secessionism. Therefore, it has not recognised the independence of Karabakh/Artsakh, even as it continued to do commerce with the region. However, after Azerbaijan reclaimed territory in Karabakh including seven surrounding districts adjacent to Iran in last year's war, it significantly limited Iran's access to Armenia and parts of ethnic-Armenian held Karabakh. A further complicating issue for Armenia and Iran has been the implementation of the article 7 of the Russian-brokered ceasefire agreement in November 2020, which calls for unblocking of the Soviet-era transport connections. Azerbaijan has repeatedly called for opening of the Zengezur Corridor, which links its Nakhchivan exclave to Azerbaijan via Syunik, the southernmost province of Armenia bordering Iran. Armenia has objected to the transit corridor on the ground as it may cost Armenia its narrow landbridge to Iran. Such fears are fuelled by Azerbaijan's recent revival of historical, territorial designation of Zangezur, as a lost Azerbaijani ethno-space, which has belonged to Armenia since the Soviet period. It was one of three areas along with Nakhichevan and Nagorno-Karabakh on which first (pre-Soviet) republics of Armenia and Azerbaijan made rival claims in 1918-20. In July 2021, Baku did an internal reorganisation of economic region and named a new region bordering Syunik as Eastern Zangezur, implying there is a Western Zangezur in Armenia.

Azerbaijan's irredentist claims on internationally recognised Armenian territory have led both Armenia and Azerbaijan to deploy forces along their internationally recognised borders. In May, 2021, after Azerbaijan captured six Armenian servicemen and Armenia claimed that Azerbaijani forces had entered its territory in Syunik, Iran officially articulated its opposition to any potential border change in the region. Mojtaba Zolnouri, the head of the Iranian Parliament's National Security and Foreign Policy Committee argued that "if part of the territory of Armenia is to be taken and our border conditions change, that is, to have a new neighbour, it is not acceptable for us. The existing borders must be completely protected and the shared border of the Islamic Republic of Iran with Armenia must be maintained."[xvi] The primary concern behind Iran's opposition to border change in the region is the potential expansion of Azerbaijan's border with Iran may fan pan-Azeri sentiments among Iran's Azeri minority residing in the three border provinces of East and West Azerbaijan and Ardabil. Additionally, for Iran, the revival of transit corridor between Azerbaijan-Armenia and Nakhchivan significantly reduces the connectivity role of Iran in the Caucasus by opening an alternative route. President Aliyev, while declaring plans to build railroad from Horandiz in western region of Azerbaijan to Zangilan, a town located close to border with Iran and reclaimed in the 2020 war, argued that it would plug the missing link in the International North-South Transport Corridor (INSTC).[xvii] The Rasht-Astara railway in the Iranian segment of the INSTC is a joint Iranian-Azerbaijan project, which will link railways of Russia, Azerbaijan and Iran. After Baku promised a loan of $500 million to Iran in 2017, the project has been delayed because of the US sanctions on Iran.

Amidst the ongoing tensions between Baku and Tehran, what is certain is that both the neighbours will seek to de-escalate, preferring dialogue over confrontation. By demonstrating military preparedness along the border, Iran is seeking to restore some of the leverage it has lost since last year's war ended in military defeat for Armenia and a triumphant Azerbaijan, which is becoming a beachhead for Iran's rivals and adversaries in the Southern Caucasus.
*****
*Dr. Deepika Saraswat is a Research Fellow at the Indian Council of World Affairs, New Delhi.
Disclaimer: The views are of the author.
End Notes
[i] In less than 48 hours, troops, equipment transferred to drill field in northwest Iran, Tehran Times, 3 October, 2021, https://www.tehrantimes.com/news/465724/In-less-than-48-hours-troops-equipment-transferred-to-drill, Accessed on 5 October, 2021 
[ii] ibid
[iii] The good of the region lies in having independent, national armed forces and cooperation between neighbouring countries, KHAMENEI.IR, 3 October, 2021, https://english.khamenei.ir/news/8711/The-good-of-the-region-lies-in-having-independent-national-armed, Accessed on 4 October, 2021 
[iv] Azarbaijan denies presence of Israeli military on its soil, Middle East Monitor, 6 October, 2021, https://www.middleeastmonitor.com/20211006-azerbaijan-denies-presence-of-israeli-military-on-its-soil/, Accessed on 4 October, 2021 
[v] Iranian Trucks have illegally  entered Karabakh during Armenian Occupation: President Aliyev, Andalou Agency, 27 September, 2021, https://www.aa.com.tr/en/asia-pacific/iranian-trucks-have-illegally-entered-karabakh-during-armenian-occupation-president-aliyev/2375984, Accessed on 4 October, 2021 
[vii] Azerbaijan becomes 1st Muslim Majority Country Represented at AIPAC, Caspian News, 9 March, 2020, https://caspiannews.com/news-detail/azerbaijan-becomes-1st-muslim-majority-country-represented-at-aipac-2020-3-9-0/ Accessed on 6 October, 2021 
[viii] Ibid.
[ix] Vasif Huseynov, Azerbaijan, Turkey hold large-scale military drills amidst escalation of tensions with Armenia, The Jamestown Foundation, 14 August, 2020, https://jamestown.org/program/azerbaijan-turkey-hold-large-scale-military-drills-amidst-escalation-of-tensions-with-armenia/ Accessed on 5 October, 2021 
[x] 'Azerbaijan's Investment in Turkey sign of Confidence,' 24 February, 2021, Andalou Agency, https://www.aa.com.tr/en/world/azerbaijans-investment-in-turkey-sign-of-confidence/2154972, Accessed on 5 October, 2021 
[xi] Iran Congratulates Azerbaijan on Liberation of Susha, Tehran Times, 9 November, 2020, https://www.tehrantimes.com/news/454457/Iran-congratulates-Azerbaijan-on-liberation-of-Shusha, Accessed on 5 October, 2021 
[xii] Armenia-Azerbaijan ceasefire fails again, thanks to Pakistan, Turkey, Business Standard, 19 October, 2020, https://www.business-standard.com/article/international/armenia-azerbaijan-ceasefire-fails-again-thanks-to-pakistan-turkey-120101901246_1.html , Accessed on 5 October, 2021 
[xiii] Ibid 
[xiv] Azerbaijan Boosts Trilateral Cooperation with Pakistan and Turkey, The Jamestown Foundation, 16 August, 2021,  https://jamestown.org/program/azerbaijan-boosts-trilateral-cooperation-with-pakistan-and-turkey/ , Accessed on 5 October, 2021 
[xv] Baku hosts first ever joint military training for Azerbaijani, Turkish and Pakistani Forces, the Caspian News, 16 September, 2021, https://caspiannews.com/news-detail/baku-hosts-first-ever-joint-military-training-for-azerbaijani-turkish-and-pakistani-forces-2021-9-13-1/, Accessed on 5 October, 2021 
[xvi] Iran wars against change in international borders in Caucasus region, Tehran Times, 17 May, 2021, https://www.tehrantimes.com/news/461022/Iran-warns-against-change-in-international-borders-in-Caucasus , Accessed on 6 October, 2021 
[xvii]President Ilham Aliyev attended "New Vision for South Caucasus: Post-Conflict Development and Cooperation" international conference held at ADA University, Azerbaijan State News Agency, 13 April, 2021,https://azertag.az/en/xeber/President_Ilham_Aliyev_attended_New_Vision_for_South_Caucasus_Post_Conflict_Development_and_Cooperation_international_conference_held_at_ADA_University_VIDEO-1754049 , Accessed on 5 October, 2021