The relations between the European Union (EU) and Russia have been in steady decline since the beginning of the century. This has been due to various issues including EU enlargement towards the central and eastern Europe; NATO's expansion towards Eastern Europe; Russia-Ukraine gas dispute of 2006 and the Russia and Georgia conflict of 2008. However, the 2014 Ukrainian crisis and annexation of Crimea led to the suspension of the key mechanisms for Russia-EU interaction and imposition of individual and sectoral sanctions. These events changed Russia's status from a 'strategic partner' of Europe to that of 'key strategic rival'[i] as it was described in EU's Global Strategy of 2016. The paper briefly examines the current EU-Russia relations and areas of contention in relations. It also looks at some of the avenues of cooperation between EU and Russia.

Current EU-Russia Relations

The EU Foreign Affairs Council in March 2016 outlined five guiding principles underlying the EU's relations with Russia: (i) implementation of the Minsk agreement[ii] as the key condition for any substantial change in the EU's stance towards Russia; (ii) strengthened relations with EU's Eastern Partners and other neighbours, including Central Asia; (iii) strengthening the resilience of the EU (e.g. energy security, hybrid threats or strategic communication); (iv) selective engagement with Russia on issues of interest to the EU; (v) engaging in people-to-people contacts and supporting Russian civil society[iii]. Similarly, in the Foreign Policy Concept of the Russian Federation, released on 1 December 2016, Moscow highlighted its core concerns regarding the developments in Europe. It referred to "geopolitical expansion pursued by the North Atlantic Treaty Organization (NATO) and the European Union (EU)" as "containment policy" towards Russia and called for "building a common space of peace, security and stability based on the principles of indivisible security, equal cooperation and mutual trust"[iv].

While both the EU and Russia have announced guiding principles to improve relations, they continue to be in a downward spiral. In 2018, in the aftermath of Skripal poisoning[v], some member states, such as France, Germany, the Netherlands, Italy etc., in solidarity with the UK expelled Russian diplomats. The European Parliament adopted a declaration in 2019 highlighting that "Russia can no longer be considered a strategic partner"[vi] and that "EU cannot envisage a gradual return to business as usual". This Declaration was followed by adoption of two resolutions by the European Parliament – first in September 2020 condemning poisoning of Alexei Navalny[vii], and second in January 2021 following the imprisonment of Navalny. This Resolution also called on member states to develop a fresh strategy and to "critically review cooperation with Russia in various foreign policy platforms and on projects".[viii]

Following this, a new strategy, titled 'EU-Russia Relations - Push Back, Contain and Engage' was released in June 2021. The strategy presents an overview of the relations and take stock of developments related to the 2016 five principles. It states that Russia "challenges and undermines international law, as well as the OSCE and Council of Europe key principles, to which it has committed itself." It points out that managing relations with Russia represents a key strategic challenge for EU and goes on to highlight Russian actions that have led to the deterioration of relations such as  Russia's military build-up along the Ukrainian border, on the Crimean peninsula and in the Black Sea; the implication of Russian intelligence services in disruptive actions within EU Member States; cyber-attacks and disinformation campaigns etc. It also points out that EU's selective engagement has brought "limited concrete results"[ix] on issues like trade, economic and digital matters, home affairs and public health. The strategy states that the EU will continue to push back against human rights violations, breach of international law in Ukraine and Georgia and will speak up for democratic values. It will aim to constrain Russia's attempts to undermine EU interests by limiting the resources the Russian government can draw on to carry out its 'disruptive' foreign policy. To further its own interests, the EU should engage Russia on several key challenges such as COVID-19 pandemic, climate change and environmental issues, people to people contacts etc.

Issues in the Relations

This paper identifies following issues between the EU and Russia –

First, is the EU and NATO expansion towards eastern Europe. The EU's policy towards the region has two strands – first is the European Neighbourhood Policy, which was launched in 2004 and deals with 16 Southern and Eastern countries[x]; second is Eastern Partnership, launched in 2009 with focus on six countries[xi]. Under these initiatives, the EU concludes Association Agreements in exchange for commitments to political, economic, trade, and human rights reform in a country. In exchange, the country is offered tariff-free access to some or all EU markets (notably industrial goods or agricultural products) and financial or technical assistance. Similarly, in terms of expansion of NATO, three partner countries have declared their aspirations to NATO membership: Bosnia and Herzegovina, Georgia and Ukraine. While NATO has declared that its "ongoing enlargement process poses no threat to any country. It is aimed at promoting stability and cooperation, at building a Europe whole and free, united in peace, democracy and common values"[xii], Russia views the expansion and NATO's continued presence in the neighbourhood as detrimental to its core security interests[xiii]. Its Foreign Policy Concept of 2016 also pointed that "geopolitical expansion pursued by the NATO and the EU…have resulted in a serious crisis in the relations between Russia and the Western States"[xiv].

Second, are issues related to Ukraine and Black Sea. Russia's aggression in Ukraine has triggered the greatest security crisis in Europe since the Cold War. While the EU has taken significant punitive measures against Russia, they have made little headway. With the situation in Ukraine stagnant and the Minsk agreements not being implemented, no breakthrough in EU-Russia appears to be in sight. Moreover, the military build-up near the Ukrainian border in the past few months, have again raised the spectre of conflict between the European member states, US and Russia. While, the NATO Secretary General Jens Stoltenberg said that "There is not clarity about the Russian intentions but there is an unusual concentration of forces for the second time this year"[xv], Moscow has denied that it is plotting an attack and blamed NATO for fuelling tensions. The build-up came in the aftermath of increased tensions between Russia and the West over the possible opening of talks with Ukraine and Georgia regarding joining NATO[xvi], which Moscow considers a red-line. The latest build-up near Ukraine's northern border led the NATO Secretary General Jens Stoltenberg to warn that the organisation must "prepare for the worst"[xvii], and described the Russian build-up as "unprovoked and unexplained". President Putin also warned NATO against deploying its troops and providing weapons to Ukraine, saying it represents a "red line"[xviii] for Russia and would trigger a strong response.

President Biden and President Putin held a virtual summit on 7 December 2021 to discuss the Ukrainian crisis. Prior to the Summit, President Biden held a virtual call with leaders of France, Italy, Germany and the UK to discuss concerns related to the Russian military build-up on Ukraine's borders. The leaders called on Russia to de-escalate tensions and agreed that diplomacy, especially through the Normandy Format, is the only way forward to resolve the conflict through the implementation of the Minsk Agreements. They underscored their support for Ukraine's sovereignty and territorial integrity and agreed to enhance consultation with NATO allies and EU partners, on a coordinated and comprehensive approach[xix]. During the virtual Summit with President Putin, President Biden emphasised that an invasion of Ukraine would result – first, heavy economic penalties for Russia; second, it will prompt NATO to reposition its troops in Europe; and third, additional measures which will go well beyond the West's response to Russia's annexation of Crimea seven years ago, hinting at the Nord Stream 2 gas pipeline[xx], which is expected to be a major source of revenue for Moscow[xxi]. For his part, President Putin emphasised that Western military activity was a threat to Russia, and that the United States was raising tensions in the region by increasing its "military potential near our borders." He called for "reliable, legal guarantees" that would specifically prevent NATO from expanding its territory toward Russia or place missile systems in countries bordering Russia. Both the leaders agreed to instruct their representatives to engage in substantive consultations on the sensitive issues[xxii].
Map - Ukraine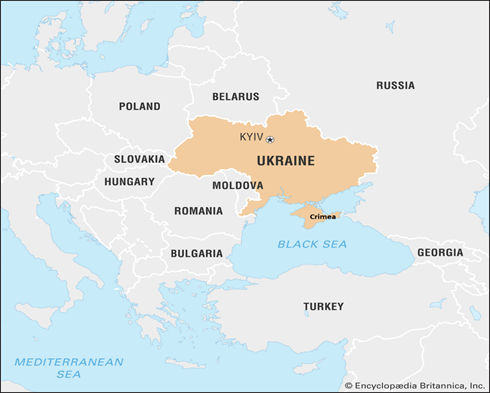 Source: Britannica, https://www.britannica.com/place/Ukraine
Similarly, Russian and NATO's increased activities in the Black Sea have sharpened friction between the two. Moscow has traditionally seen the Black Sea region as vital to its geo-economic strategy – it depends on the Black Sea for access to the Mediterranean and beyond, both for military operations outside its immediate neighbourhood and for exports of Russia's main commodity (hydrocarbons). Both sides have accused each other for increasing tensions in the region by organising naval drills and exercises. President Putin also mentioned both Ukraine and Black Sea during his address to the collegium of the Ministry of Foreign Affairs on 18 November 2021, where he said "It should be borne in mind that Western partners exacerbate the situation by supplying Kiev with lethal modern weapons, conducting provocative military maneuvers in the Black Sea, and not only in the Black Sea - and in other regions close to our borders…we understand that our partners are very peculiar and so - how to put it mildly - superficially treat all our warnings and talk about red lines"[xxiii] – highlighting the West's alleged failure to take Russian demands seriously.

Third is dependence of European countries on Russia for energy resources. The EU member states remain heavily dependent on import of energy resources. In 2019, almost two-thirds of the EU's crude oil imports came from Russia (27%), Iraq (9%), Nigeria and Saudi Arabia (both 8%) and Kazakhstan and Norway (both 7%). Similarly, almost three-quarters of the EU's imports of natural gas came from Russia (41%), Norway (16%), Algeria (8%) and Qatar (5%), while over three quarters of solid fuel (mostly coal) imports originated from Russia (47%), the United States (18%) and Australia (14%)[xxiv]. These statistics highlight that the European energy security remains a major concern for the member states especially due to the structural dependence on Russia. Similarly, Russian economy is also highly dependent on its hydrocarbons, and oil and natural gas revenues account for more than one-third of the federal budget revenues[xxv]. Energy resources have remained a contentious issue between the EU member states and Russia, with the two gas crises in 2006 and 2009, highlighting the vulnerabilities of this dependence. The current energy crisis in Europe also highlights this conundrum where the diverging interests of EU member states have led to inability of the EU to formulate a unified agenda towards Russia. This was primarily due to the fact that the energy agreements with Russia are done bilaterally rather than at the EU level.

In the current energy crisis, several members of European Parliament have accused Russia of manipulating the gas markets to increase the prices and have called on the European Commission to launch investigation[xxvi] into Gazprom's market practices in Europe. Russia has refuted the claims of 'weaponising energy' with President Putin saying it was "very important" to "suggest a long-term mechanism to stabilise the energy market". It has also been pointed out that Russia is using the crisis to fast track European approval for Nord stream-2[xxvii] pipeline[xxviii]. While President Putin has said that Russia was ready to provide more gas to Europe if requested, Gazprom has announced[xxix] that it would not book additional transport capacity through existing Ukrainian and Polish pipelines for 2022 – which, according to various reports[xxx], points to Gazprom's move to push for the Nord Stream 2 gas pipeline, which is awaiting regulatory clearance from Germany.

Apart from the above stated issues, there are fundamental differences between EU and Russia over a range of issues. These differences are most visible in the EU's criticism of Russia on issues such as suppression of opposition activities - with the poisoning and subsequent jailing of opposition leader Alexei Navalny as the latest example; lack of free and fair elections, human rights violations, and restrictions on the press. While Russia views the European support for the opposition and civil society as interference in its domestic affairs, the EU remains concerned about Moscow's support for various far-right parties in its member countries. Similarly, another area of contention is disinformation campaigns and the alleged Russian interference in the election processes in EU member states. These include allegations related to the hacking of the German Parliament by Russia and also Russian attempts to interfere in the French presidential elections.

The use of sanctions and counter-sanctions are also a source of contention between EU and Russia. As of October 2021, EU individual restrictive measures introduced in response to the crisis in Ukraine applies to 185 Russian individuals and 48 Russian entities, which are subject to an asset freeze and a travel ban because their actions undermined Ukraine's territorial integrity, sovereignty and independence. Also, in March 2021, the Council used the newly adopted EU global human rights sanctions regime to sanction four Russian nationals - Alexander Bastrykin, Head of the Investigative Committee of the Russian Federation, Igor Krasnov, the Prosecutor-General, Viktor Zolotov, Head of the National Guard, and Alexander Kalashnikov[xxxi] - over their role in the arbitrary arrest, prosecution and sentencing of Navalny, as well as the repression of peaceful protests in connection with his unlawful treatment[xxxii]. Similarly, Russia has been retaliating against the EU sanctions since August 2014 by imposing counter-sanctions on agricultural goods, raw materials and food, alleging violations of food security standards. Moscow, in April 2021, applied sanctions on eight EU officials[xxxiii] including European Parliament President David Sassoli and European Commission Vice President Vera Jourova.

Towards Selective Engagement

Major dialogue mechanisms between the EU and Russia have remained suspended since 2014. The idea of selective engagement, enunciated first in the five-guiding principles for EU-Russia engagement, also found a mention in the Joint Communication on EU-Russia relations released by the EU in June 2021. Selective engagement was based on cooperation with Russia on issues which were in the shared interests of EU member states which are outlined below:

First is climate change and environment. Apart from their participation on climate change and environmental issues in the framework of UNFCCC, the EU and Russia are cooperating on the climate and environment action through three initiatives – the Cross-Border Cooperation (CBC), the Northern Dimension (ND) and the Strategic Partnerships for the Implementation of the Paris Agreement (SPIPA). In Cross-Border Cooperation (CBC) programmes, environment is one of the priority thematic objectives. Seven CBC land-border programmes with participation of Russia are being implemented. The programmes focus on modernisation of heating systems in schools and hospitals, promoting healthy lifestyle by building recreational centres or implementing ecological education, cooperation for clean natural environment and efficient management of natural resources, cooperation for increasing accessibility of regions, promotion of innovation capacities, sustainable transport and communication models. Second, under the Northern Dimension Environmental Partnership, the EU, Russia and other countries in the region work together to protect the Baltic Sea region and the Arctic from pollution and contamination. The objective is to help tackle the problem of pollution caused by poor waste-water treatment, insufficient energy efficiency measures and inadequate municipal, agricultural and nuclear waste management. Third, SPIPA is a multi-country project to promote the implementation of the Paris Agreement. To respond to climate change, SPIPA engages with Russian experts in such areas as forests, energy efficiency in buildings and methodological aspects of decarbonisation modelling.  

Second area of cooperation is the promotion of people-to-people contacts through education initiatives. Among the 130 countries participating in the Erasmus+ programme, Russia ranks first for short-term university exchanges, while many EU citizens also benefit from Erasmus+ grants to study, work or volunteer in Russia. The EU funds programmes that facilitate the mobility of researchers between the EU and Russia and promote close EU-Russia cooperation in science and technology, research and innovation. These include the Horizon 2020 programme and the Marie Skłodowska-Curie Actions. Russian citizens have also long been top recipients of Schengen visas. In 2019, more than 4 million Schengen visas were issued to Russian citizens, 83% of which were multiple-entry visas[xxxiv]. Despite the downturn in the political relations, this area has remained robust with active exchanges between the two.

Third area can be of trade and economics. Despite the fact that some of the policy dialogues and mechanisms of cooperation, including in the area of trade, have been suspended, economic cooperation remains promising because of economic interdependence. Russia is the EU's fifth largest trade partner, representing 4.8% of the EU's total trade in goods with the world in 2020. The EU is Russia's biggest trade partner, accounting for 37.3% of the country's total trade in goods with the world in 2020. Total trade in goods between the EU and Russia in 2020 amounted to €174.3 billion. Two-way trade in services between the EU and Russia in 2020 amounted to €27.7 billion, with EU imports of services from Russia representing €8.9 billion and exports of services to Russia accounting for €18.8 billion. The EU is also the largest investor in Russia. In 2019, the EU's outward foreign direct investment (FDI) stock in Russia amounted to €311.4 billion, Russia's FDI stock in the EU was estimated at €136 billion[xxxv]. Their 'geographical proximity' and the trade volumes highlights that Russia and the EU will remain important trade partners in near future.

Conclusion

In a speech in April 2021, High Representative Josep Borrell said, "We need to maintain channels of communication with Moscow" further adding that "we are going to face a long and difficult period of political confrontation with Russia, and we must prepare for that"[xxxvi] – thus highlighting the current status of the EU-Russia relations. It can be said that the EU has struggled to formulate a cohesive policy toward Russia. The historical experiences of the Central and Eastern European countries and the Baltic states have increased EU's wariness towards Russia. This is, however, somewhat difficult to reconcile with the approach followed by Western European countries like Germany and France which have pushed for economic engagement and a reset in relations with Moscow. Despite the fact that trade ties between Russia and EU remain important, these are not matched by stable political relations. Selective engagement by EU with Russia has not shown desirable results. Lack of harmony will continue to get reflected in high level statements on either side and the sanctions-counter sanctions spiral is expected to continue. Any breakthrough in the relations in the near future is least likely with the recent escalation in Russia-Ukraine tensions adding to the difficulties.
*****
*Dr. Ankita Dutta, Research Fellow, Indian Council of World Affairs, New Delhi.
Disclaimer: Views expressed are personal
Endnotes
[i] 'Shared Vision, Common Action: A Stronger Europe - A Global Strategy for the European Union's Foreign and Security Policy', EEAS, 2016, https://eeas.europa.eu/archives/docs/top_stories/pdf/eugs_review_web.pdf, Accessed on 29 November 2021
[ii] Minsk Agreement between France, Germany, Russia and Ukraine sets out a series of military and political steps as peace plan for Ukraine.  It includes provisions like - immediate and comprehensive ceasefire; provision of humanitarian assistance; restoration of full control of the state border by the government of Ukraine; withdrawal of all foreign armed formations, military equipment and mercenaries; Constitutional reform in Ukraine including decentralisation, with specific mention of Donetsk and Luhansk etc.
[iii]'The EU's Russia policy -Five guiding principles', Briefing, European Parliament, 2018, https://www.europarl.europa.eu/RegData/etudes/BRIE/2018/614698/EPRS_BRI(2018)614698_EN.pdf, Accessed on 29 November 2021
[iv] 'Foreign Policy Concept of the Russian Federation', Ministry of Foreign Affairs of the Russian Federation, 1 December 2016, https://www.mid.ru/en/foreign_policy/official_documents/-/asset_publisher/CptICkB6BZ29/content/id/2542248, Accessed on 29 November 2021
[v] Sergei Skripal, a former Russian military officer and double agent for the British intelligence agencies, and his daughter, Yulia Skripal, were poisoned on 4 March 2018 in the city of Salisbury, England. The UK alleged that two Russian military intelligence officers poisoned the ex-Russian spy. However, Moscow's U.N. envoy had dismissed Britain's evidence as an invention from "thin air". (Britain and Russia clash at UN over poisonings, Yahoo UK, 7 September 2018,  https://uk.news.yahoo.com/latest-russia-not-investigating-poisoning-suspects-114411284.html)
[vi]'European Parliament resolution of 12 March 2019 on the state of EU-Russia political relations', European parliament, 2019, https://www.europarl.europa.eu/doceo/document/TA-8-2019-0157_EN.html, Accessed on 30 November 2021
[vii] In August 2020, Russian opposition figure and anti-corruption activist Alexei Navalny was poisoned with a Novichok nerve agent. He was airlifted to Charite hospital in Germany's capital, Berlin, for treatment. In September 2020, German officials say there is "unequivocal proof" that Navalny was poisoned with a Novichok nerve agent, a Soviet-era chemical weapon. Chancellor Angela Merkel said Navalny was a victim of attempted murder, adding there were "serious questions that only the Russian government can and must answer". International calls for an investigation into the incident mount. However, Kremlin rejected the claims that Moscow was behind the poisoning. In January 2021, Navalny flies to Russia from Germany where he was detained. The arrest provoked condemnation from several European and world powers which called for his immediate release. (BBC, 8 October 2021, https://www.bbc.com/news/world-europe-16057045)
[viii] 'European Parliament resolution of 21 January 2021 on the arrest of Aleksei Navalny', European Parliament, 2021, https://www.europarl.europa.eu/doceo/document/TA-9-2021-0018_EN.html, Accessed on 30 November 2021
[ix]'EU-Russia relations - Push back, constrain and engage', Joint Communication to the European Parliament, the
European Council and the Council, European Commission, June 2021, https://ec.europa.eu/info/sites/default/files/joint-communication-eu-russia-relations.pdf, Accessed on 30 November 2021
[x] European Neighbourhood Policy – Algeria, Egypt, Israel, Jordan, Lebanon, Libya, Morocco, Palestine, Syria, Tunisia, Armenia, Azerbaijan, Belarus, Georgia, Moldova, Ukraine, Russia
[xi] Eastern Partnership countries - Ukraine, Moldova, Belarus, Georgia, Armenia and Azerbaijan
[xii] 'Enlargement', NATO, https://www.nato.int/cps/en/natolive/topics_49212.htm, Accessed on 30 November 2021
[xiii]Richard Sokolsky, 'Russia Military Balance: Implications for European Security', Carnegie, 13 March 2017, https://carnegieendowment.org/2017/03/13/new-nato-russia-military-balance-implications-for-european-security-pub-68222, Accessed on 1 December 2021
[xiv]Foreign Policy Concept of the Russian Federation, n.3
[xv] France24, 30 November 2021, https://www.france24.com/en/europe/20211130-nato-foreign-ministers-to-discuss-russia-s-ukraine-buildup-amid-invasion-fears, Accessed on 1 December 2021
[xvi] Politico, 1 November 2021, https://www.politico.com/news/2021/11/01/satellite-russia-ukraine-military-518337, Accessed on 1 December 2021
[xvii]AP News, 1 December 2021, https://apnews.com/article/europe-russia-ukraine-moscow-riga-b0971e8a973026ec7fb1964a8d38d2eb?utm_source=dailybrief&utm_medium=email&utm_campaign=DailyBrief2021Dec1&utm_term=DailyNewsBrief, Accessed on 1 December 2021
[xviii]Euronews, 30 November 2021, https://www.euronews.com/2021/11/30/russian-military-build-up-near-ukraine-is-unprovoked-and-unexplained-nato-chief?utm_source=dailybrief&utm_medium=email&utm_campaign=DailyBrief2021Dec1&utm_term=DailyNewsBrief, Accessed on 1 December 2021
[xix] Readout of President Joe Biden's Call with European Allies, The White House, 6 December 2021, https://www.whitehouse.gov/briefing-room/statements-releases/2021/12/06/readout-of-president-joe-bidens-call-with-european-allies/, Accessed, on 14 December 2021
[xx] German foreign minister Annalena Baerbock said on 12 December 2021 that in the event of any new "escalation" in Ukraine, under an agreement between Berlin and Washington, Nord Stream 2 would not be allowed to operate. (Euractiv, 13 December 2021, https://www.euractiv.com/section/energy/news/new-german-government-repeats-old-fallback-positions-on-nord-stream-2/)
[xxi] The New York Times, 7 December 2021, https://www.nytimes.com/2021/12/07/us/politics/biden-putin-ukraine-summit.html, Accessed, on 14 December 2021
[xxii] Meeting with US President Joseph Biden, 7 December 2021, Kremlin, http://kremlin.ru/events/president/news/67315, Accessed, on 14 December 2021
[xxiii] 'Expanded meeting of the collegium of the Ministry of Foreign Affairs', 18 November 2021, President of Russia, http://kremlin.ru/events/president/news/67123, Accessed on 2 December 2021
[xxiv] 'Energy', Eurostat, https://ec.europa.eu/eurostat/cache/infographs/energy/bloc-2c.html, Accessed on 2 December 2021
[xxv] 'Russia', Energy Information Administration, https://www.eia.gov/international/analysis/country/RUS, Accessed on 2 December 2021
[xxvi] EuObserver, 3 December 2021, https://euobserver.com/climate/152955, Accessed on 2 December 2021
[xxvii] The Nord Stream-2 project was envisioned in 2015 to run in parallel to the existing Nord Stream-1 pipeline passing through the Baltic Sea to reach Germany. With the total capacity of 55 billion cubic meters (per year), Nord Stream-2 will deliver gas to Europe from the natural gas field Bovanenkovo in North Russia's Yamal Peninsula. The pipeline, taken together with the operational Nord Stream-1, would double the total capacity of natural gas exported to Europe to 110 bcm per year. In November 2021, Germany's energy regulator suspended approval of the Nord Stream 2 on the grounds that pipeline's operating company needed to be compliant with German law before it would certify the project. The regulator said its approval procedure would remain suspended until "the main assets and human resources" had been transferred from the Swiss-based Nord Stream 2 parent company (Nord-Stream 2 AG) to its German subsidiary, which owns and operates the German part of the pipeline. (BBC, 16 November 2021, https://www.bbc.com/news/business-59306223)
[xxviii] BBC, 13 October 2021, https://www.bbc.com/news/world-europe-58896847, Accessed on 2 December 2021
[xxix] Tass, 2 November 2021, https://tass.com/economy/1357031; Reuters, 18 October 2021, https://www.reuters.com/business/energy/gazprom-books-fraction-gas-transit-capacity-via-poland-ignores-ukraine-2021-10-18/, Accessed on 3 December 2021
[xxx] Reuters, 18 October 2021, https://www.reuters.com/business/energy/gazprom-books-fraction-gas-transit-capacity-via-poland-ignores-ukraine-2021-10-18/; Radio Free Europe, 2 November 2021, https://www.rferl.org/a/russia-gas-ukraine-gazprom-poland/31541962.html, Accessed on 13 December 2021
[xxxi] Press Release, 2 March 2021, European Council, https://www.consilium.europa.eu/en/press/press-releases/2021/03/02/global-human-rights-sanctions-regime-eu-sanctions-four-people-responsible-for-serious-human-rights-violations-in-russia/, Accessed on 13 December 2021
[xxxii]'Russia', Factsheet, European Parliament, https://www.europarl.europa.eu/factsheets/en/sheet/177/russia, Accessed on 3 December 2021
[xxxiii] DW, 30 April 2021, https://www.dw.com/en/russia-imposes-entry-ban-on-8-eu-officials/a-57392964, Accessed on 3 December 2021
[xxxiv] 'The European Union and the Russian Federation', EEAS, https://eeas.europa.eu/delegations/russia/35939/european-union-and-russian-federation_en, Accessed on 3 December 2021
[xxxv]'Russia', Trade figures, European Commission, https://ec.europa.eu/trade/policy/countries-and-regions/countries/russia/#:~:text=The%20EU%20is%20Russia's%20biggest,exports%20went%20to%20the%20EU.&text=Total%20trade%20in%20goods%20between,amounted%20to%20%E2%82%AC174.3%20billion., Accessed on 3 December 2021
[xxxvi]'Russia: Speech by High Representative/Vice-President Josep Borrell at the EP debate', EEAS, 28 April 2021, https://eeas.europa.eu/headquarters/headQuarters-homepage/97446/russia-speech-high-representativevice-president-josep-borrell-ep-debate_en, Accessed on 3 December 2021