Japan's response to Russia's 'special military operation' in Ukraine has been the toughest among the Asian countries. Tokyo condemned in 'strong terms' and joined the West in sanctioning Russia for its action, but it also revised its approach to bilateral relations that had been underway for a decade. The departure in Japan's approach to Russia has been reflected in the latest Diplomatic Blue Book published on April 22, 2022.

The report called out 'Russia's invasion of Ukraine as "a major turning point in history, threatening the post-Cold War world order."[1] The description of relations with Russia as "extremely important" in the previous edition has been deleted. Furthermore, the document revived the status of the Northern Territories (known in Russia as Southern Kuril Islands) as "an inherent territory of Japan, but is currently occupied by Russia illegally."[2]  The last time the reference to "illegal occupation" was mentioned in the Blue Book was in 2003, and the description of it as "inherent territory" has been absent in the last ten editions. The 2021 edition of the Blue Book described these territories as "islands over which Japan possesses sovereignty."[3] The readoption of a "hard-line stance"[4] on the territorial dispute, arguing that Japan is currently in no position to resume diplomatic negotiations toward a Japan-Russia peace treaty, marks the end of a decade of Tokyo's approach to Moscow.

Mapping Japan's approach to Russia under Prime Minister (PM) Abe and Tokyo's response to the Ukraine Crisis, the paper assesses the emerging contours of Japan-Russia relations and its implications for regional order.   

PM Abe's 'New Approach' to Russia

The sticking point in Japan-Russia relations has been the status of four islands known in Japan as Northern territories and Southern Kuril in Russia. The Soviet Union occupied these islands at the end of the Second World War. The two countries restored diplomatic relations by signing the "Joint Declaration' in 1956"; however, they failed to sign a peace treaty. The end of the Cold War certainly improved the relations between Japan and Russia; however, a solution to the island dispute and peace treaty was not on the horizon.

The second term of PM Shinzo Abe in 2012 witnessed a new momentum in Japan's approach to Russia. The central theme of Abe's outreach was his commitment to resolve the long-standing territorial dispute and sign the peace agreement by creating favourable conditions by promoting overall improvement in bilateral relations.[5] Tokyo's new priority for improving ties with Moscow has been complemented by President Vladimir Putin's Pivot to the East policy, which focused on the development of the Russian Far East by strengthening relations with Northeast Asian countries.[6]
Fig. 1: Japan-Russia Disputed Territory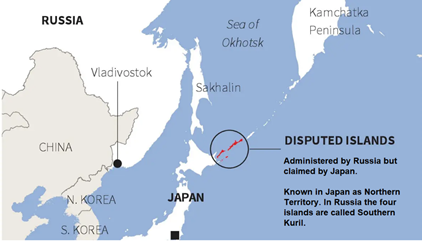 A number of factors contributed to PM Abe's diplomatic outreach to Moscow. The issue of Japan-Russia relations was very personal to PM Abe. His father, former Foreign Minister Shintaro Abe, had spearheaded the normalisation of the relations between the two countries at the time of his untimely death in the early 1990s.[7] Along with Constitution revision and the North Korean abductees' issue, the signing of a peace treaty with Russia and the resolution of the territorial dispute was a matter that Abe has been long associated with and was seen important for his political legacy. Accessing Russian resources has also become a strategic objective, particularly oil and gas, after Tokyo turned away from nuclear energy production following the Fukushima nuclear disaster.[8]

However, the most important factor driving Tokyo's outreach to Russia has been geopolitical consideration, with the view of Russia as a partner in balancing the rise of China. From Tokyo's perspective, improving relations with Moscow would create a favourable security environment in the region, which will allow Tokyo to focus on the security challenges emerging from China and North Korea without worrying about the threat from the north.[9] Japan has also been concerned about Russia's growing economic dependence on China and the alignment between Beijing and Moscow.[10] The security and geopolitical consideration underpinning Japan's outreach to Russia has been in reflected the establishment of a 2+2 Foreign Policy and Defence Dialogue in 2013.[11] The 2016 Diplomatic Bluebook also mentioned that improving relations with Moscow "contributes to Japanese interests and regional peace and prosperity."[12]

In his outreach to Russia, PM Abe emphasised building personal ties with President Vladimir Putin. During his eight years in office, Prime Minister Abe had 27 Summit Meetings with President Putin.[13] Abe visited Russia eleven times while Putin made only two trips to Japan. The record number of meetings between Abe and Putin were held despite the G7 sanctions on Russia and its international isolation following the 2014 Crimea crisis.

Before PM Abe, successive Japanese governments linked the political and economic dimensions of the relations, where the territorial dispute was seen as a challenge to economic cooperation. They also presented economic cooperation, especially Japanese investment, as a reward to return the islands. On the contrary, the Abe administration's approach had been to foster economic interdependence between the two countries and separate the relationship's political and economic dimensions.[14] The move to build substance to the relations is grown out of the belief that the absence of dynamism was, in fact, the main factor that allowed the stalemate on the territorial dispute to linger for such a long time. Unlike in the past, by frontloading economic cooperation, the Abe administration aimed to nurture mutual trust between the two countries and viewed investments as political leverage to soften Moscow's stand on the territorial issue. During this phase, while highlighting the significance of resolving the territorial dispute, PM Abe avoided any direct demands for the return of the four islands, a precondition that was set by the past Japanese governments.[15]

The momentum created in Japan-Russia relations following PM Abe's diplomatic outreach since 2012, however, was disrupted following the Crimea crisis, albeit briefly. While Japan joined the other G7 members in sanctioning Moscow, its measures were more symbolic and passive.[16] Unlike its Western counterparts, Japanese sanctions did not target investment, technology, tourism and, more importantly, the energy sector of Russia.[17] Japan did not update its sanctions since December 2014, despite its continued support for the G7 statement on Russia. Also, Japan did not join Western countries in criticising Russia after the Skripal incident in 2018.[18]

In 2016, to regain the momentum in bilateral relations, PM Abe doubled down on his outreach to Russia and made an attempt to bridge the gap between Russia and the West as the Chair of G7.[19] Though the Japanese efforts to narrow differences between the West and Russia did not go very far, its outreach to Moscow produced positive results on the bilateral front. A significant breakthrough was made at the Sochi Summit between PM Abe and President Putin in May 2016. During the Summit, PM Abe announced a "New Approach" to Japan- Russia relations.[20] By having the Sochi Summit, PM Abe broke ranks with the G7 decision of isolating Russia[21] and ignored the objection raised by then US President Barak Obama.[22]

Announcing the "new approach", PM Abe declared that he had "a sense that we (Japan and Russia) are moving toward a breakthrough in the stalled peace treaty negotiations."[23] While, on the one hand, the new policy framework suggested a flexible approach to the negotiation position on the island dispute, the main thrust of the New Approach was the promotion of economic cooperation. In this regard, Abe announced an Eight Point Plan to improve Japan's economic engagement with Russia focusing on health care, urban infrastructure focusing smart cities, energy, industrial diversification and productivity enhancement, development of industrial bases in the Russian Far East, cooperation in the SME sector; cooperation on cutting-edge technologies; and people-to-people exchange.[24]

To reinvigorate the outreach to Moscow under the New Approach, Tokyo took extraordinary steps. PM Abe appointed Chikahito Harada, the previous Ambassador to Russia, as his personal envoy, with the newly created position of the "Government Representative and Ambassador in charge of Japan-Russia relations".[25] Tokyo also created a new Ministry of  Economic Cooperation with Russia to steer the Eight Point Plan.[26] Creating a new ministerial portfolio exclusively focusing on economic relations with Russia highlights two key changes in Japan's approach to Russia from an institutional perspective. First, it indicates the evolution of a parallel two-track approach by separating the political and economic dimensions of the relations.[27] The elevation of the status of the Economic Minister meant to change the institutional balance in Japan's relations with Russia, which traditionally was dominated by the foreign ministry.[28] PM Abe's uninterrupted participation at the Eastern Economic Forum between 2016 and 2019 further highlighted the priority that he attached to improving relations with Russia.

Under the New Approach, there has been some momentum on the issue of territorial dispute. On signing the peace treaty and resolving the territorial issue, at the Sochi Summit, Japan and Russia
"shared the view that the two countries should actively proceed with negotiations toward the formulation of solutions acceptable to both sides through a new approach that is not stuck in a traditional way of thinking in order to overcome the current negotiation stalemate and make a breakthrough." [29]
In this regard, at the Yamaguchi Summit in December 2016, Japan and Russia agreed to start negotiations on joint economic projects on the four disputed islands. They also "agreed that all probable proposals will be examined promptly in order to grant the wishes of former island residents hoping to visit their hometowns and make grave visits freely."[30] A breakthrough on the issue was made at the Singapore Summit in November 2018, when the two leaders agreed to "accelerate negotiations on a peace treaty based on the Japan-Soviet Joint Declaration of 1956."[31] They also entrusted the two countries' Foreign Ministers to carry forward the negotiations. PM Abe's move to agree to 1956 declaration as the basis for negotiation for the Peace Treaty has been unprecedented as the Russian offer in the declaration was rejected by the past Japanese government since 1956, saying it was insufficient.[32] In the 1956 Declaration, Moscow agreed to transfer "Habomai Islands and the island of Shikoton" to Japan and "the actual transfer of these islands … take place after the conclusion of a Peace Treaty", without mentioning anything about the other two islands.[33] It implies a dilution in the traditional Japanese position, which insists on signing the Peace Treaty after the attribution of the four islands. Given that PM Abe stopped mentioning about "the return of four islands" also strengthened the view that Japan is taking a more flexible position on the issue under the "New Approach". Many analysts have observed that PM Abe's goal has been a "Two Plus Alpha" solution that involves the return of two islands- Shikotan and Habomai to Japan and gaining joint economic projects and securing visa-free access to the other islands- Etorofu and Kunashiri (Iturup and Kunashir in Russian).[34]  

Though the relations between the two countries improved significantly under PM Abe's New Approach, it failed to make headway on the issue of territorial dispute even after five rounds of negotiation at the Foreign Minister's level. A major factor has been the toughening of the Russian position. A new Russian Constitutional Amendment that went into effect in the summer of 2020 prohibits actions aimed at relinquishing any Russian territory except in cases of delimitation, demarcation, or re-demarcation.[35] In February 2021, President Putin stated that Moscow would like to develop relations with Japan but would not do anything that goes against the Constitution.[36] In response, the Japanese government stated that talks with Russia on the Peace Treaty would continue and that Japan still held the position that such a treaty should be signed after the territorial dispute is resolved.[37]

Japan-Russia relations lost their momentum after the outbreak of the COVID pandemic and the resignation of PM Abe in 2020. Though PM Yoshihide Suga (2020-21) who served as Chief Cabinet Secretary under PM Abe, left the major features of his predecessor's foreign policy unchanged but could not keep up the momentum. Pandemic has been the main factor. Also, the political change in Washington with the election of President Joe Biden influenced Japan's approach to Russia. Under President Donal Trump, there was little criticism from Washington on Abe's outreach to Putin. However, the Biden administration's emphasis on alliance diplomacy and strong anti-Putin posturing has reduced Japan's manoeuvring space to improve relations with Moscow. PM Kishida Fumio, who took office in October 2021, has not shared PM Abe's enthusiasm for improving ties with Moscow. Relations with Russia are set to be a lower priority for Japanese foreign policy under PM Kishida.[38]

Ukraine Crisis and the Outlook of Japan-Russia Relations

Unlike the Crimea Crisis of 2014, Japan took a stern position on the Russian action and joined the West in punishing Moscow for its military action in Ukraine. Arguing that the Russian action shook the foundations of international order, PM Kishida condemned "it in the strongest terms and said that,
"Japan will decisively take actions to demonstrate this stance. We will show clearly that this kind of outrage comes with a heavy price. The international community now believes that because of Russian aggression, it can no longer carry-on relations with Russia in the same way it used to. Together with the other members of the G7 and the international community as a whole, Japan will impose even more stringent sanctions on Russia."[39]

The Japanese government was also quick to announce a list of sanctions against Russia in line with the G7 countries, including measures that would prevent financing to Russia from multilateral institutions, including IMF and the World Bank, restriction of transactions with the Russian Central bank, frozen assets of nine Russian banks and more than hundred Russian citizens related to the Government of Russia, including President Putin, and Russian business oligarchs.[40] Japan also joined the G7 countries to isolate Russia from the international financial system and the global economy by removing selected Russian banks from the SWIFT messaging system. Furthermore, Tokyo formally revoked Russia's most favoured nation trade status[41] and approved measures that prohibits Japanese companies from making new investments in Russia.[42] It also imposed sanctions on exports to Russian military-related entities, dual-use goods such as semiconductors and equipment for refining petroleum. Though Japan has shown reluctance to pull out of its many energy-related investments in Russia, including Sakhalin natural gas projects, however, has made commitments to reduce energy dependency on Russia, including phasing out and banning Russian coal imports. Japan also referred Russia to the International Criminal Court.[43] 

Apart from imposing sanctions on Russia, Japan also firmly supported Ukraine. In a show of solidarity, Ukraine's President Volodymyr Zelensky was given the opportunity to address the Japanese Diet on March 23, 2022. Tokyo also sent military equipment, including drones, bulletproof vests, helmets, winter battle dress uniforms, tents etc, to Ukraine, marking a departure in Japanese pacifist foreign policy[44] Tokyo also agreed to accept people fleeing Ukraine, in contrast with its past reluctance to take refugees. Japan has so far announced to Ukraine $ 200 million in emergency humanitarian assistance and $ 600 million in financial assistance.[45]

The unfolding situation in Ukraine has also promoted Japan to engage more closely with NATO. In this regard, the Japanese Foreign Minister attended the NATO meeting in April and a week later attended another NATO meeting as a "partner" of the US-led European alliance, a first for Tokyo. Prime Minister Kishida has been invited to attend the NATO leader's Summit in June later this year.[46] Kishida has also been active in persuading Asian countries to condemn Russian action and support Ukraine.[47]

The Russian military action in Ukraine prompted PM Kishida to reset Tokyo's approach to its bilateral relations with Moscow. Apart from the financial and trade sanctions, the return of a hard-line position on the disputed territories is a clear indication of a new phase in their bilateral relations. In response to Japanese sanctions, Moscow conducted military exercises in the disputed islands and fired a cruise missile from a submarine in the Sea of Japan as a show of force.[48] On March 21, Moscow announced that it is terminating the ongoing negotiation on the peace agreement between the two countries. It also withdrew from Japan-Russia Dialogue on joint economic activity on the disputed island.[49] Further, Moscow designated Japan as an 'unfriendly 'country'[50] and has banned the entry of sixty-three Japanese citizens, including PM Kishida, Foreign Minister Yoshimasa Hayashi and Defense Minister Nobuo Kishi.[51] Russia also declared persona non grata status to eight Japanese diplomats in a tit-for-tat response to the Japanese expulsion of eight Russian diplomats in Tokyo.[52]  Moscow also withdrew visa-free entry for Japanese citizens and blocked the extension of Japan's status as a sectoral dialogue partner of the Organization of the Black Sea Economic Cooperation.[53]

Conclusion

The crisis in Ukraine has prompted a hardening of Japanese foreign policy and a shift in Japan's approach to Russia. Responding strongly to Russian action in Ukraine has surprised many observers and has been interpreted as an assertive turn in Japanese foreign policy.[54]  The unusual determination on the part of Tokyo to respond to a security crisis in Europe is an indication of how Japan sees its implications for East Asia. Japan fear that failure to respond to Russian action could encourage Beijing to become more assertive in East Asia, particularly in Taiwan and the East China Sea.[55] Developments in Ukraine have also nudged Japan further deep into the West with increasing calls for further strengthening of the security alliance with the US and strengthening relations with Europe, G7 and NATO. It has also brought forth a greater call for upscaling Japan's defence capabilities'', including the acquisition of 'enemy strike capabilities', which has been taboo in Japan until recently.

As discussed earlier, events in Ukraine have prompted a reassessment in Japan regarding its relations with Moscow. Clearly, Tokyo has abandoned PM Abe's approach to cultivating friendly relations with Moscow. The state of Japan-Russia relations is at its lowest point in the post-Cold War period. The developments in Tokyo- Moscow relations have significant implications for the Asian security order, as it will further push Russia closer to China strategically and economically. The security order in East Asia is moving toward a New Cold War, with Japan increasingly sharing the US perception of the world with a highly securitised image of Russia, China and their growing alignment.
*****
* Dr. Jojin V. John, Research Fellow, Indian Council of World Affairs, New Delhi.
Disclaimer: Views expressed are personal.   
Endnotes
[1] "Diplomatic Bluebook", MOFA Japan, April 23, 2022, https://www.mofa.go.jp/mofaj/files/100334590.pdf (Accessed on May 3, 2022)
[2] Ibid
[3] Japan readopts hard-line stance on territorial dispute with Russia", Japan Times, April, 22, 2022,  https://www.japantimes.co.jp/news/2022/04/22/national/japan-russia-islands/ (Accessed on May 3, 2022)
[4] Daisuke Akimoto, "Japan's New Diplomatic Bluebook: Revised by the Russia-Ukraine War", The Diplomat, April 25, 2022,  https://thediplomat.com/2022/04/japans-new-diplomatic-bluebook-revised-by-the-russia-ukraine-war (Accessed on May 3, 2022)
[5] James Brown (2019), "Abe's Russia Policy", Asia Policy, 14 (1), 148-155.
[6] Leonid Bliakher, "Russia's Pivot to the East: Between Wishes and Reality", Valdai club, September 4, 2019, https://valdaiclub.com/a/highlights/russia-pivot-to-the-east-between-wishes/ (Accessed on May 3, 2022)
[7] James D.J. Brown, "The Coming Chill: Russia-Japan Relations After Abe", August 31, 2010, Moscow Times, https://www.themoscowtimes.com/2020/08/31/the-coming-chill-russia-japan-relations-after-abe-a71284 (Accessed on May 3, 2022)
[8] WrennYennie-Lindgren (2018), "New dynamics in Japan–Russia energy relations 2011–2017", Journal of Eurasian Studies , 9(2) 152-162.
[9] Yasuhiro Izumikawa (2016), "Japan's Approach toward Russia under Shinzo Abe: A Strategic Perspective" in  Gilbert Rozman (ed) Japan-Russia Relations Implications for the U.S.-Japan Alliance Edited by Gilbert Rozman, https://spfusa.org/wp-content/uploads/2016/05/Sasakawa_Japan-Russia.pdf (Accessed on May 3, 2022)
[10] Ibid
[11] Taisuke Abiru, The "China Factor" in Japan-Russia Relations, July 16,2013, "https://www.tkfd.or.jp/en/research/detail.php?id=374 (Accessed on May 3, 2022)
[12]"Japanese Diplomatic Year Book 2016", MOFA Japan,  www.mofa.go.jp/files/000177707.pdf (Accessed on May 3, 2022)
[13] Joshua W. Walker and  Hidetoshi Azuma,  "Shinzo Abe's Unfinished Deal With Russia", September 11, 2020 https://warontherocks.com/2020/09/shinzo-abes-unfinished-deal-with-russia/ (Accessed on May 3, 2022)
[14] Maria Shagina, "Sanctions in Japan-Russia Economic Relations: Impact and Adaption", June, 2019, https://isdp.eu/publication/sanctions-in-japan-russia-economic-relations-impact-and-adaption/(Accessed on May 3, 2022)
[15] Kitano Yoshinori, "Prime Minister Suga and the Putin Problem", December 1, 2020, https://www.nippon.com/en/in-depth/d00635/ /(Accessed on May 3, 2022)
[16] Tetsuo Kotani, "Japan's "Proactive Contribution to Peace" and the Annexation of Crimea", Place of Publication? https://www.nbr.org/publication/japans-proactive-contribution-to-peace-and-the-annexation-of-crimea//(Accessed on May 3, 2022)
[17] Maria Shagina, "Japan's sanctions policy vis-à-vis Russia: Implications for Western sanctions unity", Sasakawak USA, September 25, 2018, https://spfusa.org/sasakawa-usa-forum/japans-sanctions-policy-vis-a-vis-russia-implications-for-western-sanctions-unity/ /(Accessed on May 3, 2022)
[18] "Japan and the Skripal poisoning: The U.K.'s fair-weather friend", Japan Times, May 27, 2017, https://www.japantimes.co.jp/opinion/2018/03/27/commentary/japan-commentary/japan-skripal-poisoning-u-k-s-fair-weather-friend/ /(Accessed on May 3, 2022)
[19] Joshua Walker And Hidetoshi Azuma, "Thinking The Unthinkable: Can Japan Bring Russia Back To The G7?",  War On the Rocks, March 1, 2016, https://warontherocks.com/2016/03/thinking-the-unthinkable-can-japan-bring-russia-back-to-the-g7/(Accessed on May 3, 2022)
[20]"Japan's Foreign Policy that Takes a Panoramic Perspective of the World Map", MOFA Japan, https://www.mofa.go.jp/policy/other/bluebook/2017/html/chapter2/c020501.html (Accessed on May 3, 2022)
[21] James D Brown,"Japan's 'New Approach' to Russia", The Diplomat, June 18, 2016, https://thediplomat.com/2016/06/japans-new-approach-to-russia/ (Accessed on May 3, 2022)
[22] Ibid
[23] "Abe meets Putin, agrees to 'new approach' in bid to resolve festering territorial dispute", Japan Times, May 7, 2016, https://www.japantimes.co.jp/news/2016/05/07/national/politics-diplomacy/abe-meets-putin-advance-bilateral-talks-isle-row-peace-treaty/ (Accessed on May 3, 2022)
[24] "Abe presents 8-point economic cooperation plan to Putin", Nikkei Asia, May 7, 2016, https://asia.nikkei.com/Politics/Abe-presents-8-point-economic-cooperation-plan-to-Putin
[25]"Press Conference by Foreign Minister Fumio Kishida Friday", January 22, 2016, MOFA Japan, https://www.mofa.go.jp/press/kaiken/kaiken4e_000223.html (Accessed on May 3, 2022)
[26] "Japan Creates Ministry To Enhance Relations With Russia", Newsweek, September 1, 2016, https://www.newsweek.com/japan-creates-ministry-relations-russia-495010 (Accessed on May 3, 2022)
[27] "Abe meets Putin, agrees to 'new approach' in bid to resolve festering territorial dispute", Japan Times, May 7, 2016, https://www.japantimes.co.jp/news/2016/05/07/national/politics-diplomacy/abe-meets-putin-advance-bilateral-talks-isle-row-peace-treaty/ (Accessed on May 3, 2022)
[28] Op. cit Maria Shagina 2019.
[29] "Japan-Russia Summit Meeting", MOFA, Japan, May 7, 2016,  ww.mofa.go.jp/erp/rss/northern/page4e_000427.html (Accessed on May 3, 2022)
[30] Ibid
[31] "Extraordinary Press Conference by Foreign Minister Taro Kono", MOFA Japan, November 15, 2018 https://www.mofa.go.jp/press/kaiken/kaiken4e_000574.html (Accessed on May 3, 2022)
[32] "The Northern Territories,  2001-2019", https://www.cas.go.jp/jp/ryodo_eg/taiou/hoppou/hoppou02-02.html (Accessed on May 3, 2022)
[33] "Joint Declaration by the Union of Soviet Socialist Republics and Japan. Signed At Moscow, On 19 October 1956", United Nations - Treaty Series,  https://treaties.un.org/doc/Publication/UNTS/Volume%20263/v263.pdf (Accessed on May 3, 2022)
[34] "Abe may settle for return of just 2 out of 4 Northern Territories from Russia", Maainichi Shimbun, November 23, 2018, https://mainichi.jp/english/articles/20181123/p2a/00m/0na/006000c (Accessed on May 3, 2022)
[35] "Russia to Consider Constitution over Talks with Japan: Putin", Jun 5, 2021, Nippon, https://www.nippon.com/en/news/yjj2021060500140/ (Accessed on May 3, 2022)
[36] "Putin indicates reluctance to discuss disputed isles with Japan", Asahi Shimbun, February 16, 2021, https://www.asahi.com/ajw/articles/14194419 (Accessed on May 3, 2022)
[37] Vassily Kashin, "Can Russia and Japan Contribute to Indo-Pacific Stability?", March 19, 2021, https://carnegiemoscow.org/commentary/84117 (Accessed on May 3, 2022)
[38] Andrei Kozinets and James D.J. Brown, "What Does a Kishida Government Mean for Japan-Russia Economic Relations?", Place of Publication? October 14, 2021 https://thediplomat.com/2021/10/what-does-a-kishida-government-mean-for-japan-russia-economic-relations/ (Accessed on May 3, 2022)
[39] "Press Conference by the Prime Minister regarding Japan's Response to the Situation in Ukraine", February 27, 2022, https://japan.kantei.go.jp/101_kishida/statement/202202/_00014.html (Accessed on May 3, 2022)
[40] "Japan Stands with Ukraine", Kantei, April 21, 2022, https://japan.kantei.go.jp/ongoingtopics/pdf/jp_stands_with_ukraine_eng.pdf (Accessed on May 3, 2022)
[41] "Ukraine-Russia war: Japan revokes Russia's 'most favoured nation' status", First Post, April 20, 2022, https://www.firstpost.com/world/ukraine-russia-war-japan-revokes-russias-most-favoured-nation-status-10576471.html (Accessed on May 3, 2022)
[42] Christopher Edward Carroll, "Is Japan Willing to Pay the Price of Sanctioning Russia?", Place of Publication? April 22, 2022 https://thediplomat.com/2022/04/is-japan-willing-to-pay-the-price-of-sanctioning-russia/ (Accessed on May 3, 2022)
[43] "Referral of the Situation in Ukraine to the International Criminal Court" , MOFA Japan, March 9, 2022, https://www.mofa.go.jp/press/release/press3e_000333.html#:~:text=On%20March%209%2C%20Japan%20referred,foundations%20of%20the%20international%20order (Accessed on May 3, 2022)
[44] "Japan Stands with Ukraine", Kantei, April 21, 2022, https://japan.kantei.go.jp/ongoingtopics/pdf/jp_stands_with_ukraine_eng.pdf (Accessed on May 3, 2022)
[45] "Summit video conference on the situation in Ukraine", MOFA Japan, April 20, https://www.mofa.go.jp/mofaj/erp/ep/page1_001139.html (Accessed on May 3, 2022)
[46] "Japan to attend NATO summit in June, says U.S. Secretary of State Antony Blinken", Japan Times, April 27, 2022, https://www.japantimes.co.jp/news/2022/04/27/national/japan-nato-summit-madrid-blinken/ (Accessed on May 3, 2022)
[47] "Japan PM touts unity on Ukraine in Southeast Asia tour", Nikkei Asia, May 3, 2022, https://asia.nikkei.com/Politics/International-relations/Japan-PM-touts-unity-on-Ukraine-in-Southeast-Asia-tour (Accessed on May 3, 2022)
[48] "After Ukraine, Russia 'Intimidates' Japan With Massive Military Drills Using Su-35 Jets, Bastion-P Missiles, Orlan UAVs", Eurasia Times, March 28, 2022, https://eurasiantimes.com/after-ukraine-russia-intimidates-japan-with-massive-military-drills/ (Accessed on May 3, 2022)
[49] "Russia terminates peace treaty talks with Japan — Foreign Ministry", Tass, March 21, 2022, https://tass.com/politics/1425283?utm_source=google.com&utm_medium=organic&utm_campaign=google.com&utm_referrer=google.com (Accessed on May 3, 2022)
[50] "Russia adds Japan to 'unfriendly' countries, regions list in sanctions countermeasure", The Mainichi, March 8, 2022, https://mainichi.jp/english/articles/20220308/p2a/00m/0na/007000c (Accessed on May 30, 2022)
[51] "Russia bars entry to 63 Japanese, including PM", Reuters, May 4, 2022, https://www.reuters.com/world/russia-bars-entry-63-japanese-including-pm-2022-05-04/ (Accessed on May 30, 2022)
[52] "Russia expels eight Japanese diplomats", TASS, April 27, 2022, https://tass.com/politics/1444329 (Accessed on May 30, 2022)
[53] "Discussion of peace document with Tokyo impossible in current circumstances — diplomat", TASS, May 20, 2022, https://tass.com/world/1453887 (Accessed on May 30, 2022)
[54] Takako Hikotani, "How the Ukraine War Is Changing Japan", Foreign Affairs, April 28, 2022, https://www.foreignaffairs.com/articles/japan/2022-04-28/how-ukraine-war-changing-japan (Accessed on May 30, 2022)
[55] James D.J. Brownand William Sposato, Foreign Policy, March 2, 2022, https://foreignpolicy.com/2022/03/02/japan-ukraine-sanctions/ (Accessed on May 30, 2022)