On September 13, 2022, William Samoei Ruto, the former Deputy President of Kenya-was sworn in as the fifth President of Kenya after a close contest with Raila Odinga, the long time Opposition leader. William Ruto had played an instrumental role in helping Uhuru Kenyatta win the 2013 and 2017 national elections. Kenyatta, however, supported Raila Odinga in 2022 election. As compared to the previous elections, the 2022 election was relatively peaceful but discord appeared when the election results were announced.[i] Odinga supporters attempted to forcibly stop the proclamation of William Ruto as the winner, claiming that the election was rigged. However, after much deliberation, Kenyan Supreme Court dismissed the charges by the Opposition and declared Ruto as the winner on September 5, 2022.

In this context it is important to evaluate what made Ruto win and understand the major domestic and foreign policy priorities ahead for Ruto's government.

Why did Ruto win?

William Ruto's election as the fifth President of Kenya reflects a major shift in Kenyan politics. In 2022 election, ethnicity did not play a major role in influencing the motivations of the voters.[ii] In contrast to the widely held beliefs, Kenya's biggest and economically powerful ethnic community- Kikuyu, voted in large numbers for William Ruto, a Kalenjin.[iii] William Ruto's victory in these elections reflects Kikuyu discontentment with Kenyatta's economic policies and Odinga-Kenyatta alliance formed in February 2022.[iv]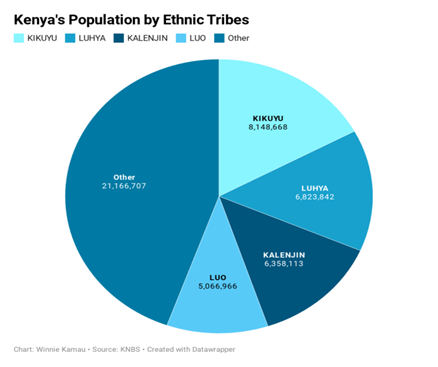 William Ruto promised to bring about radical economic transformation in his electoral manifesto and spread his message through the use of catchy and relatable slogans. This gave him acceptability across diverse communities.[v] Ruto's support base expanded when he critiqued the unwanted, costly and year- long Building Bridges Initiative (BBI) of the Kenyatta-Odinga alliance to amend the constitution at a time when most of the Kenyan citizens were undergoing the major economic crisis leading to unemployment, inflation and food security crisis. BBI was also declared unconstitutional by the Kenyan Supreme Court. Thus, it would not be wrong to state that it was an anti-incumbency mandate.    

Domestic Priorities

President William Ruto has taken over an economy, which is not in a good shape. There are economic challenges including steep rise in unemployment, inflation and rising public debt leading to a heightened discontentment among the youth. [vi] The data released by the Census in 2020 highlighted that around 38.9 percent of Kenyan youth is unemployed; simultaneously, Kenya's public debt has risen dramatically in the last decade from 39.7 percent in 2010 to 68 percent by 2020.[vii] Besides, the Ukraine crisis has led to commodity price shock particularly for fuel, fertilizer, wheat and other imports. The tax hikes imposed by the previous government on the basic goods such as food items, cooking oil and gas has resulted in a massive rise in the cost of living. Ruto has pledged to adopt major economic reforms that will help in reducing heavy external debt, which has gone up to 100 billion US dollars in 2022.[viii]

The International Monetary Fund (IMF) has asked Ruto to widen Kenya's tax base and do away with fuel subsidies. Widening the tax bracket will also imply bringing more informal workers in the tax-net. Ruto's supporters are not happy with this development. Giving up on fuel subsidies will lead to further inflation. However, Ruto has promised to tackle inflation in his electoral campaign. In his manifesto, he called for radical economic transformation which he aims to achieve through Bottom-up Economic Model.

The Bottom up Economic Model is based on the phenomenon that market is not properly regulated and market space is seized by monopolistic cartels. Ruto administration claims that this model is people centric and inclusive. It aims to focus on agricultural sector and enhance food security. Given the fact that agriculture contributes to half of Kenya's GDP, investment in the agricultural sector will improve the cost of living. Apart from this the Bottom up Model aims to transform MSME, rural and urban housing settlements, health care, digital super highway and creative economy.

Kenya's national cohesion is another priority for Ruto administration. Ruto has taken over a country which is divided along ethnic lines. In addition rebuilding faith and confidence in the state institutions is going to be a daunting task for the new President. Ruto administration is working to strengthen parliamentary institutions. President Ruto in his inaugural address pledged to unite Kenya. He stated that "We are only competitors and not enemies and Kenya should unite in order to become a better society. We have all therefore emerged out of this contest stronger, more united and alive to the issues that are common to all of us."[ix]

Foreign Policy Priorities

As foreign policy will play a critical role in addressing national priorities, following are some foreign policy issues that the Ruto administration would prioritize-:

Africa Focussed Foreign Policy

William Ruto in his manifesto has pledged to adopt Africa centric foreign policy. According to Ruto administration, a robust African policy will help Kenya in creating job opportunities for the youth and expand markets for Kenyan goods .It will also benefit the economy through trade and investment. Africa centred foreign policy is likely to deepen engagement with the regional organizations like East African Community, Common Market for Eastern and Southern Africa (COMESA) and African Continental Free Trade Area (AFCTA). The new government seeks to strengthen trade integration through 'Kenya AFCTA National Implementation strategy. Ruto administration aspires to strengthen its relations with the key regional players like Egypt, Nigeria and South Africa. It will help Kenya to push its agenda within the African Union.[x]

Regional Integration

The Kenyan government has pledged to take efforts to establish regional stability and peace within East Africa. Ruto administration views Kenya as an anchor state within Eastern Africa and seeks to work towards its betterment. Ruto administration wants to support global efforts to do away with violent extremism and cooperate with the other states of the region as a responsible partner. During Kenyatta's term in office, Kenya's foreign policy was assertive. Nairobi made the most of every opportunity. Though this assertive foreign policy helped Kenya to acquire non- permanent seat at UNSC but it has gained criticism from states within the region like Uganda, Tanzania, Djibouti and Burundi. These states did not vote for Kenya in its bid to chair African Union. Therefore establishing cordial relations with these states is the key area of concern for the new Kenyan government. William Ruto is likely to promote the fast track realisation of the objectives of East African Community. Ruto is expected to support South Sudan and DRC's active engagement in region.

The Somalian Question

Kenya and Somalia had strained relations since the past few years. During 2020, the relations were at a time low when Somalia discontinued diplomatic channels of communications and blamed Kenya for intervening in its internal matters. Uhuru Kenyatta welcomed the leadership from Somaliland, a self governing territory, which Somalia does not recognize. The present Somalian government of President Hassan Sheikh Mohamed will need strong support from Kenya both financially and in terms of security.[xi] Thus new Kenyan government is expected to improve relations with Somalia including through trade and investments.[xii]

Major Powers

Ruto administration not only aims to deepen its relations with the major powers like US, EU, India and China but also leverage it for its own benefit through commercial diplomacy. Kenya will also continue its bilateral strategic partnership with UK and US.[xiii]  The USA and Kenya have signed the Strategic Trade and Investment Partnership Agreement (STIP) in 2022.  They recognized a wide range of areas for investment such as agriculture, digital trade, climate change action and MSME. As far as US's strategic interests are concerned Kenya is an important country. USA and Kenya are working together on increasing maritime awareness, improving Kenyan military capability, counterterrorism and peacekeeping. During the visit of Indian External Affairs Minister S. Jaishankar in 2021 both the countries have agreed to focus on four major areas of cooperation. They are manufacturing, affordable housing, food security and universal health.  Ruto administration seeks to further deepen its ties with India through trade diversification and maritime security.

China is Kenya's biggest import partner and has made heavy investments in the infrastructure building projects in Kenya. Kenya has borrowed around 4.5 billion dollars for the construction of China led Mombasa-Nairobi railway line project. During his election campaign, Ruto took a hostile position towards China. In fact he threatened to oust Chinese nationals and accused China for being responsible for rising economic debt in Kenya. He is likely to end government borrowings from China.[xiv]

Kenyans have to chart out a roadmap for themselves. During 2022 elections Kenya did not pursue the same track of voting on the ethnic lines but rather focussed on the real time issues and set an example of an aware citizenry. Ruto administration is expected to work cautiously in dealing with the questions of financial crisis, national cohesion and regional stability. It is to be seen how Ruto administration responds to the upcoming domestic and foreign policy challenges.
*****
*Dr. Gauri Narain Mathur is a Research Fellow at Indian Council of World Affairs
Disclaimer: Views expressed are personal.
Endnotes
[i]  During the 2017 national elections massive violence occurred in Nairobi. According to Human Rights Report 24 people died right after the elections in Nairobi and 9 people were killed in  Mathare In the 2007 elections  more than 1000 people were killed  and more than 100 people were badly injured.
[ii] Paul Nantulya, ' Seven Takeaways from Kenya's Consequential Elections', Centre
D'Etudes, 7 September 2022, https://africacenter.org/fr/spotlight/seven-takeaways-
from-kenyas-consequential-election/ accessed on 16-09-2022
[iii] Kikuyu is the largest ethnic group in Kenya accounting for 17% of the total population as per 2019. They are wellknown for being large scale farmers. Kalinjin live primarily in Kenya. They are an ethnic grouping of eight culturally and linguistically related groups.
[iv] Uhuru Kenyatta and his arch rival Raila Odinga came together in 2018 in order to end political violence in Kenya. In February 2022 Kenyatta's Jubilee Party formally joined Azmio La Umoja, a coalition headed by Raila Odinga. Many initiatives have been sign during this duration like BBI.
[v] Paul Nantulya, ' Seven Takeaways from Kenya's Consequential Elections', Centre
D'Etudes, 7 September 2022, https://africacenter.org/fr/spotlight/seven-takeaways-
from-kenyas-consequential-election/ accessed on 16-09-2022
[vi] Saskia Brechenmacher and Nanjira Sambuli, 'The Specter of Politics as Usual in
Kenya's 2022 Election'. Carnegie Endowment For International Peace, 27 July 2022,
https://carnegieendowment.org/2022/07/27/specter-of-politics-as-usual-in-kenya-s-
2022-election-pub-87578, accessed on 12-09-2022
[vii] Census and Economic Information Centre Kenya. http://ceicdata.com/en/indicator/kenya/national-government-debt/
[viii] Maria Nzomo and Winnie Rugget, ' What Lies Ahead for Kenyan Foreign Policy:
2022-2027', Australian Institute of International Affairs, 8 September 2022,
https://www.internationalaffairs.org.au/australianoutlook/what-lies-ahead-for-kenyan-
foreign-policy-2022-2027/ accessed on 17-09-2021
[ix] President William Ruto's Full Speech after his inauguration. 13 September 2022. https://theeastafrican.co.ke/tea/news/east-africa/read-president-ruto-full-speech-after-his-inaugration-3947552
[x]  Wilfred Nasong O' Muliro, ' Uhuru Kenyatta Failed to turn Kenya into as Big an International Player as he Could' , The Conversation, 23 September 2022
[xi] Nation  Africa, '  Top Ten Foreign Policy Priorities for Kenya's New President William Ruto', The East African, 14 September 2022,  https://www.theeastafrican.co.ke/tea/news/east-africa/top-10-foreign-policies-for-kenya-new-president-william-ruto-3948384 accessed on 18-09-2022
[xii]  William S Ruto and Geoffery Rigathi Gachagua. ' The Kenya Plan', Kenya Kwanza Manifesto. https://africacheck.org/sites/default/files/media/documents/2022-08/Kenya%20Kwanza%20UDA%20Manifesto%202022.pdf
[xiii] William S Ruto and Geoffery Rigathi Gachagua. ' The Kenya Plan', Kenya Kwanza Manifesto. https://africacheck.org/sites/default/files/media/documents/2022-08/Kenya%20Kwanza%20UDA%20Manifesto%202022.pdf
[xiv] Kathleen Klaus, XN Iraqi and OG Mawangi, ' What William Ruto's Presidency
would mean for Kenya's Economy', The Conversation, 16 August 2022,
https://theconversation.com/what-william-rutos-presidency-would-mean-for-kenyas-
economy-188766/ accessed on 17-09-2022