Introduction

On October 30, 2022, the European Union (EU) signed a deal with Egypt for the first phase of a border management programme in an attempt to limit the flow of irregular migrants entering Europe. Through the 80-million-euro project, the EU seeks to address the issue of rising irregular migration along the border of Egypt which appears to have increased substantially in the past few months. This year (2022) witnessed an increase in the migration across the border between Egypt and Libya and from the Mediterranean coast of Libya to Europe. In recent years, similar border management measures have been undertaken by the EU and its Member States with other countries in the African region as an attempt towards limiting irregular migration from the region. Against this backdrop, the paper intends to explore and analyse the new border management deal along with the EU's policies in the region on border management and tackling irregular migration.
Externalisation of EU's Border
Externalisation of border management is not something new. Over the past few decades, the EU and its Member States have increasingly partnered with third countries to address matters pertaining to migration and border control policies. However, since the 2015 migrant crisis[i], there has been a further strengthening of this cooperation. As part of the border management strategy, an increasing number of political instruments including readmission agreements, building reception and border management capacities of non-EU countries are being harnessed. In the following years of the adoption of the EU Agenda on Migration in 2015, unprecedented financial and technical aid was made available by the EU and its Member States, particularly to the Southern Mediterranean neighbourhood to implement this strategy.

Figure 1: Routes to Europe taken by Egyptian migrants. Source: European Union Agency for Asylum. https://euaa.europa.eu/sites/default/files/publications/2022-08/2022_07_MDR_Egypt_Origin_EN.pdfhttps://euaa.europa.eu/sites/default/files/publications/2022-08/2022_07_MDR_Egypt_Origin_EN.pdf 
Egypt, for years, has been a country of immigration and emigration as well as transit for migrants. It is an important transit or immigration country for a large number of forcibly displaced migrants from African countries, mainly from Sudan and Somalia, as well as other countries such as Iraq and Syria. Egypt is also strategically important to the EU owing to its vital geopolitical location at the intersection of Africa, West Asia and Asia. As a result, cooperation on cross-border mobility becomes intrinsically linked with broader issues of mutual concern, including security and energy cooperation.

Broad Framework of EU-Egypt Partnership in Managing Irregular Migration from the Region
Looking at the broad contours of this cooperation, at the regional level, Egypt has been a member of initiatives like the Rabat Process[ii] and the Khartoum Process[iii], which focus on irregular migration, trafficking and smuggling. The Egypt-EU Migration Dialogue launched in 2017 provides a platform for diplomatic exchange between the two and has led to the strengthening of cooperation on irregular migration. The dialogue deals with all aspects related to border management and immigration control such as preventing irregular migration, combatting human smuggling and trafficking, promoting legal migration and mobility channels and protecting refugees and asylum seekers. It also involves exchange of information, best practices and experiences and capacity building.[iv]

Apart from cooperation at the EU level, several EU countries have been carrying out complementary bilateral arrangements with Egypt. Germany, for instance, signed an agreement with Egypt in 2016 on security cooperation, committing to train Egyptian police and provide equipment. Both countries presented the agreement as essential to combatting crime and terrorism, and include border security as an integral component. As part of this cooperation, support was provided in the form of information exchange and knowledge sharing, training and provision of equipment, such as document verification readers and technical support to include biometric features in travel documents. Both sides also established a bilateral dialogue on migration in 2017.[v] Further, Italy, which has been a main destination country for migrants from the region, signed a readmission agreement with Egypt in 2008, as well as a memorandum of understanding to control irregular migration in 2009. Both Germany and Italy have also expanded their bilateral development cooperation in Egypt through projects and initiatives[vi] and are increasingly interlinking this with their foreign and security policies.
Further, EU-funded projects are being implemented which are broadly aimed at strengthening the capacities of Egyptian authorities to manage migration. These projects are funded in part by European governments as well as by the EU Emergency Trust Fund for Africa (EUTF) and EU Regional Trust Fund for Syria (Madad), which was set up in 2015. For instance, in 2016, the EU Emergency Trust Fund granted 11.5 million Euros for a project to strengthen migration management in Egypt, and support the then newly established National Coordinating Committee for Combating and Preventing Illegal Migration and Trafficking in Persons (NCCPIMTIP). In 2017, an additional 60 million Euros were provided to improve the Egyptian authorities' capabilities to manage migration, combat the root causes and support host communities in the country.[vii]
At the operational level, Egypt is a member of the Africa-Frontex Intelligence Community, a capacity-building project for the reduction of irregular migration, launched by Frontex (the European Border and Coast Guard Agency) in 2018.[viii] From 2005 to 2020, the EU Border Assistance Mission for the Rafah Border Crossing Point (EUBAM Rafah) worked with Egyptian authorities for the surveillance of border crossings between Egypt and the Gaza Strip. At present, various EU agencies and Member States provide regular training to the Egyptian police forces.
The New Border Management Deal
As a result of the enhanced capacity for monitoring and surveillance, irregular crossings from the Egyptian coast were drastically reduced between 2017 and 2019. From about 4226 irregular arrivals of Egyptians taking the Central Mediterranean route in 2016, the number had come down to just 267 in 2019.[ix] European governments have attributed this decrease in irregular arrivals to their cooperation with Egypt. However, since 2020, irregular crossings appear to have increased again, with many of the migrants transiting through Libya on their journey towards Italy. In 2022, it was reported that Egyptian asylum applications in EU countries reached the highest levels since at least 2014.[x]
Figure 2: Detected Irregular Border Crossings into the EU by Egyptian Nationals 2009-2022 (August) [xi]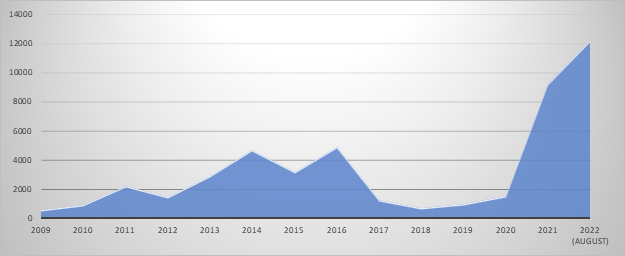 Figure 2: Detected Irregular Border Crossings into the EU by Egyptian Nationals 2009-2022 (August),
Source: Graph is based on Frontex data.
In view of this increasing flow of irregular migration from the region, the EU through its new border management programme seeks to address the issue by building the capacity of Egyptian Coast and Border guards through support for the purchase of search and rescue (SAR) equipment and providing specialised training to enhance knowledge and skills on border management. It also strives to include 'rights-based, protection oriented and gender sensitive approaches' in Egypt's border management programme.[xii] The programme makes up part of a 300 million Euro in short- and long-term EU funding for Egypt,[xiii] and forms a key component of the European Commission's plans to adopt the Multiannual Multi-Country Migration Programme for the Southern Neighbourhood for 2021-2027.[xiv] The European Commissioner for Neighbourhood and Enlargement Olivér Várhelyi, on October 30, 2022, signed the agreement for the first phase of this programme with the Egyptian Ministry of Foreign Affairs and the Egyptian Ministry of Defence, allocating 23 million euros in 2022 for program support. Another 57 million euros will be allocated in the second phase which has been planned for adoption in 2023. As per the European Commission's Action document on strengthening the operational capacity of the Egyptian Coast Guard and Egyptian Border Guards, the following outputs and activities are envisaged through this programme -
Output 1.1

The Egyptian Coast Guard and Border Guard have enhanced surveillance technical capacities

Activity 1.1.1:

Procure and deliver surveillance equipment such as cameras and SAR equipment, including SAR vessels, electro-optical systems, thermal cameras, flood lights, rescue kits, satellite positioning system, etc;

Activity 1.1.2:

Provide tailored training programme on the use of the above-mentioned surveillance and SAR equipment, including on (1) technical familiarization and (2) search and rescue operations.

Output 1.2

The Egyptian Coast Guard and Border Guard have enhanced knowledge and skills on humanitarian border management and search and rescue of migrants in respect to national and international obligations and with a human rights-based approach;

Activity 1.2.1:

 

Provide train-the-trainer training on International Migration Law (IML);

 

Activity 1.2.2:

 

Provide training on Humanitarian Border Management, including through possible study visits and the sharing of international good practice;

 

Activity 1.2.3:

Provide training on rights-based interviewing techniques, including through the sharing of international good practice;

 

Activity 1.2.4:

Provide advice and training on rights-based and protection-sensitive reception and subsequent referral of migrants to other competent state authorities.
Source: European Commission, Action Document for strengthening the operational capacity of the Egyptian Coast Guard and Egyptian Border Guards to manage migration flows through effective border surveillance and search and rescue at land and sea.
For programme implementation, an operational agreement has been signed between the EU, the International Organization for Migration (IOM) and CIVIPOL, the technical cooperation operator of the French Ministry of Interior.

Previously, the EU and its Member States have undertaken similar border management programmes with other countries in the region such as Morocco, Tunisia as well as Libya.[xv] Through this, the EU intends to involve these countries in its border management system by making use of the existing cooperation frameworks. Readmission agreements, patrolling operations and interdictions at sea are some of the key measures that European countries have adopted in facilitating border externalisation policies. For instance, with the EU's financial assistance and support, Morocco and Spain have engaged in advanced cooperation involving joint patrols and the use of high-tech surveillance systems to intercept irregular migrants. Further, the EU's first anti-smuggling operational partnership with Morocco was launched in July 2022. Libya too has been a focal point. After the sanctions and arms embargo were lifted, several treaties were concluded to address the issue of irregular migration. A Treaty of Friendship was signed between Libya and Italy in 2008, whereby Italy agreed to pay $5 billion for the damage inflicted on Libya during the colonial era. Part of this amount was to fund deportation flights from Italy to Libya, the construction of detention facilities for migrants in Libya, and technical support for coastal surveillance. The Treaty was suspended in 2011 due to the instability that followed Gaddafi's overthrow but was renewed in 2018. Readmission of irregular migrants has also been a critical component of migration cooperation between France and Maghreb countries. In 2021, the French government decided to toughen its stance on migrant return by linking it more tightly to the country's visa policy, announcing drastic cuts in the number of visas available for nationals of Algeria, Morocco, and Tunisia.[xvi] To justify the move, France cited Maghreb countries' limited cooperation in returning their nationals who are staying irregularly in France.

The EU's recent agreement with Egypt on the border management is an extension of its securitised approach undertaken with countries in its immediate neighbourhood to dealing with irregular migration. This approach has often been criticised by the African governments as well as civil society organisations. The criticism is based on the fact that while such restrictive measures may have been able to reduce the numbers, they fail to uphold the rights and protection accorded to refugees and asylum seekers by the EU Charter of Fundamental Rights. In recent years, emphasis on these border control measures has intensified, as European governments encounter added pressure to curb irregular migration because of an increasing number of people seeking to enter Europe.

Have these policies been effective in achieving the purported goal?

While it may be too early to provide an assessment of the new deal on border management between Egypt and the EU, on the larger question of border externalisation, it can be argued that the implementation of restrictive border control measures has not entirely deterred migrants from attempting to reach the European continent. As was seen in the case of Turkey or the Balkans, the closures of migratory routes led refugees and migrants to take on other perilous routes. The same applies to Egypt, where bordering Libya turned into the main transit route for migrants from Egypt. Experiences have shown that smugglers and human traffickers are used to adapting to changing circumstances. Therefore, as long as the conditions that lead migrants to undertake dangerous journeys persist, new methods and routes are likely to emerge.  In the case of Egypt, its economy has been severely impacted by the pandemic primarily due to a sharp decline in tourism and now, with the ongoing conflict between Russia and Ukraine, the situation has exacerbated.

The cooperation on migration management is described as mutually beneficial by the EU, yet it also creates an unbalanced relationship wherein European priorities and interests may not always resonate with African interests. In Europe, there is immense political and public pressure to curb irregular migration. As a result, border management policies are adopted as a security imperative to combat exploitative traffickers and smuggling networks or to prevent unscrupulous elements from entering European territory. In this context, development funds are seen as ways to address the root causes of migration and strengthen cooperation on border management procedures. However, for Egypt and other countries in the region, there are other issues that pose a greater threat to their internal security. While for the EU, it may appear that sufficient training on border management and other incentivisation would result in governments in the region cooperating in controlling irregular migration, there are significant domestic factors at play, mainly related to socio-economic and political conditions that determine how African states prioritise this cooperation on migration management. From the perspectives of African nations, externalisation measures requiring African countries to restrict movement within their territory to curb onward migration to Europe, also run counter to the objectives of the African Union, which seeks to promote internal free mobility within the continent. Even though Europe has frequently emphasised the need for more legal migration routes, particularly considering demographic shifts and labour shortages it is currently experiencing, not much has been done towards creating those channels.

Concluding Remarks

Considering the existing social, political, economic and environmental complexities, Europe's focus on Egypt and the overall region's border security is more likely to increase with time. So far, border externalisation policies have seen limited success in checking irregular migration often having unfavourable effects, like encouraging migrants and refugees to take on riskier migration routes. For an effective long-term solution, an alternative to the EU's border externalisation approach is needed one that includes the rights of refugees and migrants, Europe's labour market demands, and more open pathways for legal migration. In the end, this must take into account not only the needs of Europe but also the larger interests of the people on the other side.
*****
*Dr. Gatha Nautiyal, Associate Research Fellow, Indian Council of World Affairs, New Delhi.
Disclaimer: Views expressed are personal.
Endnotes
[i] In 2015, more than a million refugees and migrants entered Europe, mainly due to the escalation of the civil war in Syria but also conflicts in Afghanistan, Iraq and other countries. The sudden surge caused a crisis in Europe as Member States struggled to deal with the large number of asylum requests and the resettlement of people.
[ii] The Rabat Process, also known as the 'Euro-African Dialogue on Migration and Development', was launched at the first Euro-African Ministerial Conference on Migration and Development in July 2006 in Rabat. The regional migration dialogue offers a framework for consultation, bringing together governments of 57 European and African countries from North, West and Central Africa, including the European Commission and the Economic Community of West African States (ECOWAS). The objective is to enhance dialogue and cooperation on migration more broadly (legal migration and mobility; prevention of irregular migration and measures to counteract it; migration and development; international protection), as well as to identify common priorities to develop operational and practical cooperation.
[iii] The Khartoum Process, also known as the 'EU-Horn of Africa Migration Route Initiative' was launched at a Ministerial Conference in November 2014 in Rome. It is a platform for political cooperation amongst the countries along the migration route between the Horn of Africa and Europe. The objective is to establish a continuous dialogue for enhanced cooperation on migration and mobility. The process also seeks to support member states in identifying and implementing concrete projects to address trafficking in human beings and the smuggling of migrants. It is led by a Steering Committee comprised of five EU Member States (Italy, France, Germany, UK, Malta), five partner countries (Egypt, Eritrea, Ethiopia, South Sudan, Sudan) as well as the European Commission, the European External Action Service and the AU Commission on the African side.
[iv] "EU-Egypt migration dialogue launched covering migration-related issues", EU Neighbours-South, https://south.euneighbours.eu/news/eu-egypt-migration-dialogue-launched-covering-migration-related-issues/, Accessed on November 1, 2022.
[v] Dina Abdel Fattah et. al. (2021), "Egypt, the EU, and Migration: An Uncomfortable Yet Unavoidable
Partnership", German Council of Foreign Relations, DGAP Report, 18, https://www.ssoar.info/ssoar/bitstream/handle/document/75831/ssoar-2021-abdel_fattah_et_al-Egypt_the_EU_and_Migration.pdf?sequence=1&isAllowed=y&lnkname=ssoar-2021-abdel_fattah_et_al-Egypt_the_EU_and_Migration.pdf, Accessed on November 9, 2022.
[vi] A case in point is Germany's programme 'Migration for Development' which is being implemented by German Development Cooperation Agency (GIZ). As part of this initiative, in 2020, the Egyptian-German Center for Jobs, Migration and Reintegration was opened with the aim towards creating better job prospects for Egyptian nationals.  Italy, too has engaged in development projects such as 'Education and Training for Egyptian Youth'  as well as 'Initiatives for Local Development of Egypt through the support of Egyptians Abroad' .
[vii] Parastou Hassouri (2018), "Building Fortress Europe", The Cairo Review of Global Affairs,  https://www.thecairoreview.com/essays/building-fortress-europe/, Accessed online on November 7, 2022.
[viii] Dina Abdel Fattah et. al. (2021), "Egypt, the EU, and Migration", German Council on Foreign Relations, https://dgap.org/en/research/publications/egypt-eu-and-migration , Accessed on November 4, 2022.
[ix] Ibid.
[x] "Egypt as a Country of Origin: EUAA publishes Migration Drivers Report", European Union Agency for Asylum, https://euaa.europa.eu/news-events/egypt-country-origin-euaa-publishes-migration-drivers-report, Accessed on November 9, 2022.
[xi] "Detections of illegal border-crossings statistics", Frontex,  https://frontex.europa.eu/we-know/migratory-map/,  Accessed on November 5, 2022.
[xii] "EU funds border control deal in Egypt with migration via Libya on rise", Reuters,  https://www.reuters.com/world/eu-funds-border-control-deal-egypt-with-migration-via-libya-rise-2022-10-30/, Accessed on November 1, 2022.
[xiii]European Parliament (2022), "EU funding for the Egyptian coast guard", Parliamentary question, https://www.europarl.europa.eu/doceo/document/E-9-2022-002428_EN.html, Accessed on November 9, 2022.
[xiv] European Commission (2022), Commission Implementing Decision on the financing of the individual measure for the multi-country migration programme in favour of the Southern Neighbourhood for 2022, Annex 4 of 4, https://ec.europa.eu/transparency/documents-register/detail?ref=C(2022)6933&lang=en, Accessed on December 15, 2022.
[xv] The Border Management Programme for the Maghreb Region (Morocco and Tunisia), and Support to Integrated Border and Migration Management in Libya (SIBMMIL) project are programmes in North Africa within the framework of the European Union Trust Fund for Stability and Combating the Root Causes of Irregular Migration and the Displaced Persons in Africa (EUTF) aimed at addressing irregular migration from the region.
[xvi] Europe 1 (2021), Réduction des visas accordés au Maroc et à l'Algérie : "On met nos menaces à exécution", https://www.europe1.fr/politique/reduction-des-visas-accordes-au-maroc-et-a-lalgerie-on-met-nos-menaces-a-execution-4068672, Accessed on December 21, 2022.