There have been reports recently about the normalisation of Turkey and Syria relations. Relations between the two countries had deteriorated due to the outbreak of the civil war in Syria in 2011, in which Turkey supported the opposition against President Bashar al-Assad's regime. After more than a decade, on November 16, 2022, at the sidelines of the G20 Presidency Summit in Bali, Indonesia, President Recep Tayyip Erdogan commented on the normalisation of relations with Syrian President Bashar al-Assad. He stated that "there was no eternal resentment or quarrelling in politics."[i] President Erdogan, during the televised Youth Meeting of the Adalet ve Kalkınma Partisi (AKP) members in Anatolia on November 26, again commented on the possibility of meeting with President Assad before the June 2023 Parliamentary and Presidential election in Turkey, which showed Turkey's growing desire to normalize the relations with Syria. Erdogan announced rapprochement with Syrian President Bashar al-Assad after Turkiye started outreach to normalise its relations with the Arab World countries, including Egypt, Saudi Arabia, and the United Arab Emirates in 2021.

Backgrounder

Turkiye and Syria have historical and cultural relations which go back to the Ottoman period. Bilateral relations have faced problems on several occasions such as the boundary dispute related to Hatay province in 1939; water disputes resulting from the construction of the Southeastern Anatolia Project 1989[ii] and Syria's support to Abdullah Ocalan, who founded Kurdistan Workers Party (PKK)[iii]. The bilateral relations improved in 2007 when Syria became the key to Turkey's "zero problems with neighbours"[iv] policy and its opening to the Arab World.[v]

However, Turkey and Syria's bilateral relations turned into a confrontation in July 2011 when the Arab Spring resulted in popular dissent that demanded the removal of President Bashar al-Assad. After holding off for a few months hoping for a compromise, Turkey sided with the popular uprising and openly backed the removal of Assad. President Erdogan advised President Assad to listen to the opposition and allow the democratic transition in Syria. The opposition Syrian National Council[vi] (SNC) was allowed to meet in Turkey. Turkey withdrew its Ambassador and other embassy staff from Damascus in 2012 following the deteriorating relations with Syria. The violence between President Assad and the SNC descended Syria into a decade-long Civil War.

The Syrian Civil War led to a humanitarian crisis in which more than 6.9 million people became internally displaced, and more than 6.8 million were forced to flee to several countries worldwide.[vii] Turkiye hosted more than 4 million refugees in its bordering cities with Syria. The confrontation further increased between Turkey and Syria when President Erdogan accused President Assad of the humanitarian crisis. Erdogan held a televised news conference with his Tunisian counterpart Beji Caid Essebsi in Tunis on December 27, 2017, where he made a statement that, "Assad is definitely a terrorist who has carried out state terrorism. It is impossible to continue with Assad. How can we embrace the future with a Syrian President who killed nearly a million of his citizens?"[viii] Erdogan's statement on President Assad was rebuffed by the Syrian authorities, alleging that Turkiye is promoting terrorism.[ix] The bilateral relations remained at the lowest level with no direct diplomatic contact between Ankara and Damascus.

Factors behind the Turkiye's Quest for Rapprochement

Domestic factors

The Syrian refugee crisis poses a serious challenge to Erdogan's political prospects in the upcoming Parliamentary and Presidential elections in June 2023. Turks became hostile to Erdogan's refugee policy under which Turkey hosted more than four million refugees in the country. The reasons for increasing hostility of the Turks towards Syrian refugees are diverse, including economic, social, and political. Economically, many Turks perceive the Syrians as the cause of rising rental prices and Turkish citizens' joblessness.[x] The Social Democracy Foundation, which is a non-government organisation in Turkey, in its survey has revealed that the public perception of refugees in Turkey was not positive. According to the survey, "more than 65 percent of Turks want the Syrian refugees living in Turkiye to go home. A total of 45.5 percent of respondents said that Syrian refugees are 'dangerous people' who will create problems in the future. In comparison, 41.7 percent think the group was a burden on the country."[xi]

The growing anti-Syrian refugee perception among the Turks has become a factor that likely to adversely affect Erdogan's victory in the upcoming elections. Therefore, Erdogan's government announced plans to send up to 1 million refugees back to Syria. It funded the construction of homes in areas between Kurds in the north-west and north-east, effectively creating a wedge between them.[xii]

However, the United Nations reported that only 150,000 refugees returned to Syria from Turkey in 2022.[xiii] Notably, the leaders of the country's opposition parties, including Kemal Kilicdaroglu's Republican People's Party and Meral Aksener's Good Party, which were following an anti-refugee stance, wanted to improve the relations with Syria to facilitate the deportation of all Syrian refugees from Turkiye.[xiv] The Opposition leaders were critical of Erdogan's refugee policy and wanted to use this issue for political gains in the June 2023 elections. Normalisations of relations with Syria seem a political necessity to resolve the refugee crisis, which might threaten the electoral prospects of the AKP.

The opposition political parties also exploited the unpopularity of Erdogan's economic policy. He announced lowering of interest rates, which increased inflation and eroded earnings and savings of Turks.[xv] It damaged the local and foreign investors' confidence in investing in the country. As a result, Erdogan's poor economic policy has become another political issue that has strengthened the domestic opposition against his government.

The latest terrorist attack in Istanbul that killed eight and wounded more than eighty people increased political opposition against Erdogan. The Turkish government blamed the Kurdish fighters for the terrorist attack, which the Kurdistan Workers Party denied. Political parties such as the Turkish Nationalist Movement Party and its leader Devlet Bahceli, who had allied with AKP in the Parliament, also demanded that, "Erdogan form a joint mechanism with President Assad against terrorist organizations."[xvi] Turkiye has focused on the elimination of threats, particularly from Islamic State, Kurdistan Workers Party (PKK) and People's Defense Units[xvii] (YPG) fighters which are largely concentrated in the southern border of Turkiye. Turkiye has witnessed the intensification of terrorist attacks on its bordering towns with Syria because the terrorist elements also use cities such as Istanbul, Gaziantep, Şanlıurfa, Hatay, Adana, Mersin, Bursa, İzmir, and Konya which are mostly inhabited by refugee population) to get safe passage to target Turkiye.

Russia's Mediation between Syria and Turkiye

Russia's involvement in the Syrian Civil War in 2016 changed the outcome of the conflict for Syria and Turkiye. Russian President Vladimir Putin formally extended military and diplomatic support to Assad, which consolidated Assad's position in the civil war against the opposition. Since then, Turkiye has started working with Russia to find a political solution to the crisis in Syria.[xviii] Also, Turkiye declined to join Western sanctions against Russia, making Ankara the only remaining window to Europe for Russian companies and individuals. Also, media reports suggested that after Moscow withdrew from the Ukrainian grain deal, it took President Erdogan just two days to get Russia to return to the agreement and abandon the idea of blocking the export of Ukrainian grain.[xix]

In this context, Russia can use its growing partnership with Turkiye to mediate the normalisation of the relations between Ankara and Damascus. Russia has held meetings with People's Defense Units (YPG) in 2017 and 2021 to urge them to withdraw from the Turkish-Syrian border so that the Syrian forces could take control of a buffer zone along the Turkish border. Russia believed such a shift would eliminate the need for another Turkish incursion and clear the way for an Assad-Erdogan Summit.[xx] Russia's Special Envoy to Syria, Alexander Lavrentyev, stated that, "The Turkish-Syrian rapprochement issue is very important, and of course, we are ready to provide all possible support, mediation assistance for the organisation of such negotiations at various levels.[xxi]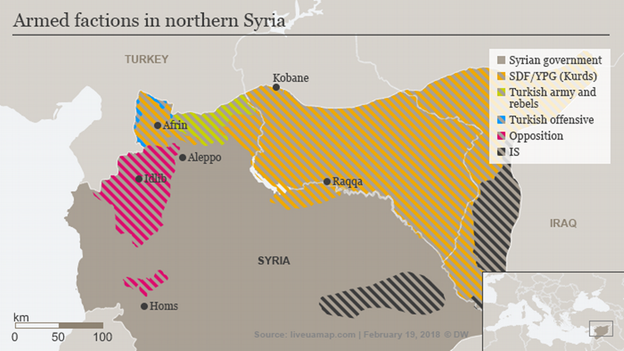 Source: https://bit.ly/3X13YK2, DW
President Assad rejected Russian requests to meet with Erdogan. He told Reuters, "A meeting could boost Erdogan's chances at re-election and yield little return for Damascus."[xxii] In reaction to President Assad's rejection, Erdogan, returning from Turkmenistan to Turkiye on December 14, "proposed a trilateral mechanism with Russia and Syria to include intelligence agencies, defense ministers and foreign ministers meetings."[xxiii] Erdogan's proposed mechanism proved that Turkiye could not normalise its relations with Syria through the bilateral mechanism. Ankara needed Moscow, an ally of Damascus, to re-start the negotiations with President Assad. On December 28, under the leadership of Russian Defense Minister Sergei Shoigu, the Syrian and Turkish defense ministers Ali Mahmoud Abbas and Hulusi Akar met in Moscow. During the meeting, the three ministers discussed the Syrian crisis, the refugee issue, and combating terrorist threats. The tripartite meeting strengthened the prospects of normalisation of relations between Syria and Turkiye.

Conclusion

Russia is pushing for the rapprochement between Ankara and Damascus. Also, Turkiye and Syria both considered the Kurdish issue a common threat. Damascus has failed to regain control of Kurdish-held areas to the east of the Euphrates due to the presence of the American forces. Therefore, a new convergence between Russia, Syria, and Turkiye, a NATO member, will give a better opportunity to resolve the Syrian crisis. The analysts expected that there could be a meeting between Erdogan and Assad, possibly mediated by President Vladimir Putin. Turkish officials stated that the meeting could happen before Turkiye's upcoming elections in June 2023. However, President Assad has announced that Syria would prefer to wait until the presidential and parliamentary elections are held in Turkiye. Also, Assad has demanded the Turkish forces' withdrawal from Syrian territory as a condition for holding the meeting with Erdogan.
*****
*Dr. Arshad, Senior Research Fellow, Indian Council of World Affairs, New Delhi.
Disclaimer: The views expressed are personal.

Endnotes
[i] "Turkey's Erdogan sees no losers from peace between Ukraine, Russia", Reuters, November 16, 2022, accessed https://reut.rs/3FUOLUS, November 20, 2022
[ii] Syria demanded that more water to be released from the project, while Turkey denied the request stating the reason to form the dam reservoirs.
[iii] It is a militant guerilla movement which is based in the mountainous Kurdish majority regions of Southeastern Turkey and north Iraq. It was founded in 1978.  
[iv] The named given to this policy suggested that it would eradicate all the problems that Turkey was trying to overcome in its neighbourhood. 
[v] Kemal Kirisci, "The Future of Turkish Policy toward the Middle East," in Barry Rubin, Kemal Kirişci (Eds.), Turkey in World Politics: An Emerging Multiregional Power. United Kingdom: Lynne Rienner Publishers, 2001.p.96
[vi] It is also called Syrian National Transitional Council or the National Council of Syria, based in Istanbul. It was formed in 2011.
[vii] "Syria refugee crisis explained," UNHCR, July 8, 2022, accessed https://bit.ly/3V83Arf, November 22, 2022.
[viii] "The Development of Tunisia is the Development of Turkey," Presidency of the Republic of Turkiye, December 27, 2017, accessed https://bit.ly/3VXJEIj, January 9, 2023.
[ix] "Assad: Turkey will pay for supporting 'terrorists'," VOA News, October 4, 2013, accessed https://bit.ly/3WxGZ8I, December 20, 2022
[x] ""Turkey's refugee problem at the center of heated debates," Arab News, April 23, 2022, accessed https://bit.ly/3WZBZKw, January 2, 2023.
[xi] "Syrian refugees feel spurned, rejected in Turkey ahead of elections," Ahval, August 29, 2022, accessed https://bit.ly/3HGflSI, November 22, 2022.
[xii] "Turkey's rapprochement with Syria leaves regional refugees fearful," The Guardian, August 23, 2022, accessed https://bit.ly/3WdoB50, November 22, 2022
[xiii] "Facing poverty and hostility, refugees in Turkey mull return to war torn Syria," VOA News, December 9, 2022, accessed https://bit.ly/3i4SiH3, January 2, 2023.
[xiv] "For Turkey and Syria, signs of rapprochement are likely misleading," Newslines Institute, September 21, 2022, accessed https://bit.ly/3Pz3VSN, November 23, 2022 
[xv] "Why is Turkey's President Cutting Interest Rates, Spurring Inflation and lowering the value of the Lira?," Carnegie, December 2, 2021, accessed https://carnegie-mec.org/diwan/85896, December 20, 2022.
[xvi] "MHP leader lends full support to cross-border air operation against terror," Hurriyet Daily News, November 21, 2022, accessed https://bit.ly/3BEXLej, December 1, 2022.
[xvii] It is an armed Kurdish group of the Syria-based Democratic Union Party (YPD).
[xviii] The international community including United Nations launched several peace processes such as Geneva Peace Talk (2013), Vienna Peace Process (2015) and Astana Peace Process (2017) that failed to resolve the Syrian crisis through political process.
[xix] "Russia's Return to Grain Deal Is a Sign of Turkey's Growing Influence," Carnegie, November 8, 2022, accessed https://carnegieendowment.org/politika/88349, December 5, 2022
[xx] "Turkey's zig-zag foreign policy zeroes in on Syria," The National Opinions, December 16, 2022, accessed https://bit.ly/3FzCCmF, December 9, 2022
[xxi] "Russia Ready to Mediate Organization of Syria-Turkey Talks at Different Levels," Sputnik, November 24, 2022, accessed https://bit.ly/3FwCKne, December 7, 2022.
[xxii] "Syria resisting Russia's efforts to broker Turkey summit, sources say," Reuters, December 3, 2022, accessed https://reut.rs/3PuuGYH, December 12, 2022
[xxiii] "Erdoğan says he proposed trilateral mechanism with Russia, Syria," Hurriyet Daily News, December 15, 2022, accessed https://bit.ly/3jcQxaI, December, 16, 2022