The Gulf gas field dispute has emerged as the first test case for the five-month-old Saudi-Iran deal signed on 10 March 2023. The dispute has put the durability and stability of the deal in a spotlight as Saudi Arabia and Iran are at opposite sides securing their respective national interests. The concerned dispute is over a gas field situated in neutral zone of the Persian Gulf with exploration and exploitation claims by Iran, Saudi Arabia and Kuwait. Kuwait and Saudi Arabia assert exclusive claim over the gas field while Iran emphasises on its rights to the field based on situation of the gas field in shared waters. Saudi Arabia and Kuwait refer to the reserves as Al Dorra gas field whereas Iran refers to the same as Arash field. 

With an undefined maritime boundary, the gas field dispute between Iran and Kuwait goes back to the 1960s when the two countries had granted the right to exploration and exploitation to the Anglo-Iranian Oil Company and the Royal Dutch Shell company respectively. The field is significant for Kuwait as it will increase Kuwait's gas reserve by 30 per cent. It is equally important for Iran that is keen to uplift its economy. Moreover, the reserves are estimated at 310 million barrels of oil and one trillion cubic feet of natural gas.[i]

The dispute has garnered attention due to the involvement of Saudi Arabia. Kuwait signed an agreement with Riyadh in 2019 providing for cooperation on exploration through Al Khafji Joint Exploration. The two countries have not acknowledged Iran's claims over the field; however, they have been inviting Iran for delineation of the maritime boundary.[ii] Meanwhile, Iran intends to deal with Kuwait alone as its maritime boundary with Saudi Arabia has already been delineated.[iii]

The issue has gained prominence recently as Kuwait and Saudi Arabia began implementing the agreement of joint exploration last year. In June 2023, the Director of the National Iranian Oil Company (NIOC) Mohsen Khojasteh Mehr, announced that Iran and Saudi Arabia had 'no disputed' shared fields and Iran is completely prepared to start drilling in the gas field.[iv] In the beginning of July 2023, the Oil Minister of Kuwait Saad Al Barrak asserted Kuwait and Saudi Arabia's 'exclusive rights' in the Dorra gas field in the Arabian Gulf, while calling on Iran to demarcate its own maritime borders. 

The official Saudi Press Agency reported that Saudi Arabia has 'full rights' along with Kuwait to a disputed gas field in the resource-rich Gulf.[v] In response, Iranian Foreign Ministry spokesperson said that Tehran was following up on this issue with Kuwait at the bilateral level.[vi] Further, Iranian Oil Minister Javad Owji declared that Iran would pursue its rights and interests regarding exploitation and exploration and would not tolerate any violation of its rights.[vii]
Fig 1: Al Dorra-Arash Gas field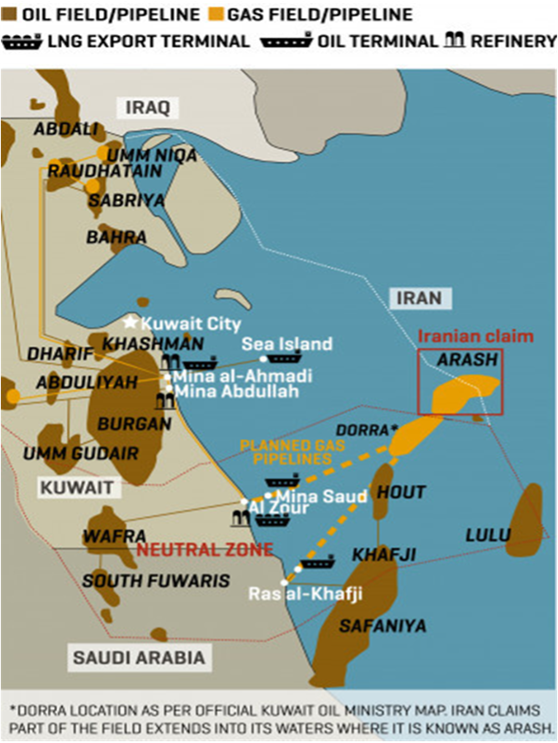 Source: Middle East Economic Survey via https://mei.edu/publications/dorra-field-global-gas-market-impact-or-bellwether-regional-relations
It is to be noted that the Al Dorra-Arash Gulf gas field dispute has cast a shadow over the success of Saudi-Iran deal. There can be three possible future scenarios pertaining to the gas field dispute with specific impact on the future of the Saudi-Iran deal. In the first case, the Gulf gas field dispute may escalate further, ultimately leading to the nullification of the deal. In this scenario, the hope for the revival of the JCPOA in the near future will come down, and the Iran-Saudi ties will go back to the situation before March 2023. 

In the second case, the Gulf gas field dispute may continue at the current pace with the parties not reaching a solution in the near future. In this situation, the deal will survive but the dispute will linger on for years to come. This would lead to a stalemate with Saudi Arabia and Kuwait claiming their rights for exploration and exploitation and Iran asserting its claim over the gas field. This situation will not be outrightly detrimental to the deal or regional stability; however, it will certainly reduce the chances of collaborations for the two regional rivals. 

In the third case, the dispute might get resolved with Iran coming to the table for delineation of maritime boundary and the three countries agreeing for joint exploration and exploitation of the hydrocarbon resources. In March 2022, Iran's Foreign Ministry Spokesperson Saeed Khatibzadeh stated that the gas field is shared between the three countries, and exploiting it requires coordination and cooperation between the three countries. He added that Iran is ready to enter into negotiations with Kuwait and Saudi Arabia on how to exploit this joint field.[viii]

The third case is an ideal scenario for the future of the Saudi-Iran deal; joint collaborations in exploration will benefit all the stakeholders with reduced cost and enhanced benefits. In addition, joint explorations would boost investors' confidence, raise comprehensive energy utilisation, and enhance energy supply efficiency. Lastly, the resolution of Al Dorra-Arash Gulf gas field dispute has the potential to bring stability in the region and keep the hope for success of the Saudi-Iran deal alive. It is noteworthy that Qatar, Iraq and Oman are already developing gas and oil fields shared with Iran[ix]and Iran has invited the Kuwaiti Foreign Minister Sheikh Salem Abdullah Al-Jaber Al-Sabah to Iran for talks on the Al Dorra-Arash gas field dispute.
*****
*Dr. Lakshmi Priya, Research Fellow, Indian Council of World Affairs, New Delhi.
Disclaimer: Views expressed are personal.
Endnotes
[i] Kuwait-Saudi Dorra gas work seen starting in June, Reuters, February 2, 2012, available at https://www.reuters.com/article/saudi-kuwait-gas-idUSL5E8D10QS20120202 (Accessed on August 1, 2023)
[ii]Iran threatens to exploit disputed Gulf gas field, July 30, 2023, Atalayar, available at https://www.atalayar.com/en/articulo/economy-and-business/iran-threatens-to-exploit-disputed-gulf-gas-field/20230730153155188928.html (Accessed on August 1, 2023)
[iii]Adnane Hrioua, Between Durra and Arash: One Disputed Gas Field, Two Names, Geopolitical Monitor, July 31, 2023, available at https://www.geopoliticalmonitor.com/between-durra-and-arash-one-disputed-gas-field-two-names/ (Accessed on August 1, 2023)
[iv] Giorgio Cafiero, Iran-Arab reconciliation challenged by competing claims to natural gas in the Persian Gulf, Stimson, August 2, 2023, available at https://www.stimson.org/2023/iran-arab-reconciliation-challenged-by-competing-claims-to-natural-gas-in-the-persian-gulf/ (Accessed on August 2, 2023)
[v] Saudi Arabia And Kuwait Claim Rights Over Gas Field Eyed By Iran, NDTV, July 5, 2023, available at https://www.ndtv.com/world-news/saudi-arabia-and-kuwait-claim-rights-over-gas-field-eyed-by-iran-4179140 (Accessed on August 1, 2023)
[vi] Kuwait, Saudi Arabia have 'exclusive rights' in Durra gas field, Kuwait oil minister says, Reuters, July 10, 2023, available at https://www.reuters.com/business/energy/kuwait-saudi-arabia-have-exclusive-rights-durra-gas-field-kuwait-oil-minister-2023-07-09/ (Accessed on August 2, 2023)
[vii] Giorgio Cafiero, Iran-Arab reconciliation challenged by competing claims to natural gas in the Persian Gulf, Stimson, August 2, 2023, available at https://www.stimson.org/2023/iran-arab-reconciliation-challenged-by-competing-claims-to-natural-gas-in-the-persian-gulf/ (Accessed on August 1, 2023)
[viii] Orkhan Jalilov, Iran to Start Drilling at Persian Gulf Gas Field Despite Saudi-Kuwaiti Deal, Caspian News, March 29, 2022, available at https://caspiannews.com/news-detail/iran-to-start-drilling-at-persian-gulf-gas-field-despite-saudi-kuwaiti-deal-2022-3-29-0/ (Accessed on August 1, 2023)
[ix] Giorgio Cafiero, Iran-Arab reconciliation challenged by competing claims to natural gas in the Persian Gulf, Stimson, August 2, 2023, available at https://www.stimson.org/2023/iran-arab-reconciliation-challenged-by-competing-claims-to-natural-gas-in-the-persian-gulf/ (Accessed on August 3, 2023)