The three Central Asian countries of Tajikistan, Turkmenistan and Uzbekistan held their first ever trilateral Heads of State Summit on August 4, 2023 at Ashgabat, Turkmenistan. The host, President Serdar Berdimuhamedov along with President of Tajikistan Emomali Rahmon and President of Uzbekistan Shavkat Mirziyoyev discussed ways to improve cooperation in security, water and environment, economy, transport and connectivity areas. Following the meeting a joint statement was adopted expressing the 'desire to further strengthen and deepen comprehensive ties' among them.[i]

The first trilateral meeting is significant in view of the recent developments in and around the region. All three countries share some commonalities. As the whole Central Asian region is landlocked, these three countries also have no direct access to international trade and transportation lines. These countries are continuously exploring to widen surface connectivity options, especially in the wake of sanctions imposed on Russia due to its military operation against Ukraine. Secondly, all three have common borders and shared ethnicities with Afghanistan. Importantly, besides sharing borders, they also have Amu Darya river flowing between them and Afghanistan, where the Taliban administration is constructing a canal sourcing water from this river. In this context, the trilateral Summit is an effort to address common challenges through sub-regional cooperation.
Map: Central Asia and Afghanistan


Source: AlJazeera[ii]
Searching a sub-regional cooperation mechanism

Since 2018, the five Central Asian countries have a non-institutionalized regional cooperation framework in the form of annual Consultative Summit Meetings of the Heads of State that also includes Kazakhstan and Kyrgyzstan. The fifth Consultative Meeting is scheduled to be held on 14-15 September in Dushanbe, Tajikistan.[iii] The current trilateral Summit could be a significant development and a turning point in Central Asia's intra-region cooperation framework. This is for the first time that the regional countries are attempting to enhance their cooperation in a sub-regional cooperation mechanism. The current trilateral format has been termed as 'an important constructive part' within the framework of the Consultative Meetings of the five Central Asian States and a 'natural complement and enrichment' to it.[iv]

Common security challenges

Central Asian countries have been facing persisting security threats from unstable Afghanistan. Taliban's takeover of Kabul since 2021 has caused concerns among all of them. The three Central Asian countries in their Ashgabat meeting stressed the need to work together to combat threats and challenges, including of terrorism, extremism, separatism, cross-border organized crime, drug trafficking and illegal migration. Following decades of conflict and instability in Afghanistan, there is a shift in the approaches of regional countries towards the Taliban. Though none of the three countries have recognised the Taliban rule, Turkmenistan and Uzbekistan are engaging with the Taliban, while Tajikistan is vocally critical to their rule in Kabul. The trilateral meeting could be a step towards forging a common approach as the joint statement makes no mention of Afghanistan or Taliban. 

Transportation 

The landlocked countries of Central Asia are exploring possibilities of improving land connections with the outside world. The trilateral Summit had an extensive focus on economic cooperation, including in energy, agriculture and connectivity. It emphasized the importance of intensifying multimodal transportation along Tajikistan-Uzbekistan-Turkmenistan route, which provides access for the three countries to seaports, including in the Caspian Sea. Turkmenistan President advocated for a unified transport strategy, including through enhanced collaboration and agreements with international partners.[v] Turkmenistan is constructing a highway from Turkmenabat to Ashgabat, which through the Ashgabat-Turkmenbashi route will provide direct access to the Turkmenbashi seaport.[vi] The three leaders also discussed streamlining tariffs and providing favourable conditions for the transit of foreign trade goods.
Map: Turkmenabat-Ashgabat Road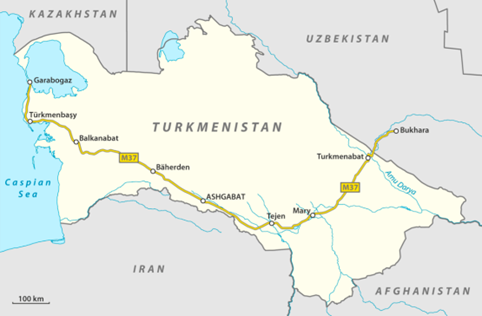 Source: News Central Asia[vii]
Water & Environment 

The inter-regional water systems link the three countries Tajikistan, Uzbekistan and Turkmenistan with each other, and with Afghanistan on the other side of the Amu Darya river. Central Asian countries have been using the Amu Darya water and now Afghanistan plans to draw its water to develop agriculture in its northern region to ensure food security for the people. The Taliban are constructing the 285-km long Qosh Tepa canal to bring Amu Darya waters to northern Afghanistan. On March 30, 2022 a Taliban authority inaugurated the project in Balkh Province, which will irrigate 550,000 hectares of land and generate thousands of employments.[viii] There is reportedly substantial progress and over 100 kilometres of the canal has already been constructed, which has been termed as a 'national and vital project'.[ix]

The canal may have consequences for other riparian states as Amu Darya also flows downward and feeds the Aral Sea, which is already facing acute water shortage and desertification. Apart from environmental and economic issues for Tajikistan and Turkmenistan, Uzbekistan is particularly concerned about the project's potential impact on the availability of water to irrigate fields. It is estimated that after the completion of the canal, there could be a 10-15 per cent decrease in water flow to the country,[x] impacting its cotton production negatively. 

The trilateral Summit mentions about achieving climate sustainability in the Amu Darya River basin and 'strengthening mutually beneficial cooperation between countries' on the rational use of water and energy resources. They also referred to 'potential increase in pressure' on Amu Darya water resources. 

Conclusion 

The first ever trilateral Summit is a novel cooperative initiative from Central Asia to locally address the security, economic and environment challenges confronting them. The Summit highlights the significance of cooperation on issues that transcend national borders, especially energy and water resources. In coming years, this trilateral format may garner wider regional support as the three countries can also be a buffer between Afghanistan on the one side and the wider Eurasian space in the north.
*****
*Dr. Athar Zafar is a Senior Research at ICWA, New Delhi.
Disclaimer: The views are of the author. 
Endnotes
[i] News Central Asia, "Turkmenistan-Uzbekistan-Tajikistan Trilateral Summit — Joint Statement," 4 August 2023, https://www.newscentralasia.net/2023/08/04/turkmenistan-uzbekistan-tajikistan-trilateral-summit-joint-statement/, accessed 12 August 2023
[ii] AlJazeera, "Putin warns against 'radical Islam' spillover from Afghanistan,"23 August 2021, https://www.aljazeera.com/news/2021/8/23/putin-warns-against-spillover-of-radical-islam-from-afghanistan, accessed 23 August 2023
[iii] News Central Asia., "The Summit of the Heads of Central Asian States will be held in Tajikistan in September," 3 July 2023, https://www.newscentralasia.net/2023/03/07/the-summit-of-the-heads-of-central-asian-states-will-be-held-in-tajikistan-in-september/#:~:text=The%20fifth%20consultative%20meeting%20of%20the%20heads%20of,14-15%20September%20in%20Dushanbe%2C%20the%20capital%20of%20Tajikistan., accessed 10 August 2023
[iv] News Central Asia, "Turkmenistan-Uzbekistan-Tajikistan Trilateral Summit — Joint Statement," 4 August 2023, https://www.newscentralasia.net/2023/08/04/turkmenistan-uzbekistan-tajikistan-trilateral-summit-joint-statement/, accessed 12 August 2023
[v] Ministry of Foreign Affairs of Turkmenistan, "The Summit of the Presidents of Turkmenistan, the Republic of Tajikistan and the Republic of Uzbekistan was Held," 5 August 2023, https://mfa.gov.tm/en/news/3983, accessed 13 August 2023
[vi] GSV "Russia - Islamic World", "Summit of Turkmenistan, Tajikistan, Uzbekistan to take place on August 4,"
3 August 2023, https://russia-islworld.ru/en/novosti/summit-of-turkmenistan-tajikistan-uzbekistan-to-take-place-on-august-4-2023-08-03-35019/, accessed 12 August 2023
[vii] News Central Asia, "Turkmenistan starts building second section of Ashgabat-Turkmenabat highway," 18 February 2022, https://www.newscentralasia.net/2022/02/18/turkmenistan-starts-building-second-section-of-ashgabat-turkmenabat-highway/, accessed 20 August 2023
[viii] atn News, "Construction of 285-km irrigation canal underway in northern Afghanistan," 30 March 2022, https://www.ariananews.af/construction-of-285-km-irrigation-canal-underway-in-northern-afghanistan/#:~:text=The%20inauguration%20ceremony%20in%20Balkh%20province%20was%20attended,of%20the%20project%20was%20a%20step%20toward%20self-reliance., accessed 3 July 2023
[ix] atn News, "Baradar assess progress of key Qosh Tepa Canal," 8 March 2023, https://www.ariananews.af/baradar-assess-progress-of-key-qosh-tepa-canal/, accessed 25 July 2023
[x] Kun.uz, "Experts talk about a canal being built by Taliban and its tragic consequences for Uzbekistan," 13 February 2023, https://kun.uz/en/news/2023/02/13/experts-talk-about-a-canal-being-built-by-taliban-and-its-tragic-consequences-for-uzbekistan, accessed 25 July 2023