The Mekong sub-region has evolved into a geopolitical theatre of strategic and political competition between great powers. This sub-region includes Cambodia, China, Laos, Myanmar, Thailand and Vietnam. In last more than two decades, the unfolding political realities in this region have shaped the trajectories in the Southeast Asian region and to some extent the rules-based international order.    

This issue brief will analyse the political realities in the Mekong sub-region, strengthening of synergy under the Mekong-Ganga Cooperation (MGC) Initiative, and it emerging as a model of mutual development for shared prosperity and shared future. Recently, the 12th Mekong-Ganga Cooperation Ministerial Meeting was held on 16 July 2023 in Bangkok, reflected the resolve to strengthen partnership in order to maintain regional peace and stability through cooperation in non-traditional areas.    

Geopolitical Significance of the Mekong Sub-Region and Concerns 

The Mekong sub-region gained currency in the international relation arena, especially after the Cold War period, and has also subsequently become an area of power politics. Further, the Mekong sub-region has emerged as a focal point for regional economic growth.   

Geographically, the Mekong River is in Asia, originates in the Tibetan plateau (where it is called the Lancang) and, before entering into the South China Sea disputed water, it crosses five riparian Southeast Asian countries, namely, Myanmar, Laos, Cambodia, Vietnam and Thailand. By covering a length of roughly 4,500 kilometres, this transboundary waterway divides the region into an upper basin (Myanmar and China) and a lower basin consists of four above mentioned Southeast Asian countries.[i]

The Mekong River is pivotal for most of the lower basin countries' whose economy as well as food security is explicitly linked with the river and the river's unique ecosystem is a lifeline for some 60 million river dwellers.[ii]  For instance, in the Cambodian economy alone, fisheries, coming from its water, account for 7% to 12% of its gross domestic product (GDP). The Tonle Sap, the largest fresh water lake in Southeast Asia, is fed by the Mekong River, it is also a main source of fish supply in Cambodia.[iii]

However, growing concerns, notably the US's increasing strategic competition with the People's Republic of China (PRC) have impacted the region. Among others, the building up of infrastructure projects, such as big hydro dams, have changed geopolitics between states. 

China has been accused of exploiting the weakness of lower riparian states by constructing big projects in the upper basin. This has an explicit repercussion on the "quality and quantity of river water flows to Southeast Asia" and generates "pressure on downstream riparian state into compliance, even subjugate them".[iv] Given that, as the resource governance and waterways management become complex, analysts state that the Mekong River can, therefore, a potential source of conflict among stakeholders and others, given interconnectedness of security.[v]

Hydropower Dams Changing Regional Politics 

The Mekong River is considered to be a driver of economic growth that supports lives of millions by providing water, energy, food and income, yet this growth largely depends on the health of river and annually increasing demands of the Lower Mekong River Basin (LMB).[vi]

The river has undergone a rapid change in its management and governance. In more than a decade, the Mekong has faced various challenges chiefly caused by natural and manmade causes. Climate change, degradation of ecosystems, growing demands of population and manmade activities all have contributed to the vulnerability of the Mekong.[vii] It was on account of climate change that riparian countries faced the 2019 catastrophic drought which affected largely the rice fields of Vietnam and fisheries of Cambodia.[viii]

Among others, building of hydropower dams which began a few decades ago has now accelerated in the last few years. Chinese began constructing dams on its upper basin, called the Lancang, since the 1990, none of this happening with the lower riparian states prior consultation who do not get information on the dams' flow.[ix]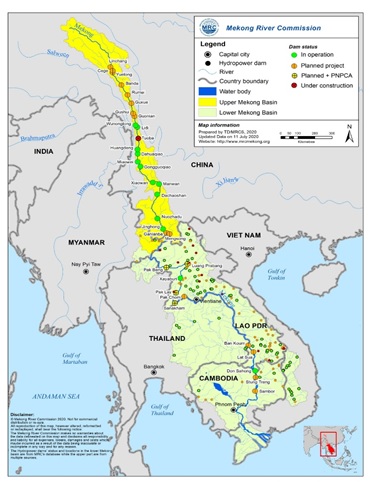 Source: Mekong River Commission for Sustainable Development, https://www.mrcmekong.org/our-work/topics/hydropower/. 
The control of natural flow of water through different artificial channels in different countries has become a geopolitical tool that is influencing and shaping policies.

Analysts claim that as per some estimates Chinese have 60 dams and reservoirs are in use, 30 more under construction and 90 under consideration.[x] On the other hand, lower riparian states are also engaged in building dams. As per the Mekong River Commission data, the following countries have built up dams: Lao PDR (22), Thailand (14), Cambodia (17) and Vietnam (17).[xi]

The Chinese influence on the riparian states through hydro power projects has been termed by experts as Chinese "coercive water diplomacy", unfolding in the Mekong sub-region, therefore, "anti-China resentment" has become deep even though. In the wake of drought faced by the CLMV states, due to dam construction and water uses, China released "emergency water" from the Jinghong dam following the request from Hanoi.[xii]

Given the importance of the Tonle Sap lake for the Cambodian economy in particular, these are growing concerns emanating from damming the river in the upper river basin by single state which may damage it, and thereby may influence the future of the largest lake in Southeast Asia.[xiii]

This contentious issue has been caused by the lack of transparency in sharing real data on the Mekong River. After the years of joint efforts by the all-riparian states, on 20 September 2023 a joint consensus was built up to boost data sharing on both water storage level and hydropower operations at major dams by the end of 2023.[xiv]

This joint collaboration will change entire geopolitics and shelve the potential conflict over the Mekong River. Preventing the great power rivalry in the region is the shared objective of all states and focusing on cooperation and regional prosperity. 

Political Realities of Growing Major Powers Influence 

In Southeast Asia, after the South China Sea maritime dispute, the Mekong water is another potential hotspot issue. Politics over the Mekong water management between the stakeholders is seen with mistrust and suspicion. The Southeast Asia states have become pro-active in collaborating with external powers, such as the United States, Japan, South Korea, India and others, "to pursue both security and economic engagement" in order to hedge and manage single domination by a state.[xv] The growing convergence between lower riparian states and external partners have changed political realities in the region to cope up with Chinese assertiveness and maintain a balance of power. 

Although the riparian states have good economic ties with China, they have differences as well on several issues including trade deficit and boundary dispute. Among others, Vietnam has dispute in the South China Sea with China. Following its past military skirmish over Paracel island in 1974 with mainland China, it is also concerned about China's intentions and growing interest in the Mekong water. To hedge, Hanoi follows an inclusive diplomacy with other countries too, namely, the United States and others. 

On the other hand, Laos and Cambodia have close relations with China, which has made significant investment in these countries. However, they also share concerns when the water level exceeds its normal flow in the upper basin. For instance, the former Cambodian Prime Minister Hun Sen opposed the construction of China funded Don Sahong dam in Laos as it could have severe repercussions in Cambodia on fish migration, food security, health, nutrition, etc., he, however, later dropped its opposition on account of low-cost electricity promised to him.[xvi]

Various institutional mechanisms are in place for cooperation among the Mekong sub-region. The Lower Mekong Initiative (LMI) is an arrangement between the United States and four lower basin riparian states, was established on 23 July 2009 in Phuket, Thailand, "to enhance cooperation in the domains of environment, health, education, and infrastructure development" in the Mekong sub-region.[xvii]

The purpose of LMI is to address common concerns and achieve common interests in the region through reinforcing water management. In order to do so, the Mekong River Commission and the Mississippi River Commission have together signed a "sister-river" agreement partnership to converge on water governance and management.[xviii]

Likewise, the United States, as underlined during the 10th Anniversary of LMI in 2019, is committed "to help protect sovereignty and security, prosperity, and safeguard its rich cultures and environment" in the midst of "troubling trends", namely, China's control over downstream flows, its extra-territorial river patrols weakening the Mekong River Commission, transnational crimes, etc.[xix]

On the other hand, the Lancang-Mekong Initiative (LMI) came into existence in 2016 when several institutional mechanisms were already functioning, based on the concept of "shared river, shared future",[xx] and provided an alternative platform led by China and all other riparian states in the Mekong sub-region to create a conducive environment for regional peace and stability. However, Chinese water diplomacy creates trouble for other countries in the region. This was seen before the inaugural LMC Summit when Chinese discharged water from the Jinghong dam to set the tone for mutual cooperation in the region.[xxi]

Among other institutional arrangements, the Mekong-Ganga Cooperation (MGC) Initiative is the oldest one that commenced its work in the year 2000. It sought to strengthen cooperation among the MGC countries, which has cemented and widened in recent years. 

Cementing Mekong-Ganga Cooperation Ties for Shared Prosperity 

As the strategic contestation between the United States and China became visible in Southeast Asia, the South China Sea and the Mekong sub-region, India presents an alternative to Southeast Asian countries, especially the Mekong riparian states, to seek development through cooperation. Shared civilizational and cultural connect have brought together them to reinvent their centuries-old ties for a new future of shared prosperity and mutual development. 

In this process, the Mekong-Ganga Cooperation Initiative (MGCI) was set up on 10 November 2000 in Laos, Vientiane. It is a multilateral grouping between India and the Lower basin states connected through ancient civilizational rivers, the Ganga and the Mekong that have close historical and cultural ties, and were part of "Indic-belt community" of common destiny. 

12th MGC Ministerial Meeting 

The 12th Mekong-Ganga Cooperation Foreign Ministers' Meeting (MGC FMM) was held on 16 July 2023 in Bangkok, Thailand. This meeting was joined by all six ministers to strengthen and review cooperation in the sub-region. The joint statement issued covered progress of the MGC in last more than two decades by incorporating sub-themes, such as development partnership, trade and investment, connectivity, education, skill development and capacity building, science and technology, agriculture, health, tourism and cultural cooperation.[xxii]

In the area of connectivity, for example, under the Quick Impact Projects (QIPs) scheme, 82 projects have been announced, and 49 projects have been completed.[xxiii] The QIPs began in 2012; these are high impact and community-oriented projects to create or upgrade social infrastructure in the areas, namely, water, education, health and so on, for the CLMV (Cambodia, Lao PDR, Myanmar, Vietnam) countries.[xxiv]

The objectives as agreed to at the MGC FMM included "to promote socio-economic development of the MGC countries, narrow the development gap among countries, support the ASEAN community building, facilitate the implementation of the UN 2030 Agenda for Sustainable Development and strengthen the bond of friendship among MGC countries".[xxv]

The MGC Plan of Action (2019–2022), which was delayed due to pandemic, has now been extended for another two years. Finding convergence between the MGC and the Mekong River Commission (MRC) is a key focus to cope with the growing challenges and threats in the Mekong sub-region, such as drought, flood, transboundary water management, irrigation, sanitation, fisheries etc.[xxvi]

Conclusion 

In Asia, the Mekong sub-region has thus evolved into another theatre of geopolitics, after the South China Sea dispute. Damming by China along the Mekong water channel in the upper basin has severe consequences on the lower riparian states' economies, and on the regional dynamics. This growing regional power politics of contestation has encouraged external entities to take active part in the development and stability of the sub-region for shared prosperity. 

Several regional mechanisms have contributed to the Mekong political discourse and evolving security architecture led by the riparian states, China, the United States and India. 

Yet, the Mekong countries have tried to maintain a balance in the external ties. Also, there is a need to focus on enhancing sharing real data on water storage and infrastructure projects on the Mekong River.
*****
*Dr. Chander Shekhar, Research Associate, Indian Council of World Affairs, New Delhi.
Disclaimer: Views expressed are personal.
Endnotes
[i] Rabea Brauer and Frederick Kliem, "Coercive water diplomacy", Report: Water. Power. Conflict., Konrad Adenauer Stiftung, 2017, p. 45.
[ii] Ibid, p. 46.
[iii] Ibid.
[iv] Ibid.
[v] Chheang Vannarith, "Water security in the Mekong region and policy interventions", Council for Security Cooperation in the Asia Pacific, 2019, p. 68.
[vi] Mekong River Commission for Sustainable Development, "Hydropower", https://www.mrcmekong.org/our-work/topics/hydropower/ (Accessed 28-08-2023).
[vii] European Parliament, "The Mekong River: geopolitics over development, hydropower and environment", 2019, chrome-extension://efaidnbmnnnibpcajpcglclefindmkaj/https://www.europarl.europa.eu/RegData/etudes/STUD/2019/639313/EXPO_STU(2019)639313_EN.pdf. (Accessed 28-08-2023).
[viii] Andrea Haefner, "The Mekong River is becoming a geopolitical hotspot", Brink News, 9 Nov 2020, https://www.brinknews.com/the-mekong-river-is-becoming-a-geopolitical-hotspot/ (Accessed 28-08-2023).
[ix] The ASEAN Post, "Lancang-Mekong Cooperation: Blessing or Curse?", 3 April 2019, https://theaseanpost.com/article/lancang-mekong-cooperation-blessing-or-curse#:~:text=While%20China%20pulling%20out%20of,this%20great%20river%20for%20survival. (Accessed 26-09-2023).
[x] Ibid.
[xi] MRC, "Near Real-time hydrometeorological monitoring", https://portal.mrcmekong.org/monitoring/river-monitoring-telemetry (Accessed 04-09-2023).
[xii] Shannon Tiezzi, "Facing Mekong drought, China to release water from Yunnan dam", The Diplomat, 16 March 2016, https://thediplomat.com/2016/03/facing-mekong-drought-china-to-release-water-from-yunnan-dam/ (Accessed 28-08-2023).
[xiii] Tyler Roney, "Mekong dams destroy Tonle Sap Lake", The Third Pole, 27 April 2020, https://www.thethirdpole.net/en/regional-cooperation/mekong-dams-destroy-tonle-sap-lake/ (Accessed 25-08-2023).
[xiv] Maria Siow, "China, Mekong states boost data sharing to close gap of uncertainty: the Mekong shouldn't be a place for rivalry", SCMP, 20 Sep 2023, https://www.scmp.com/week-asia/politics/article/3235081/china-mekong-states-boost-data-sharing-close-gap-uncertainty-mekong-shouldnt-be-place-rivalry (Accessed 26-09-2023).
[xv] Pongphisoot Busbarat, "Major powers react to rising Chinese influence in Mekong", Think China, 31 Aug 2020, https://www.thinkchina.sg/major-powers-react-rising-chinese-influence-mekong (Accessed 29-08-2023).
[xvi] Tom Fawthrop, "Cambodian backflip bolsters China on the Mekong", The Interpreter, 17 Jan 2017, https://www.lowyinstitute.org/the-interpreter/cambodian-backflip-bolsters-china-mekong (Accessed 13-09-2023).
[xvii] US Department of State, "Lower Mekong Initiative", 21 Feb 2019, https://www.state.gov/lower-mekong-initiative/ (Accessed 29-08-2023).
[xviii] Ibid.
[xix] US Embassy in Burma, "Opening remarks at the Lower Mekong Initiative Ministerial", 1 Aug 2019, https://mm.usembassy.gov/opening-remarks-at-the-lower-mekong-initiative-ministerial/ (Accessed 30-08-2023).
[xx] Li Xuanmin, "Lancang-Mekong cooperation built on mutual political trust, voluntary participation", Global Times, 19 July 2022, https://www.globaltimes.cn/page/202207/1270900.shtml (Accessed 30-08-2023).
[xxi] Andrea Haefner, "The Mekong River is becoming a geopolitical hotspot", Brink News, 9 Nov 2020, https://www.brinknews.com/the-mekong-river-is-becoming-a-geopolitical-hotspot/ (Accessed 28-08-2023).
[xxii] Joint Ministerial Statement of the 12th Mekong-Ganga Cooperation Foreign Ministers' Meeting, 16 July 2023, chrome-extension://efaidnbmnnnibpcajpcglclefindmkaj/https://mgc.gov.in/public/uploads/Joint_Statement_12th_MGC_FMM.pdf (Accessed 31-08-2023).
[xxiii] Ministry of External Affairs, Question No. 3227 Quick Impact Projects, 17 Dec 2021, https://www.mea.gov.in/lok-sabha.htm?dtl/34687/QUESTION_NO3227_QUICK_IMPACT_PROJECTS (Accessed 04-09-2023).
[xxiv] Ibid.
[xxv] Joint Ministerial Statement of the 12th Mekong-Ganga Cooperation Foreign Ministers' Meeting, 16 July 2023, chrome-extension://efaidnbmnnnibpcajpcglclefindmkaj/https://mgc.gov.in/public/uploads/Joint_Statement_12th_MGC_FMM.pdf (Accessed 31-08-2023).
[xxvi] Ibid.