The situation in volatile South Caucasus has once again escalated with the launch of a military operation by Azerbaijan in the Nagorno-Karabakh region on 19 September 2023. Azerbaijan said it has undertaken the 'anti-terrorist measures of a local nature' to 'restore constitutional order' in the territory.[i] Armenia said that in the 'large-scale offensive' more than 200 people were killed and scores injured.[ii] A ceasefire was announced in 24 hours. Baku claimed that the counter-terror measures have achieved the objectives of neutralizing military targets, and that the 'illegal regime' in Nagorno-Karabakh has agreed to disarm, disband illegal structures and withdraw from Azerbaijan.[iii] In the aftermath, scores of ethnic Armenians are leaving Nagorno-Karabakh for Armenia. So far, over 13,000 displaced persons have entered Armenia from Nagorno-Karabakh.[iv] Azerbaijan is establishing and firming up its control over the territory.

South Caucasus is an important thoroughfare in inter-regional transportation and energy supply. Prolonged conflict and disruption may have implications for the wider Eurasian region and beyond. This paper tries to understand the unfolding dynamics in the region and beyond, in the light of Baku's latest military operation against Nagorno-Karabakh. The reactions of some major countries have also been analysed. It also tries to understand the implications and larger geopolitical developments having consequences for the South Caucasus region.

Flashpoints in South Caucasia

Linking various regions and the East and the West, South Caucasia is between the Black Sea and the Caspian Sea and has a complex and overlapping history with diversified ethnicities, belief systems, cultures and enclaves/exclaves. The three regional countries of Armenia, Azerbaijan and Georgia, which became independent following the collapse of the USSR, have long been witness to secessionist tendencies, conflicts and wars.

Nagorno-Karabakh is an autonomous region within the internationally recognized territory of Azerbaijan; however, mostly populated by ethnic Armenians (about 120,000). On the eve of the collapse of the USSR ethnic Armenians in Nagorno-Karabakh demanded cessation from Azerbaijan, which drew support from Armenia and ensued conflict with Baku. Armenia and Azerbaijan have fought two wars in 1994 and 2020 over the Nagorno-Karabakh issue. Azerbaijan lost the separatist war in 1994, with result the Nagorno-Karabakh region along with part of its surrounding territories, came under the control of ethnic Armenian forces.

Gradually, Nagorno-Karabakh developed its own administration and election of authorities. The separatists called themselves as the Republic of Artsakh, which was not recognized by any country, including its prime supporter Armenia. This has not been acceptable to Azerbaijan, which considered this as an encroachment upon its sovereignty. The Nagorno-Karabakh conflict involves fundamental questions related to sovereignty, territorial integrity and rights of minorities. In the 2020 war, Baku regained its territory and parts of Nagorno-Karabakh proper.[v] The current operation seemingly has been undertaken to consolidate its authority in the disputed territory and fully integrate Nagorno-Karabakh with Azerbaijan.
Nagorno-Karabakh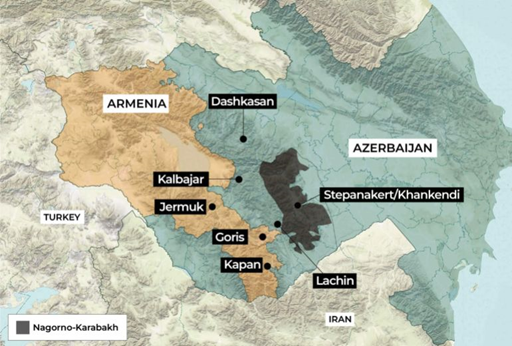 Source: Aljazeera[vi]
The situation was building up right since the end of the November 2020 war with the two countries accusing each other of not adhering to the ceasefire agreement, which was signed by Armenia, Azerbaijan and Russia, which facilitate it. Since December 2022, Baku had imposed a 'blockade' on the only route available from Armenia into the enclave – the Lachin Corridor. Armenia accused Azerbaijan of 'starvation' and creating humanitarian crisis, and of 'ethnic cleansing' of the Armenian people living in the Nagorno-Karabakh region.[vii] Azerbaijan has been saying it is ready to provide rights and security of Armenians under the country's constitution.[viii]

The trigger for the current escalation was the death of some Azeris in Nagorno-Karabakh. On 19 September 2023, four Azerbaijani security personnel and two civilians died in two separate landmine blasts in the area, which Baku blamed on the 'illegal Armenian armed groups' in the region. The operation ended with a Russia-mediated ceasefire on 20 September 2023, according to which local Karabakh forces were to be completely disbanded and disarmed. There was a commitment to withdraw of Armenian forces from Nagorno-Karabakh, even though its presence is denied by Yerevan. Further, the Government of Azerbaijan and representatives of Armenians in Nagorno-Karabakh are to hold 're-integration' talks in a town of the region.[ix] The terms of the deal are being implemented by Azerbaijan and Nagorno-Karabakh. The latest military operation prompted protests in Yerevan against Prime Minister Nikol Pashinyan demanding his resignation.

Changing stance of stakeholders & new dynamism

The geographical location of the South Caucasus region not only makes it a prime venue for competing interests of international players but also creates dilemma for the three countries to look East or West for their development. While Armenia is landlocked, the region has three neighbours Russia, Turkey and Iran – all three are active in international affairs and directly or indirectly have been involved in security-military operations in different geographies. Though the current conflict is between Armenia and Azerbaijan, it draws the interests of other international players, including, the US, EU and Western countries due to the region's prominent role in energy supply and transportation connectivity. The significance of both has multiplied since the launching of the Russian military operation against Ukraine. 
Map of South Caucasus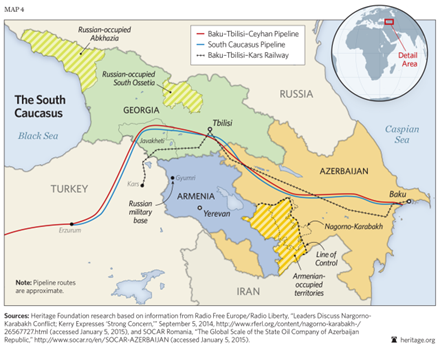 Source: Eurasian Geopolitics[x]
Russia has been the principal ally of Armenia and maintains a military base in the country. Following the November 2020 agreement, Russian forces also patrol the line between Nagorno-Karabakh and Azerbaijan. On the recent conflict, Russia called for cessation of fighting. It also facilitated negotiations and finalization of the truce terms along with Azerbaijan. Amid its on-going military operation in Ukraine, Moscow would not want another hotspot near its frontier in the South Caucasus. Further, it would be difficult for Russia to commit military assistance to Armenia in the current scenario.

It may be noted that in recent times, a series of developments has led to strains in Russia-Armenia relations. Moscow has criticized Armenia for the current situation. Addressing the UN General Assembly, Foreign Minister Sergei Lavrov on 24th September 2023 said that Western powers were 'pulling the strings' to undermine Russian influence, and 'unfortunately, the leadership of Armenia from time to time adds fuel to the fire itself.'[xi]

Since the loss in 2020 war, Armenia is trying to diversify its international relations, especially in security sphere. Armenia has been among the founding members of the Russian-led security alliance the Collective Security Treaty Organization (CSTO). Russia has been concerned with the increasing coordination between the West and Armenia. In a recent statement, the Russian Foreign Ministry said, 'Yerevan leadership is making a massive mistake by deliberately trying to destroy Armenia's multi-faceted and centuries-old ties with Russia while making the country hostage to the geopolitical games of the West.'[xii] Earlier, Armenian Prime Minister Pashinyan had accused Russia of failing to ensure Armenia's security against the 'aggression' from Azerbaijan over Nagorno-Karabakh.[xiii]

Recently, Armenia for the first time hosted American military personnel in the country for a joint Armenia-America exercise. Beginning September 11, 2023, the 10-day 'Eagle Partner' exercise aimed to train 175 Armenian soldiers to NATO standards.[xiv] The exercise held near Yerevan concluded on 20 September 2023, and it drew strong criticism from Russia. Secondly, Armenia despatched humanitarian assistance to Ukraine in early September 2023. Russia summoned the Armenian Ambassador in Moscow to lodge a strong protest. Further, on the invitation of the Ukrainian first lady, the wife of Armenian Prime Minister paid a visit to Kiev to participate in the Third Summit of First Ladies and Gentlemen on 6 September 2023, where Ukraine President Volodymyr Zelensky and US Secretary of State Antony Blinken also delivered remarks.[xv] Armenia plans to ratify the Rome Statute, which would bring it under the jurisdiction of the International Criminal Court (ICC). This is 'unacceptable' to Russia.[xvi] In March 2023, Russia warned Yerevan of 'serious consequences' if it accepts ICC jurisdiction, which has issued an arrest warrant against President Vladimir Putin.

For Armenia, decoupling from Russia could be a painful exercise. However, probably the country perceives that strengthening relations with the West and its institutions would be rewarding in the medium and long term. Thus, it seems determined to balance its international relations and for that it is ready to convince the actors in Nagorno-Karabakh to give up untenable and unsustainable prerogatives.

Further, there are reports suggesting that Armenia wants to ease out of the CSTO and move towards the West. In December 2022, Armenia sent a letter to the EU High Representative inviting the EU to deploy a Common Security and Defence Policy (CSDP) mission to Armenia. In February 2023, EU launched the EU civilian mission in Armenia (EUMA) under the CSDP.[xvii] The EUMA aims to build confidence and ensure a conducive environment for efforts to normalise relations between Armenia and Azerbaijan.

It seems that a triangle of converging interests is emerging involving the region, with Russia and the West as the main protagonists. Russia considers the region as its backyard where the West is seeking to enhance its presence by engaging both Armenia and Azerbaijan. Georgia is already getting closer with the EU, with Brussels' support and encouragement. Both have agreed to continue to work together for further deepening Georgia's political association and economic integration with the EU.[xviii] The European Council is also ready to grant EU candidate status to Georgia.

In the wake of sanctions on Russia, Europe is securing gas supply from various sources, including South Caucasus where Azerbaijan is a willing partner. European Commission President Ursula von der Leyen visited Baku in July 2022 and held meeting with President Ilham Aliyev. The two sides signed a new MoU on a Strategic Partnership in the Field of Energy. They plan to double the capacity of the Southern Gas Corridor to deliver around 20 billion cubic metres (BCM) of gas to EU annually by 2027. In Bulgaria in October 2022, the Gas Interconnector Greece-Bulgaria (IGB) was inaugurated, which was termed as 'freedom' from dependency on Russian gas by European Commission President.

The US also reacted to the recent operation, saying it was 'deeply concerned by Azerbaijan's military actions' in Nagorno-Karabakh and called to cease actions immediately.  It said that the use of force to resolve disputes is unacceptable and urged 'respectful dialogue' between Baku and representatives of the population of Nagorno-Karabakh.[xix]

If seen holistically, it seems that the US intends to boost its presence in the Eurasian region, where a change is underway with Russia's attention being absorbed in Ukraine. In September 2022, the US House speaker Nancy Pelosi visited Armenia becoming the highest-ranking American official to visit the country since its independence. In the current development, senior US officials, including Samantha Power, head of USAID, and Yuri Kim, Acting Assistant Secretary for Europe and Eurasian Affairs visited Armenia 'to express support for its democracy' and address humanitarian concerns.[xx] In C5+1 format, the US for the first time held a Presidential level Summit with leaders of five Central Asian countries on the sidelines of the UN General Assembly in New York on September 19, 2023.[xxi] This shows growing intent of the US to engage with Eurasian affairs.

In the changing regional dynamics, South Caucasia's neighbours Turkey and Iran also seek to enhance their footprint in the region. Historically, Iran has maintained close relations with the Armenian people. Tehran expressed concern over the recent escalation of conflict in the Karabakh region. It urged all sides to comply with the provisions of the 2020 ceasefire agreement and resolve the issues through dialogue.[xxii] Iran considers Nagorno-Karabakh as a part of Azerbaijan and believes that issues, including the rights and security of its residents should be dealt with in this framework and through dialogue.

Turkiye is an ally of Azerbaijan and the two countries have extensive military cooperation and they refer to themselves as 'one nation, two states'. Turkish President Recep Tayyip Erdogan expressed 'full support' for Azerbaijan's recent military operation. Turkiye shares borders with Armenia but has no border with mainland Azerbaijan, though a small strip of land links southern Turkiye to Azerbaijan's enclave of Nakhchivan. Following the Azeri operation, President Recep Tayyip Erdogan paid a one-day working visit to Nakhchivan on 25 September 2023. He held meeting with his Azerbaijani counterpart Ilham Aliyev.[xxiii] It was announced that the two countries will be constructing a natural gas pipeline between Igdur (Turkiye) and Nakhichevan (Azerbaijan), which according to Turkish President, will not only deepen bilateral energy partnership but also help in Europe's energy supply security. A groundbreaking ceremony for the 85-kilometer pipeline was held, which will have an annual capacity of 500 million cubic meters (mcm).[xxiv] A total of three agreements were signed between Azerbaijan and Turkiye during the visit, including the 'Protocol of Intent' on the Kars-Nakhchivan Railway Project. The two Presidents also inaugurated a newly-modernized Nakhichevan Military Repair and Maintenance Complex.

Conclusion

After 30 years, Azerbaijan seems to be enjoying the upper hand as of now vis a vis Armenia. Its economy is relatively strong and it has secured supply of advanced weaponry from various countries. Baku is also courted by Western countries for energy and connectivity requirements in the changing geopolitical scenario. On the other hand, Armenia considers itself vulnerable. Consequently, it is balancing its relationship with Western capitals, which so far was tilted towards Moscow. Nevertheless, stability in South Caucasus remains elusive.
*****
* Dr. Athar Zafar is a Senior Research Fellow at Indian Council of World Affairs, New Delhi.
Disclaimer: The views are of the author. 
Endnotes
[i] Felix Light, "Azerbaijan launches 'anti-terrorist operation' in Karabakh," Reuters, 19 September 2023, https://www.reuters.com/world/asia-pacific/azerbaijan-launches-anti-terrorist-operation-karabakh-2023-09-19/, accessed 23 September 2023
[ii] Ministry of Foreign Affairs, Armenia, "Statement of Foreign Minister of Armenia Ararat Mirzoyan at the 78th session of the United Nations General Assembly," 23 September 2023, https://www.mfa.am/en/speeches/2023/09/23/fm_unga/12236, 25 September 2023
[iii] UN General Assembly Debate, 23 September 2023, https://gadebate.un.org/sites/default/files/gastatements/%5Bvariable%3Acurrent_session%5D/az_en_0.pdf, accessed 25 September 2023
[iv] The Government of the Republic of Armenia, "13 350 forcibly displaced persons entered Armenia from Nagorno-Karabakh," 26 September 2023, https://www.gov.am/en/news/item/10352/, accessed 26 September 2023
[v] Paul Kirby, "Azerbaijan launches operation against Nagorno-Karabakh and demands surrender," BBC, 20 September 2023, https://www.bbc.com/news/world-europe-66851975, accessed 20 September 2023
[vi] Aljazeera, "What to know about the Nagorno-Karabakh ceasefire," 20 September 2023, https://www.aljazeera.com/news/2023/9/20/whats-happening-in-nagorno-karabakh-between-azerbaijan-and-armenia, accessed 25 September 2023
[vii] Al Jazeera, "Azerbaijan forces attack Nagorno-Karabakh as threat of new war looms," 19 September 2023, https://www.aljazeera.com/news/2023/9/19/azerbaijan-forces-attack-nagorno-karabakh-as-threat-of-new-war-looms, accessed 20 September 2023
[viii] Paul Kirby, "Azerbaijan launches operation against Nagorno-Karabakh and demands surrender," BBC, 20 September 2023, https://www.bbc.com/news/world-europe-66851975, accessed 20 September 2023
[ix] Paul Kirby, "Azerbaijan launches operation against Nagorno-Karabakh and demands surrender," BBC, 20 September 2023, https://www.bbc.com/news/world-europe-66851975, accessed 20 September 2023
[x] Eurasian Geopolitics, "South Caucasus maps," https://eurasiangeopolitics.com/south-caucasus-maps/, accessed 26 September 2023
[xi] The Moscow Times, "Russia Says Armenians Added 'Fuel to Fire' in Azerbaijan Conflict," AFP, 24 September 2023, https://www.themoscowtimes.com/2023/09/24/russia-says-armenians-added-fuel-to-fire-in-azerbaijan-conflict-a82546, accessed 26 September 2023
[xii] Guy Faulconbridge, "Russia tells Armenian PM: you are making a big mistake by flirting with West," Reuters, 25 September 2023, https://www.reuters.com/world/europe/russia-tells-armenian-pm-you-are-making-big-mistake-by-flirting-with-west-2023-09-25/, accessed 26 September 2023
[xiii] Kevin Liffey, "Russia protests to Armenia as tensions rise over disputed Caucasus region," 9 September 2023, https://www.reuters.com/world/europe/russia-issues-harsh-protest-armenia-over-range-unfriendly-actions-2023-09-08/, accessed 26 September 2023
[xiv] Rob Garver, "US Troops' Arrival in Armenia for Training Riles Russia," The Voice of America, 11 September 2023, https://www.voanews.com/a/us-troops-arrival-in-armenia-for-training-riles-russia/7264316.html, accessed 26 September 2023
[xv] Armen Press, "Armenian Prime Minister's spouse Anna Hakobyan delivers speech at Third Summit of First Ladies and Gentlemen in Kyiv," 7 September 2023, https://www.armenpress.am/eng/news/1118936.html, accessed 25 September 2023
[xvi] Andrew Osborn, "Russia warns Armenia against allying with ICC after Putin arrest warrant – RIA," Reuters, https://www.reuters.com/world/europe/russia-warns-armenia-against-allying-with-icc-after-putin-arrest-warrant-ria-2023-03-27/, accessed 25 September 2023
[xvii] European Council, "Armenia: EU launches a civilian mission to contribute to stability in border areas," 20 February 2023, https://www.consilium.europa.eu/en/press/press-releases/2023/02/20/armenia-eu-launches-a-civilian-mission-to-contribute-to-stability-in-border-areas/, accessed 26 September 2023
[xviii] European Council, " EU relations with Georgia," https://www.consilium.europa.eu/en/policies/eastern-partnership/georgia/, accessed 26 September 2023
[xix] US Department of State, "Call for End of Hostilities in Nagorno-Karabakh," 19 September 2023, https://www.state.gov/call-for-end-of-hostilities-in-nagorno-karabakh/#:~:text=Antony%20J.%20Blinken%2C%20Secretary%20of%20State%20September%2019%2C,situation%20in%20Nagorno-Karabakh%20and%20undermine%20prospects%20for%20peace., accessed 25 September 2023
[xx] Vikram Bhalla, "Senior US officials visit Armenia amid Nagorno-Karabakh exodus and humanitarian concerns," Times of India, 25 September 2023, https://timesofindia.indiatimes.com/world/us/senior-us-officials-visit-armenia-amid-nagorno-karabakh-exodus-and-humanitarian-concerns/articleshow/103929085.cms, accessed 26 September 2023
[xxi] The White House, "Remarks by President Biden After Central Asia 5 + 1 Meeting," 19 September 2023, https://www.whitehouse.gov/briefing-room/speeches-remarks/2023/09/19/remarks-by-president-biden-after-central-asia-5-1-meeting/, accessed 27 September 2023
[xxii] وزارت امور خارجه جمهوری اسلامی ایران, "ابراز نگرانی سخنگوی وزارت خارجه از تحولات منطقه قره باغ," 20 September 2023, https://mfa.gov.ir/portal/NewsView/729546, accessed 20 September 2023
[xxiii] Presidency of the Republic of Turkiye, ""Nakhchivan holds a special place in our relations with Azerbaijan," 25 September 2023, https://www.tccb.gov.tr/en/news/542/149591/-nakhchivan-holds-a-special-place-in-our-relations-with-azerbaijan-, accessed 26 September 2023
[xxiv] Daily Sabah, "Erdoğan, Aliyev attend foundation-laying for Nakhchivan Gas Pipeline," 25 September 2023, https://www.dailysabah.com/business/energy/erdogan-aliyev-attend-foundation-laying-for-nakhchivan-gas-pipeline, accessed 26 September 2023